I took part in a twitter tasting last week with two Alsatian wines that I was in love with. Before I go into the wines I want to talk about the producer and winemaker Florian Beck-Hartweg.
Florian Beck-Hartweg is a 28 year old winemaker on a small family estate in Dambach la Ville, Alsace, France. His family's winemaking has dated back to the 1590's. He works with his wife and parents at his side who love doing all the work themselves…from the vineyard work to the bottling and everything else in between.
Their aim is to respect the balance of the vines so they don't add any fertilizer or compost to the ground. They want the vigor of the vine to be based on the capacity of the soil to nourish the vines. With these natural balances this will allow a high ripeness level in terms of aromas, saltiness and acidity with not to much sugar content.
They only spray against disease when necessary and they use organic pesticides and plant extracts. If you get a chance to visit them in Alsace you will see bees, ladybirds, typhlodrome mites, syrphid flies, spiders and birds in the vineyard which helps to reduce the population of grape-worms in a natural manner.
The Alsace region where their vines are located sits on granite. The granite soil attributes to the elegance and soft fruitiness of their wines.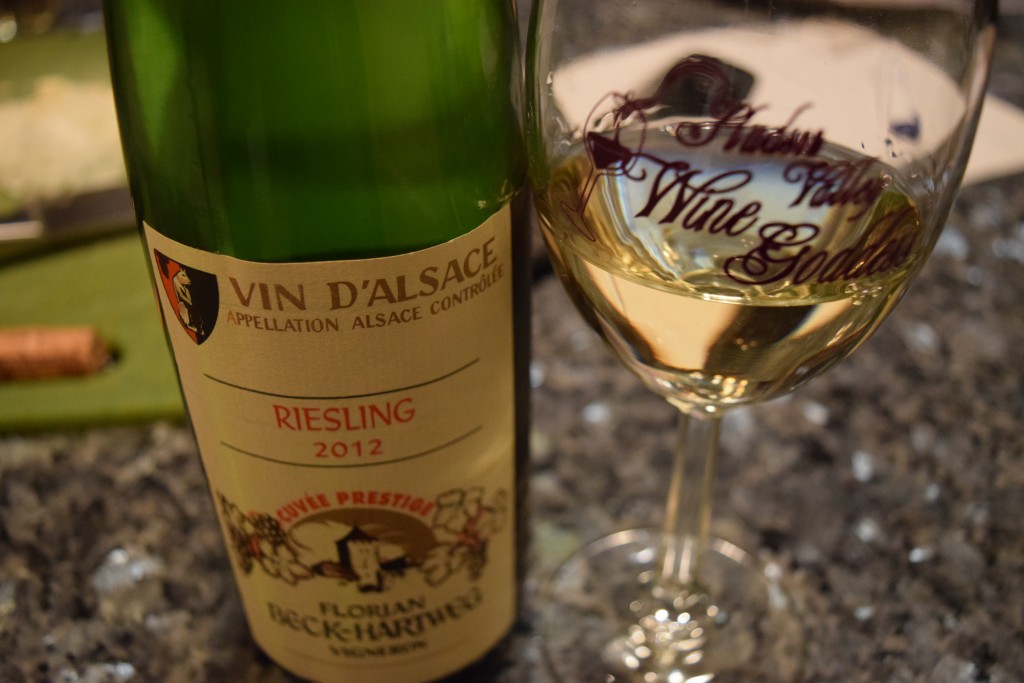 I paired bot the wines with a shrimp and scallop dish and I used the Pinot Gris in the sauce. It was delish! (Recipe will follow)
These two wines were both soft and elegant. They both have their individual character as they should of their grape, but you can tell they come from a great circle of friends.
2011 Florian Beck-Hartweg Pinot Gris – Nice pale yellow color with soft floral aromas with lemon and hints of minerality. On your palate it's elegant and fruity with citrus. As the wine warms up a bit there is some hints of clementines. Mid palate you get a soft creaminess of minerality that finishes with notes of limon.
2012 Florian Beck-Hartweg Riesling – I immediately picked up petrol aromas. They were soft and not bold combined with apricots and wet stone. A bit chalky on the palate with stone fruit and a hint of honey. What's nice about this wine is that the acidity kind of just sneaks in.
These two wines are priced under $20. A good find!
[yumprint-recipe id='7′]