A New Generation of Farmers Saving the Family Farm

There are wines from every state. I am so fortunate to be involved in different wine programs that open me up to wines that I would have never tasted and regions I knew nothing about.
Back in June before everything got crazy with the restaurant I was participated in #Winestudio as they hosted Old Westminster Winery & Vineyard from Maryland, the new generation of farmers. This is my first taste of Maryland wines and I hope yours will be right behind me.
The New Generation of Farmers
A team of three young siblings are on a mission to save the family farm and follow their dreams to creating a vineyard and winery. The farm that laid dormant for years was untapped potential. Sure, it was used, it had a few horses, a dirt bike track but for the most part was vacant for 10 years and untapped potential. A family discussion on how to preserve the land lead three young adults to research, read and network to follow their dreams to building a vineyard and winery.
When it all began, Drew was 22, Lisa 21 and Ashli was 19, all first generation farmers. This is allowing them to create their own tradition. They have a lot of dreams and ambitions to push forward grape growing and winemaking in the region. Each child has their own specialty; Drew is the vigneron, Lisa is the winemaker and Ashli is the front of the house. Their mission "To craft distinctive wines with a sense of place." They have no rules, are following their interests and figuring it out as they go.
"We choose to think of our farm as a living, breathing organism. Like a human body with a system of organs, our farm is a complex system of interacting substances and process" – Drew Baker
In 2011 they planted their first 7500 grapevines; Cabernet Franc, Syrah, Chardonnay and Albarino. In 2016 they partnered with geologist Ernest Beasley and purchased the 117 acre Burnt Hill Farm.
Burnt Hill Project
Burnt Hill is the new frontier for the Bakers. The farm is located in the hills of the Piedmont Plateau, 30 miles northwest of Washington, DC. The name Burnt Hill comes from the early settlers in the 1800's. They found it very difficult to grow crops on this land so they made money burning trees and brush to make charcoal, potash and lye. Now the name Burnt Hill reflects 117 acres of new life and new crops – grapes.
The plans are to plant a mix of 100 grape varieties to include vinifera, mixed heritage and native grape with biodynamic farming practices. By diversifying the grape varieties they feel it will balance the biodiversity, increase resiliency and reduce chemical use in the vineyard. They are taking a fresh look at indigenous, native, hybrid and mixed-heritage varieties to produce great wines with minimal intervention can redefine American wine in the minds of the Bakers.
The Wines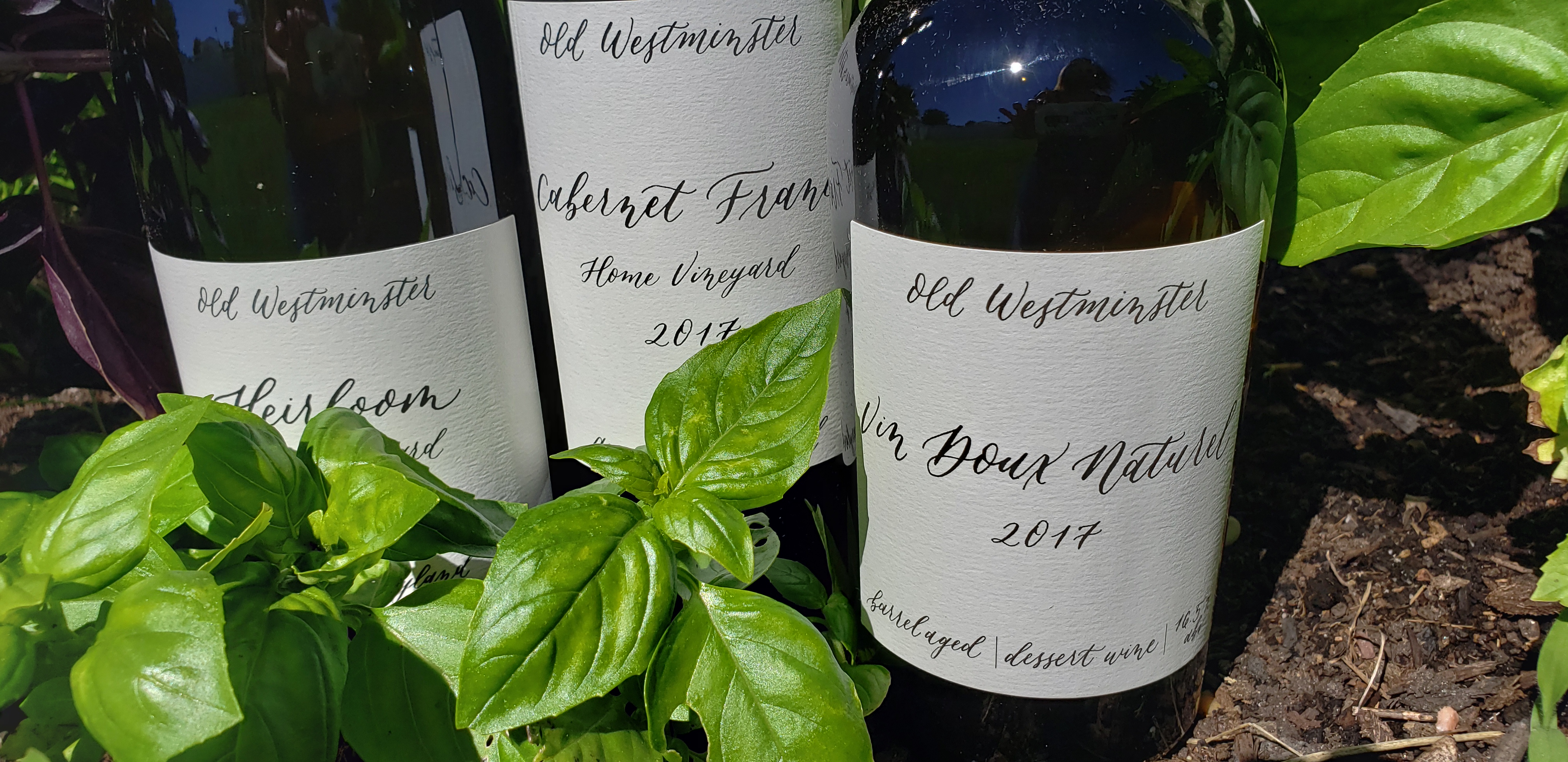 2018 Old Westminster Heirloom
This is a blend of 77% Chardonnay, 12% Albarino and 11% Muscat all grown in the greenstone schist soils of the home vineyard in Westminster, Maryland. The wine was fermented separately in stainless steel with native yeast and blending before bottling. It is unfined and unfiltered. An interesting layered wine with lots of citrus and passion fruit, minerality and acidity.
2017 Old Westminster Cabernet Franc
This Cabernet Franc comes from the home vineyard in Westminster, Maryland. It was 80% whole berry fermentation and 20% whole cluster fermentation in stainless steel. It was aged in oak for 18th months then blended with 22% Petit Verdot for structure and intensity. Bottled unfined and unfiltered. Complex wine with black cherry, eucalyptus, baking spice, sour cherry, dried herbs. A wine that evolves with every sip.
2017 Old Westminister Vin Doux Naturel (VDN)
The grape in this wine is Valvin Muscat grown on their home vineyard in Westminster, Maryland. The wine was aged in stainless steel for 10 months then neutral oak barrels for 8 months. It was fortified with estate spirits 50% on the way through fermentation. Bottled unfined and unfiltered. I wasn't quite sure what to expect with this wine, but an open mind I was pleasantly surprised. It wasn't as sweet as I thought it would be. It was nicely balanced with ripe peach, honey, peach cobbler and citrus. Paired very well with cream puffs!