An Afternoon with Matt Spaccarelli at Benmarl Winery & Fjord Vineyards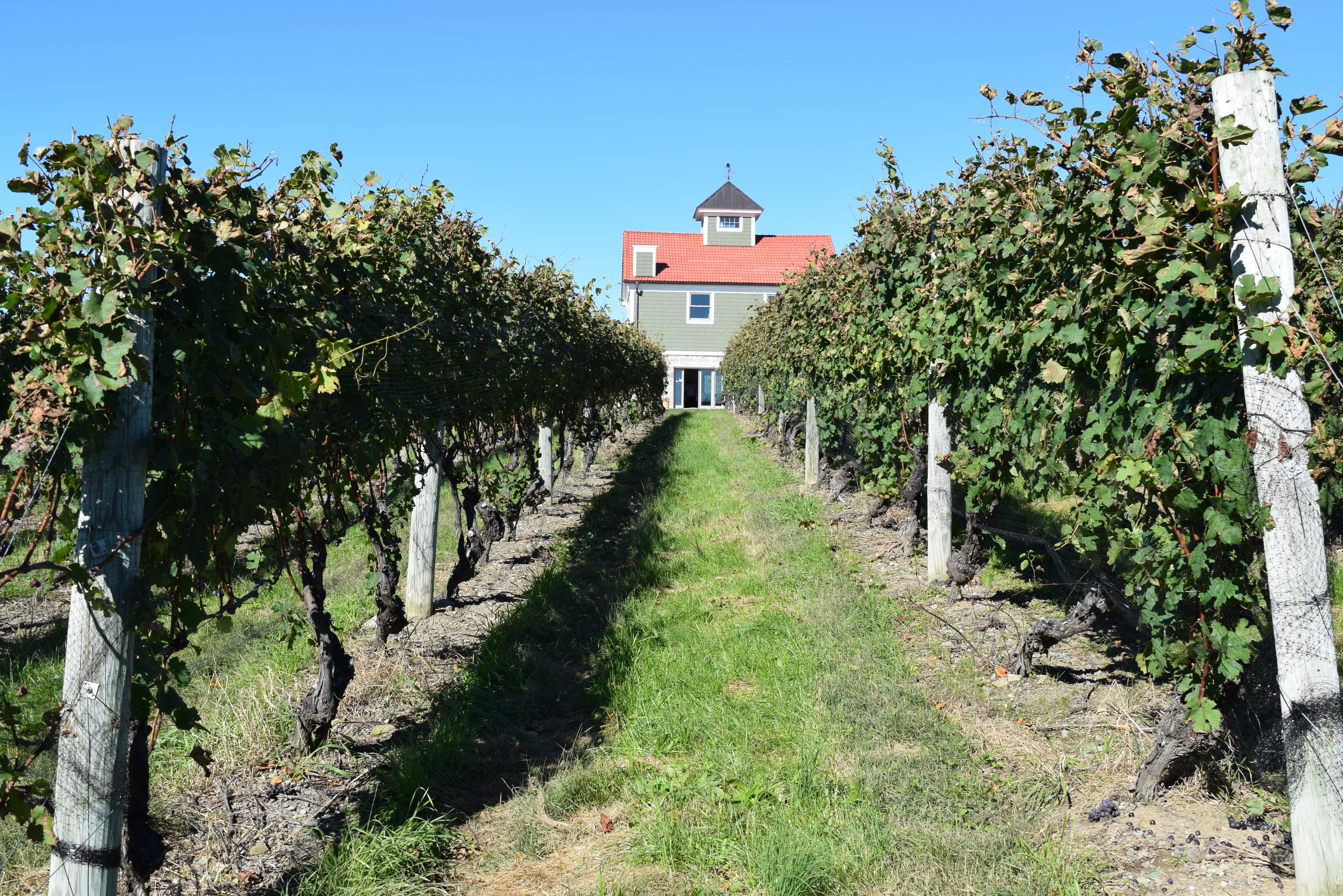 Back in October I spent the afternoon with Matt Spaccarelli and his partner Casey Erdmann along with their two beautiful children Maggie and Leon. Our day began at Benmarl Winery where I have seen Matt grow as a winemaker, vineyard manager and person from the time his family purchased the winery to the site of Fjord Vineyards, which Matt and Casey began a few years ago, to the birth of their two children. Benmarl Winery joined the Shawangunk Wine Trail shortly after I did and that is when I met and got to know Matt. I've been able to watch not just the winery grow but the people behind it and it warms my heart.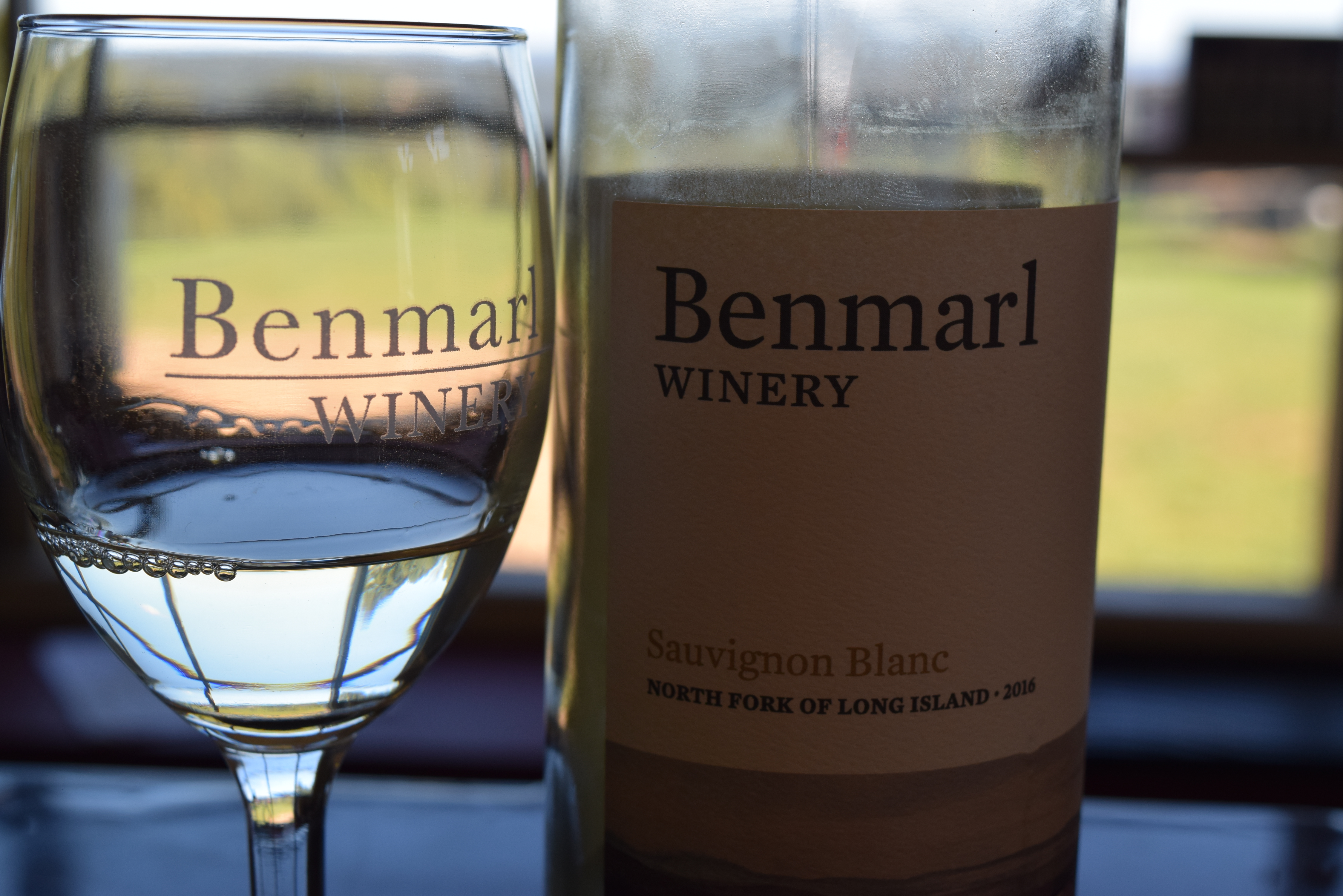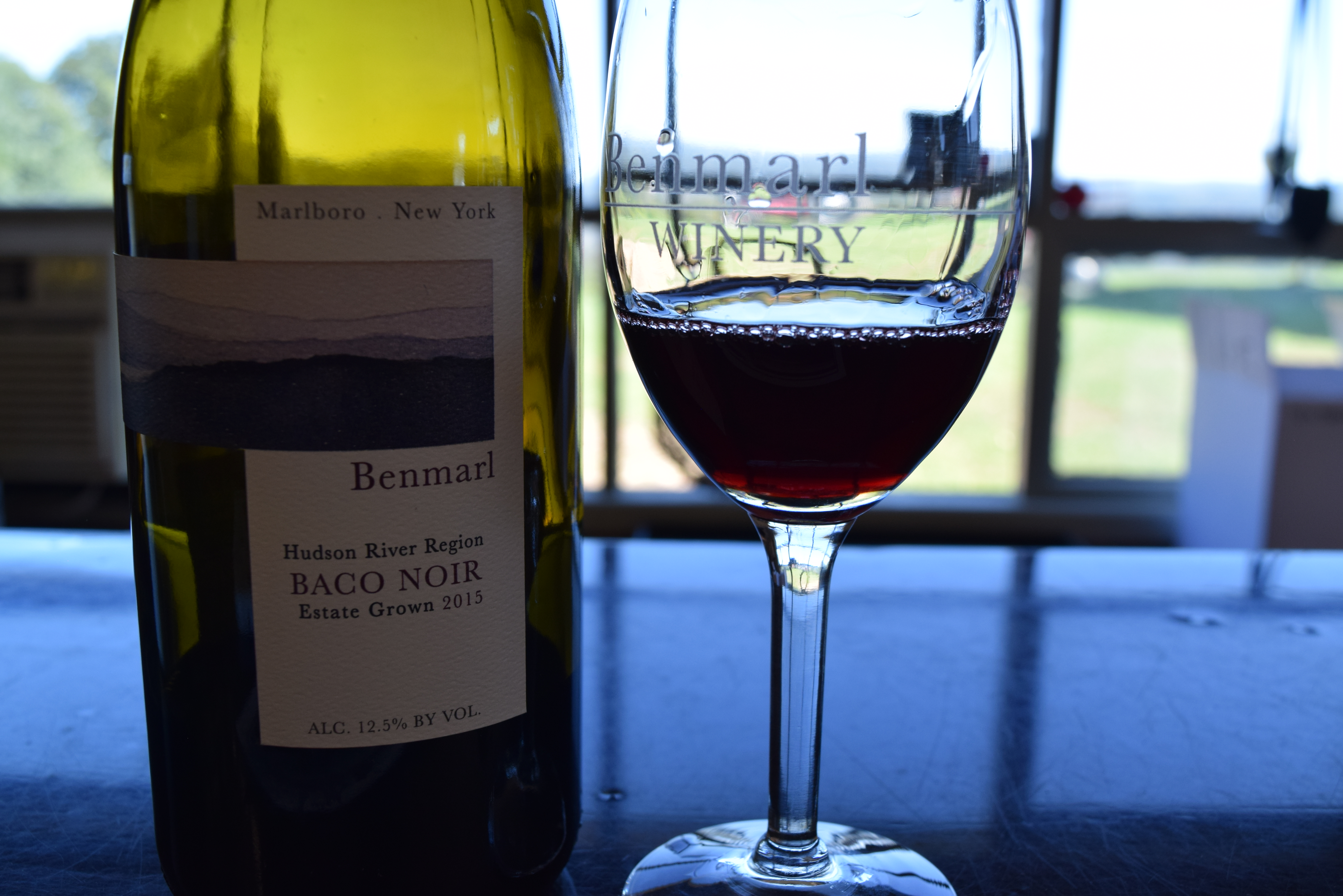 Benmarl Winery
My afternoon began at Benmarl winery, home of the oldest vineyard in America, of course tasting some of the wines while I waited for Matt to arrive. I had to go with wines I hadn't tasted because I am in love with their 2017 Seyval Blanc and could just sip on that all day. Matt does take me to the site of the Seyval and reveals to me his winemaking secret. Keep reading for that.
The first glass was their 2016 Sauvignon Blanc which was sourced from Long Island. It's nice and refreshing with hints of citrus, limon, white grapefruit with a touch of salinity. Then I tasted their 2017 Stainless Steel Chardonnay which also comes in cans. I will be doing a special tasting this winter with their can vs bottle, but until then, what was in the glass was nice and crisp with soft acidity and hints of macintosh and melon. Then it was on to two of their reds while I was told Matt will be here any minute. The 2016 Cabernet Franc showed nice cherry and vanilla spice with my favorite black pepper on the finish. I had to taste their 2015 Baco Noir grown on their historic estate 60 year old vines. This wine had gone through wild fermentation and showed nice bing cherry hints of herbal and touch of smoke. Baco does age well so it will be interesting to see how this one ages.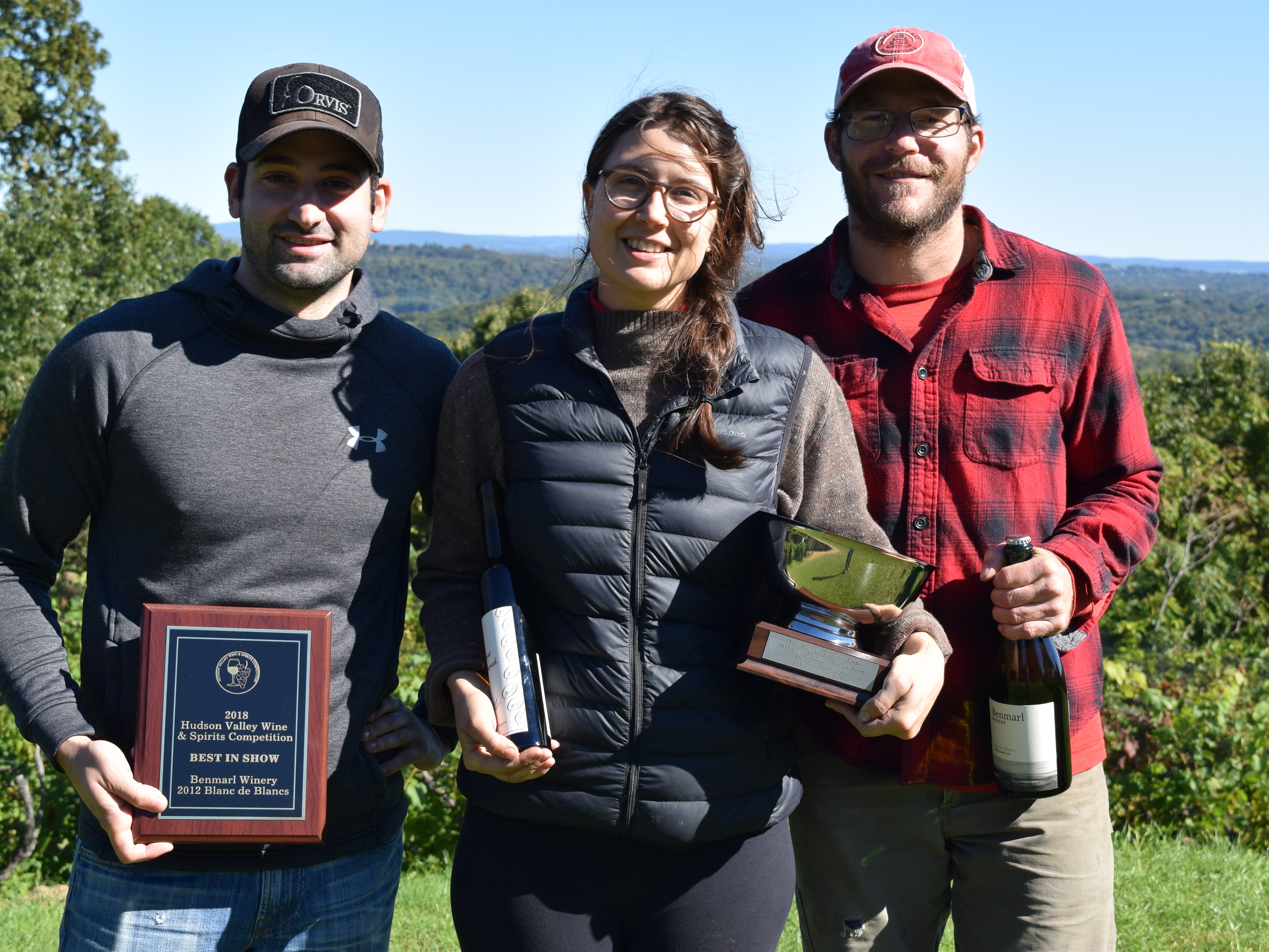 It was a beautiful fall day and when Matt arrived I got to present him, his brother Michael who is the winery General Manager and winemaker Laura with some awards. I was so honored and proud to present these awards from the Hudson Valley Wine & Spirits Competition where they kicked ass! Winery of the Year, Best in Show and Best Hudson Valley Wine made with Hudson Valley fruit. Laura, a UC Davis graduate is a new addition to the winery and has some great experience. Having Laura around allows Matt to focus more on vineyard management. They are building a great team and doing some great winemaking!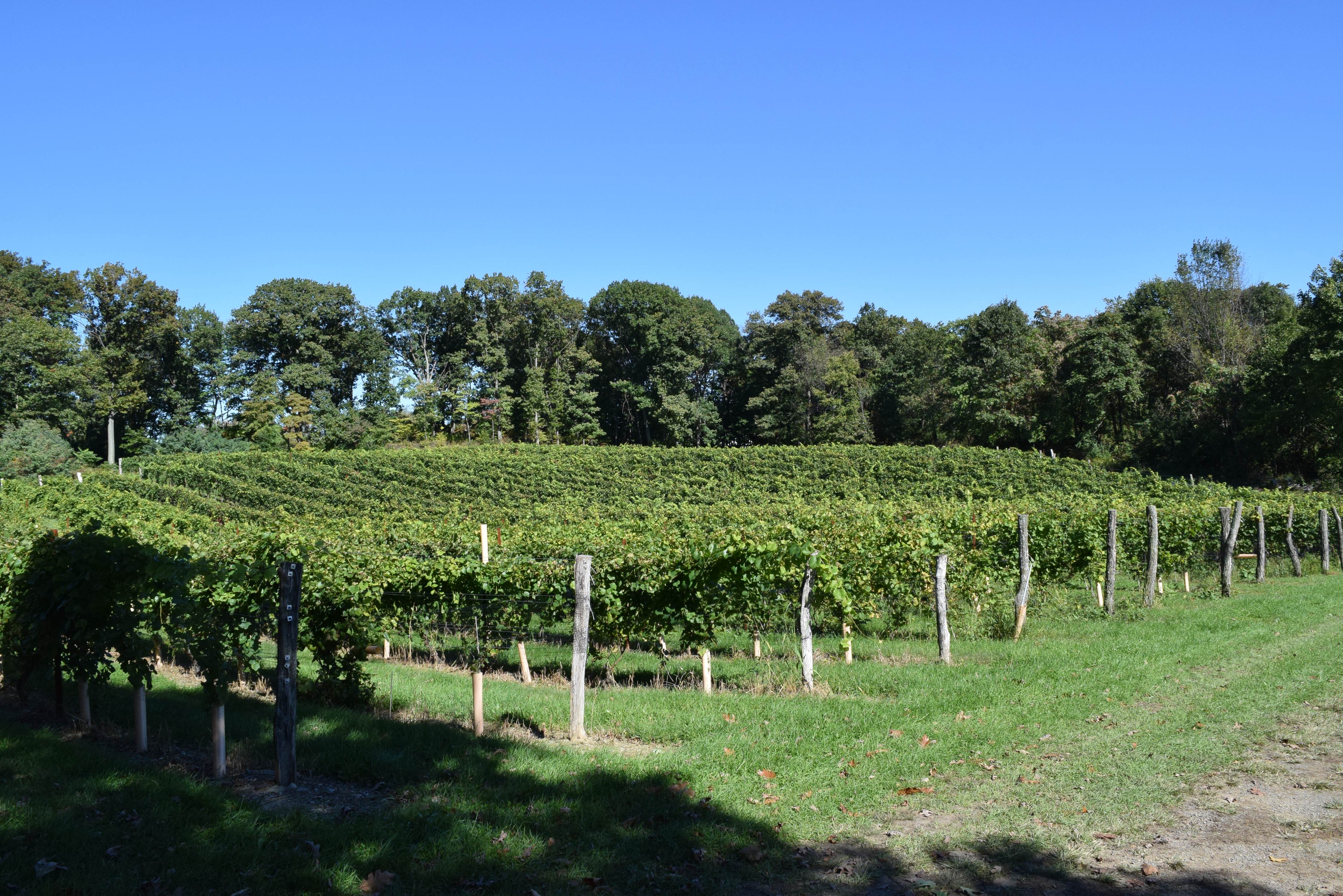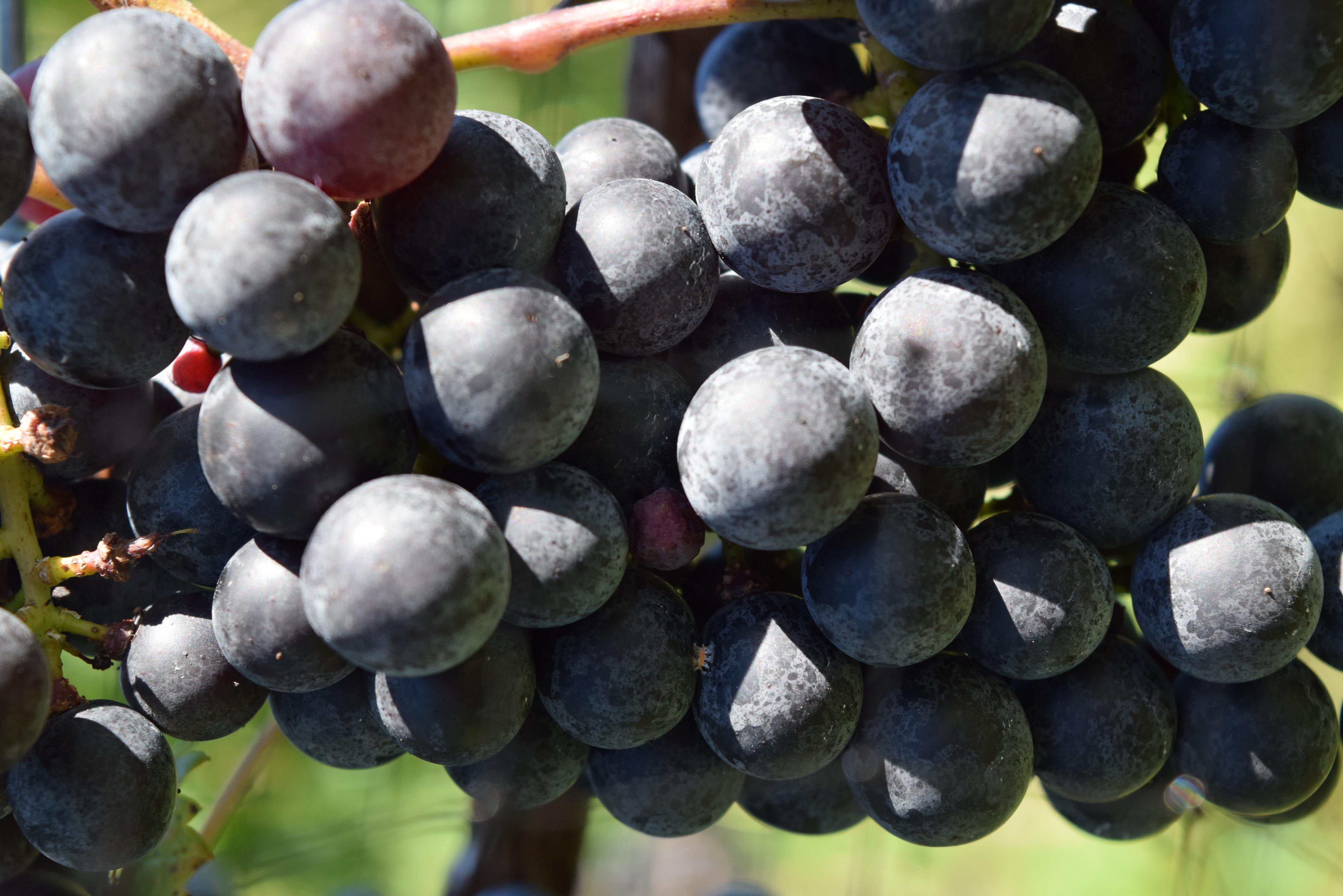 After the picture for the awards which happens to be at my favorite spot at the winery with the best view of the valley, Matt took me to a part of the vineyard I didn't know existed. It's actually hidden, so I called it the back 5. Three years ago he planted some Cabernet Franc clone 214 and 327 on Riparia and Clone 327 on SO4 rootstock. Two years ago they added some Lemberger and Saperavi which is actually a grape native to the country of Georgia along with Traminette and Ottonel. Currently he is looking to change the trellis system to Scott Henry to try to get a little more fruit out of the small crop. They have also been having some critter issues which comes along with the territory. You know, one bird tell the other they found new berries to pick. This year there will hopefully be a nice Cabernet Franc crop from the back 5.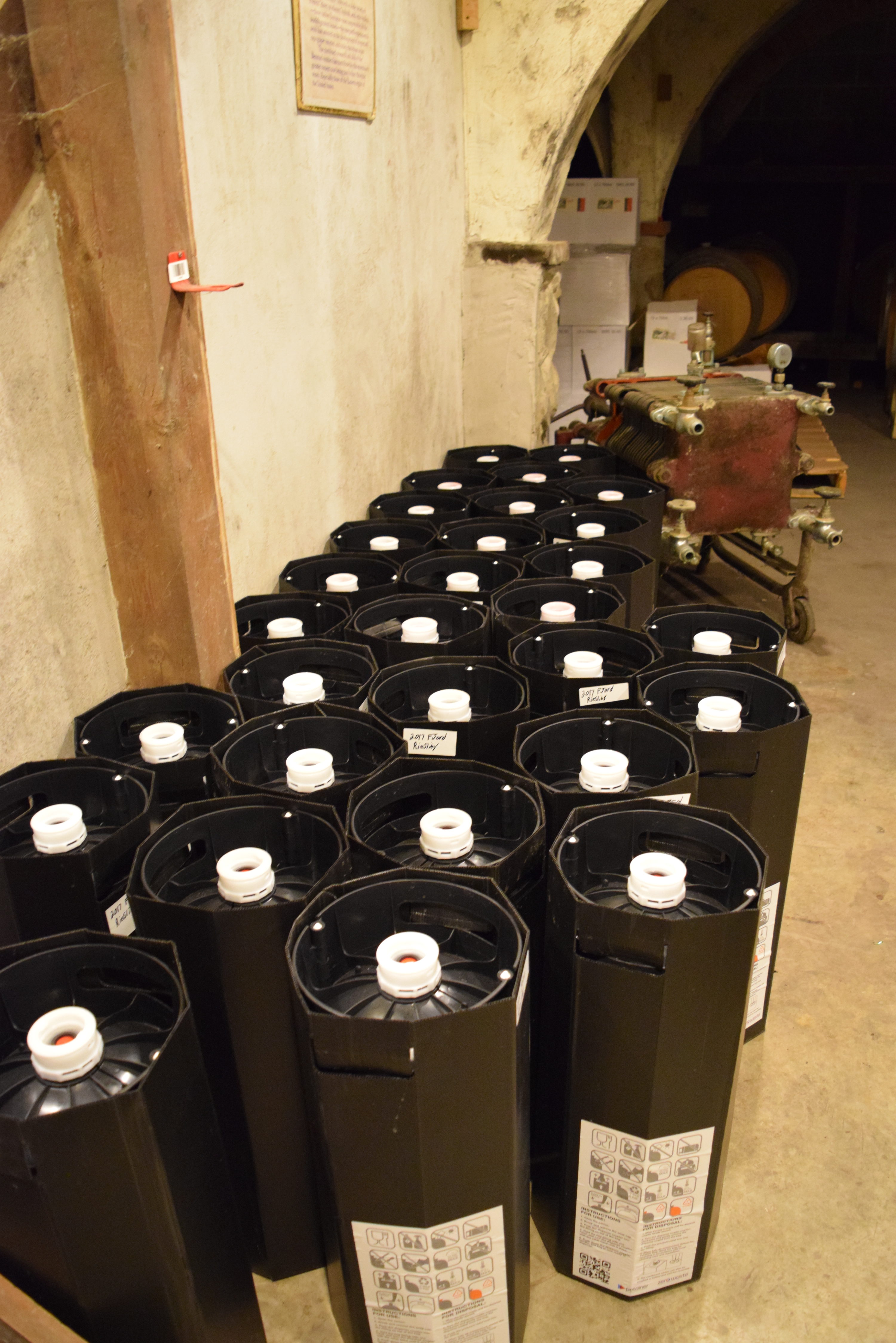 On our walk through the production area of the winery I noticed some kegs. I know keg wine is becoming a thing. I've seen it in some bars (not that I get out much). I asked Matt about it. These kegs are "one way kegs" I think back to my college days and a "beer ball." They get sold to restaurants, and they don't have to worry about picking up the keg. They are plastic and cost about $15. When the keg runs dry, they just poke a hole in it and put it out with their recyclables. It keeps the wine fresh and wine by the glass doesn't have to worry about a bottle being open for 4 or so days.
Fjord Vineyards
Now we are off to Fjord Vineyards and Casey and the kids have joined us. Matt and Casey have been making wine under the Fjord label for a couple of years now. Their first wine I tasted was a killer Albarino grown in Marlboro NY on the property of Howard Baker. Yes, I couldn't believe Albarino was grown in the Hudson Valley. Howard is Matt's mentor and it all began with the borrowing of a tractor. You just never know where things lead, and Howard was a big influence on helping Matt get started on his own and the creation of Fjord Vineyards.
Fjord is just down the road from Benmarl in Marlboro, NY. There is no sign, just a dirt driveway between two small stone pillars. If I didn't have Matt next to me, I would have driven right by. As you drive down this dirt driveway there are apple orchards on each side filled with beautiful Red Delicious apples and then the area opens up and there is a building in the middle of construction and a vineyard. It was magical.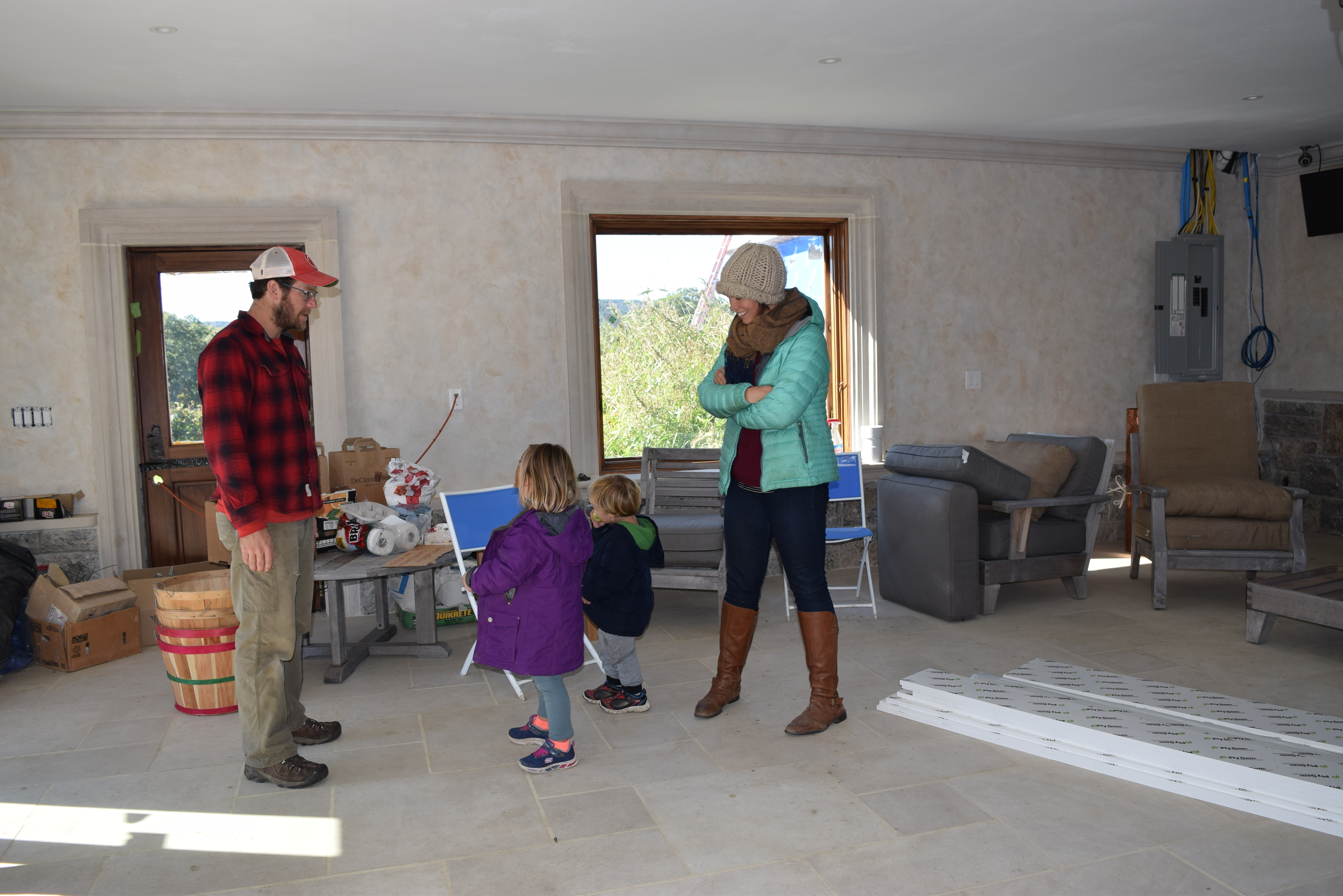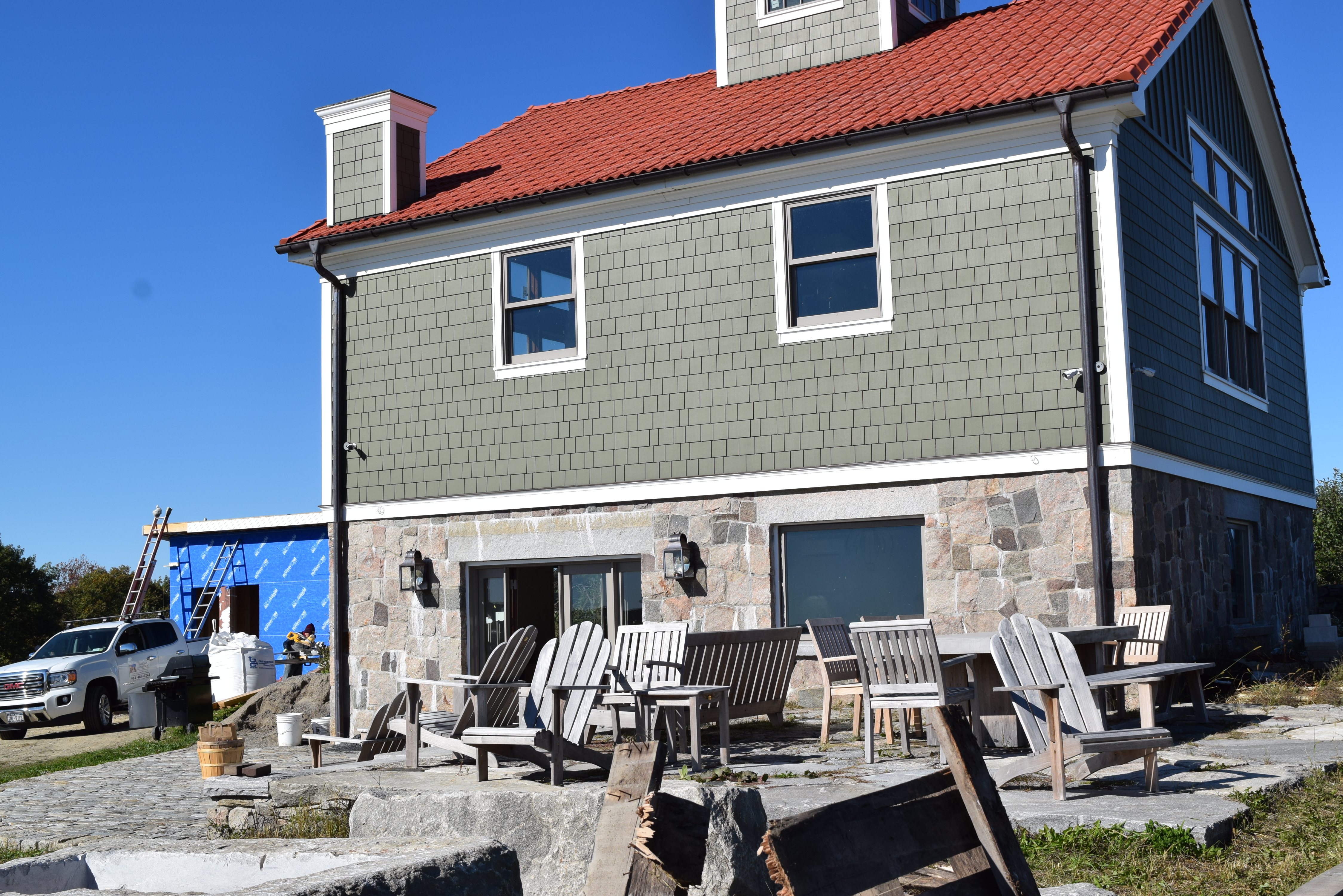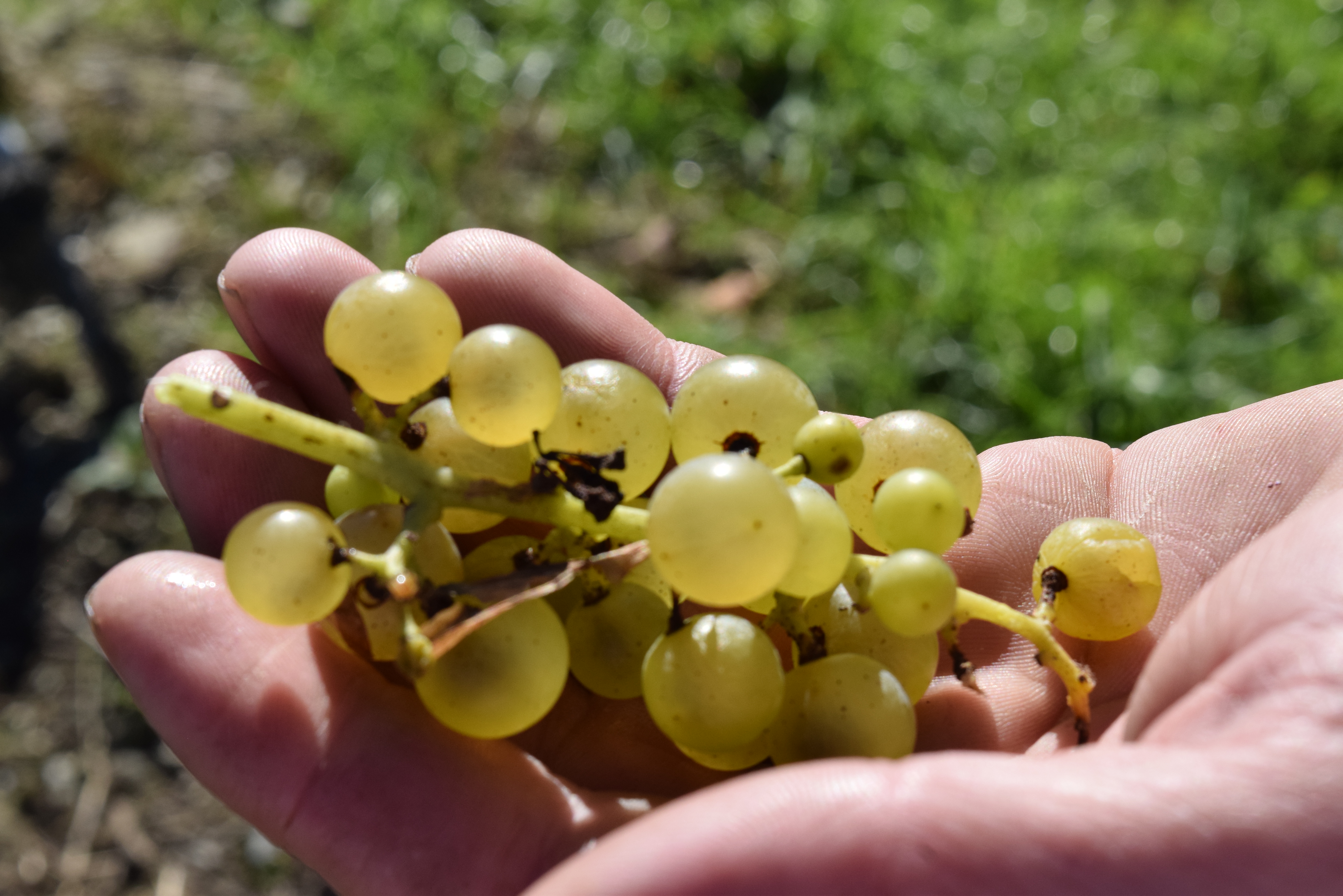 The building being built will house Fjord's tasting room and upstairs will be a private residence. The Cabernet Franc and Seyval Blanc were planted on the property in 2006 and shortly after that Matt began to manage the property. This is the block of Seyval Blanc that went into Benmarl's Seyval Blanc that I think is stellar! I felt this was the perfect time to talk to Matt about the Seyval Blanc and what he changed in his vineyard management and winemaking to create this outstanding wine. I will own up and say I wasn't a Seyval Blanc fan. I have tasted wines made at various Hudson Valley wineries and there was always a strange unique aroma and taste that I just didn't care for. Matt found the secret "When Seyval gets ripe the flavors aren't good. They are super ripe melon, wet dog and other off notes," explains Matt "The grapes taste great but the resulting wine not so much." He changed his protocol on when he picks the grapes and begins to pick them between 17 and 18 brix when it's really young, crisp, clean and high acidity. There is no contact with the lees, it's racked twice then filtered and bottled. He is striving for an Alsatian style wine. If you have a chance to pick up a bottle please let me know your thoughts.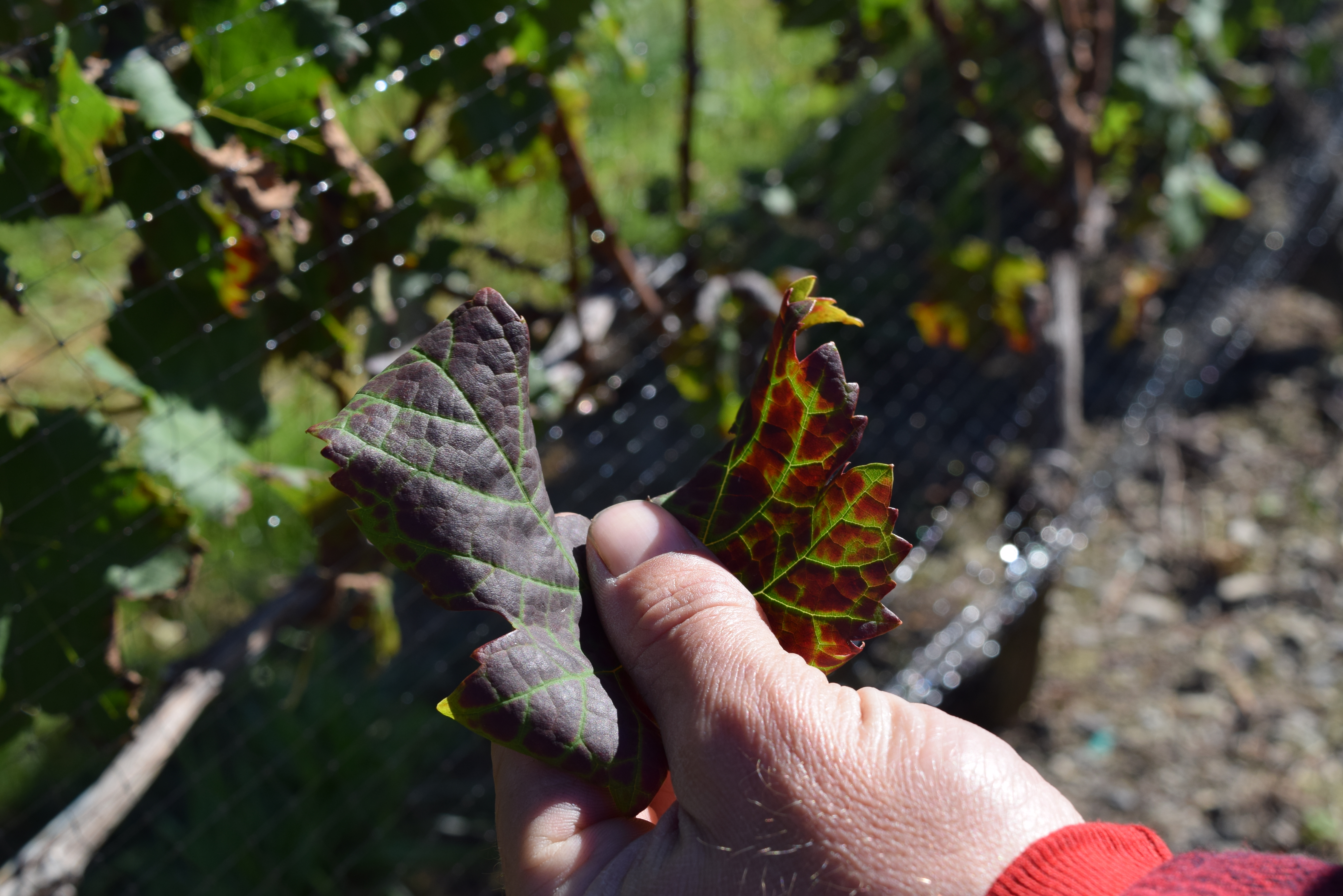 2018 was such a wet year there was a lot of disease pressure and as we walked through the vineyard Matt pointed out some disease pressure. Matt explained to me how the secondary shoots were so susceptible to downey mildew late in the season. The primary leaves were still ripening but the leaves showed a potassium deficiency. You can see how the color of the leaves change with the potassium deficiency. Just one of the many things you have to worry about in the vineyard.
You might be wondering when the tasting room will open. No date has been set, but it will most likely be by appointment only.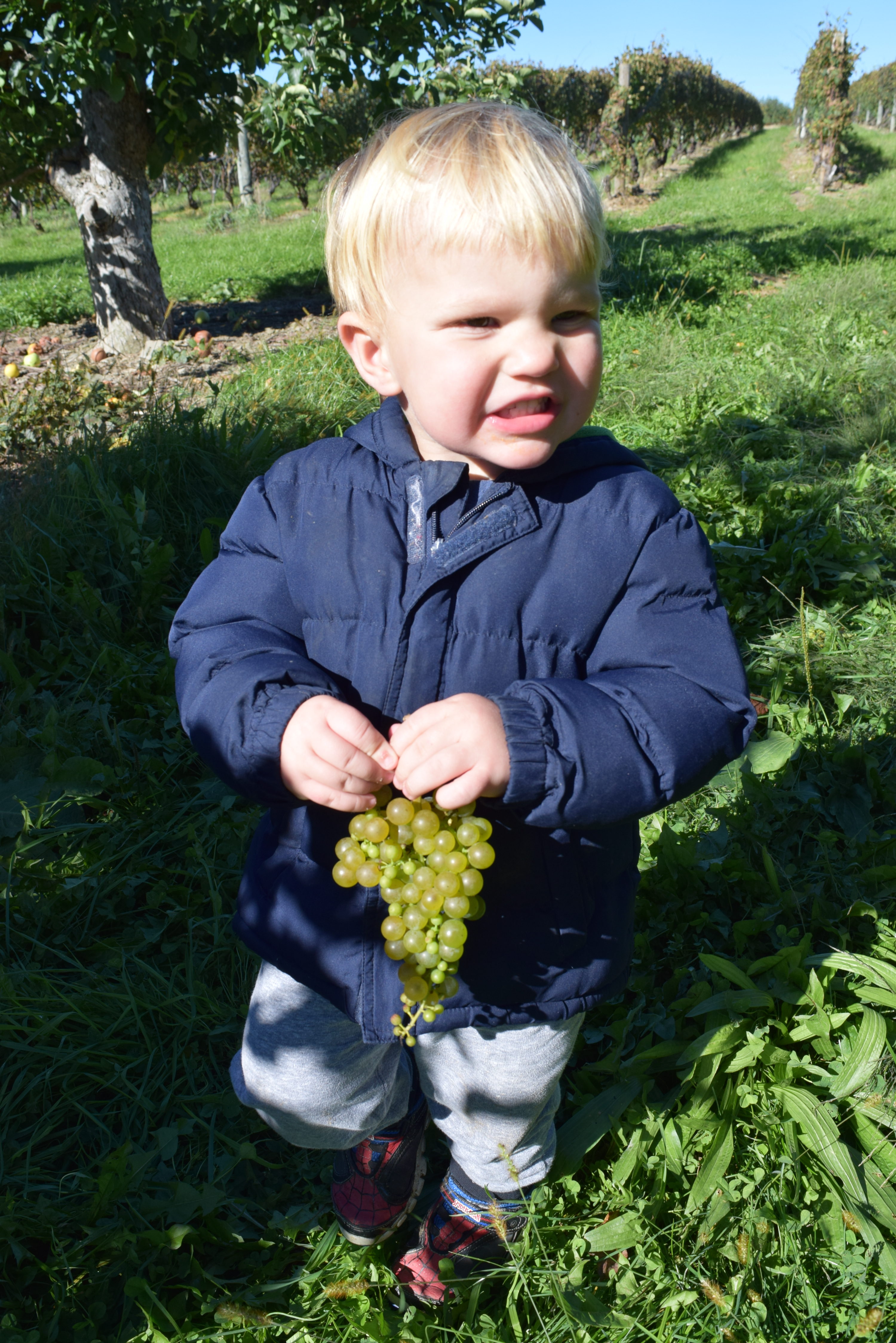 All About Family
You don't know what's behind a winery, the stories, the family and the problems. There were tough times in the beginning as the family faced divorce and with a family business that can make or break it. Benmarl came out with more family members involved like Michael who is now the General Manager. Matt's role as winemaker and vineyard manager has evolved to launching his own brand and doing some consulting. It's great to see the young new generation take hold of the wine business and it's not easy especially with a young family. 
If you ever follow Fjord Vineyards on Instagram you see picture of their kids and how they are involving them with the business. Matt tells me how his home is just next to Benmarl and when Maggie is giving Casey a hard time she calls Matt and sends Maggie to hang with Matt at the winery. Maggie grabs the dog and walks through the "Candy Cane Forest" to her dad waiting at the end of the path. (don't worry, both parents watch her as she strolls through the forest.) I commented on the pictures that Matt and Casey capture of the kids moments in the winery and Matt tells me it's usually when he's telling at them not to do something. The kids are young, but it's great to get them involved young, because you hope you are creating a legacy for them to follow in.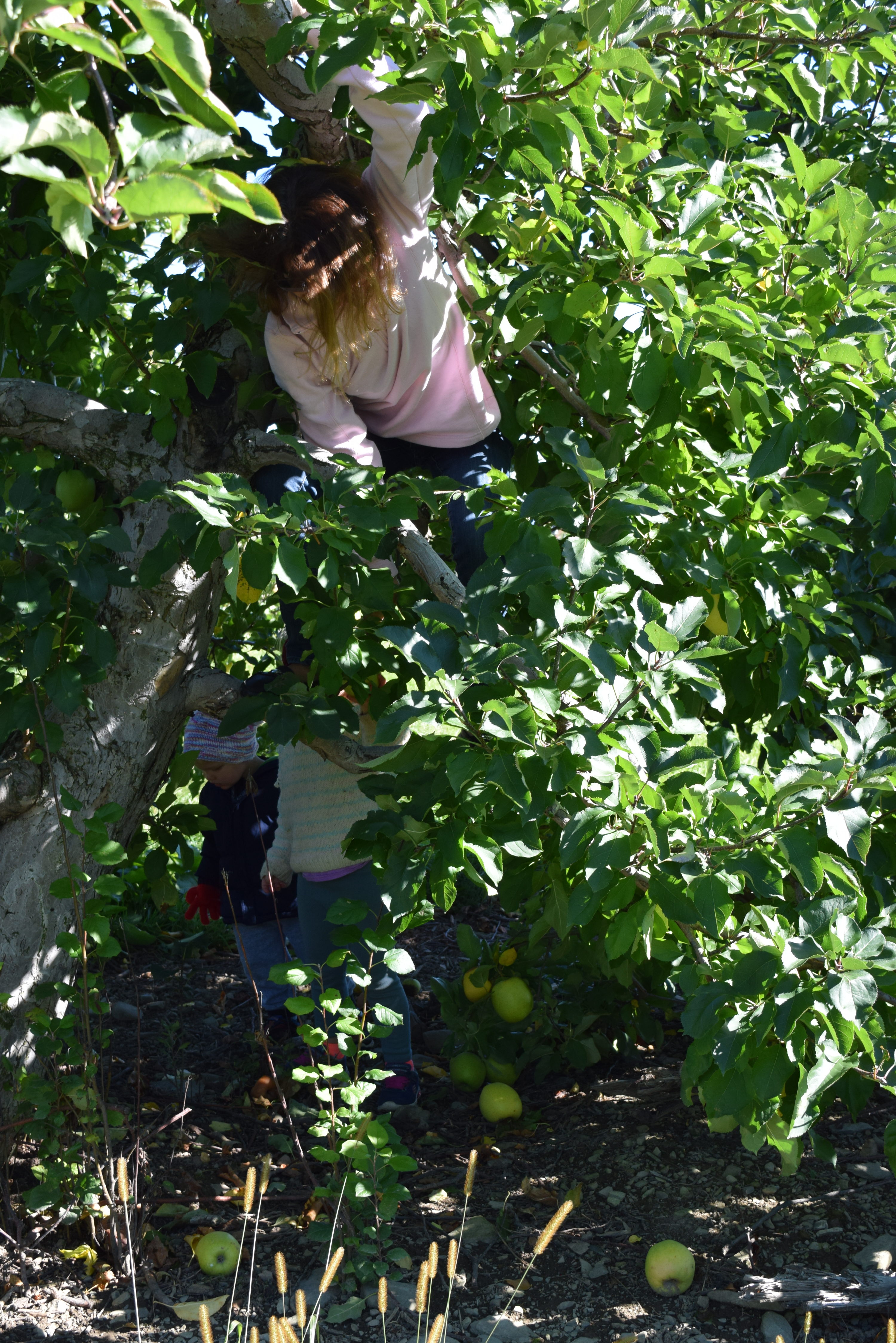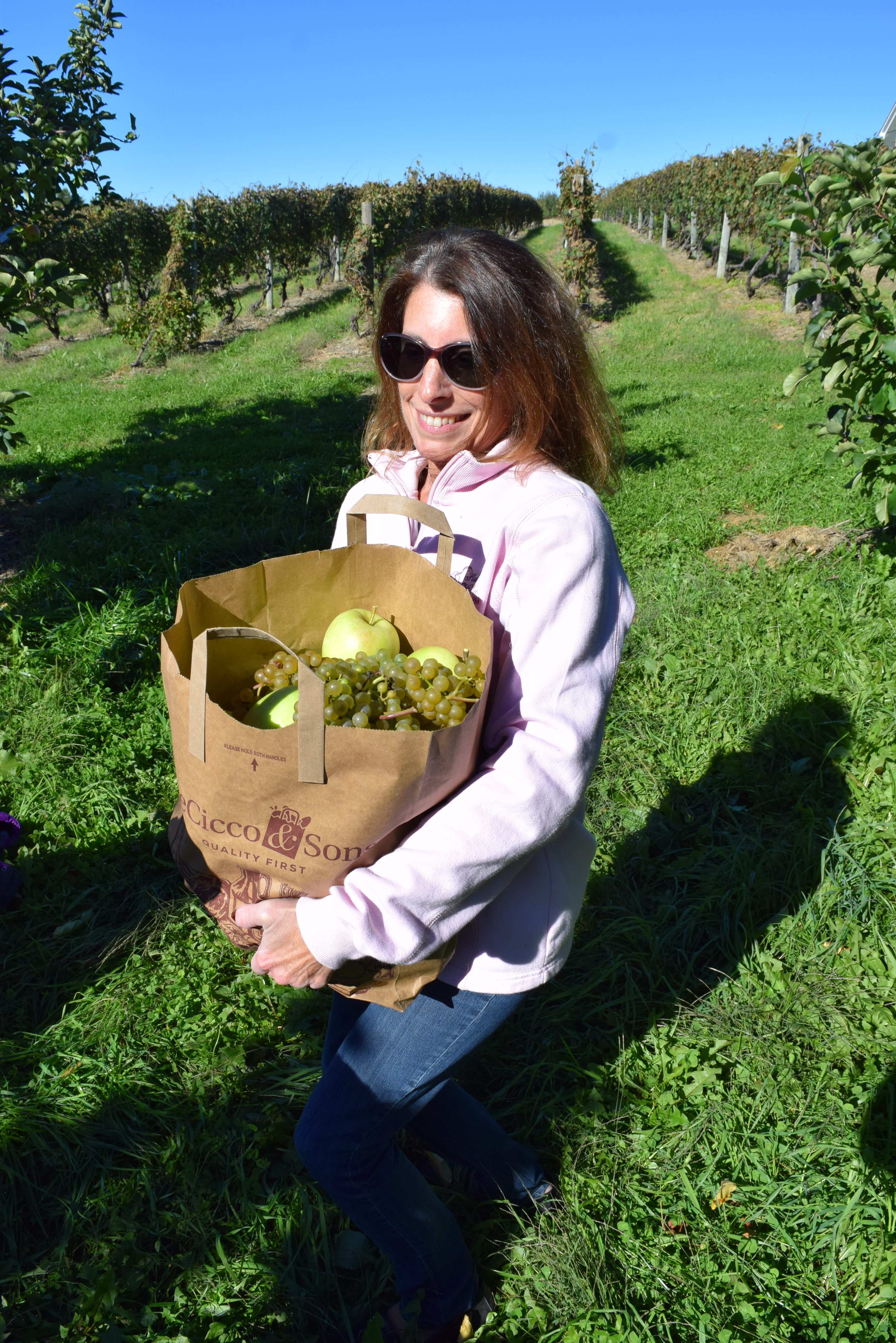 The Apple Orchard
The apple orchard on the property is managed by Fino Farms. There were a few trees that we were able to pick off as the pickers had already been through. The Mutsu trees were up for grabs, so we went and the kids helped me pick some apples to bring home with me. I had to climb the tree and hand Maggie and Leon the apples. They were the best apples I have had in a long time. I kept a few for myself and brought the rest to the restaurant where Gus made some fantastic warm apple pie for our customers. Don't you worry, the customers at the restaurant got the story about the winery and the apples when they ordered the pie.
Apple factoid: There are 4 million bushels of apples produced in Ulster County and 2 million of those bushels are produced in the towns of Marlboro and Milton.