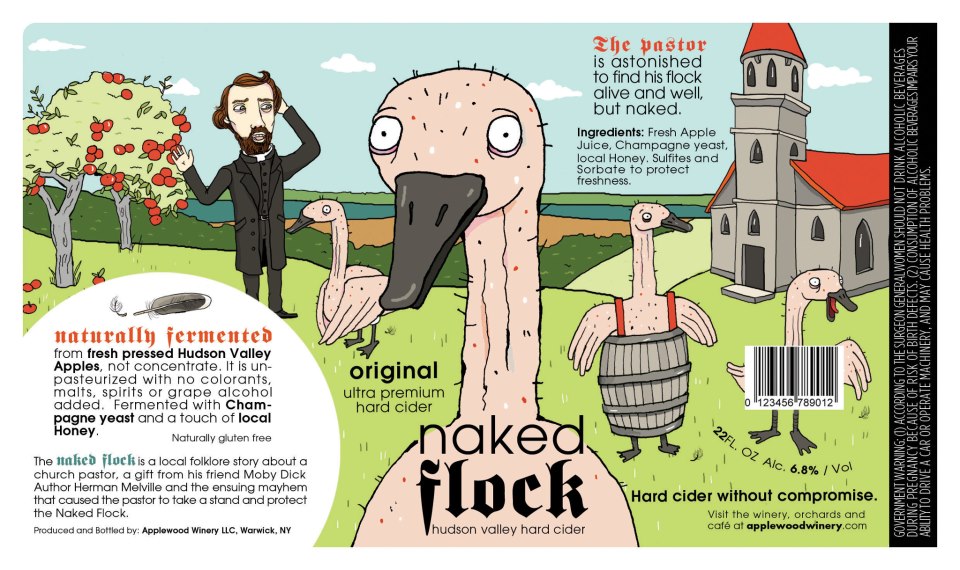 I recently had a conversation with Jonathan Hull, Owner/Winemaker of Applewood Winery about their new cider brand Naked Flock.
HVWG: How is the process of crafting cider different that wine?

JH: When we created the Naked Flock we decided not to go the route of ciders you see in the stores.  Most are made by watering down hard cider, adding alcohol to bring the level back up and then adding flavorings and sweeteners.  The Naked Flock is 100% Hudson Valley apples.  No patented formula.  Just Hard Cider without compromise.

HVWG:  Do you use only the apples from your orchard?

JH: We have a working relationship with many of the growers in the Hudson Valley.  We have been fortunate to source varieties that are hard to come by to make a hard cider without compromise.

HVWG: How long does this process take before the cider is available for public consumption?

JH: Because the main acid in apples is Malic, a stable acid, cider can be ready for salemonths after harvest.  Grapes primary acid is Tartaric which requires time and cold temperature to mature.
HVWG: What type of apples go into your Original Cider?

JH: The apples we use are obscure varieties that  don't lend themselves well to modern production methods, somebodys grandfather planted most of these trees and we try to convince the growers not to replace them and let us have the apples.
HVWG: Do you use the same apples in your other ciders as well?

JH: We use the same apples in our Pumpkin Cider,  The draft is made with low sugar higher acid apples.

HVWG: Is there a special kind of yeast used in the cider process.

JH: We use both wild and cultured yeasts.  In good years we use nothing but wild yeast.  It gives a true Hudson Valley Cider flavor.

HVWG: What is your favorite Cider pairing?
JH: Potato Pierogis
Naked Flock ciders are available at Applewood Winery and Pecks Liquors, Warwick NY; Fetch Restaurant, Warwick NY; Larry's Deli, Warwick NY; Beverage Plus, Warwick NY; Hopped Up Cafe, High Falls, NY; Dive Bar, NY, NY; Rock and Rye, New Paltz, NY; Bronx Ale House, Bronx, NY; Harlem Public, NY, NY.