Breaking Bread
Breaking Bread can be thought of as having a meal together. The term occurs in many places in the New Testament where it means to share bread or distribute food to others. The expression means more than just sharing bread, having a meal, it's a significant event that fosters a meaningful connection.
If you are angry with someone and break bread with them, it is an act of forgiveness. When you break bread with a group of friends, you are sharing an emotional experience along with food. The emotional experience can be just a friendship or partnership. Sometimes it's just a meaningful connection to bring people together who previously had reason to be disconnected.
Breaking Bread Winery
"to engage in a comfortable, friendly interaction where something is shared."
Erik Miller is the man behind Breaking Bread Winery and also the owner of Kokomo Winery located in the Dry Creek Valley. Erik started Kokomo Winery in 2004 and launched Breaking Bread in 2019. Breaking Bread Winery is producing wines that are lighter in alcohol and crafted in the style of wine inspired by Cru Beaujolais. They have a hands-off approach to winemaking to highlight the purity of the fruit. The wines are lighter in color and body, they highlight the fruit and can be served slightly chilled.
These wines are nice wines to drink in the warm weather when you don't want a heavy Cabernet. Good for the boat, pool, beach, hike and patio. They are lively, express the fruit quite well and have nice acidity. The label has a calming effect and reminds me of "peace, love and rock n roll."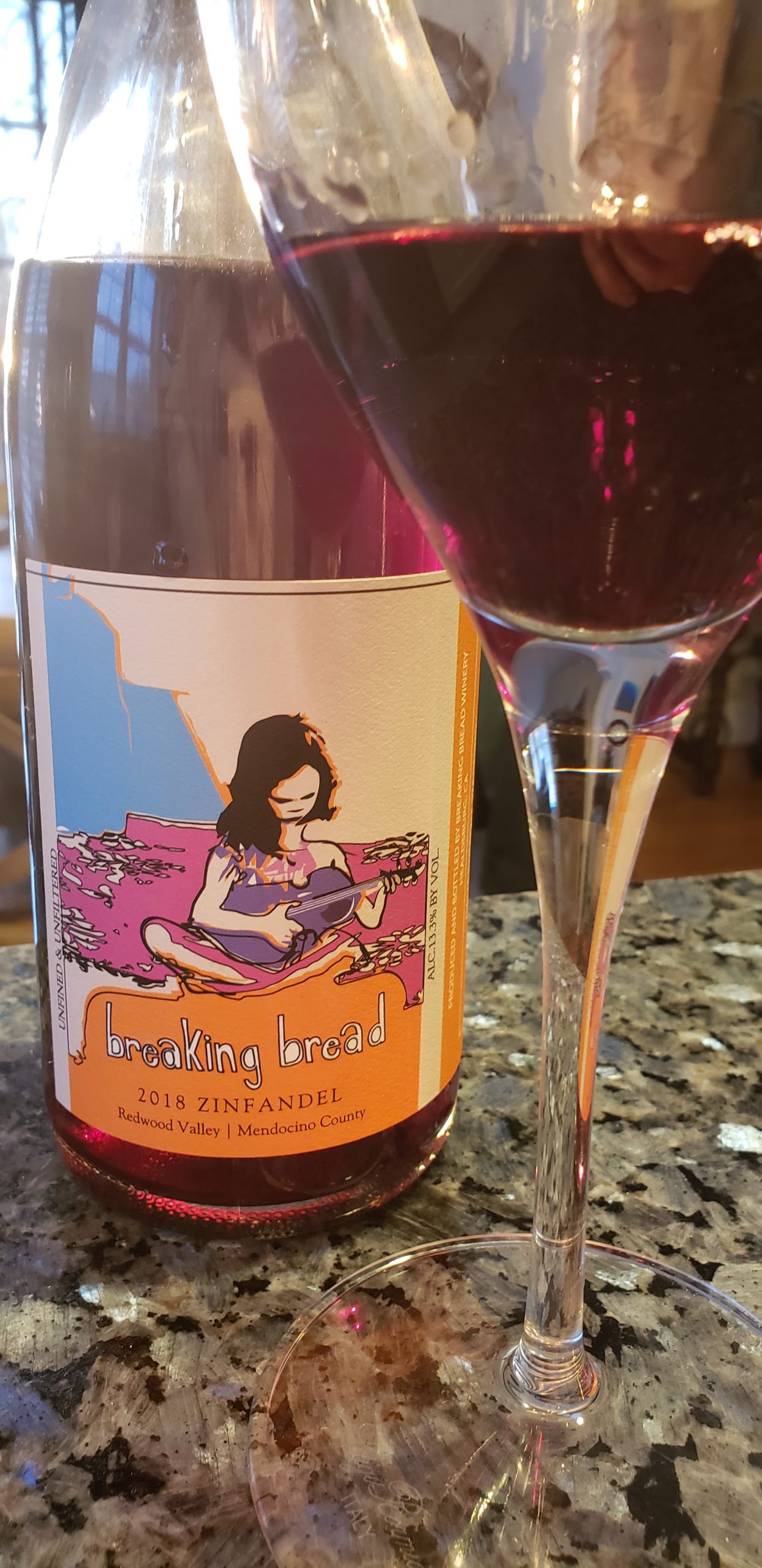 2018 Breaking Bread Zinfandel (SRP $24)
The grapes for this wine come from the Redwood Valley in Mendocino County. The vineyard owned and farmed by Alvin Tollini, the Zinfandel was planted in 1972 and is dry-farmed. The climate in this region with its cool nights allows the grapes to attain maturation at a lower brix level. Whole cluster fermentation with native yeast and aged in neutral French oak for 17 months yields a California Zinfandel with 13.3% alcohol.
Slightly chilled this wine had hints of spice and red fruit on the nose leading to a palate that was lighter in body than (not a bad thing) what you would expect from a California Zinfandel. Lots of red fruit with hints of black peppercorns and spice. It was lovely slightly chilled and would suggest it with some nice barbecued ribs on the back deck.
2018 Breaking Bread Grenache (SRP $24)
This wine as well comes from the vineyard owned by Alvin Tollini in the Redwood Valley, Mendocino County. Whole cluster and native yeast fermentation and aged for 7 months in 100% neutral French oak yields a Grenache with 12.9% Alcohol.
I did not chill this wine, but because of the lightness of the wine I feel it would have been better slightly chilled. None the less, it was very enjoyable with lots of fresh raspberry, slight hint of spice and crunchy acidity.