Cabernet Franc East vs West
Cabernet Franc is one of my favorite grapes. I was first introduced to it as a stand alone varietal at Whitecliff Vineyards way back and immediately fell in love with it. What I liked best was the pepper burst on the finish. Cab Franc as it's referred to wasn't always a stand alone varietal wine. The grape is used in blending and is one of the Bordeaux 5 and just in general used as a blending grape with other reds such as Cabernet Sauvignon. Truth be known, it's Cabernet Sauvignon's parent along with Sauvignon Blanc. Cab Franc has always lagged behind in the spotlight until Lori Budd from Dracaena Wines created Cabernet Franc Day on December 4th from her love of the grape and she produces a pretty good one too!
Why did she decide of December 4th for such a day? It is believed that in the 17th century Cardinal Richelieu transported cuttings to the St Nicolas de Bourgueil in the Loire Valley from Bordeaux. Cabernet Franc has been thriving in the Loire Valley ever since. Cardinal Richelieu died on December 4, 1642 and Lori chose this date to celebrate the grape because without him we wouldn't have the grape.
On December 4th I took part in a tasting of Cabernet Franc. I had one from the east coast – Unionville Vineyards 2014 Amwell Ridge Cabernet Franc, New Jersey, and one from the west coast – Acorn Winery 2014 Cabernet Franc, Alegria Vineyards,Russian River Valley,California. You might ask, how could they be so different. East coast and west coast Cabernet Franc are very different, even thought it's the same wonderful grape. Many things to keep in mind, climate, soil, days of sunshine, and harvest. I usually find California Cabernet Franc more fruity and jubilant than it's east coast counterpart. East coast or cool weather Cabernet Franc for me tends to be more serious, something you want to smoke a cigar with and it has a wonderful burst of black pepper on the finish. In general, Cabernet Franc is a medium bodied red wine with lower tannin levels than its offspring Cabernet Sauvignon.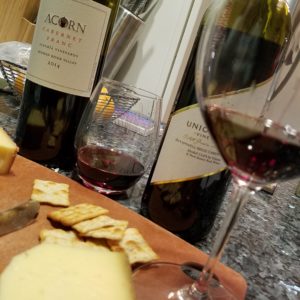 It's not fair to compare east coast, cool climate Cab Franc to the west coast, warmer climate grape. I feel you need to look at each bottle as their own, where you won't compare your children and love them each for who they are, you have to do the same for each bottle of Cabernet Franc whether from the east coast, west coast or France.
Acorn Winery 2014 Cabernet Franc, Alegria Vineyards, Russian River Valley, California is field blend. Quite honestly this is the first time I have heard of a 'field blend' so I asked Betsy and Bill to define that for me. All the grapes for Cabernet Franc are grown in their Alegria Vineyards. The Cabernet Franc, Malbec, Merlot, Petit Verdot, Cabernet Sauvignon and Tannat are all grown together, crushed together and cofermented together. There is 93% Cabernet Franc in the bottle along with 2% Malbec, 2% Merlot, 2% Petit Verdot, 1% Cabernet Sauvignon and 1% Tannat. The grapes were all cold soaked for three days and aged in oak for 18 months. The barrel program consist of 73% French oak with 20% of the barrels new, 13% American oak and 14% European oak. There are only 391 cases of this wine produced. Nice aromas from this wine of cranberry, pomegranate, cedar and a hint of allspice. On the palate the wine was full of dark red cherry, blackberrry and mid palate find hints of baking spice and mocha. As the wine opens it becomes more complex an shows a bit of earth. This wine paired really well with Morbier cheese. Very enjoyable! SRP $38
2014 Unionville Vineyards Amwell Ridge Cabernet Franc, New Jersey is my first New Jersey Cabernet Franc. Quite honestly I was surprised on how much I liked it. I am really beginning to see the light in New Jersey Wines (post coming soon) so I was excited that I was sent this bottle to try. My only other experience with cool climate Cab Franc are Virginia and New York and can now add New Jersey to my list! Aromas of dark fruit, plum and cigar box were coming from the glass along with a hint of that green pepper. Personally I am not a big fan of that green pepper in my Cab Franc but this was so subtle and the fruit aromas blended into it, it was a classic aroma of a Cab Franc. On my palate I found plum, red fruit, cranberry black pepper mid palate and a burst of pepper on the finish along with raspberry that lingered. This wine went really well with Sprout Creek Batch 35! Totally impressed with the New Jersey Wine!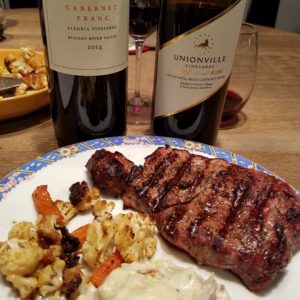 Both the above wines were very enjoyable and I was impressed by each of them. As I noted I paired them each with a cheese, they also went very well with dinner of Delmonico steaks sprinkled with truffle dust, sage potatoes au-gratin and roasted cauliflower. Try a Cabernet Franc with you next party or steak dinner.
Kudos to Lori Budd of Dracaena Wine for creating Cabernet Franc Day, rallying the wineries who produce it and making it so successful!