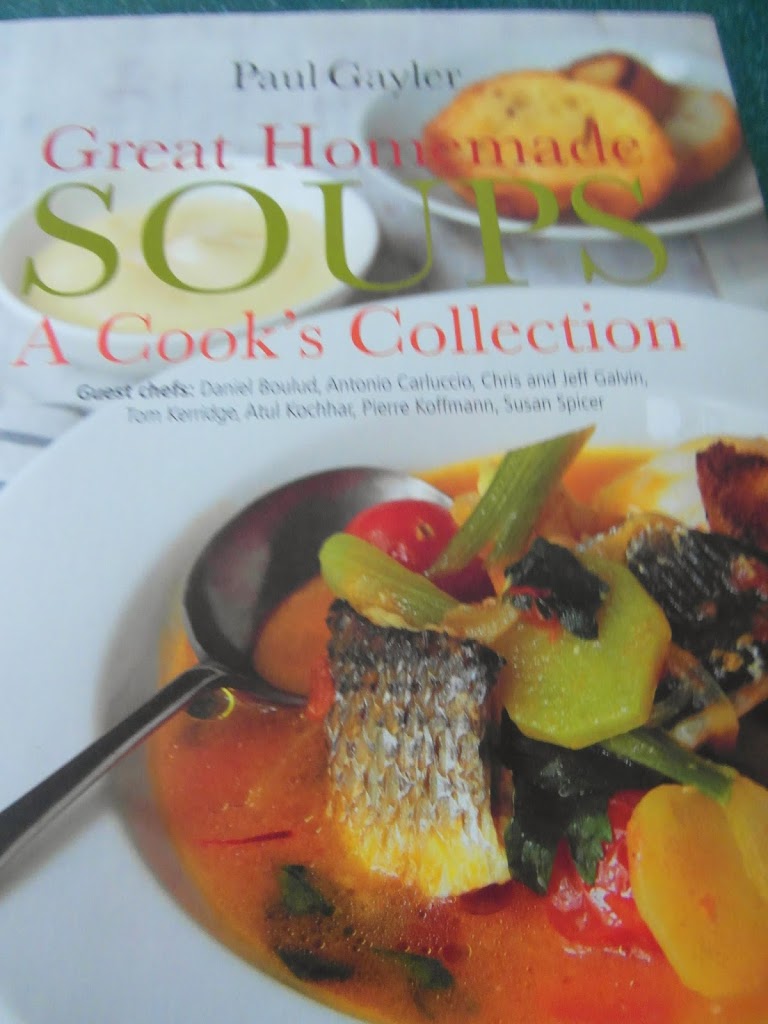 We have this never ending winter and I can't get enough soup to get me through it all. When I received this great cookbook "Great Homemade Soups, A Cook's Collection" by Paul Gayler, I was excited!
This cookbook is chock full of recipes from various corners of the world. Vietnam, Colombia, Japan, Italy, Ethiopia and more. There is a great introduction and definitions on ingredients and classification of soups. Was especially helpful for the ethnic soups I wasn't familiar with.
One soup that is very popular in my house but out of a Progresso can is Italian Wedding Soup. I might have an Italian last name, but that is only by marriage and this soup was never in my house growing up. So I thought I'd try my hand in this. After making this soup, I will never buy it in a can again. Fast and easy it is!
We paired it with a Domaine Francois Cartier 2006 Malbec
Before I go into the recipe and wine notes, I did a little altering. Instead of the escarole I used kale that I had flash frozen during the summer from my CSA. It worked well with the soup.
The Soup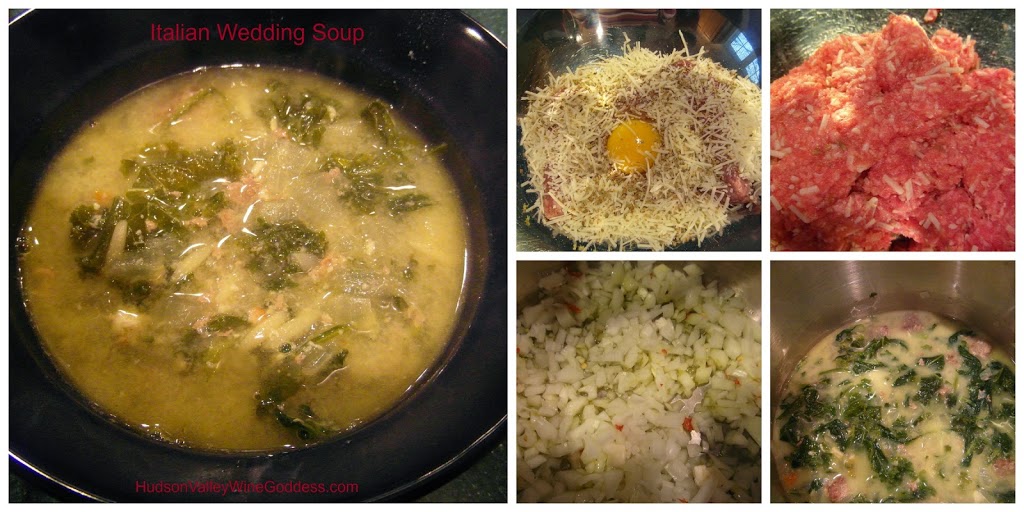 Ingredients
Soup:
3 tbsp extra virgin olive oil
1 onion, finely chopped
1 garlic clove, crushed
1/2 tsp red chili flakes
1.5 litres (2 3/4 pints/1.3 quarts) white chicken broth (the metrics threw me off here)
75g (2 1/2 oz) orzo
300g (10oz) escarole lettuce, coarsely chopped (I used kale)
2 tbs coarsely chopped flat leaf parsley
1 egg
150g (5 1/2 oz/ 1 1/3 cups) freshly grated Pecorino Romano
sea salt and fresh ground pepper
Meatballs:
200g (7oz/1 2/3 cups) ground beef *
200g (7oz/1 2/3 cups) ground pork*
grated zest of 1/4 lemon
1 egg
100g 93 1/2 oz/1cup) freshly grated Pecorino Romano
1 tbs coarsely chopped fresh oregano or 1/2 tsp dried oregano
* I used equivalent to a pound in total.
First make the meatballs. Combine all the ingredients together in a bowl, season to taste, then refrigerate for 1 hour. Remove from fridge and roll the meat mixture into 2.5cm (1in) diameter balls.
Heat a large frying pan with 2 tsp of oil over a medium low heat and add the meatballs and cook for 5-8 minutes or until golden all over. Remove and set aside. (I baked the meatballs at 350 for 15 minutes and achieved the same results. I'm messy with oil and a frying pan of meatballs)
For the soup, heat the remaining oil in a clean pan over medium heat and add the onion, garlic and chili flakes. Reduce the heat to low and cook for 10 minutes, or until softened.
Pour the stock over, bringing to the boil, then reduce the heat to simmer. Add the pasta and lettuce and simmer for 10-12 minutes or until the pasta is al dente. Add the meatballs to the broth and simmer for 5 minutes. Add parsley.
Meanwhile, whisk together the egg and Pecorino Romano in a bowl. Slowly pour the egg and Pecorino Romano mixture into the soup, stirring continuously and always in the same direction with a wooden spoon as you pour.
Simmer for 30 seconds over low heat to allow the eggs to cook and thicken slightly. Season to taste and serve.
I served with crusty garlic bread.
The Wine: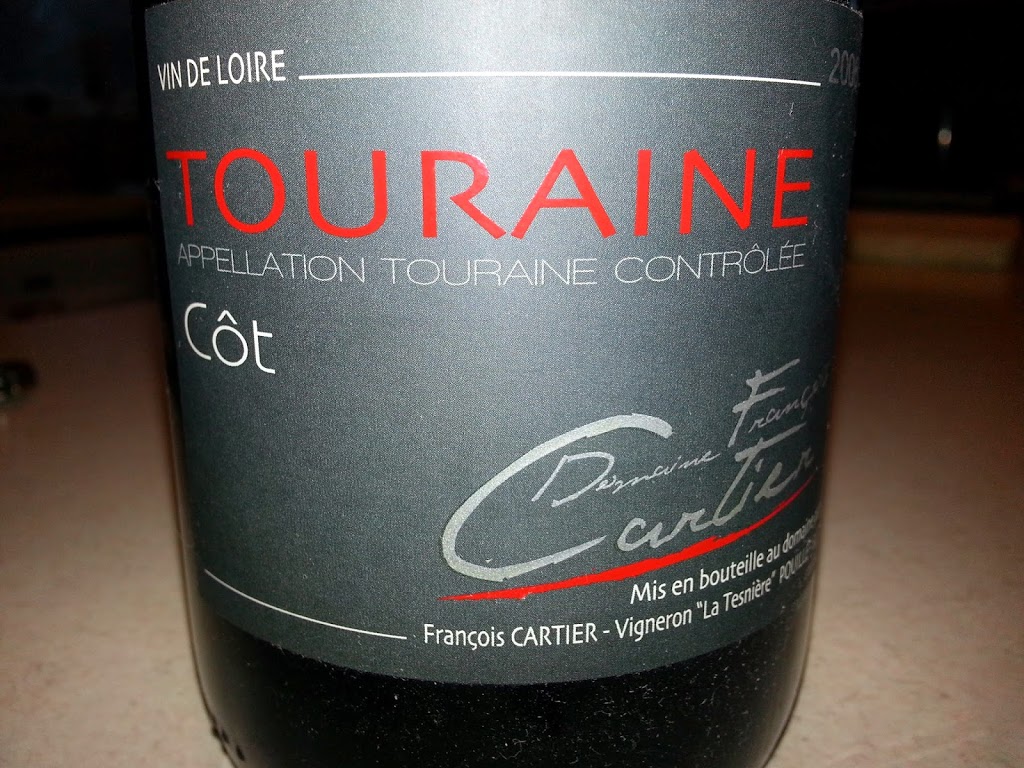 2006 Domaine Francois Cartier Côt (Malbec) Touraine, Loire Valley
First you might be looking at this and think Côt, what is that. That is what they call Malbec in France. Now that I cleared that up, this was a really good Malbec that I wish I had 2 bottles.
Aromas of blackberry, cherry, pine and oak filled the glass. The palate was filled with dark fruit. Black Cherry, plum, and a maraschino cherry that lingers on the finish. It was clean and dry and had nice acidity.
It retails for approximately $24.