The Hudson Valley 90 miles of beautiful scenery and what has become a craft beverage mecca. Beautiful wineries, breweries, distilleries and cideries dot the countryside along with the rich history that the area holds.
I have lived most of my life in the Hudson Valley…Wappingers Falls, Poughkeepsie and LaGrange. I have visited or tasted from all of the wineries, breweries, cideries and distilleries in the region. Along with visiting many of the sights in the area. When I owned my travel agency I planned travel itineraries for people visiting the region to take in the sights as well as the wineries and distilleries (back then the breweries were only a few)
It was only fitting when I got asked to write a book of day trips and weekend itineraries throughout the Hudson Valley visiting the wineries, breweries, cideries, distilleries and sights along the way.
The book is broken into three major sections: winery itineraries, brewery itineraries and sightseeing. The distilleries and cideries all mixed in throughout all itineraries. Within each section there are different entry points into the valley. One being the Harriman Tolls at Woodbury Commons, Newburgh exit on the New York State Thruway, Millbrook exit off the Taconic State Parkway and Albany. There is a section that includes the breweries of the lower Hudson Valley. I couldn't leave them out.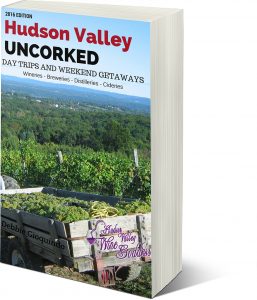 Currently as I write this post the book is at the publisher for editing. The cover that you see above is my mock up but not the cover you will see on the book. (For some reason I don't have a say in that.) The view is from the top of Glorie Farm Winery.
To be on the list for when the book is released please go to https://hudsonvalleywinegoddess.com/hvuncorkedpre and subscribe. You will also receive a booklet of some of the annual events that take place in the Hudson Valley that are wine, beer and craft beverage related.
I'm hoping for a release in September but I will keep you posted.