From Law Enforcement to Winemaker – Cindy Cosco of Passaggio Wines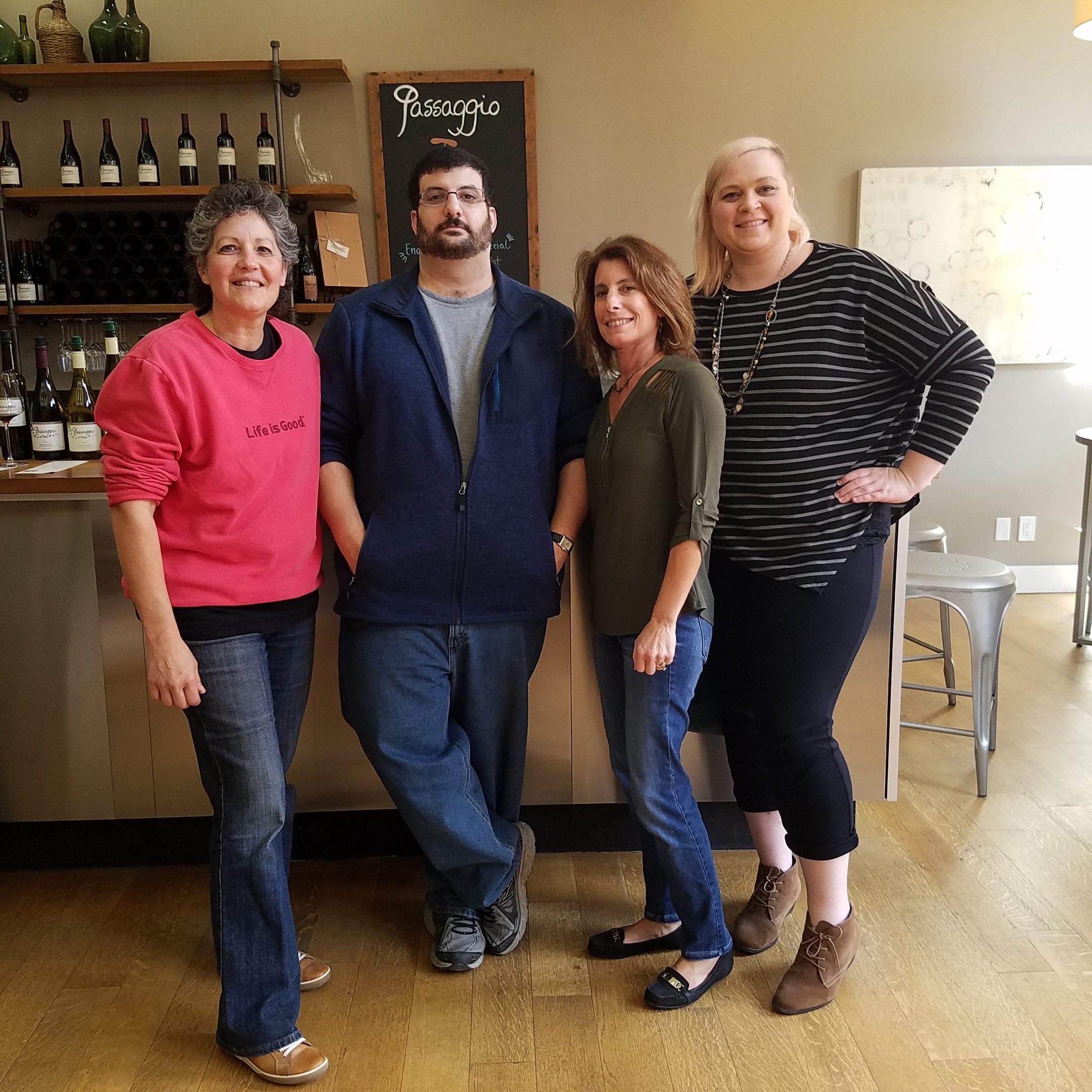 I've known Cindy Cosco, owner of Passaggio wines for a number of years now. The first time I tasted one of her wines was through the Rosé program with Winestudio at a time when I wasn't quite keen on Rosé and her Rosé was one that changed my mind. I wanted to visit and meet Cindy in person when I was out last February for a few days, but it just didn't work out. I told her when I was in town for the Wine Bloggers Conference I would make it a point to visit and that is what I did.
Her tasting room is located right in Vine Alley in Sonoma Square and it was very easy to find. I was very excited to meet her in person, face to face as I felt like I've known her decades. To add to the experience, just as I finished the tasting, Jenn Nelson from WineAntics walks in as she came to taste and meet Cindy in person too.  Another person I know but never met.  Needless to say, I stayed on a little while longer and got to taste her entire portfolio.  Onto how Cindy got to Sonoma.
Born and raised in West Virginia and went to college in Florida and ended up in Manassas, Virginia working in law enforcement for 15 years. In 2004 she had had enough sought out to follow her passion. Growing up in an Italian household where her grandfather made wine in the basement, she really wanted to be on the winemaking side of things. So every 6 to 8 weeks she would fly out to California and she fell in love with Sonoma and realized this is where she wanted to be. So she relocated and began working for BevMo figuring she will meet someone in the local wine industry that could lead her into the local wine industry, which she did. She met a gentleman whose job on Saturdays was to do tastings for Chateau St. Jean and he got Cindy a harvest temp job at Chateau St. Jean. Thrilled and so excited, Cindy began working as a cellar rat during the 2004 harvest and then they moved her into the lab and hired her on full time after harvest. She stayed there for three years and went to Napa Valley College receiving her degree in enology. 
Cindy had it in her mind to make an Unoaked Chardonnay and after attended the open house for Crushpad, a custom crush facility in San Francisco it led her to a lab manager position there and her first wine – 50 cases of Passaggio Unoaked Chardonnay. In 2011 Cindy left Crushpad and went to work for Chimney Rock and in 2012 went out on her own. In 2014 Cindy opened up the tasting room in Sonoma, bought a house and got a puppy, Phoebe and in 2016 she opened up her own production facility 5 minutes from the tasting room.
Passaggio is known for their white wines and she wasn't going to produce any reds but people kept asking her at tastings, don't you have a red. So her Pinot Noir was born and the so was beginning of her red portfolio. Cindy doesn't want to be like everyone else so you are in for a treat with her portfolio. She produces a Grenache, Merlot, Syrah, GSM, Bordeaux Blend for reds, Roussanne, Pinot Grigio, Passion Blend (Grenache Blanc, Sauvignon Blanc, Chardonnay, Viognier), Riesling, Unoaked Chardonnay, Grenache Blanc, for whites and some new ones to come for both portfolios.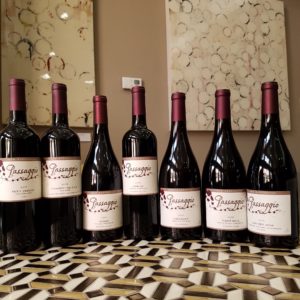 All the wines I tasted were so good it was hard to choose what to send home. Below are the wines the UPS man delivered when I returned from my trip. If you are in or planing a trip to Sonoma, make sure to stop by Passaggio Wines and tell them I sent you!
Remember her wines are produced in small lots, so if you taste and like them, purchase them. 
2016 Unoaked Chardonnay, Namesake Vineyards Carneros, all stainless steel fermented. Really beautiful, balanced with notes of pineapple, green apple, pear and citrus. SRP $36
2016 Grenache Blanc, Matthes Vineyards, Sonoma Valley is a field blend of 75% Grenache Blanc and 25% Marsanne. Lots of stone fruit, hint of green apple and citrus SRP $33
2016 Roussanne, Hux Vineyards, Lodi aged in neutral oak. Well balanced with pear, stone fruit and a touch of honey. SRP $32
2015 GSM – a Rhone Style Red Wine Blend. When blending this wine Cindy was looking for something more on the lines of the French wines. This is 44% Grenache, 44% Syrah, 12% Mourvedre. Lots of red and black fruit, plum and a hint of black pepper. SRP $49
2015 Grenache, Heringer Estates Vneyards, Clarksburg a great holiday wine with red berry, hints of white pepper, cinnamon SRP $48
2015 "Connect" Red Wine, Coplan Vineyards, Sonoma County a blend of 69% Merlot, 23 Cabernet Sauvignon, 8% Petit Verdot – lots going on here, black fruit, blueberry, red fruit hint of mocha and clove. SRP $62