Get Magical on Valentine's Day with Franciacorta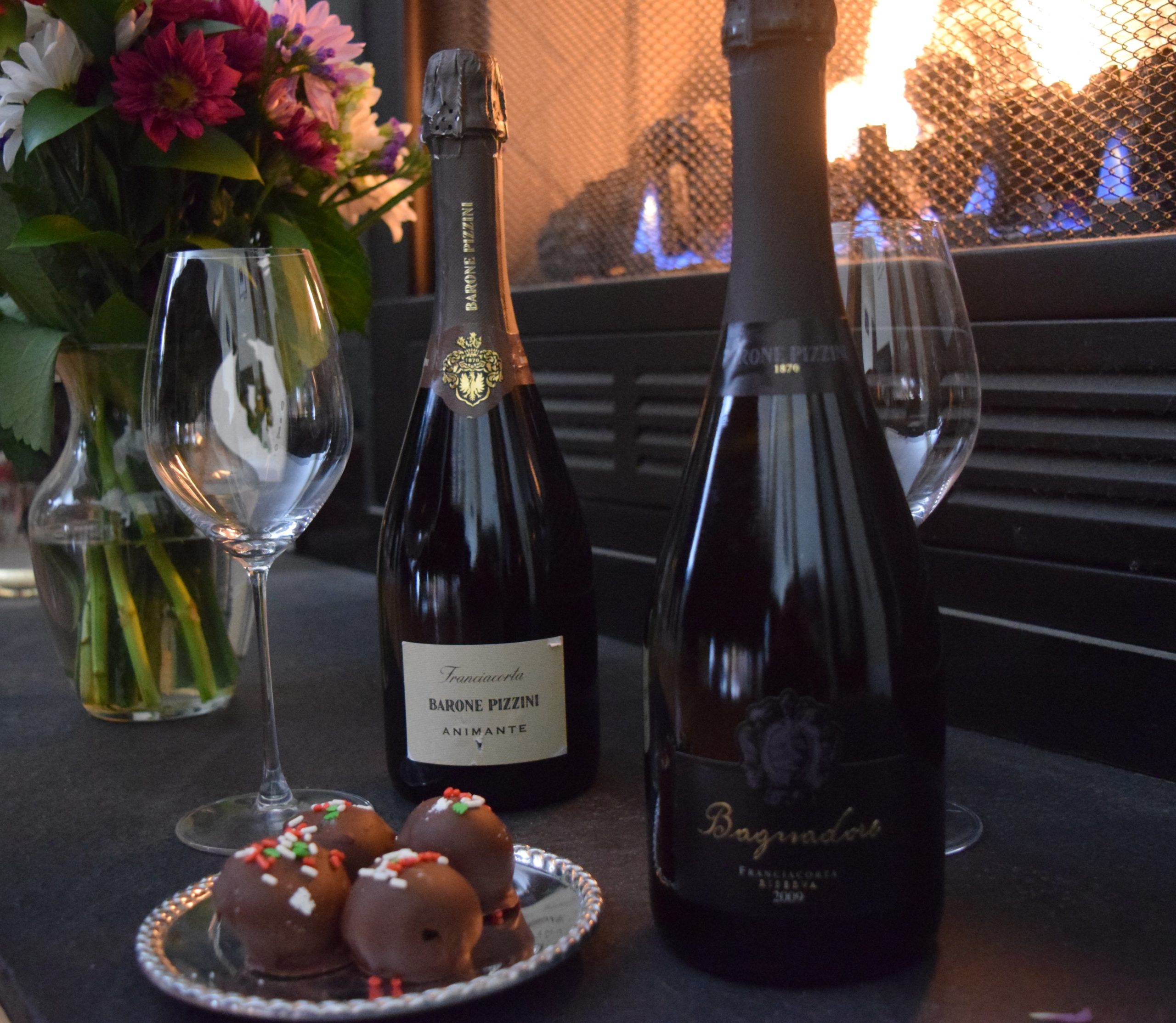 When I hear the word Franciacorta I think of the movie "Princess Diaries" and the country of Genovia. Something about that movie is magical to me, just like Franciacorta is magical, the name, pronouncation and the sparkling wine. No I've never been to the Franciacorta region of Italy but I envision it with lush green vines and a magical way about it. Valentine's Day is magical and should be spent with a magical bottle of Franciacorta.
Where is Franciacorta
Franciacorta is comprised of 19 villages in the district of Brecsia in Lobardia, Italy. Gentle hills line the area bordered by the river Oglio to the west and Lake Iseo to the north. The climate is continental and the mountain ranges to the north protect the area by blocking much of the cold air from the Alps. Vineyards range in elevation from 300 to 1,600 feet.
What is Franciacorta?
Franciacorta is a sparkling wine made in the traditional method. It is produced from three types of grapes: Chardonnay, Pinot Nero and Pinot Bianco. The wines tend to be Chardonnay dominated and by law Pinot Bianco cannot exceed 50% in the blend. The grapes are harvested by hand.
When you buy a bottle, it will either be Non-Vintage, Vintage or Riserva. The requirements for each are different.
Non-Vintage Franciacorta spends a minimum of 18 months on the lees. Produced as a Brut Nature, Extra Brut, Brut, Extra Dry, Sec and Demi-Sec
Vintage Franciacorta (Millesimato) must age a minimum of 30 months on the lees. Produced as Extra Dry, Brut, Extra Brut and Brut NAture
Riserva Franciacorta is only made in exceptional years and made from vintage bottlings. It requires a minimum of 60 months on the lees. Produced as a Brut, Extra Brut and Brut Nature.
Franciacorta Rose which must contain at least 35% Pinot Noir ang aged for 24 months on the lees. It can also be produced as a millesimato and riserva
Franciacorta Saten is a Chardonnay based Franciacorta produced with less than 5 atm of pressure and finished as a Brut. It must age on the lees for 24 months. Saten can also be produced as a millesimato and riserva.
The Demi -Sec, Sec and Extra Dry style will be hard to find. Not many produced in that form.
Uncork Barone Pizzini Franciacorta for Valentine's Day
Founded in 1870 by Baron Giulio Pizzini Von Thurberg it is the oldest winery in Franciacorta and the first to be devoted to organic production. Their Saten 2002 was the first Franciacorta organic wine. They have over 200 hectares of vineyards.
Barone Pizzini Bagnadore Franciacorta Riserva DOCG 2009
Start your evening off with this stellar Franciacorta as 2009 was an exceptional year. The blend is 50% Chardonnay and 50% Pinot Nero sourced from the Roccolo vineyard. This single vineyard was planted in 1992 and the average age of the vines is 23 years.The wine was aged for six month in stainlesss steel tanks and barriques. It then spent 60 months in the bottle on the natural yeasts until it was disgorged. It is zero dosage.
Tasting notes saw beautiful fine straight bubbles shooting up in the glass. Nice acidity structures the wine with hints of creme brulee and pear notes that lead to a beautiful creamy finish. SRP $65 certainly doable for Valentine's Day!
Barone Pizzini Animante Franciacorta Brut DOCG NV
The Animante is sourced from 25 vineyards and the vines are about 20 years old from different locations around Franciacorta. The wine is a blend of Chardonnay, Pinot Nero and Pinot Blanco that was fermented in stainless steel tanks for six months. It was later aed in the bottle on natural yeasts for 20-30 months before disgorgement. Dosage mixture was added about 2-3 g/l organic sugar.
Tasting notes saw nice fine straight bubbles with notes of white flowers and spring freshness with hints of pear and citrus notes. Nice clean on the finish. SRP $37, very affordable for your Valentine's Day toast.