Harveys Bristol Cream – Not Your Grandmothers Drink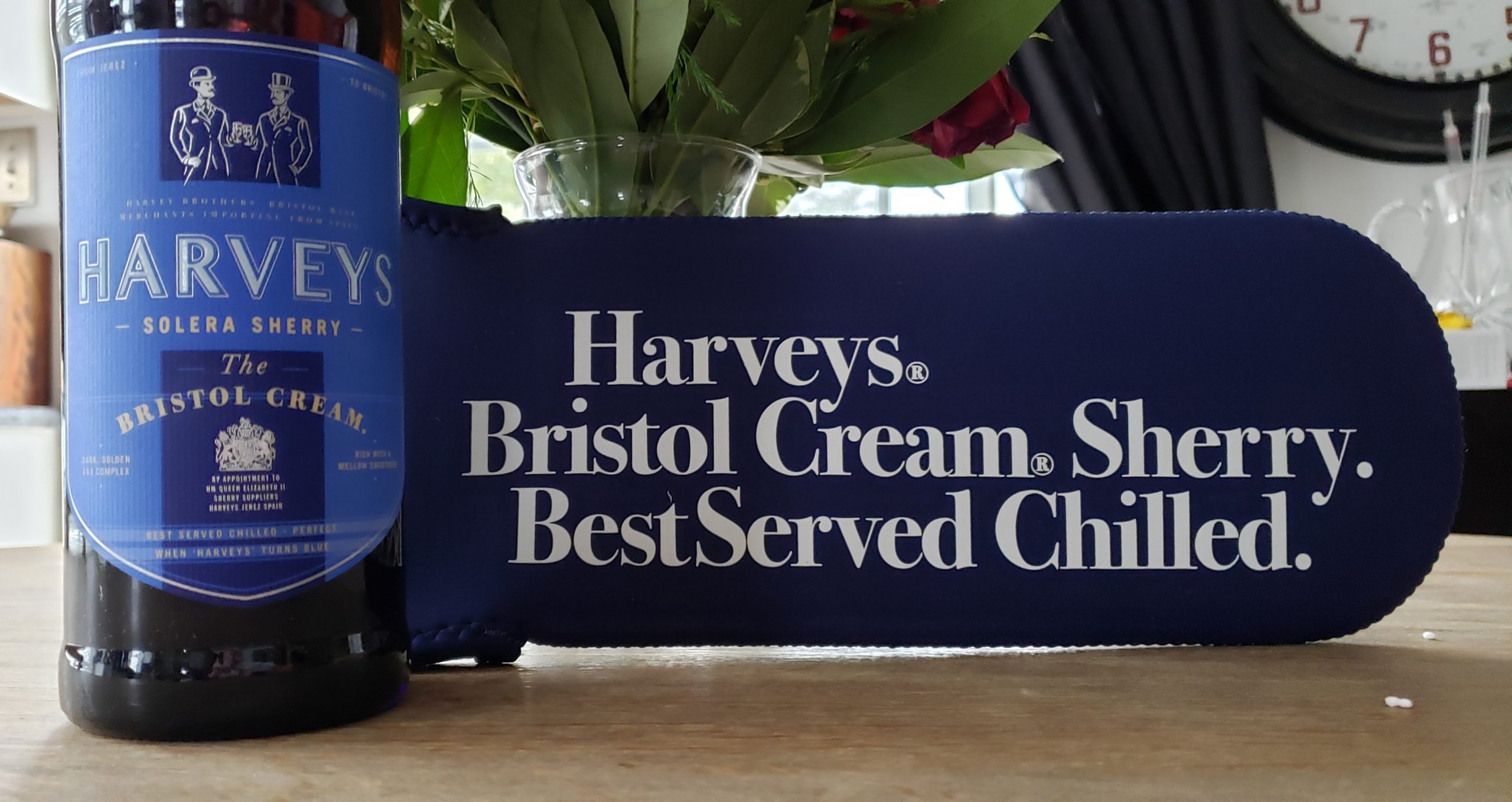 When you think about Sherry, what first comes to mind? For me it was always cooking. That is what I used sherry for. It wasn't until I judged the Ultimate Wine Competition that I found a new love for Sherry. It was a sherry flight and I doubted myself as a judge because I didn't know much about sherry and thought you just cooked with it. What I did not realize was the different types of sherry and that you can sit and enjoy it, like a port or cognac. That aha flight there were 4 different sherries. The WOW Sherry for me was the oloroso sherry. Such a WOW that all 3 judges on my panel gave it a gold medal and I didn't let them take it away. I savored and enjoyed every last drop.
Since that day in 2012 I really haven't enjoyed a glass of sherry, but am so intrigued with it I want to learn more. I did enroll in the Sherry certification course at the Wine Bloggers Conference in 2018, but had to cancel because of the restaurant.
This year, I got asked if I wanted to participate in Sherry Week and I couldn't turn it down. They supplied me with a bottle of Harveys Bristol Cream. This is another Sherry AHA moment for me because I thought of this sherry as an old persons drink. Takes me back to my grandparents day where I saw the bottle on their bar for after dinner drinks and personally, thought it was cream based. NOT.
About Harveys Bristol Cream
Harveys began in 1796 as an importer of foreign wines in an old house on Bristol's historic Denmark Street. During this time sherry was imported to Britain in oak casks on a ship and then blended in Bristol.
In 1882 John Harvey II and his brother Edward created Harveys Bristol Cream by selecting over 30 soleras of sherries aged between 3 and 20 years. These are blends of Fino, Oloroso, Amontillado and Pedro Ximenex and aged in American oak using the traditional method of soleras and criderias. It is still produced today in the same manner.
In 1895 Harveys was awarded a Royal Warrant from the Queen of England. What is in the bottle hasn't changed but what has is the packaging. Harveys has new clothes! It's sporting a new label that is printed thermochromic ink. This ink will turn blue when the Sherry in the bottle reaches the perfect drinking temperature which is between 50 and 55 degrees.
Here is what you need to know about Harveys Bristol Cream:
1. It is not a "cream" liquor like a Baileys. It's a Sherry. The called it a cream Sherry because the richness rivaled that of cream
2. It first came to the United States in 1933
3. Best served chilled
4. Best served in a white wine glass (I failed at this and served it in a cordial glass)
5. Can be stored in the fridge for up to a month
6. Today the blend remains the same with the 4 different styles of sherry but they are aged for an average of 7 years. Each wine is aged separately then blended together.
7. The blend is mainly Palmino based with 80% of the wine Fino, Amontillado or Oloroso and 20% Pedro Ximenex
8. It is the #1 selling Sherry in the world.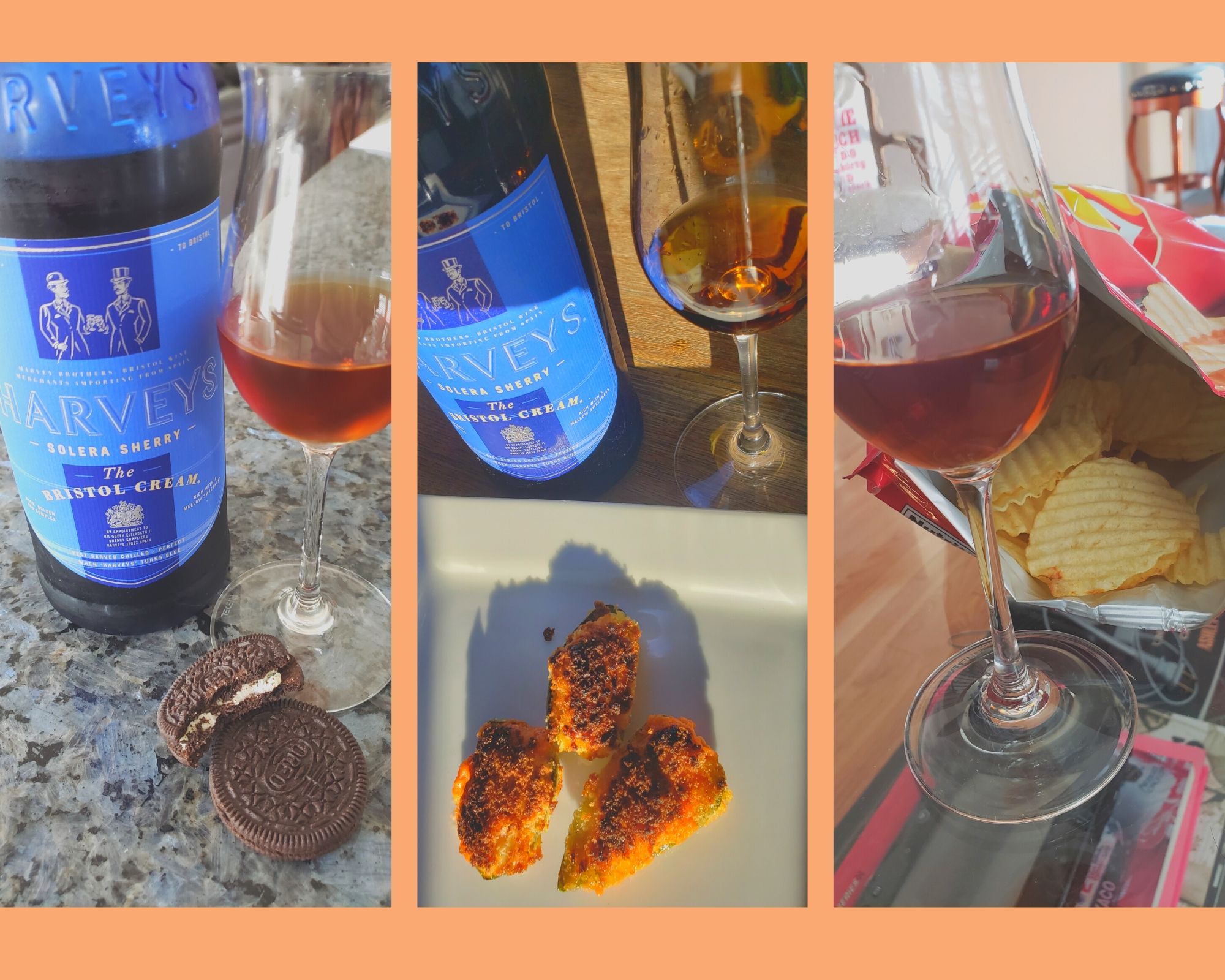 Pairing Notes:
I paired Harveys with 3 types of foods: potato chips, jalapeño poppers and Oreos. It did well with the potato chips and the Oreos, not so well with the poppers. The Sherry cut down on the saltiness of the chips and you didn't feel as thirsty as you do when you are done eating them. The poppers were a fail. Of course they were. You can't pair something spicy with something high in alcohol. This Sherry clocks in at 17.5%. The Oreos were a great pairing. My only disappointment is the Oreos aren't made the same way today as they were 20 years ago. The chocolate with the little cream filling complimented the Sherry in your mouth.
Tasting Notes:
Aromas of sweet raisins and caramel lead to a palate that is smooth and creamy with nuisances of fruit dancing with elegance.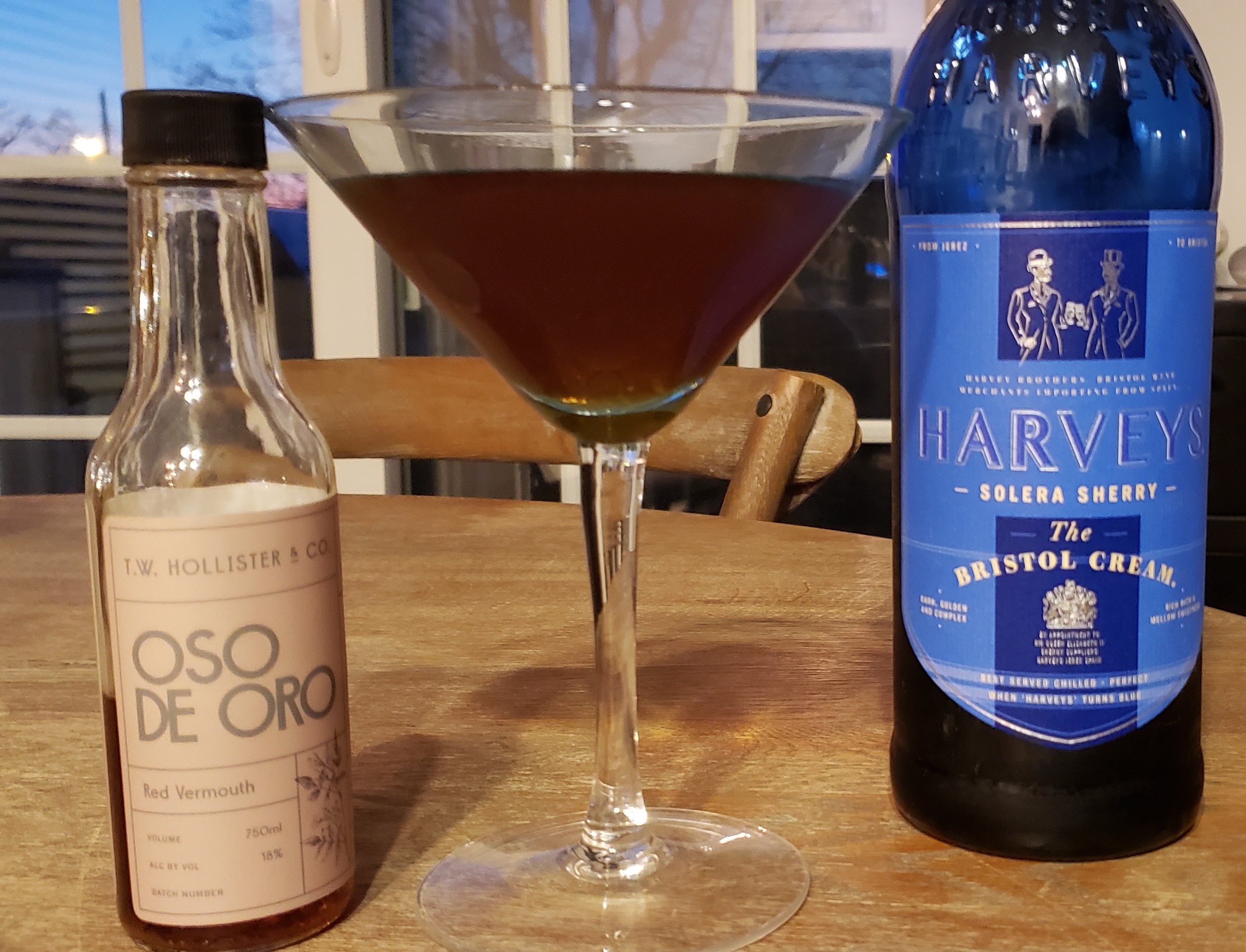 Cocktails
Sherry makes great cocktails. I would have never thought. I challenged my inner bartender and made an Adonis found on the Harveys website , however, I lacked the orange bitters and substituted a dash of Worcestershire Sauce and orange peel. I will be making these again.
Harveys Bristol Cream will be a great addition to your holiday festivities. Might even surprise some people who never thought they would like Sherry into Sherry lovers.