I Could Have Been In Ribera del Duero with Jose Moro…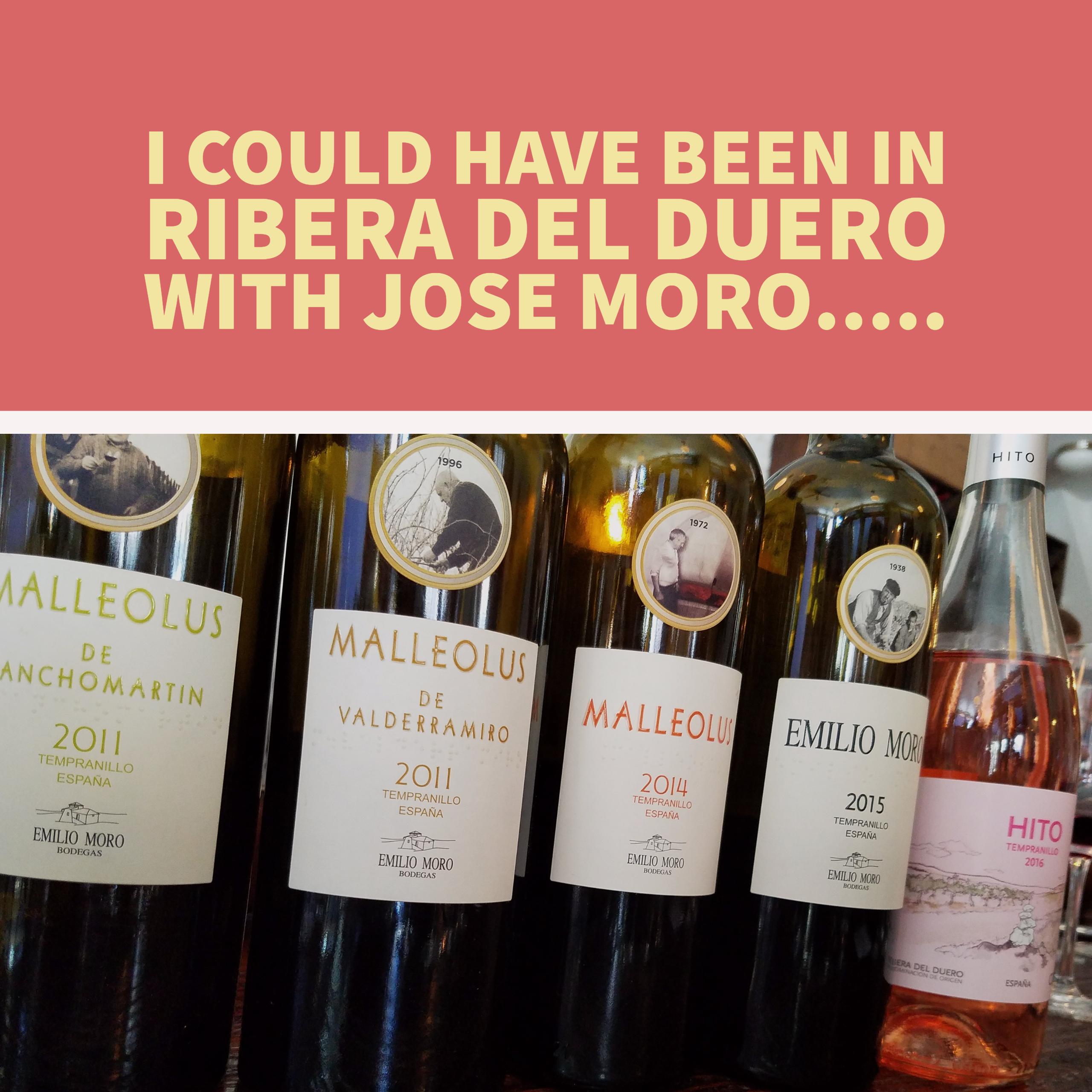 But instead I was stuck in New York City grid lock for 4 hours after having lunch with Jose just to go 2 miles to the Holland Tunnel. Total time to get home was 6.5 hours, and I could have been in Spain in that amount of time!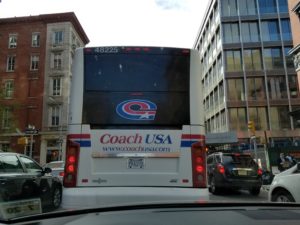 Lunch and an opportunity to meet with Jose Moro personally and try his portfolio of wines was well worth my time in traffic.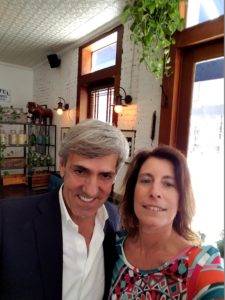 Emilio Moro wines are located in the Ribera del Duero region of Spain. Ribero de Deuro is the highest appellation in Spain with continental influence, long hard winters and hot hot summers. The topography of this region is divided into three areas. Low Plains, Low and High Plateau with different altitude and soil. Low plains are at 700 meters, low plateau at 800 meters, high plateau at 1000 meters. Each has different soil that brings different characteristics to the wine.
Chalk Soil – brings finesse and elegance to the wine
Clay soil – brings structure and color to the wine
Stony soil – brings more maturity and sweetness to the wine.
Some Moro wine history. Jose's grandfather started the winery and taught his father how to farm the land. His father passed that knowledge on how to love the wine to the third generation who is now passing it to the fourth generation. Jose worked in the vineyard since he was a child and the love of the land and knowledge shows. Jose says that was the best form of education. Today the 4th generation is working at the winery with his 24 year old nephew Alberto in charge of the American market.
"If you don't take care of the vineyard, you can't produce quality wine" ~ Jose Moro
Emilio Moro takes great pride in the Tino Fino and Tempranillo they produce. All the Tinto Fino is grafted onto the rootstock in all their vineyards with a specific clone used by his grandfather. There are 250 acres with this specific clone that produces smaller fruit with clusters that are looser, producing a harvest of grapes with more concentration on flavor and more structure.. The philosophies with the two grapes are totally different.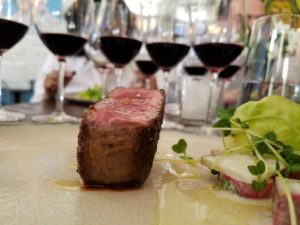 Tradition is very important, they feel that tradition guarantees the quality of the wine. With tradition comes innovation. That is why they work with 5 different universities to learn more about the tradition and knowledge of the grape clone and selection of native yeasts. To understand the relationship of the terroir.
They also believe in giving back, a social responsibility and created the Emilio Moro Foundation in 2008. "The Wine Help Water" provides and distributes safe water resources to the people with the most needs. They also work with providing education to young people on the risk of social exclusion. Allowing them to develop their skills and knowledge to access the working market. This foundation helps worldwide.
"Tradition, Innovation and Social Responsibility" ~ Jose Moro
At lunch we tasted 5 delicious wines. I didn't have a favorite as they all were very well crafted and had their own special identity.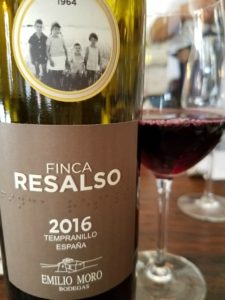 2016 Finca Resalso Tempranillo, Ribera del Duero – Very fruity and fruit forward. Hints of clove with a spice of pepper on the finish. The grapes for this wine comes from their youngest vines between 5 and 12 years old. SRP $12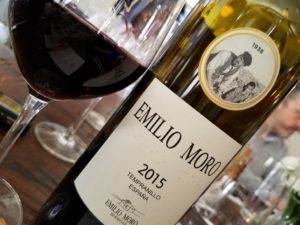 2015 Emilio Moro Tinot Fino, Ribera del Duero – Jose said this was the best vintage ever! Nice fresh young wine. SRP $23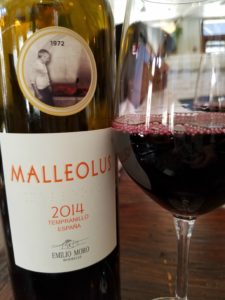 2014 Malleolus Tinto Fino, Ribera del Duero – Rich and dark in color. A mature wine with lots of dark fruit, black raspberry, black cherry, earthy notes, cocoa, well balanced with nice intergration of of oak. SRP $40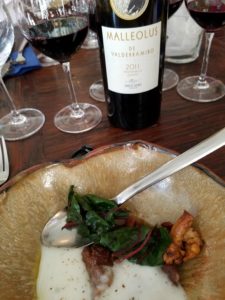 2011 Malleolus Tinto Fino, Ribera del Duero – This wine was very complex.It just kept giving. The vines are 25-75 years old. This comes from two vineyards one with clay soil and one with stony soil. You can taste the minerality of soil. Notes of balsamic on the aroma with dark fruit. Lots of black fruit, black currant, black cherry, red cherry. Very nice and soft mouth feel. SRP $160
2011 Malleolus de Valderramiro Tinot Fino, Ribera del Duero – The grapes from this come from 15 year old vines. Spicy aromas, with earthy notes, black fruit, white pepper coffee and a nice rounded finish. This wine has aging potential. SRP $140.