Jordan Winery – Taking Hospitality to the Next Level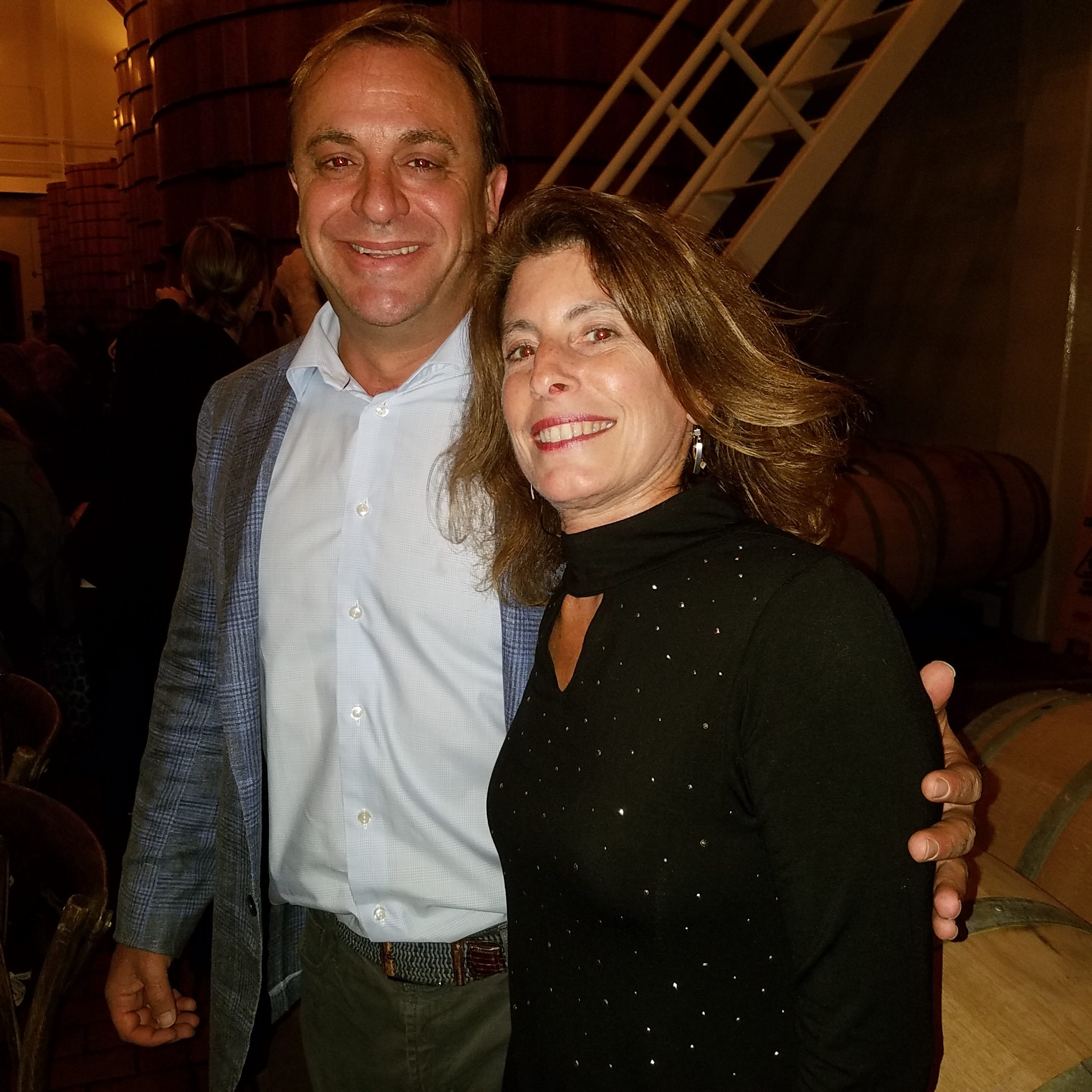 One of the wineries I've always wanted to visit was Jordan Winery. I not only love their wines but I have heard wonderful things about their hospitality and what you experience when you visit the winery. You can imagine I jumped at the chance to register for the Jordan dinner at the Wine Bloggers Conference and was blown away by the experience!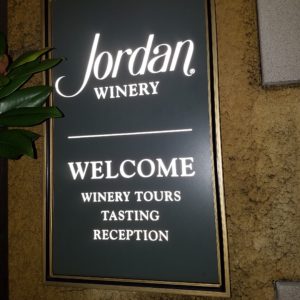 The winery located in Sonoma's Alexander Valley was founded by John's parents Tom and Sally Jordan. John parents fell in love with wine when they traveled to France, Bordeaux was their favorite and they fell in love with food way before wine. It was in Autumn 1971 when they were in San Francisco having dinner at their favorite restaurant Ernies when the waiter suggested they try a California Cabernet Sauvignon, one that he finds extraordinary, but they were looking forward to having a French Bordeaux. If they don't like the wine, the waiter said, Ernies will take it back and you can go onto your French Bordeaux. Out came the Beaulieu Vineyard George Latour 1966, they tasted it and were amazed that a beautiful Bordeaux style wine was made in this country. If Beaulieu Vineyard can do it so can we and the rest is history.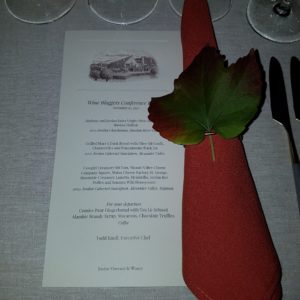 I knew I was in for a treat because Jordan has their own chef and garden. What they don't grow they source locally. Then the Cabernet and Chardonnay. Yes they only make two wines and they make them good!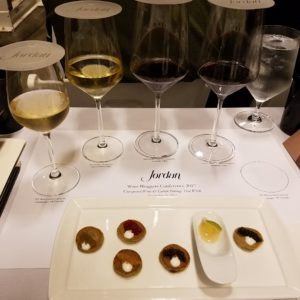 The evening began with a caviar and wine pairing. I have to admit, I was a bit skeptical, this was my first time with caviar and I really liked it! Our first pairing was wasabi roe paired with their Jordan Cuvee Brut Champagne made in partnership with AR Lenoble. I always heard people have Champagne with caviar and now I know why. The wasabi wasn't over powering and it was a match made in heaven perfect spice for the bubbles. The 2014 Chardonnay was paired with ginger roe which was a beautiful pairing, the wine got rid of the ginger flavor. With the sparkling the bubbles make the ginger more pronounced. The 2009 Cabernet Sauvignon was paired with beet-saffron roe. This had a nice contrast between earthiness of the beets and fruit and the wine got rid of any of the fishiness of the caviar. Black raspberry in the wine really showed with the caviar. The 2012 Cabernet Sauvignon was paired with the truffle roe. This was my least favorite pairing. Not sure why on my palate, but something just didn't mix right. I tried the roe with the other wines as well and wasn't successful. I felt like each item kept to themselves. The last pairing was the chef's reserve caviar by Tscar Nicouli paired with the Jordan Cuvee Brut Champagne. This pairing was awesome. The caviar was a bit creamy and while it went well with the Champagne I liked it with the Chardonnay. This my friends was just the beginning.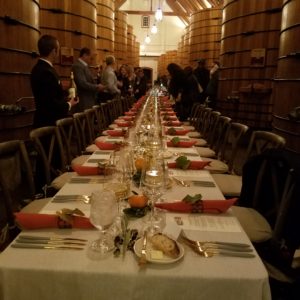 Next we moved to the big barrel room for dinner. This is where we met John Jordan. He greeted us with a warm welcome as if we were part of his family. "One of the great parts about this industry is you get to meet great friends and socialize" says John Jordan " and we like to say they do three things right – Cabernet, Chardonnay and Hospitality. We never chase trends and our emphasis has always been on restraint. Restraint in the cellar and let the fruit and terroir speak for themselves".
 Dinner was served.
The hospitality didn't end here.  I was invited to a lunch the next day by their Marketing Director and Communications, Lisa Mattson and that will follow on Monday and involves Jordan's giving back to the community.
I highly suggest a visit to Jordan if you are in the Sonoma area. Reservations are a must and trust me, you won't be disappointed, Reach out to me  I will assist you in the process.