Malbec for Your Memorial Day BBQ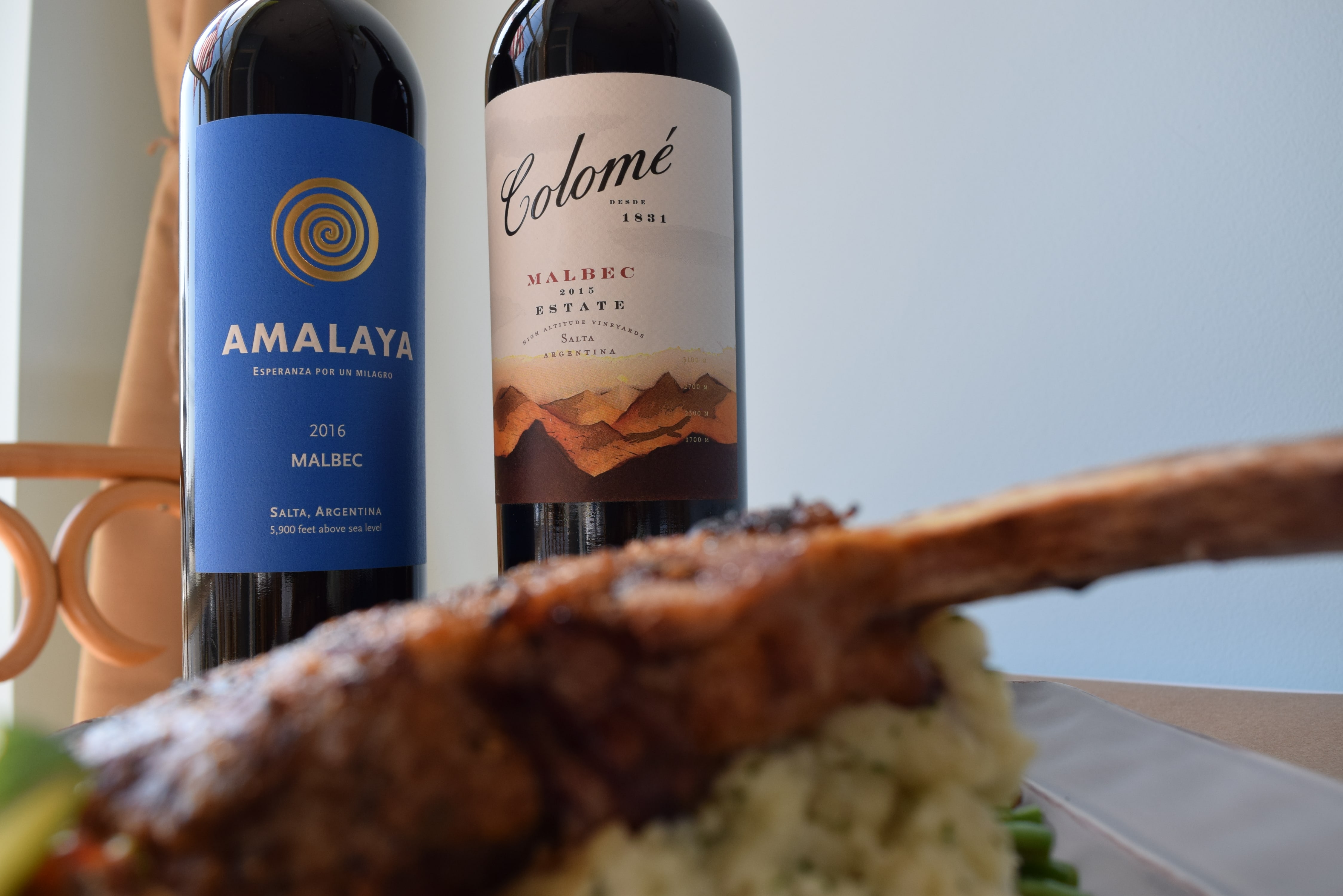 I can't believe it's already Memorial Day. Once March hit, time began speeding up. Well, that's how it felt to me. Now as we big to prepare for our Memorial Day barbecues we have to think about what wines we are going to serve.
One of my go to summer reds is Malbec, especially the ones produced in Argentina as they seem to go really well with grilled or smoked food. Whether you are grilling a pizza or a pork chop, ribs or steak, think about these two Argentina wines.
2015 Colomé Estate Malbec comes from the highest vineyards in the world. What impact does high altitude have on the grapes? Grapes grown at higher altitudes offer much more sun and less UV production. Yes grapes get sunburn too. A thicker skinned grape is produced and that will deliver a more robust taste.
Colomé located in the upper Calchaqui Valley in the Salta region of Argentina has been making wine since 1831. Their four estate vineyards are blended into the Estate bottling of Malbec and sustainability a key to their farming practices. The 2015 Estate Malbec spends 15 months in French oak barrels and then 6 months in the bottle. The alcohol content is a bit high at 14.9%, but this 100% Malbec will go great at your barbecue.
Complex aromas fill the glass of the deep purple wine. Ripe juicy blackberries, black fruit, toast and hints of floral will get you excited for the first sip. Once on your palate ripe black fruit bursts with spiced oak, tannins and nice acidity and just a hint of pepper spice on the finish. Once you savor that sip and get the flavors see how it will enhance your meal. This 2015 Colomé Estate Malbec retails for $25. Try this Seared Lamb Fresh Corn & Quinoa Soup they suggest with it.
Amalaya is another brand producing a nice Malbec, but what is different here is that it is 85% Malbec with 10% Tannat and 5% Petit Verdot. It is grown in the Calchaqui Valley of Argentina on vineyards located at 1,800 meters above sea level. The Amalaya brand began as an experiment at Bodega Colomé as they were looking for alternative sourcing and varieties for their Malbec and Torrontes blends. Amalaya means "Hope for a Miracle." None of the land where they began planting grapes had never been planted, so it was really a crap shoot that produced some good vines. They blend the varieties so that they can reach their full expression.
The 2016 Amalaya is 14% alcohol with some nice soft tannins and acidity. Produced from the Finca Las Mercedes vineyard in Calchaqui Valley, 25% of the wine is aged in French Oak barrels for 8 months. A nice dark purple in color showcasing aromas of violets, vanillam red and dark berries. On the palate ripe blackberries stand out with black and red cherries, plum, vanilla and red fruit. There is a soft pepper spice on the finish that lingers and fades out. Very moderately priced at $16 will go with any barbecue. Try Amalaya's Grilled Tomahawk Steak with squash and zesty watercress salad.
<p style=" margin: 12px auto 6px auto; font-family: Helvetica,Arial,Sans-serif; font-style: normal; font-variant: normal; font-weight: normal; font-size: 14px; line-height: normal; font-size-adjust: none; font-stretch: normal; -x-system-font: none; display: block;"> <a title="View SEARED LAMB • FRESH CORN &QUINOA SOUP on Scribd" href="https://www.scribd.com/document/379801938/SEARED-LAMB-FRESH-CORN-QUINOA-SOUP#from_embed" style="text-decoration: underline;" >SEARED LAMB • FRESH CORN &QUINOA SOUP</a> by <a title="View Debbie Gioquindo's profile on Scribd" href="https://www.scribd.com/user/38227247/Debbie-Gioquindo#from_embed" style="text-decoration: underline;" >Debbie Gioquindo</a> on Scribd</p><iframe class="scribd_iframe_embed" title="SEARED LAMB • FRESH CORN &QUINOA SOUP" src="https://www.scribd.com/embeds/379801938/content?start_page=1&view_mode=scroll&access_key=key-EMFeVIWtqxdPMoBidTJY&show_recommendations=true" data-auto-height="false" data-aspect-ratio="0.7497921862011637" scrolling="no" id="doc_96937" width="600" height="800" frameborder="0"></iframe>
<p style=" margin: 12px auto 6px auto; font-family: Helvetica,Arial,Sans-serif; font-style: normal; font-variant: normal; font-weight: normal; font-size: 14px; line-height: normal; font-size-adjust: none; font-stretch: normal; -x-system-font: none; display: block;"> <a title="View GRILLED TOMAHAWK STEAK • SQUASH AND ZESTY WATERCRESS SALAD on Scribd" href="https://www.scribd.com/document/379804989/GRILLED-TOMAHAWK-STEAK-SQUASH-AND-ZESTY-WATERCRESS-SALAD#from_embed" style="text-decoration: underline;" >GRILLED TOMAHAWK STEAK • SQUASH AND ZESTY WATERCRESS SALAD</a> by <a title="View Debbie Gioquindo's profile on Scribd" href="https://www.scribd.com/user/38227247/Debbie-Gioquindo#from_embed" style="text-decoration: underline;" >Debbie Gioquindo</a> on Scribd</p><iframe class="scribd_iframe_embed" title="GRILLED TOMAHAWK STEAK • SQUASH AND ZESTY WATERCRESS SALAD" src="https://www.scribd.com/embeds/379804989/content?start_page=1&view_mode=scroll&access_key=key-8YCvRNYKTRw8LZ03Q5qy&show_recommendations=true" data-auto-height="false" data-aspect-ratio="0.7497921862011637" scrolling="no" id="doc_94051" width="100%" height="600" frameborder="0"></iframe>