Napa by Appointment: Burgess Cellars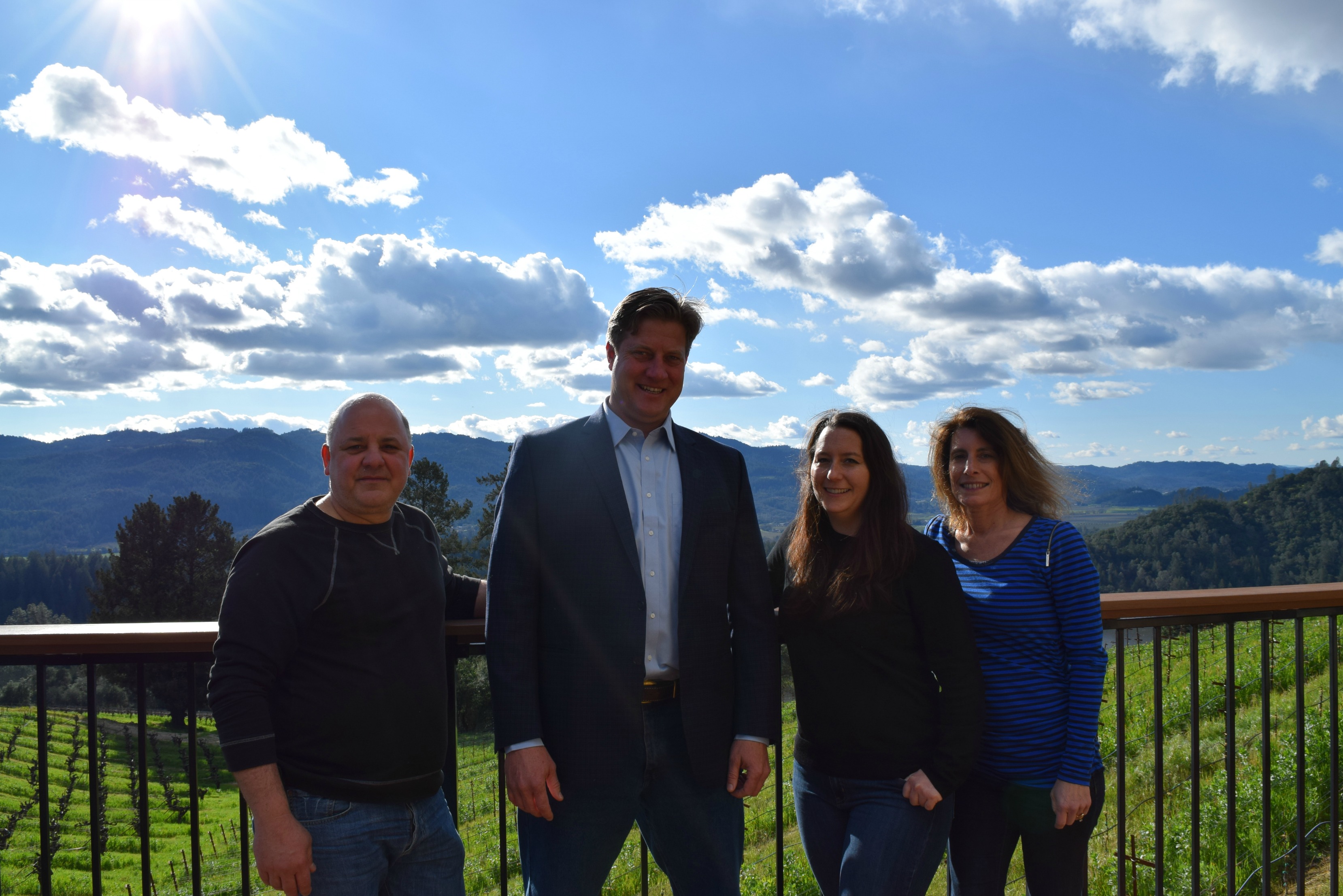 Back in February when Paul and I visited
Burgess Cellars
. This visit was made possible by a friend of mine Elizabeth Werner Miller who had just relocated out to Napa from the Hudson Valley. I've been trying to get Elizabeth to be a judge at my wine competition for the past few years, but vacation always got in the way, and now she moved across the country to work for Burgess Cellars. Guess it wasn't in the cards. What was in the cards was a wonderful tasting experience with beautiful views of Napa Valley at Burgess. You would of never known it was Elizabeth's first week on the job.
Burgess Cellars dates back to 1885 when Swiss-Italian immigrants built the mountainside winery. From 1943 to 1971 is was known as Souverain Winery and in 1972 Tom Burgess, a former Air Force pilot and former corporate pilot for IBM purchased the Souverain Winery and renamed it Burgess Cellars. Tom was one of the pioneers of Napa Valley, back then at the time there were only about 20 to 25 wineries in the valley. The property is one of the oldest hillside vineyards in Napa Valley. They now call it Winery Ranch Vineyard at 27 acres. They also have another vineyard on Howell Mountain called Haymaker at 32 acres.
I was fortunate that Steve Burgess and Winemaker Kelly Woods stopped in on their way to an event. I found out w
hen Tom worked for IBM he lived in the Hudson Valley town of Hopewell Junction until 1972 when he left NY for California. Small world.
The current winery building dates back to 1870 and the tasting was held in one of their active four cellars. Here are my tasting notes from the visit.
2015 Chardonnay,Russian River Valley, Sonoma County. This is the only wine that doesn't come from one of their estate vineyards. Lime with a hint of butter, melon and pineapple. Nicely balanced with an elegance about it. SRP $42
2013 Cabernet Sauvignon Estate Vineyards, Napa Valley. This wine is 75% Cabernet Sauvignon with the rest Petit Verdot, Malbec and Merlot. Very complex with black currants, cassis, cherry, Soft on the mouth and strong tannins SRP $54
2012 Cabernet Sauvignon, Napa Valley. This wine was aged in half new French oak. Notes of cherry, licorice and black cherry stood out in this wine. Very strong bold wine. SRP $120
2013 Merlot Triere Vineyard. This was one of their vineyards and the last Merlot produced from it before they sold it. Notes of cherry lavender, blackberry, plum, and mocha. Lots of tannins SRP $36
2013 Syrah Estate Vineyards, Napa Valley. Very elegant with notes of violets, boysenberry, hint of blueberry and black pepper on the finish. SRP $42
2011 Cabernet Franc – this was a special tasting. The vines these grapes came from were planted in 1978 and 1979. This was the last vintage from these vines and they have since been ripped up and replanted. The pepper on the nose was incredible. A really nice wine!
Enjoy the pictures from the trip!