I have never been a big Rosé fan. In fact one summer I was in search of a Rosé I liked and didn't really find one. Fast forward to this summer. Like I always tell people, always try different wines, even if you didn't like it before because you palate is always changing.
BINGO…the past few weeks I've been trying different Rosé's and the outcome is I am really beginning to like them! They are fresh, vibrant and all different.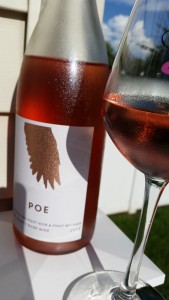 Poe Rosé was the first Rosé I uncorked. Samantha Sheehan is the woman behind Poe Wines. She left the world of finance in 2009 to follow her dream, studied in Burgundy and today produces single vineyard wines that show expression of terrior.
This Rosé is a blend of 66% Pinot Noir that is sources from Olcese Vineyard in Sonoma and 34% Pinot Meunier sourced from Van der kamp Vineyard in Sonoma Mountains. Both vineyards are old vines dating back to 1953 for the Pinot Meunier and 1974 for the Pinot Noir.
The wine had a beautiful Salmon color with aromas of fresh cut strawberries and a hint of cherry on the nose. One sip and I smiled…delicate strawberry with hints of orange and a touch or raspberry filled my palate. The wine had some nice minerality to it and a clean finish.
The SRP is $22.
If you are in New York City the Poe wines are available at restaurants like Del Friscos, Morrell & Co, Ken & Cook and others. I would not hesitate in ordering a bottle!