It's been a while since I've tasted wines from the Rutini portfolio and I can't believe it was 4 years since I met their winemaker Mariano Di Paola. at a lunch in New York City. That was a fabulous lunch and a great introduction for me to the Rutini portfolio.
I was excited to taste three of their wines recently and am still impressed with their portfolio. I hope I have the opportunity again to meet with Mariano, but I will have to brush up on my Spanish.
A little background on Rutini Wines. Francisco Rutini family began producing wines in the early 19th century in Le Marche Italy. His son Felipe moved to Argentina and began a vineyard in the Maipu provence of Mendoza. It has since grown to vineyards in the Uco Valley, Los Corralitos and Medrano regions.
If you do find yourself in Mendoza, you can tour their Museo del Vino (Wine Museum) at their Bodega La Rural. The museum has a collection of over 5,000 winemaking and viticulture relics and is a celebration of history of the winemaking in the region. It is a must see.
2014 Rutini Sauvignon Blanc Beautiful fruit aromas of green apple, soft pink grapefruit and lime filled the glass. On the palate it had soft creaminess, which would be from spending 3 months in new French Oak.(personally I don't like my Sauvignon Blanc's oaked, but this was okay) Fruit flavors were present on the palate of pink grapefruit, pineapple and some limon. The wine retails for $25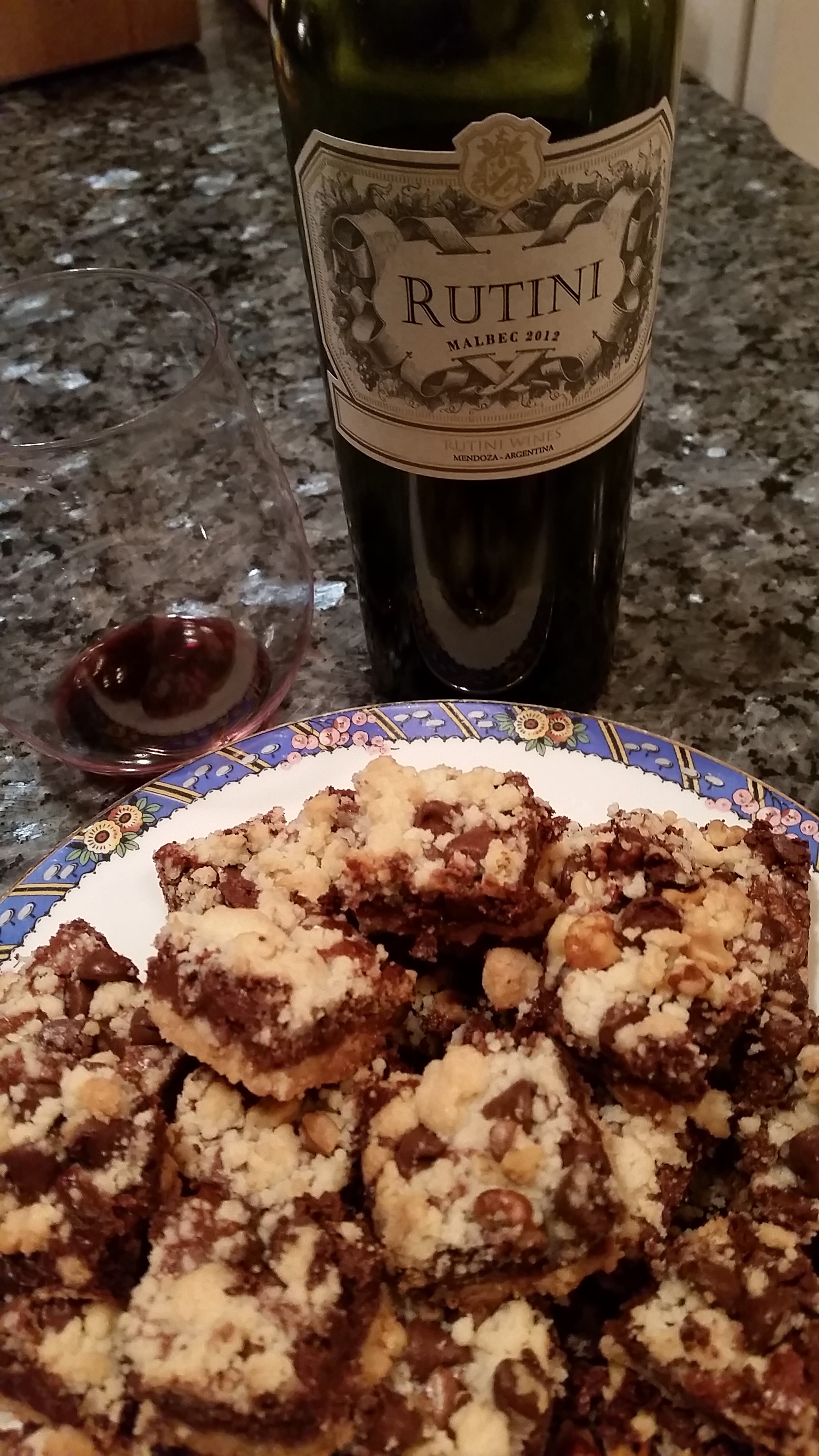 2012 Rutini Malbec This wine was the lucyk pairing wine. I paired it with grilled lamb chops and a test batch of cookies I made for a party. The wine was aged in 80% new French Oak and 20% new American Oak for 12 months. Oak on the nose and as it opens rich dark fruit. Palate of blackberry and black fruit with a hint of blue fruit. Paired well with lamb chops and really well with the chocolate bars for dessert. This wine retails for $35
2012 Rutini Cabernet Sauvignon This Cabernet Sauvignon spent 12 months in 50% new French Oak and 50% in second use French Oak barrels. The wine had both red and black fruit on the nose with plum being the dominate aroma. On the palate dark fruit, tobacco and vanilla showed. As the wine opened it developed some mocha flavors mid palate with a hint of spice on the finish. This wine retails for $$35