Treat Yourself to Every Day Luxury with Domaines Paul Mas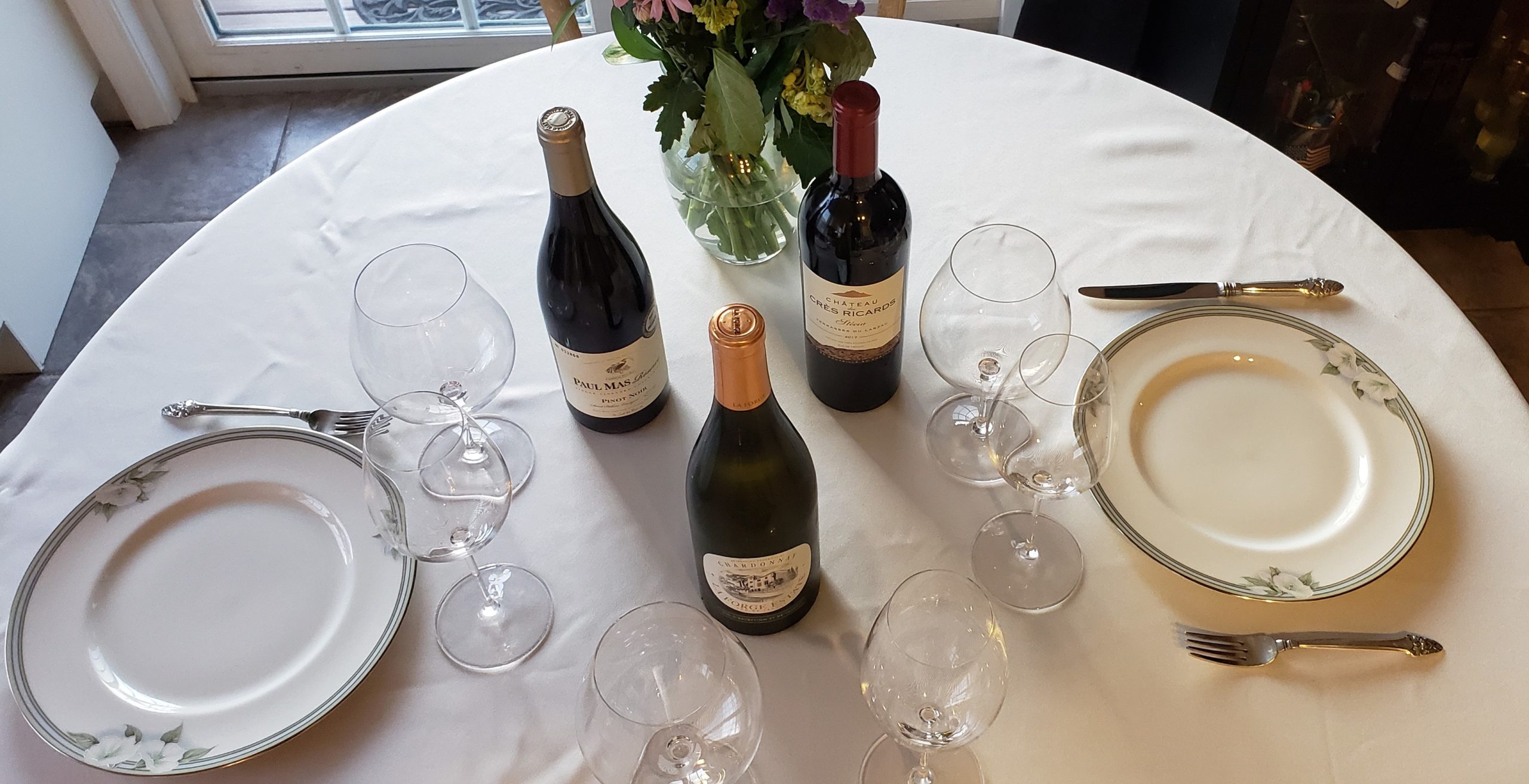 The table is set, the good china is out and the silver is polished. It's a special dinner and I think to myself, why don't I use this china and silver more often. I carefully select the wine for the evening, selections from Domaines Paul Mas, everyday luxury wines; a Chardonnay, a red blend and a Pinot Noir. The menu: Ceviche, Crab Beignets, Duck Breast Confit, Potatoes and Green Beans. Let the evening begin.
I think I need to take a lesson off the books of Jean-Claude Mas, founder of Les Domaines Paul Mas. What is that lesson? "Luxe Rural" – Everyday Luxury. Why do I only bring out my good china and silverware three times a year? Shouldn't I be enjoying it every day, just like a bottle of wine? I quote Jean-Claude Mas "Our wines are a result of our mission to inspire real emotions." Tomorrow isn't guaranteed, isn't everyday a luxury? When we sit down at the dinner table, don'twe want to talk about the day, feel good, proud and enjoy the presentation of the meal and bottle of wine? Just because you are eating on your good china, doesn't mean the bottle of wine has to be expensive. What is most important is that you like it. After your meal, you are proud, you enjoyed the meal, the wine and your good china that you admire and realize you should be eating on it more often. Like everyday luxury, treat yourself every day!
La Forge Estate wines symbolize the fusion of old world and new world winemaking. Like the old school of thought the good china for special occasions, but should really be every day. La Forge Estate wines have new world attitude and are one of Jean-Claude's signature wines.
The 2017 La Forge Estate Chardonnay is a beautiful expression of Chardonnay that is oaked, but not over-oaked. The Chardonnay was aged for only 4 months in oak barrels. The wine expressed lots of pineapple, tropical fruit, mango, soft hints of lemon and lime and a very subtle hint of toast and vanilla. A great wine for every day or that special occasion. Paired well with the Crab Beignets! SRP $12.99
Chateau Paul Mas Reserve – St. Hilaire Vineyard
The Chateau Paul Mas wines come from 5 vineyards that make up the estate. One of those vineyards is the St Hilaire vineyard where the 2018 Chateau Pal Mas Reserve Pinot Noir comes from. A lovely Pinot Noir with aromas escaping from the glass showing hints of earthiness followed by red raspberry, nutmeg, and licorice. The palate was full of juicy raspberry, cranberry and left lingering black pepper on your lips when finished. Paired beautifully with the duck and the cranberry glaze. SRP $13.99
Château Des Crès Richards
This estate was created in 1960 in the village of Ceyras and in 2010 Jean-Claude Mas acquired the 27 hectares. The soil is unique with red earth, shale and pebbles that produces silky wines with intense flavors.
The 2017
Château Des Crès Richards Stècia is a blend of 60% Syrah 25% Grenache and 15% Carignan. The syrah vines are between 11 and 21 years old and the Grenache and Carignan vines are 42 and 49 years old respectively. The wine showed lots of mocha, hint of menthol followed by chocolate and molasses. The wine paired well with our dessert of white chocolate peanut butter truffles. SRP $19.99
Jean-Claude Mas produces wines from the Languedoc region of France. We should all take note and follow his thoughts of everyday luxury. Everyday luxury is defined by you not by $.