You don't realize how much you miss a place until Covid restricted you from visiting. I love the Hudson Valley and it will always be my home. My first time out visiting in September since the pandemic hit I found myself at Robibero Winery.
Robibero holds a special place in my heart. I've been with them from the beginning. The relationship began years ago, sitting on my back deck discussing the winery. I've been their cheerleader from day one. I've watched them plant grapes on the property that originally didn't have any. Now fast forward and one of my babies is grown up and expanding. They have made some wonderful additions like the fire pit, pizza oven, planted more grapes and now building a new production facility.
I spent the afternoon with Tiffany Robibero and Kristop Brown their winemaker (who I've also seen blossom into one of the regions best winemakers) catching up and tasting some really nice wines.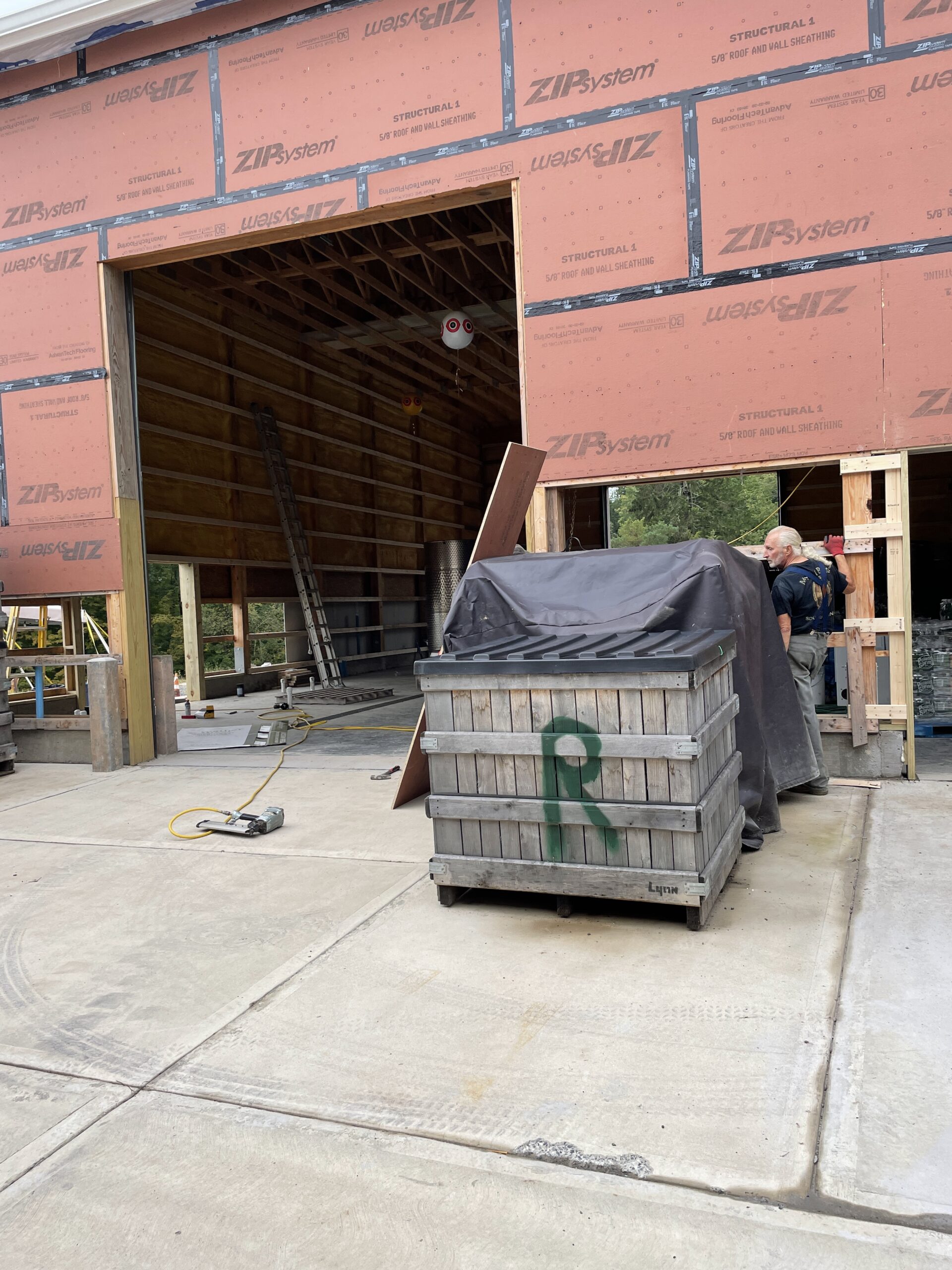 Before we got into the wines, they showed me the new construction project going on just outside the building. WOW! Harry was at it and so thrilled to share with me what is going to be "the most beautiful barrel room you can imagine." Downstairs is 5000 square feet. "Brick or stone on the inside, water flowing through the walls, barrels on both sides and a concrete egg on the end. A big mural on the other large wall. Way in the back a corresponding room where deliveries will be handled. They will have 15 tanks and Kristop will have a nice lab. Upstairs is 2500 square feet. It will be a great space for special events. Perhaps Tiffany might get an office up there. We'll have to wait and see. Also new will be a nice crush pad and new press.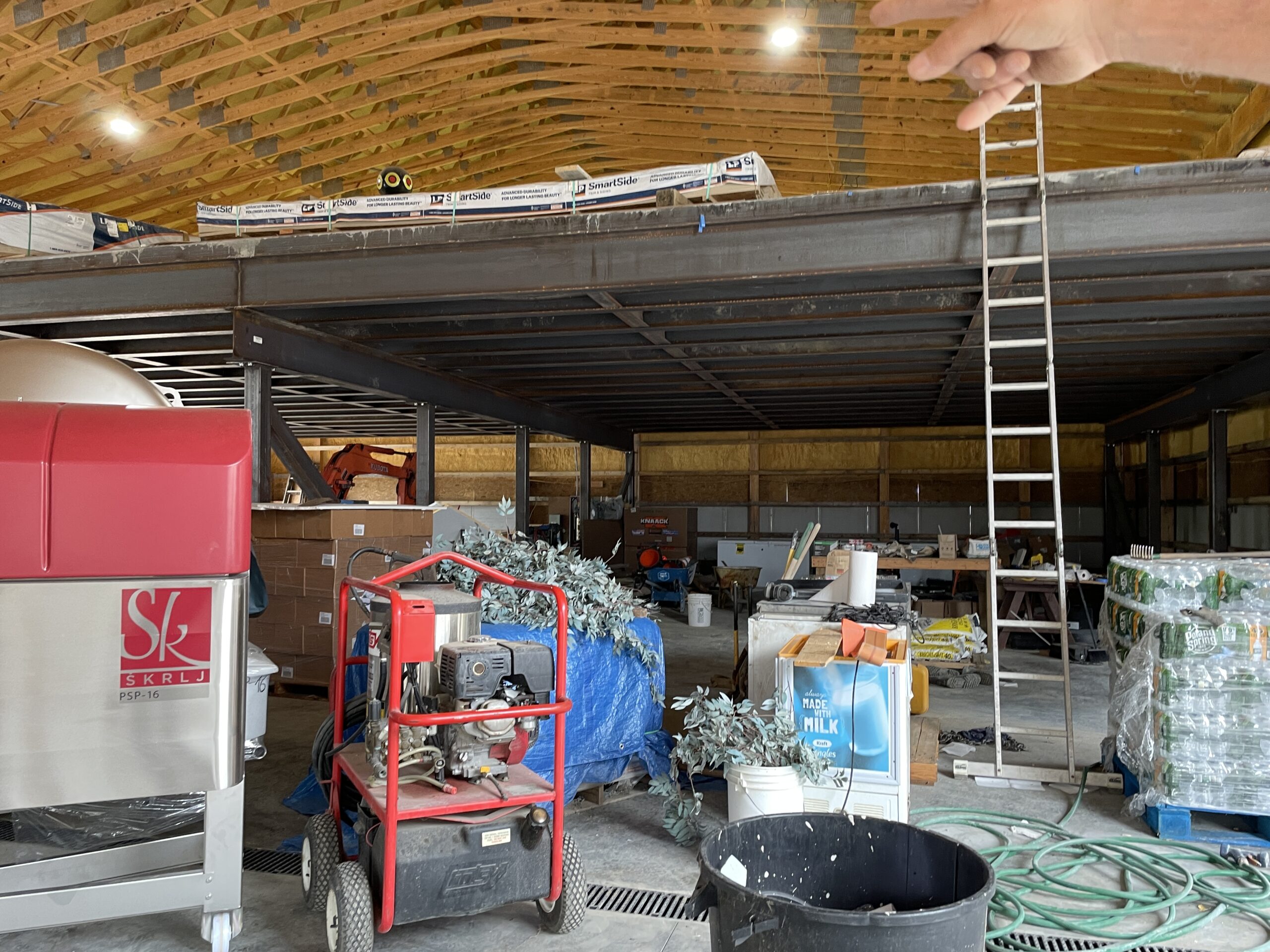 You can just see the excitement in Harry, Tiffany and Kristop's face with the new addition. I can't wait to see the finished project!
Now upstairs to taste some wine! What I like and respect is the names of the wines all mean something personal to the Robibero Family. Drinking their wines, you learn a little about them.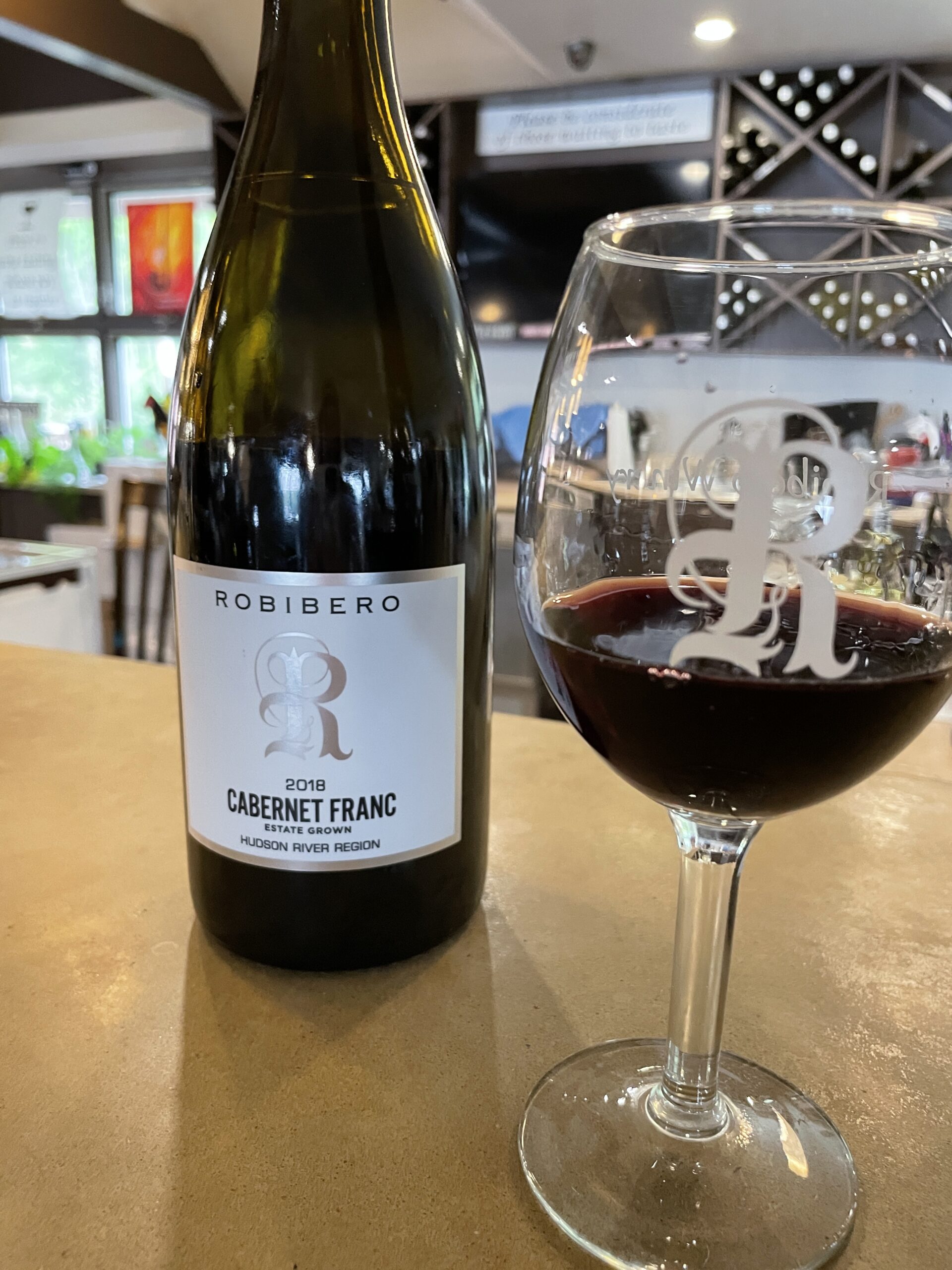 We started with the 2018 Cabernet Franc. This is estate Cabernet Franc planted in 2015. In 2017 they harvested 4 barrels worth and it was blended into Tough and Stray. In 2018 they got yielded enough for 6 barrels / 102 cases and this year the vineyard is fully producing and they expect to get 10 barrels. The wine had nice fruit, cherry, cranberry but what I loved best was that black pepper spice on the finish.
We headed to the barrel room to taste the 2020 Cabernet Franc. This wine was pretty tannic and won't be ready for some time. The grapes were 22 brix when picked and the growing season was nice and even. Not to hot with warm days and cool nights in the fall that drove up the fruit. Kristop believes as the vines are maturing so is the fruit. There was a lot of raspberry on this. It will be interesting to see the finished product.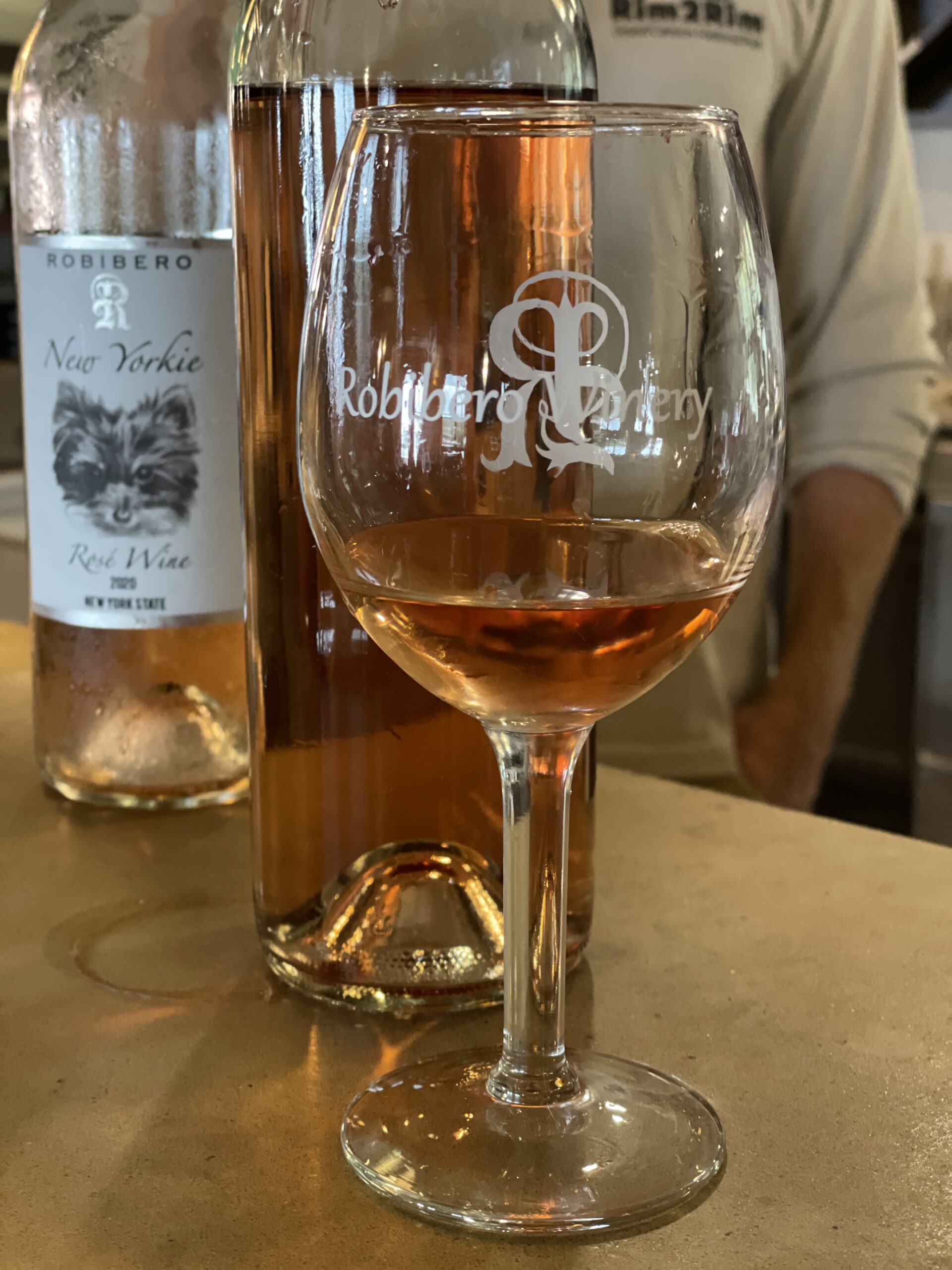 Next selections were the Rose wines. Two very different wines with different personalities.
2020 Reserve Rose – This is a very special Rose as there were only two barrels made, That equates to 48 cases. This rose was put in neutral oak barrels. The color is magenta, it is a bit oaky, it's medium bodied with an oiliness to the palate. The palate is sexy. This is a nice food wine.
2020 New Yorkie Rose – This is a blend of Cabernet Sauvignon and Cabernet Franc 50/50. The grapes were picked early, with higher acid lower sugar from Long Island. You can taste the salinity along with notes of strawberry and red berry. It's light body, fresh and a fun Rose.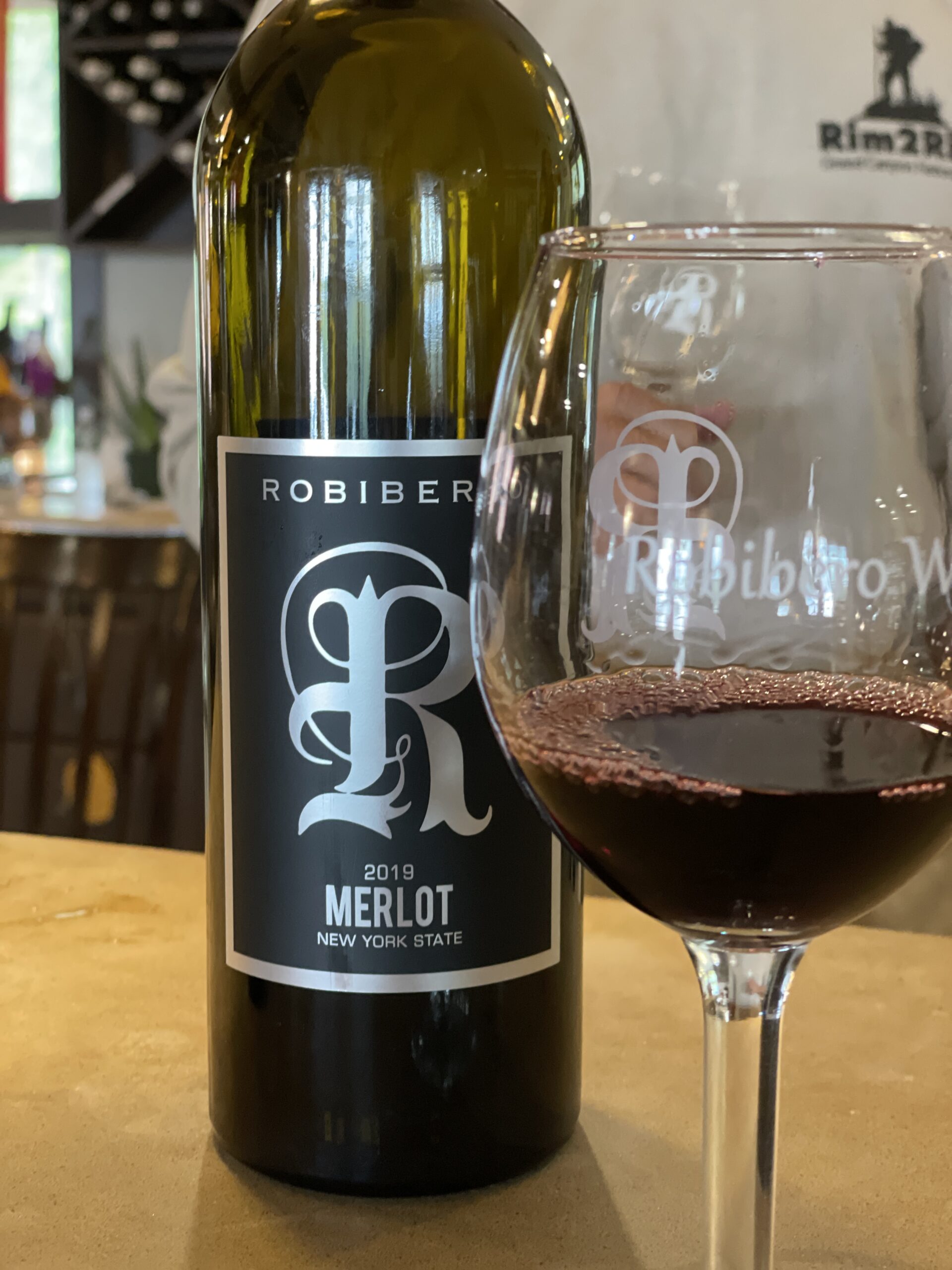 2019 Merlot – bottled 2 months ago and the grapes came from Long Island grapes. Usually they use the Merlot to blend in other wines but they decided to bottle it straight. (probably because it was so good!) Once again you can taste the salinity from growing so close to the water. Aged for 12 months in French oak, notes of plum and dark cherry.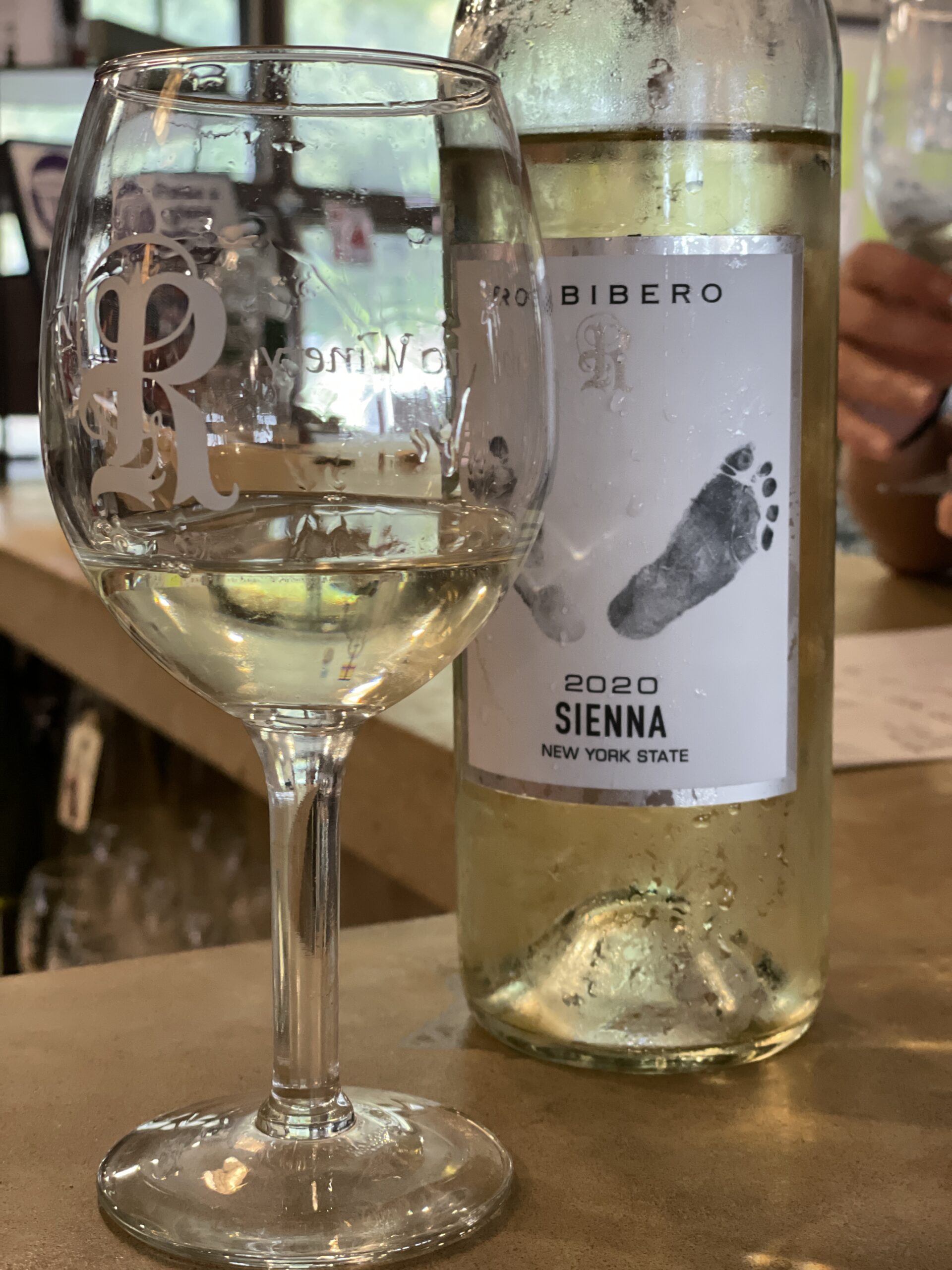 2020 Sienna – named after Tiffany's daughter is 85% Stainless Steel Chardonnay with 15% Riesling. The Riesling gives the blend the acidity. It's a beautiful blend. Nice and light with stone fruit shining through
2020 Sienna Reserve – Once again this is a special selection with 1 barrel made. It's the same blend as the Sienna 85% Stainless Steel Chardonnay and 15% Riesling but in oaked. It went through malolactic fermentation was blended together and oaked together in second used French oak. The nose so different from the above Sienna. The Riesling really shines on the nose with hints of stone fruit. The wine is soft, oaky but not overpowering oak. It's delightful to sit and watch the sunset.
Here's a short video from my visit that captures all the moments and wine.