Blaufränkisch, what a name for a grape. When I started on this wine journey, I couldn't pronounce Blaufränkisch let alone spell it. Let's begin by breakdown the pronunciation, you don't have to learn to spell it, but you have to open your palate to it and drink it.
Blaufränkisch is pronounced Blahw-FRAHN-keesh. The origin of the grape is in Slovenia, Lower Styria not Austria as once thought. It is also grown in Germany where the gape is known as Lemberger or Limberger (much easier to pronounce), in Hungary, they call the grape Kekfrankos. In the states, you will see it as Blaufränkisch or Lemberger.
The name Blaufränkisch means "the Blue of the Franks." The grape clusters are round blueish-black grapes. Bud break is early for Blaufränkisch and it is late ripening. It is a medium-bodied wine with medium to high acidity
Blaufränkisch is one of the many offspring of Gouais Blanc and Blaue Zimmettraube. Gouais Blanc had 80 children throughout Europe. Today, Hungary produces the most Blaufränkisch – 42.3% of the world's production at 7260 hectares.
In late April I took part in a Blaufränkisch seminar with Dr. Jose Vouillamoz and the Garden State Wine Growers Association. We tasted through 5 New Jersey Blaufränkisch wines.
Terra Nonna Winery Blaufränkisch French Oaked 2018 Outer Coastal Plain – Fruity with blackberry, cherry, mullberry, prune. Baking spices and cinnamon shine through with black licorice and a nice black pepper finish.
Bellview Blaufränkisch Outer Coastal Plain 2016 – Deep red in color with ripe dark fruit, cardamom, rounded tannins and soft black licorice on the finish.
Cedar Rose Vineyards Blaufränkisch Outer Coastal Plain 2016 – This wine was made with young grapes, planted in 2014. Very fruity with hints of blackberry, cherry, and black pepper. Nice acidity.
Sharrott Winery Coia Vineyards Blaufränkisch Outer Coastal Plain 2019 – This is their first vintage of Blaufränkisch. Notes of plum, vanilla and ripe cherry with black pepper on the finish. The wine was aged for 10 months in 30% new oak and 70% one, two and three-year oak barrels.
Beneduce Vineyards Blue 2 Blaufränkisch Estate Grown 2017 – Notes of plum, black cherry, blackberry, raspberry. Juicy, yet silk and smooth. Pepper spice that softly lingers. The wine was macerated for 14 days with gentle extraction and manual pumpovers.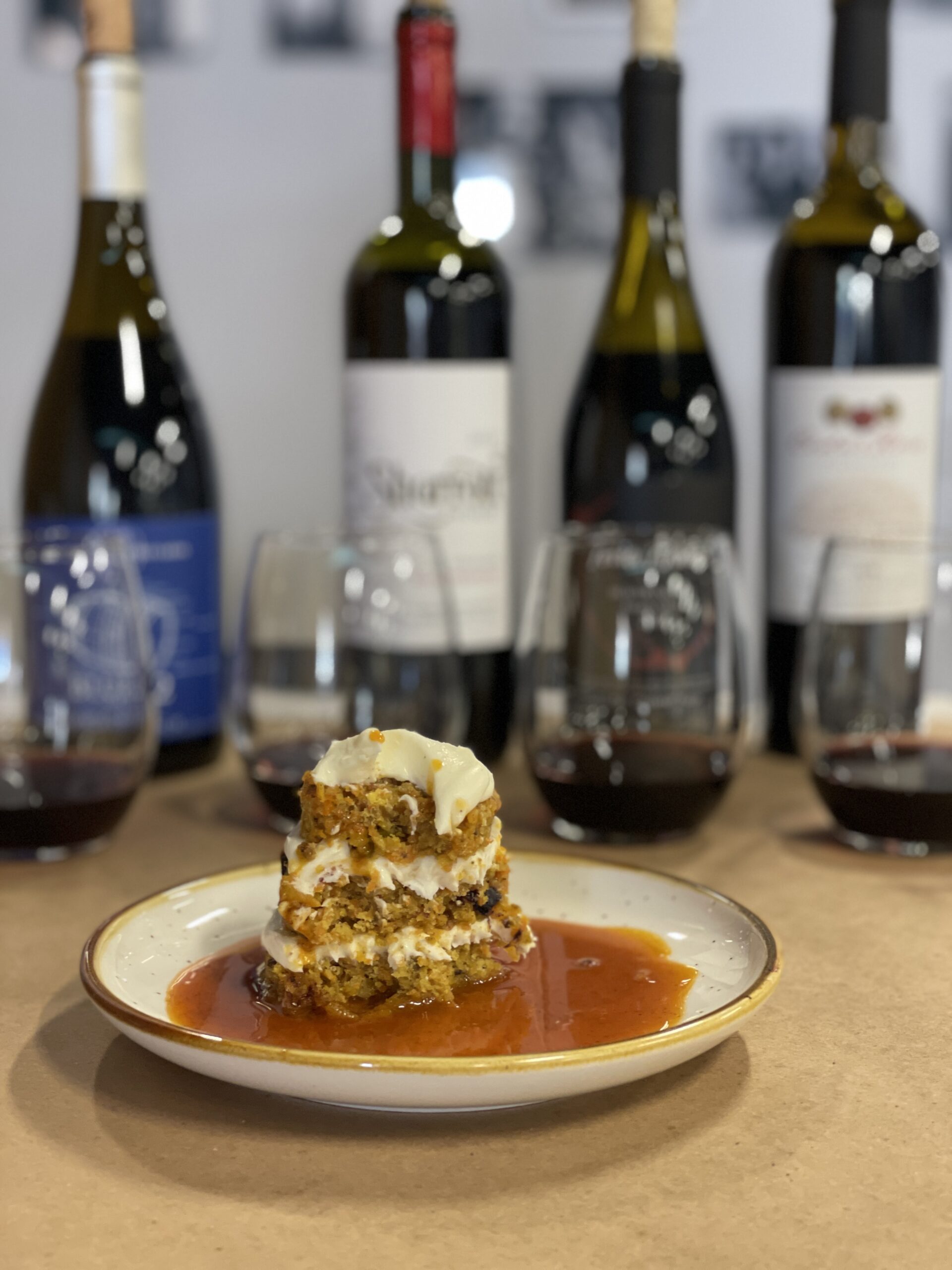 I participated in this seminar from the restaurant just as Chef Gus was putting finishing touches on his carrot cake for opening weekend. Personally, I am not a fan of carrot cake, but this one was off the charts. It was the carrot cardamom sauce that made it. I got to pair it with the different Blaufränkisch wines. Three of the Blaufränkisch wines paired very well with the carrot cake. They are:
Bellview Blaufränkisch Outer Coastal Plain 2016
Beneduce Vineyards Blue 2 Blaufränkisch Estate Grown 2017
Cedar Rose Vineyards Blaufränkisch Outer Coastal Plain 2016