Picture yourself on the shores of Lake Garda, in the Lugana appellation sipping on the mysterious and expressive Turbiana grape. Lugana is small, only 7 miles wide and 13 miles long. There is approximately 22 million bottles of wine produced in this small appellation every year and 70% of the wine is exported.
Turbiana, a grape grown in Lugana, also known as Trebbiano di Lugana and is related to its cousins Trebbiano di Soave and Verdicchio. Turbiana is a medium sized grape that grows in a compact bunch that is long pyramidal shape with berries spheroid in shape. The skins are thick and the pulp is loose and juicy.
The soil the grapes grow in a clays of morainic origin. They are mostly rich in mineral salts and the hillier terrain becomes sandy. The soil reflects in the wine giving the grape it's unique characteristics and qualities. Clean with powerful aromas, white flowers, hints of almonds, citrus, salinity nice acidity and well balanced. An elegant white wine.
There are 5 styles of Lugana wine we'll go a little more in-depth with.
Lugana Vintage – Stainless steel is used with no maturation of the grapes. The wine is usually released a few months after harvest. Some producers are experimenting with aging the wine on the lees and batonnage (stirring the lees back into the wine). Vintage Lugana wine characteristics are pale straw yellow in color. Floral aromas with a hint of almonds. The palate is fresh with citrus notes. Will age 2 – 3 years in cellar
Lugana Superiore – was introduced in 1998. There is some use of oak as well as a combination of oak and stainless steel. There is a trend to age "sur lie" which will give it a rounder complex mouth-feel. The tasting profile is a little more complex than the vintage version. The wine has to age for at least one year after harvest. Lugana Superiore wines have a more golden hue with aromas of wild herbs, apples and citrus fruits, especially orange. If wood is used you will find notes of hazelnuts or spices. Has the ability to age up to 10 years.
Lugana Riserva – The Riserva has to age for at least 24 months with 6 months just in the bottle. This iwne has a brighter hue and is more evolved. You'll find complex aromas with notes of flint, some smokiness and balsamic. You will find more mineral notes on the palate. This wine also, has the ability to age up to 10 years.
Lugana Spumante – Produced in the Charmat method (second fermentation in tank) that produces a crisp citrus infused profile or produced Metodo Classico where it's more refined and complex, creamier with a more graceful perlage.
Lugana Vendemmia Tardiva – This is a very special and different wine. The grapes for this wine remain on the vine until late October, early November. They are stored until dried, then pressed. The grapes are richer and concentrated. The wine profile is softer and thicker but not excessively sweet. The sweetness is balanced by the acidity.
Wines- Should be noted that most Lugana wines are priced between $18 and $24. Makes them very affordable!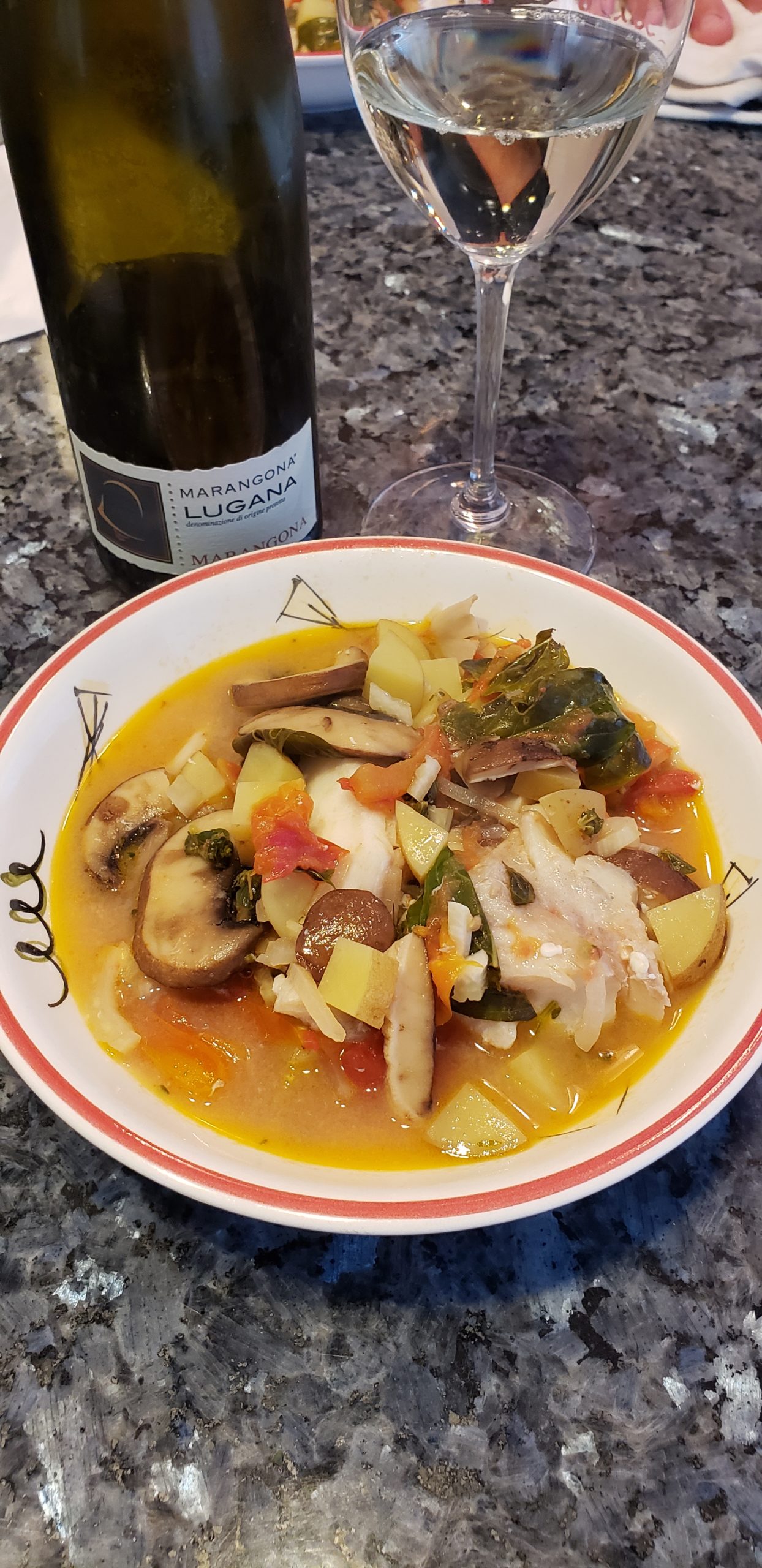 Marangona Lugana 2019 – The grapes were processed whole to preserve the aromas. Fermentation in stainless steel sur-lie for 3 to 4 months. A beautiful wine with aromas of lime, white flowers and orange blossom. You can smell the minerality. The palate is full of lemon rind, lime, wet stone, quinine and a wonderful burst o acidity on the finish.
Tenuta Roveglia Vigne di Catullo Lugana Riserva 2016 – The vienyards are located on the southern shore of Lake Garda. The wine is made from selected old vines. Fermentation 24 months in steel barrels. Lots of ripe fruit in this wine with minerality and salinity. Ripe melon, lemon stone fruit with a touch of sweetness and a tang of acidity. Paired with my daughter, Melanie.