Winephabet Street is a monthly series where Lori Budd of Draceana Wines and I work our way through the alphabet exploring wine and wine regions one letter at a time. The show is live on the third Monday at 8pm and is free, but you must register to attend. Put it on your calendar, pour yourself a glass of wine and hang out with us.
We were so excited in this episode to have Nicholas Hammeken from Hammeken Cellars in Spain to talk all things Monastrell and a little background on himself and how he got into wine. Nicholas started out in wine in Denmark as a cellar master and landed in the UK working for Seagrams. It was here where he learned about what the consumers need. His wife who is a dentist, got a job in Spain in 1996 and Nicholas got a job in a winery in Jumilla and the rest is history.
Nicholas founded Hammeken Cellars in the early 2000s and its foundation is Monastrell. They believe that Spanish wines should be crafted with the focus on the fruit with freshness and pure expression of the varietal sometimes with oak sometimes without oak.
Nicholas talks about Monastrell, the history, and how 2 regions in Spain are responsible for all the Monastrell produced in the country. It's a fascinating discussion as he talks about the types of wine the grape produces and what you have to be careful of from the vineyard to the winery, from the old bush vines to the younger vines.
I don't want to give away the entire conversation. I do want to say it was awesome and we learned a lot about Monastrell and Spain. I can't wait to visit there one day. Give the webinar watch or the podcast a listen.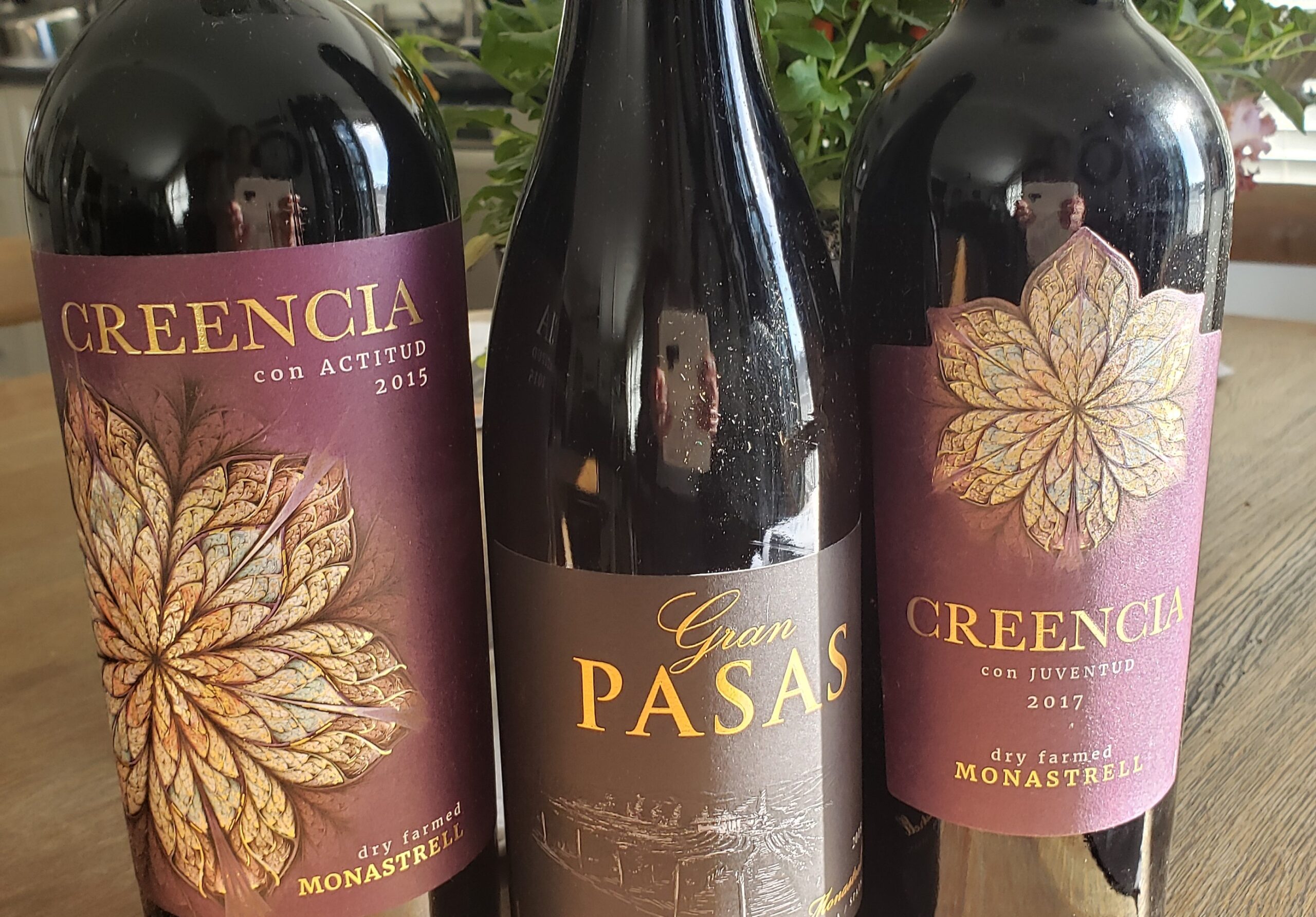 We did get to sample three of Hammeken's wines. All three were different and wonderful. I love the saying on the bottle of Creencia
"Creencia: trust, faith, confidence
Belief in powerful balance of the Monastrell varietal
Belief in the dry farming, that brings out the best of the grape
Belief in this wine, that will linger in your memory forever"
2015 Hammeken Cellars Creencia con Actitud – 100% Monastrell from 45+-year-old vines at an altitude of 700 – 900 meters. The wine spent 12 months in 100% French Oak barrels. This was a very difficult vintage and kudos to the wine team. The wine is dark red in color with complex aromas of blackberry, violet, toasted oak and mocha. The palate is smooth and structured. It's a full bodied wine that as wonderful minerality and soft velvety tannins with hints of black licorice on the finish. SRP $22.95
2017 Hammeken Cellars Creencia con Juventud – This is a younger style wine. It is dry-farmed and comes from ungrafted vines 35 years old. They maintain the freshness and acidity much more. They use small French Oak barrels new and used oak for 6 months. Beautiful red color, Nice freshness and acidity and wine dances on your palate. Nice deep dark red with aromas of black cherries, fig, and rosemary. The palate is fresh with nice balanced acidity, firm tannins with a hint of black pepper on the finish. SRP $14.95
2018 Hammeken Cellars Pasas Gran Pasas DO Yecia – This wine is made to revive an old tradition to harvest in late October when the grapes have the highest concentration of flavors and begin to shrivel up. The wine spent 6 months in French oak barrels. The wine is very fresh and well balanced. Dark red in color with aromas of blackberry, ripe black cherry, dark chocolate and wild herbs. The palate has a sweetness to it, and so well balanced with the acidity. Big concentration of red and black fruit on the palate with hints of dark chocolate. SRP $14.95
Podcast: Play in new window | Download