I recently attended a masterclass in Wines of Catalonia. I am going to share with you what I learned and some of the wines I tasted. I warn you, it's a long post but very informative.
Spain along with Italy have embarked on a program to bring awareness to European Quality wines. Look for a label designating PDO or PGI. What this means is the wines are considered to be a high-quality product and produced in accordance with the national and European regulations.
PDO – Protected Designation of Origin have the strictest rules. There are 70 DO's in Spain and 11 of them are in Catalonia.
PGI – Protected Geographical Indication. This focuses on the geographical area the wines are coming from and what can be produced there. Each specific region will show the typicity of the region and specific grapes.
Why it matters? It allows us to know what grapes the wines from that region are made of, aged for a certain period of time and made in a certain style.
Catalonia, home to quality wine with distinction is a region of Spain, located in the northeast part of the country. There is a diverse range of territories and home to more than 600 wineries.
Catalonia boasts 580 km of Mediterranean coastline and borders Roussillon, France and Andorra. It is surrounded by two mountain ranges, the Pyrenees and Coastal Range. The lower levels of elevation tend to be more humid. The Ebro River flows into the Mediterranean Sea in the southern Catalonia Province of Tarragona. Catalonia has one-third of the land devoted to agriculture.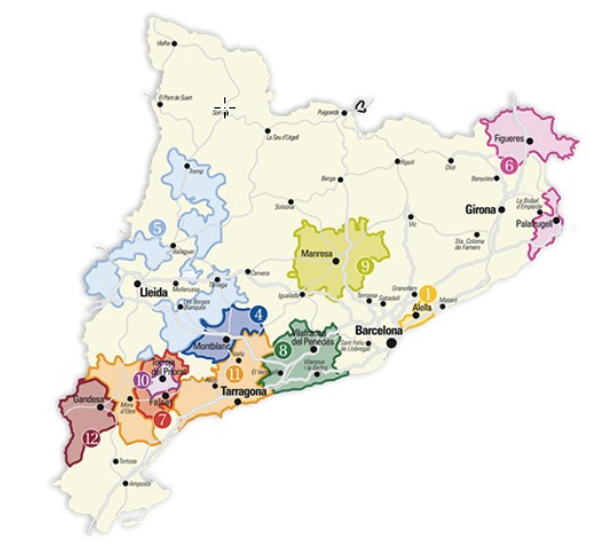 PDO Emporada
In the North East Corner of Catalonia is PDO Emporda. The vineyards not at high elevations.The soils are allluvial on the plains and granitic and slate in the mountains. The soils are acidic with low organic material content.
Even split between red and white. Lots of freshness and juicy fruit.
Recommended grapes are White Carignan, White Grenache, Grey Grenache, Macabeu, Moscatel of d'Alexandria, Carignan (Samso), Garnatxa Tinta(Lledoner)
Allowed grapes are Chardonnay, Gewurtztraminer, Malvoisie, Muscat a Petis Grains, Picpoul Blanc, Sauvignon Blanc, Xarel-lo, Cabernet Sauvignon, Cabernet Franc, Merlot, Monastrell, Tempranillo, Syrah and Granacha Peluda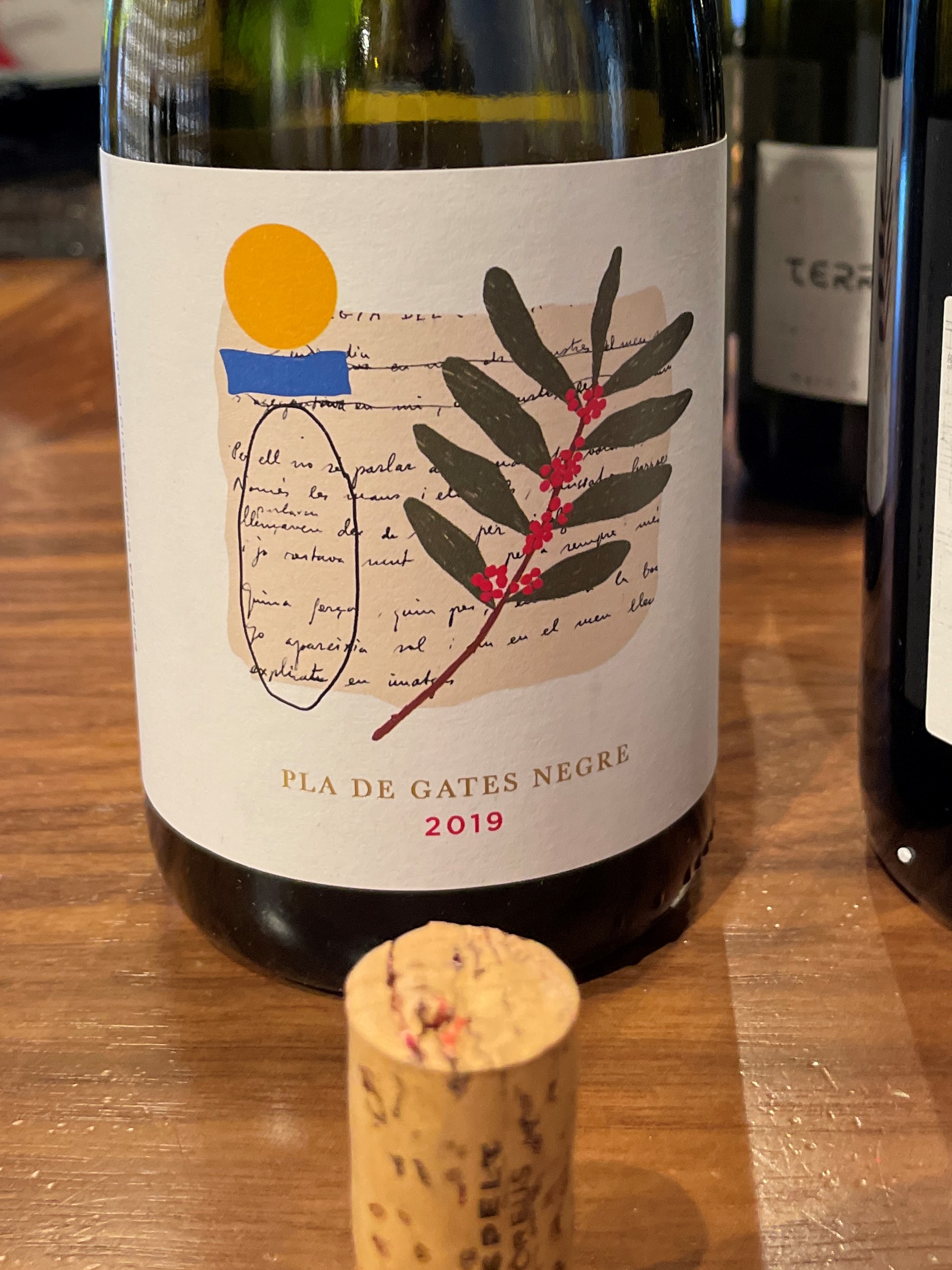 Espelt Pla de Gates Negre 2019
This wine is made with 100% Lledoner Negre (Garnacha Noir) in a 17-year-old vineyard 25 meters above sea level. The soil composition is granite, sand and clay. Aged 9 months in 500 liter neutral and 20 HL Fench Oak barrels.
It was a beautiful red garnet in color. Didn't feel like 15% alcohol. Aromas of juicy red fruit with red raspberry showing strong. The palate boasted lots of red fruit, red raspberry with mineral notes and a soft spice on the finish.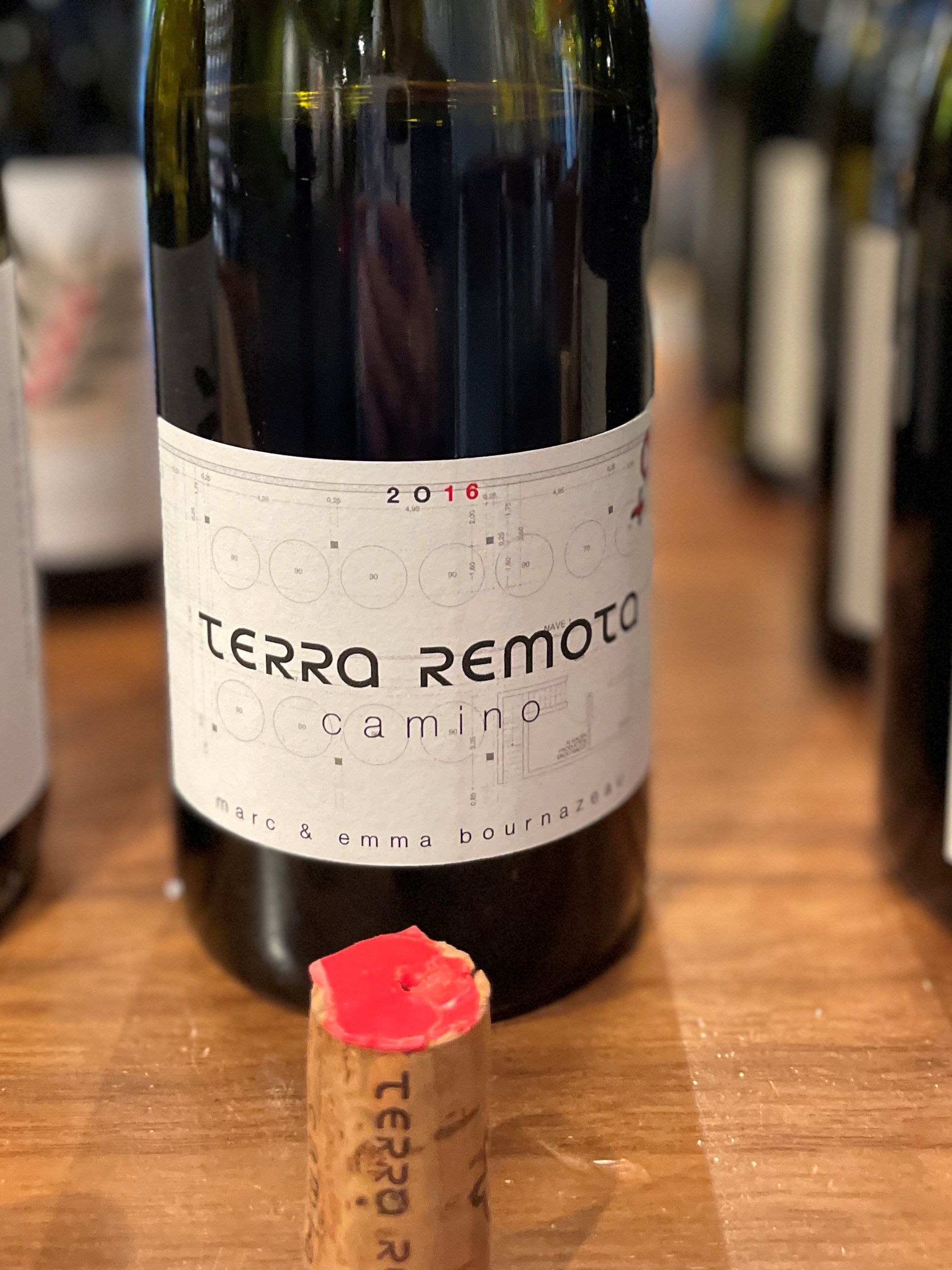 Terra Remoto Camino 2016
This wine is a blend of 36% Syrah, 32% Grenache Noir, 27% Cabernet Sauvignon and 5% Tempranillo with 14.5% Alcohol. The soil composition is granitic soil. Maceration 3 to 5 weeks and aged for 12 months with 1/3 in stainless steel, 1/3 in wooden vats and 1/3 in 500L French oak barrels.
Lots going on in this wine. Very dark garnet in color. Aromas of fresh black cherry, raspberry, vanilla and dried herbs lead to a palate that was pretty complex. Soft tannins and lots of fresh blackberries, black cherry, and licorice with some spice on the finish.
PDO Terra Alta
The southernmost wine growing area of Catalonia. Shows the highest elevation in Catalonia with an elevation of 350 to 550 meters. It gets the cold wind from the north and the humidity from the south. The soil here is limestone and clay. Known for their white wines. Produces 30% of the world's Garnatxa Blanca.
Main grape varieties are Garnatxa Blanca, Tinta, Peluda/Llandoner, Carignan, Macabeu, Parellada, Carignan (Samso)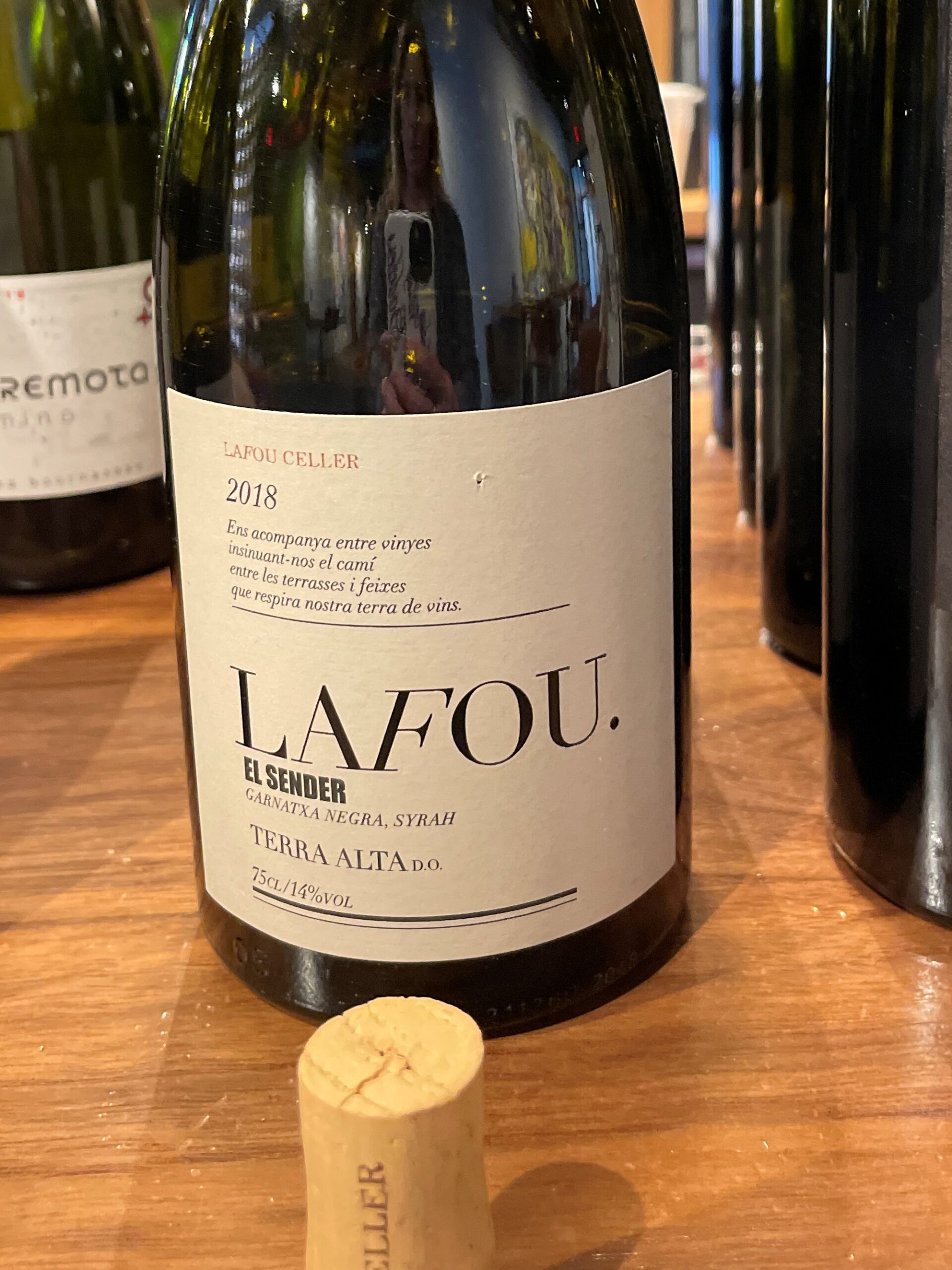 Roqueta Lafou El Sender 2018
This wine is a blend of 70% Red Garnacha, 20% Syrah, 10% Morenillo clocking in at 14% alcohol. The grapes came from Mas Gabriel Vineyard that has calcareous soils with clayey and loamy texture. The wine is aged for 6 months in 300L Central European oak barrels.
The wine is dark ruby in color. Aromas of black raspberry, black fruit and a hint of balsamic lead to a fruity palate with a soft mouthfeel and balsamic finish.
PDO Conca de Barbera
Located a bit inland protected from the coast by Prades Mountain range. Hot dry air. Colder winters and the risk of frost. Hight UV exposure, so the grapes have thicker skins grown on bush vines. More robust tannin structure. The soil composition consists of limestone and clay in the central part with slate in the west. Most notable for Trepat production.
Main grape varieties: Macabeu, Parellada, Chardonnay, White Sumoll, Garnatxa Blanca, Chenin blanc, Muscat Blanc a Petits Grains, Trepat, Tempranillo, Granatxa Negre, Red Sumoll, Syrah, Cabernet Franc, Cabernet Sauvignon, Monastrell and Merlot.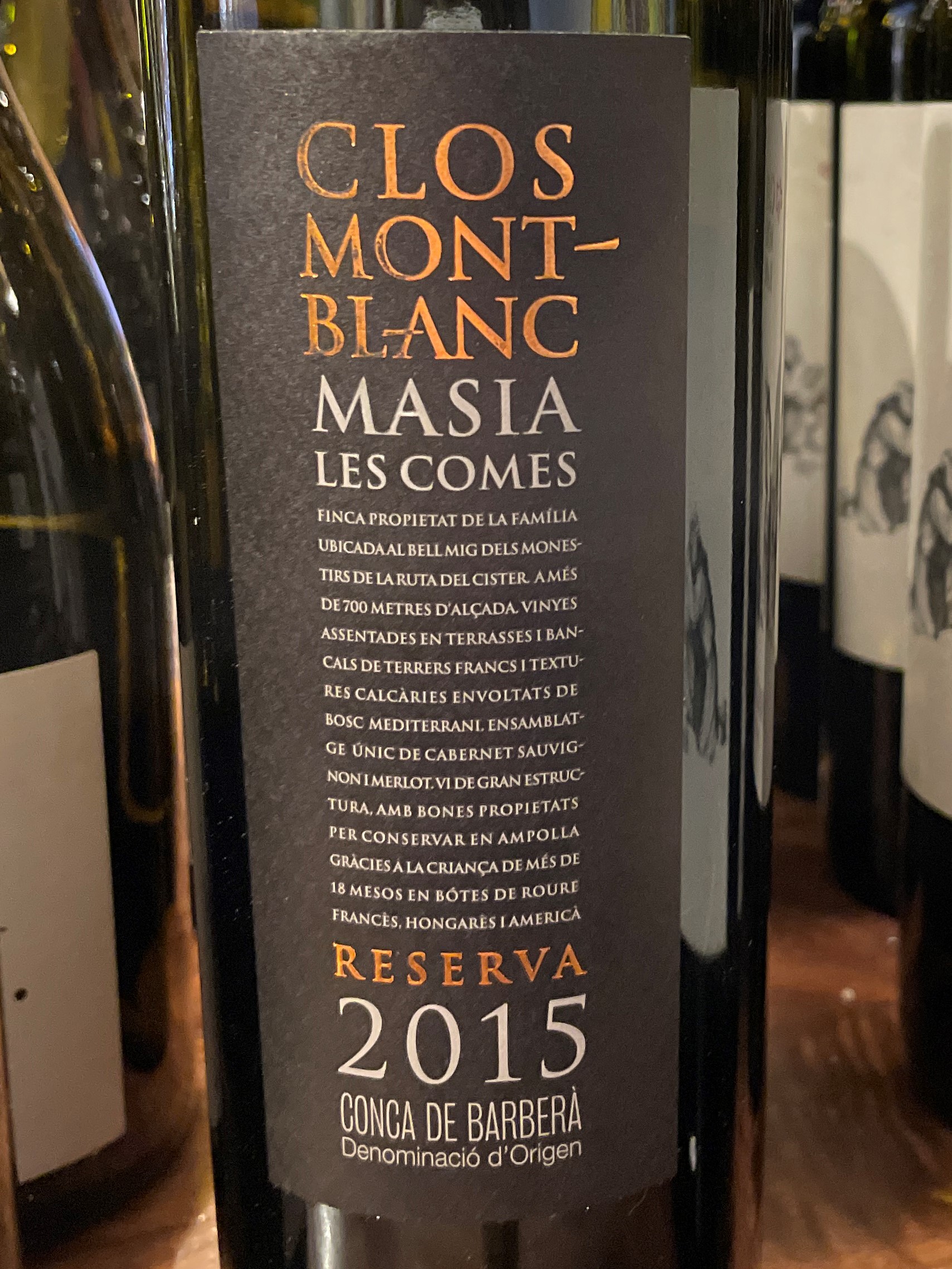 Clos Montblanc Masia las Comes Reserva 2015
A blend of Cabernet Sauvignon and Merlot with 14% alcohol. The vines were 30 years old and grown at an altitude of 700 meters. Aged 18 to 24 months in French and American oak barrels.
Complex aromas of black fruit, cigar box, tobacco, coffee lead to a structured palate with black cherry and dark fruit and long spice on the finish.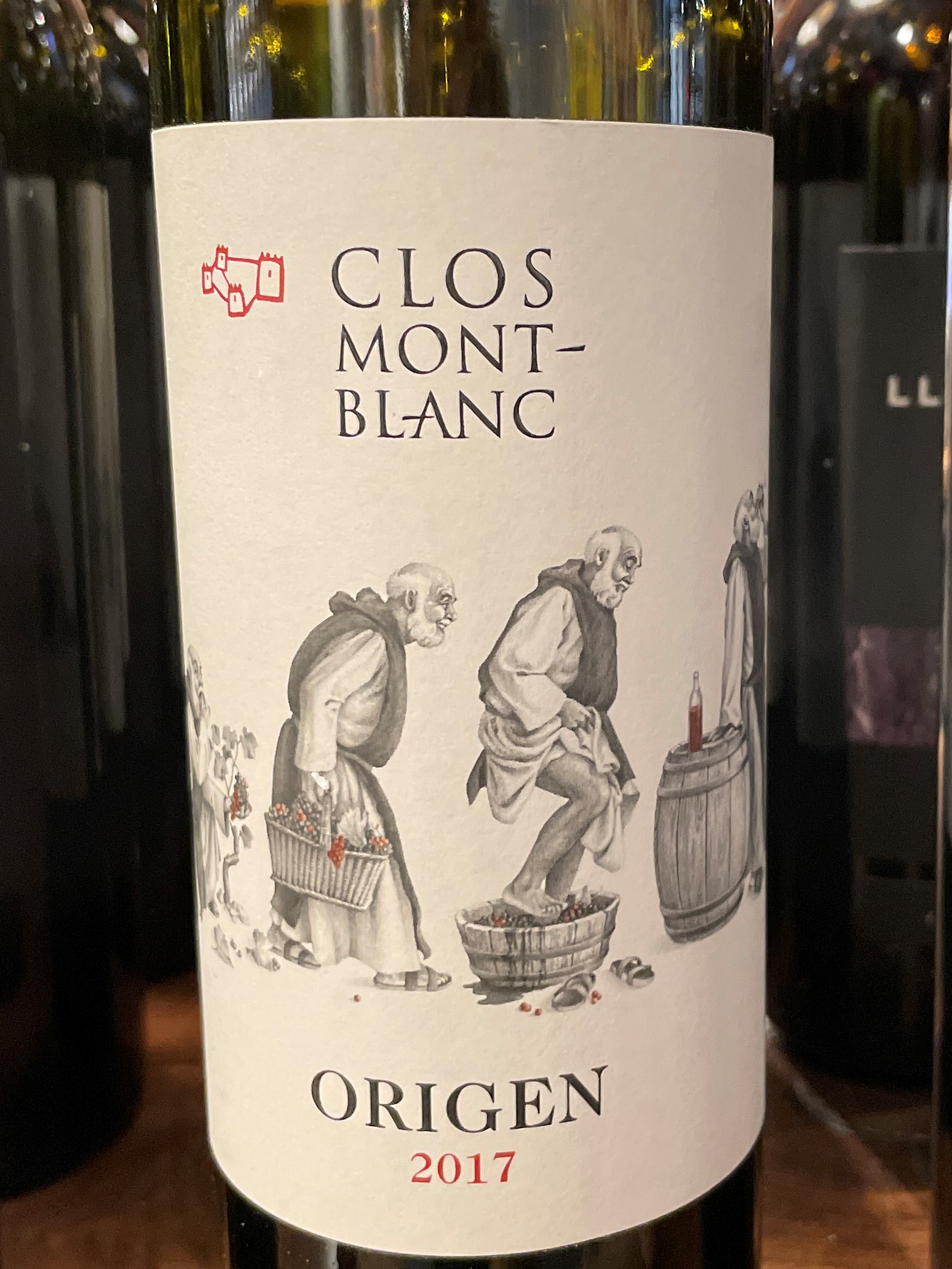 Clos Montblanc Origen 2017
This is a signature wine, a blend of 40% Grenache, 30% Carignan and 30% Cabernet Sauvignon with an alcohol level of 14.5%. Made from old vines between 20 and 30 years old and aged for 16 months in French and American oak barrels.
Dark ruby in color. A nose of dried herbs, black currant, black fruit lead to a complex palate. Notes of black cherry compote, vanilla, soft and velvety texture and a burst of cinnamon.
PDO Priorat DOCa
PDO Priorat DOCa is of the two DOCa in Spain (Rioja is the other). It got its name from the Priorato de Scala Dei Carthusian monastery that was established in the 12 century.
Located southwest of Catalonia on top of the mountain, 100 to 750 meters in elevation with steep terraced slopes. Harsh climate due to cooler winds blowing from inland and extreme diurnal shift. Soil composition is a unique llicorella soil that is a mix of black slate & quartzite. Very poor soil with no organic matter. The vines have to go very deep to get nutrients. Yield is 2lbs per vine which = a bottle of wine per vine. It got it's name from the Priorato de Scala Dei Carthusian monastery that was established in the 12 century.
Known for red wine production of Garnacha and Carignan.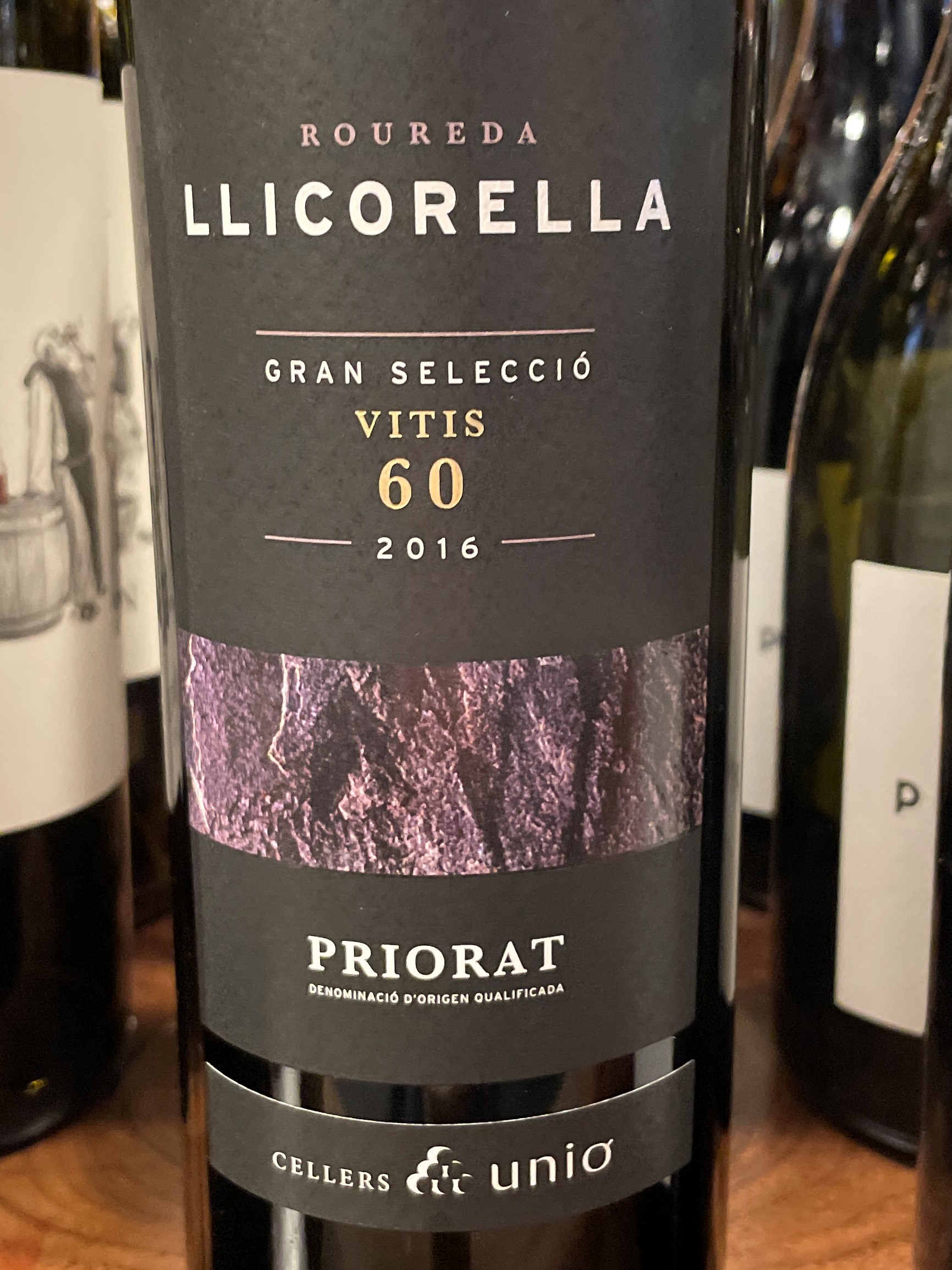 Unio Llicorella Gran Seleccio Vitis 60 2016
A blend of 35% Carignan and 65% Grenache with 14.5% alcohol. Soil Llicorella composition and wine was aged in oak casks for 18 months.
Very dark cherry in color. Aromas of ripe black fruit with a hint of minerality. The palate is meaty with silky oily tannins, black fruit, prune, licorice and a hint of chocolate.
PDO Montsant
Looking for a value alternative to Priorat look at PDO Montsant. Formerly the Falset subzone of Tarragona DO, but in 2001 became PDO Montsant. It is a ring-shaped DO surrounding Priorat with an elevation from 50 to 700 meters. Recognized for Garnacha and Carignan they are main grapes for the area.
Main grape varities are: Chardonnay, Garnatxa Blanca, Macabeu, Pansa Blanca (Xarel-lo), Moscatell de Gra Petit, Parellada, Carignan, Garnatxa Negre, Cabernet Sauvignon, Garnatxa Peluda, Merlot, Monastrell, Picapoll Negre, Syrah, Tempranillo.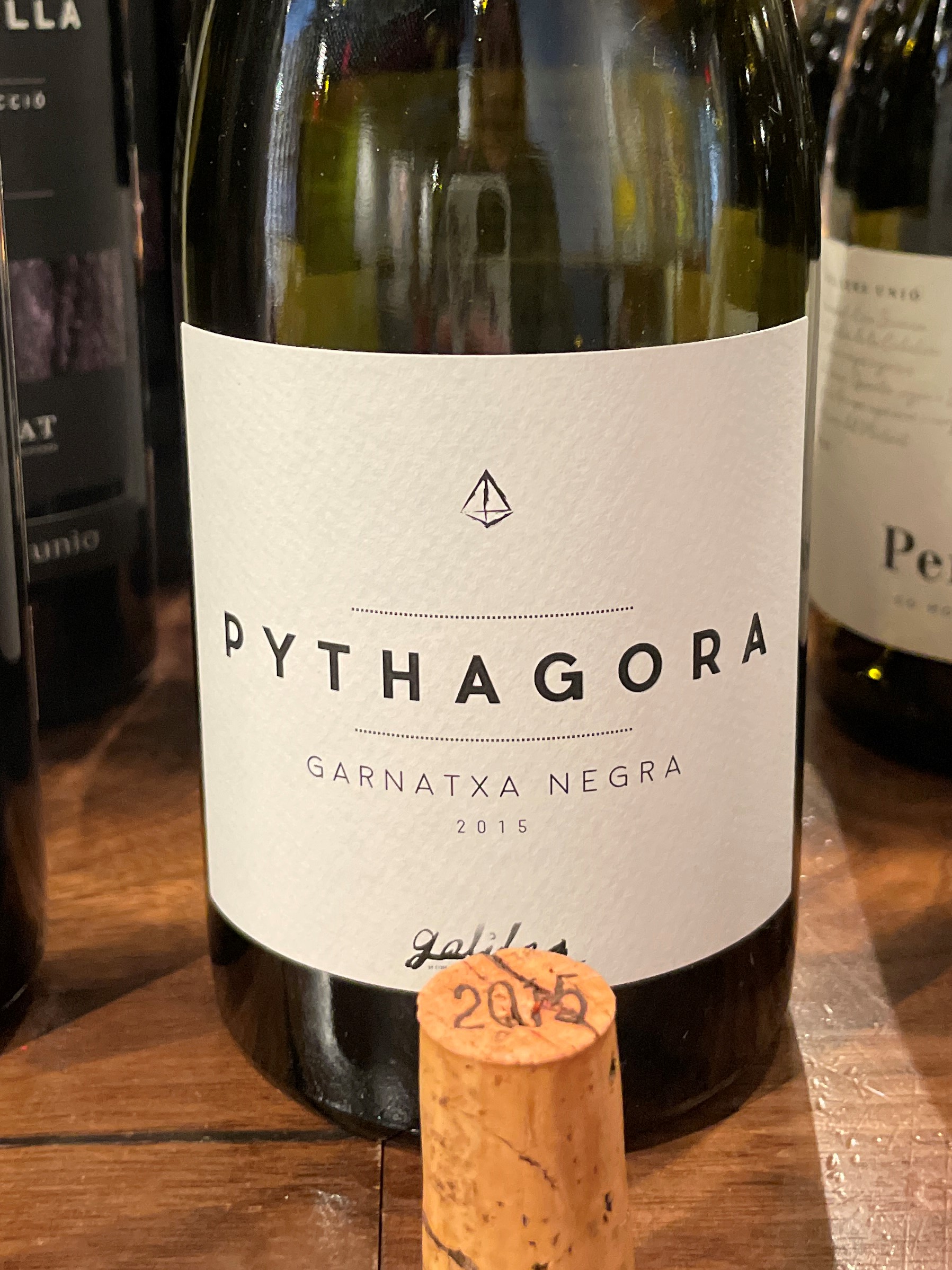 Laurona Pythagora 2015
This wine is 100% Grenache Tinta, 15% alcohol grown in soils of calcareous argyle. It was aged in 500L French oak for 18 months and then 6 months in bottle before released.
Perfumy aromas dark fruit and a touch of chocolate lead to a palate of prunes, stewed dark fruit and integrated
tannins.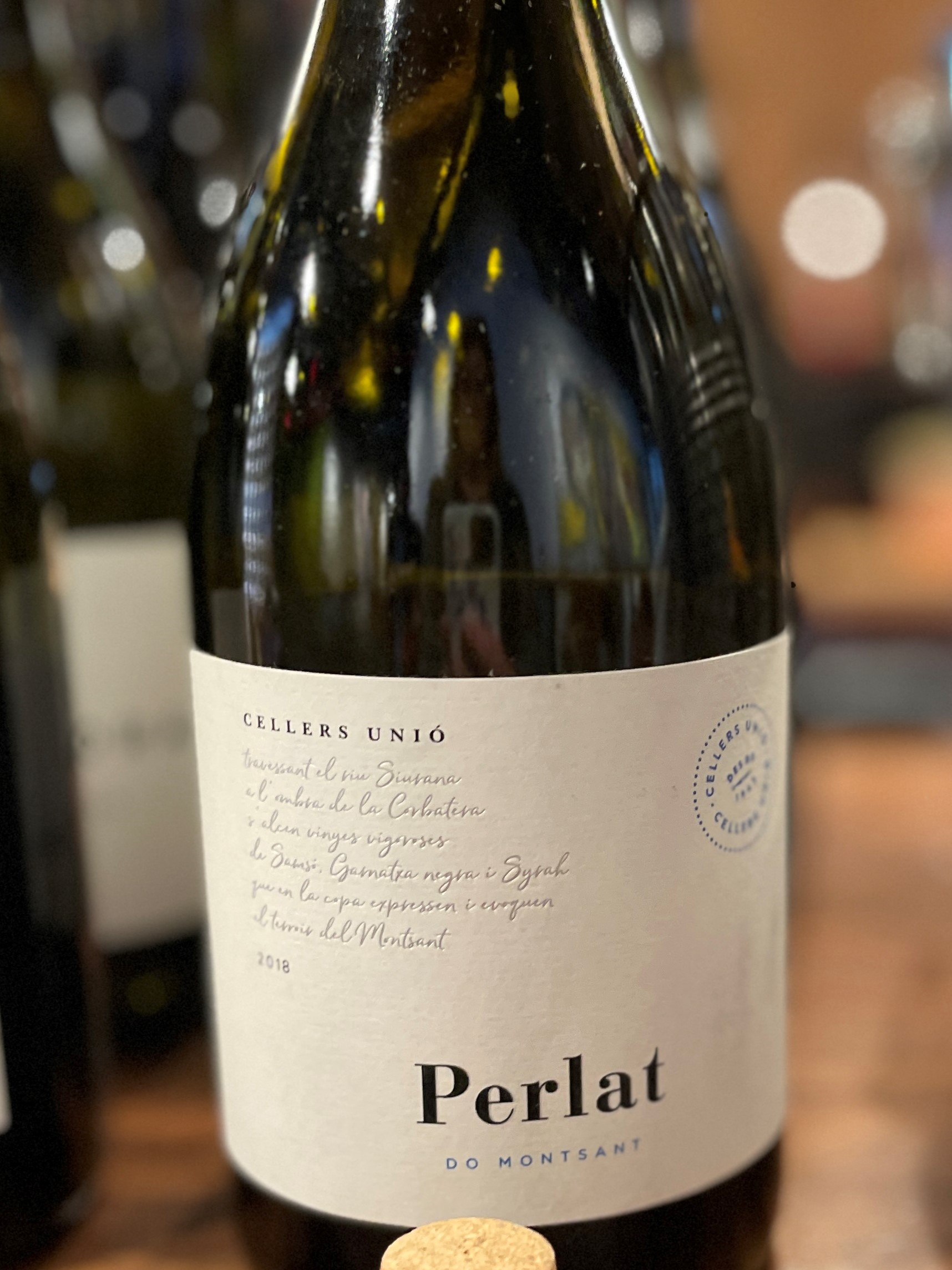 Unio Perlat 2018
This is a blend of Garnacha, Mazuela and Syrah and clocks in at 14.5% alcohol. The grapes are grown on 30-year-old vines that are goblet trained in limestone and clay soil. They aged in 60-70% French oak, 30-40% American oak for 10 months.
Aromas of ripe red and black fruit, ripe raspberries, blackberries and black currants. The palate is fresh with nice structure and firm tannins. Very balanced with notes of red raspberry, black cherry and hints of minerality.
DO Cava
Cava is so special in my opinion. The Cava designation was established for quality sparkling wines made in the traditional method in 1986. Sant Sadurni d'Anoia is the Capital of Cava. To be called CAVA the wine has to be aged at least 9 months on the lees. There are a few classifications of Cava as follows:
Cava de Guarda: Cava aged a minimum of 9 months.
Caba de Guarda Superior are from specific vineyards and by 2025 must be 100% organically grown.
Reserva – aged for 18 months
Grand Reserva – aged for 30 months
Paraje Calificado aged for 36 months with special location and terroir designation.
The preferred grapes for Cava production are Xarel-lo and Parellada, and Monastrell for Rose. Chardonnay, Malvasia, Pinot Noir, Garnacha and Trepat can also be used.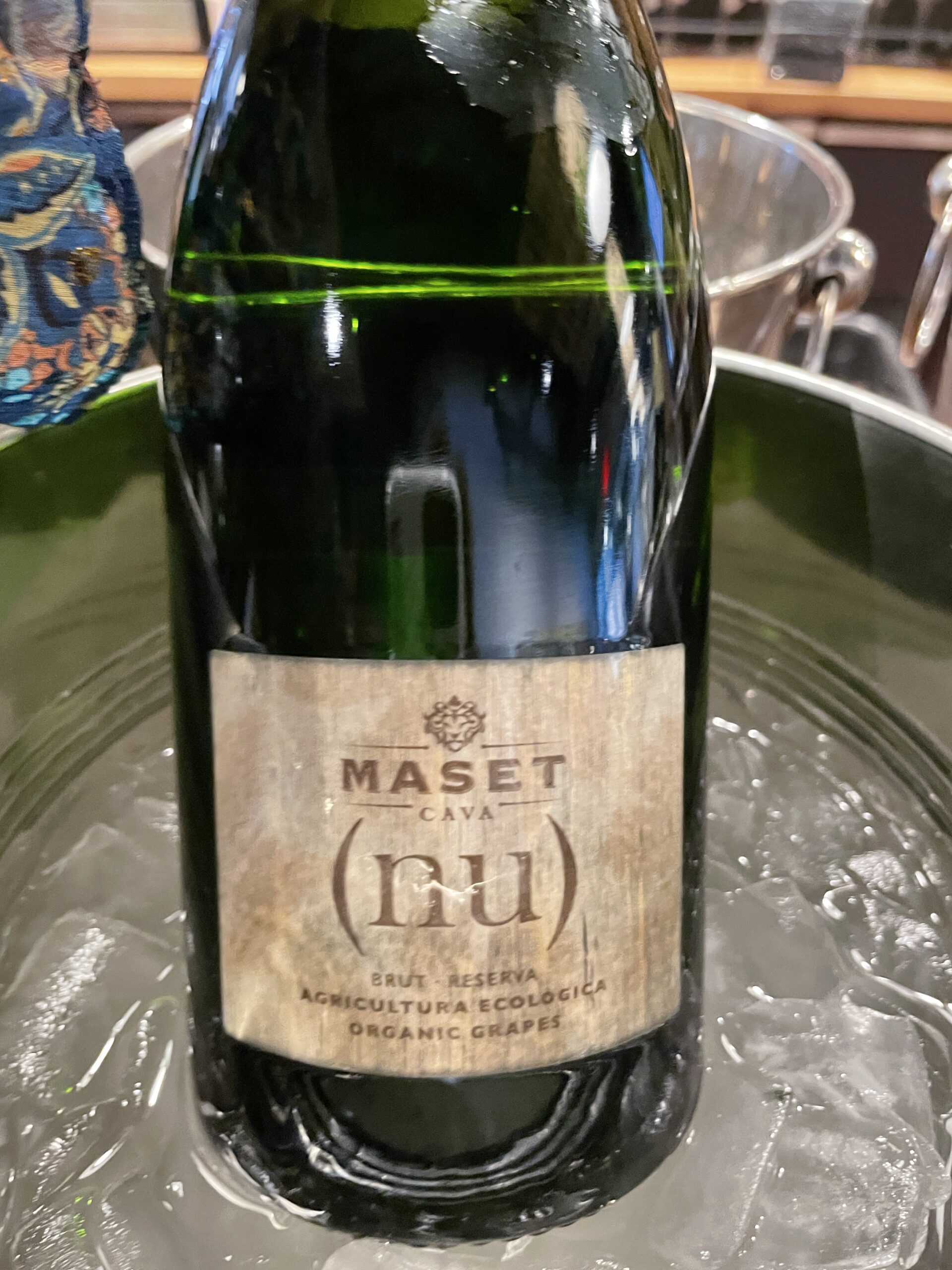 Maset Nu Ecologico 2019 Reserva
A blend of 40% Xarel-lo, 40% Macabeo and 20% Parellada with 11.5% alcohol. Aged for 24 months. A nice floral aroma with hints of lemon and brioche. On the palate it is fruity with ripe orchard apple, hint of citrus on the finish with a tad of sweetness.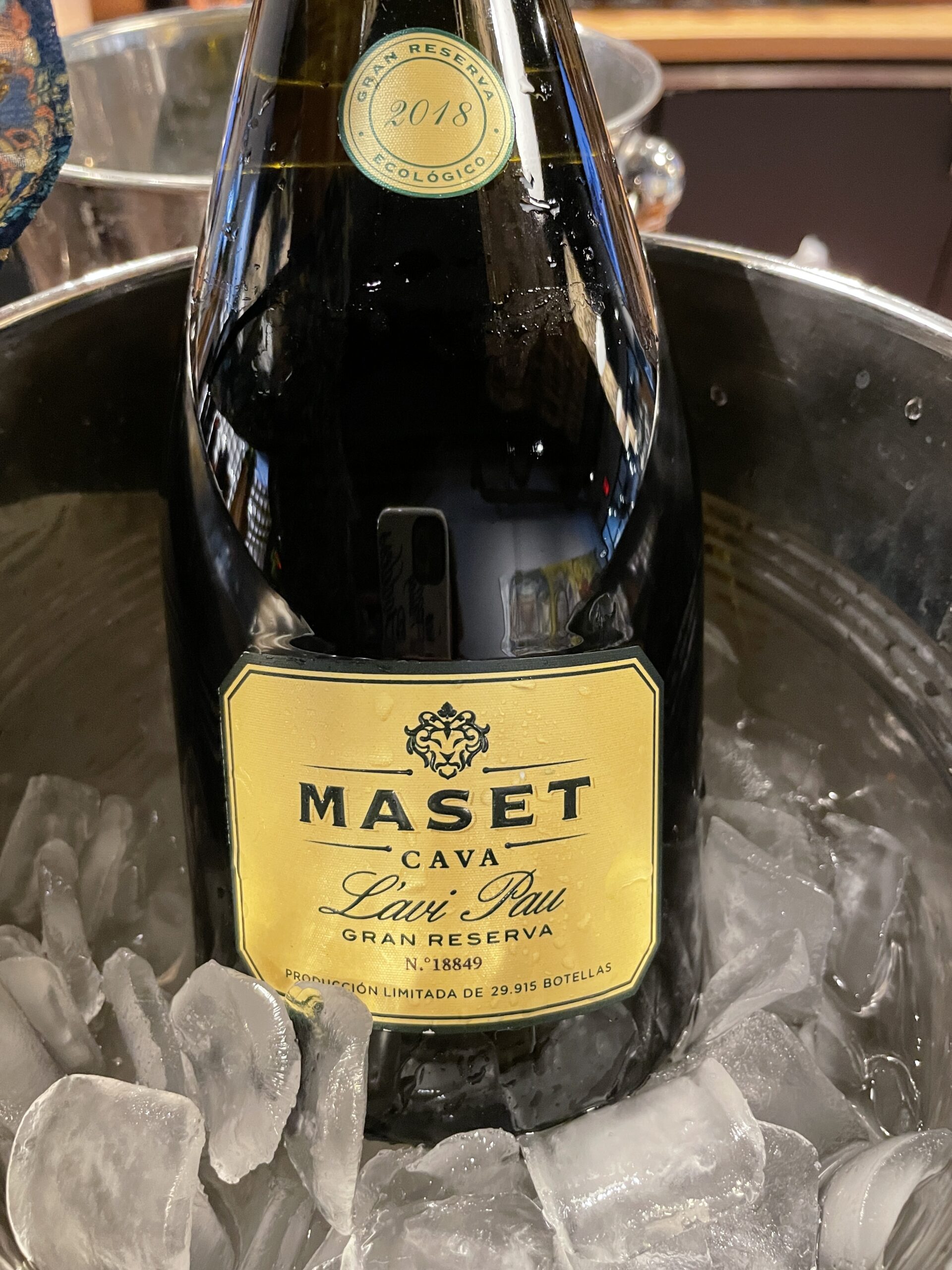 Maset L'Avi Pau 2018
A blend of 50% Xarel-lo, 30% Macabeo and 20% Chardonnay, aged for 36 months with 11.5% alcohol. Nice aromas of white fruit, apple, hint of citrus and brioche. Dry and creamy with a touch of elderflower.