2017 Hudson Valley Wine & Spirits Competition Results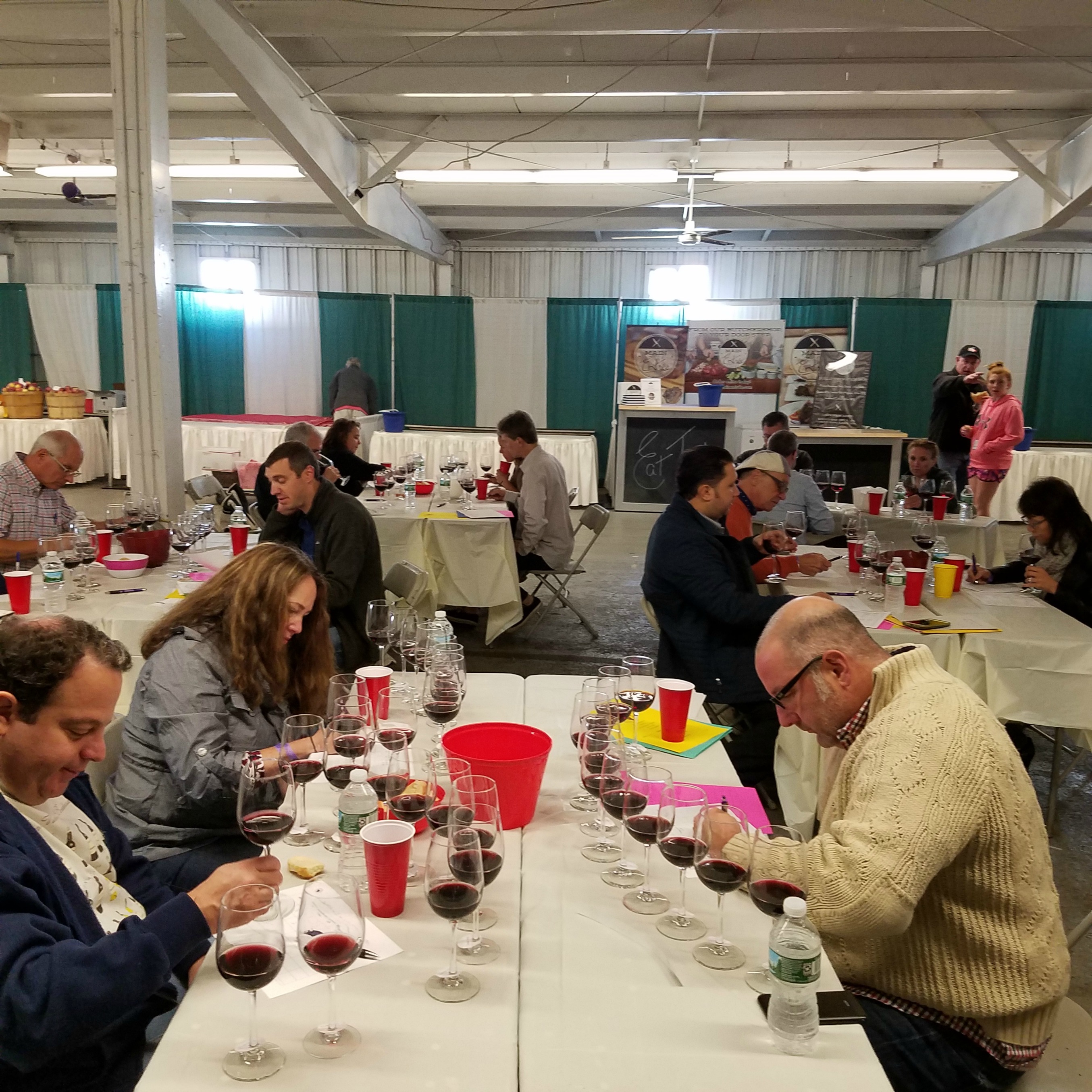 Every year the Saturday after Labor Day the Hudson Valley Wine & Spirits Competition is held at the Hudson Valley Wine & Food Festival at the Dutchess County Fairgrounds in Rhinebeck, New York. This is my 9th year at the helm and I must say, every year it gets better and better.  I work with a wonderful group of judges and back room helpers. As successful as it is, it would be successful without their commitment.
This year there were 111 entries of which 94 were wines, 13 were ciders and 4 were spirits. They were all judged by a panel of 16 judges. Returning this year is Bob Brink, Fine Wines Manager, Arlington Wine & Liquor; Christopher Matthews, Wine & Spirits Columnist for New York Law Journal Magazine; Dr. Evan Goldfisher, George Drivas, Gordon Food Service, Dana H Lee, Certified Specialist of Wine; Chris Gerling, Extension Associate for Enology for New York State; John Hudleson, Assistant Professor of Global Wine Studies at Central Washington University; Diane Letulle, Wine Dine Go; Lori Budd, Dracaena Wines; Jerry Pellegrino Restauranteur and owner of Schola, Jen Redmond, Jack Robertiello, wine, food & spirits writer; Doug Croll, Deutsch Family Wines;  Certified Wine Judges: Kevin Ostrowski Annemarie Morse, JoAnn DeGaglia.
This is no easy task as the quality of the wines increase every year.  This year there were 5 Double Gold medals, 12 Gold medals, 38 Silver medals and 36 Bronze Medals. Winery of the Year was a tie between Tousey Winery and Benmarl Winery. Whitecliff Vineyard & Winery's 2016 Vidal Blanc won Best in Show as well as Best Hudson Valley Wine (made with Hudson Valley fruit). Best Red Wine was awarded to Robibero Family Vineyards for their 2013 Cabernet Franc; Best Fruit Wine was awarded to Christopher Jacobs Winery for their Appleoosa; Best Dessert Wine was awarded to Brotherhood Winery for their Late Harvest Riesling; Best Cider award Brooklyn Cider for their 2016 Half Sour and the Best Spirit was awarded Hudson Valley Distillers for their Clear Mountain Gin.
It was a long weekend for me, but so well worth it!  Here's a short video of the final round where the Best in Show is determined. Following is the complete list of winning wines.
2017 Hudson Valley Wine & Spirits Competition Results by Debbie Gioquindo on Scribd