Exploring Northeast Spain's first DO Pago Winery – Arinzano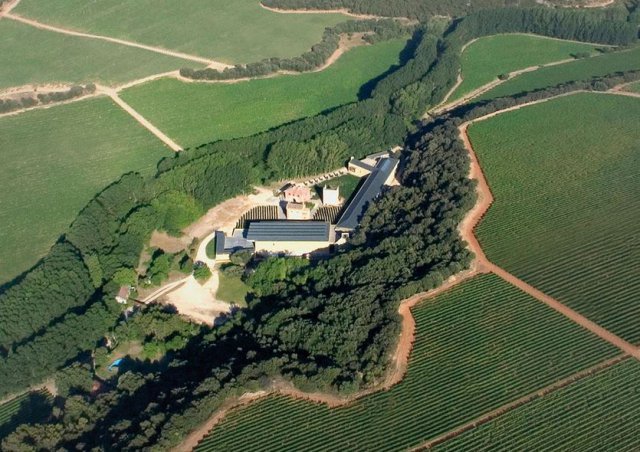 What is a designation Vino de Pago in Spain? This was a first for me hearing about it, so I was really excited to be taking part in the #winestudio program that featured Arizano Winery, northeast Spain's first Vino de Pago winery.
 What does Vino de Pago mean
Vino de Pago classification was created in 2003 to represent a different way to classify by quality. Pago means vineyard and is derived from the Latin word pagus meaning small hamlet or rural estate. The DO Pago designation goes to a single estate wine. The wine created must all come from their estate and be bottled at their estate winery. Once a winery receives that status it is perceived to be one of the great estates of Spain.
To achieve this classification the winery must prove to the governing bodies (INTIA and EEC) the following:
The uniqueness of their terroir
The exclusivity of their terroir
Highly intensive in-depth study of their soil and climate
Once the above is proven – produce wine for 10 years and submit your wines for organoleptic and physical chemical analysis.
History of Arinzano
Arinzano is located in the northeast part of Spain. The closest city is Estella on the border between Navarra and La Rioja Alavesa. It is said the first vineyard planted on the land was in 1055 AD. Mr. Sancho Fortunones de Arinzano first produced wine on the property in the 11th century.
In the sixteenth century Mosen Lope de Eulate who was the advisor to King John of Labrit was named Lord of Arinzano. In the eighteenth century the property was owned by Marquis de Zabalegui. In the 19th century the property was abandoned.
In 1988 the property was rediscovered and brought back to life. The 877 acre estate sits along the Ega River where 316 acres are planted to Pago designation and the rest are committed to conservation and the World Wildlife Foundation certification. They are the only winery in Spain certified by the World Wildlife Fund (WWF) for environmental responsibility.
The Terroir
"The founding goal of Arinzano wines is to reflect the uniqueness and exclusivity of the amazing terroir where the different vineyards have been planted, therefore it was a natural evolution to become the first Vino de Pago in Northern Spain"~ Manuel Louzada- CEO & Winemaker Arinzano Wines.
The winery lies in a valley formed by the edge of the Pyrenees Mountains and the Ega River winds through it and creates a unique microclimate. There is a range of soils including loam, sand, limestone, gypsum and dolomites with, varying topography. The backbone of the Arinzano wines is elegance due to the cool climate.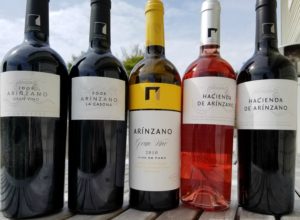 The Wines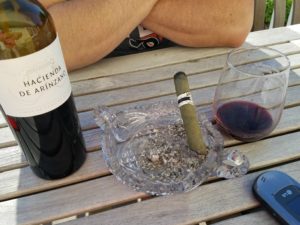 Let's begin with their "House" wines priced at $19.99
Hacienda de Arinzano Red 2012
85% Tempranillo
10% Merlot
5% Cabernet Sauvignon
14 months in French 2nd used oak
Aroma – Rose petals, cigar, red raspberry, perfumy (might be a new word here)
Taste – Red and black fruit with red raspberry and blackberry dominating. Soft rounded mouth feel, nice acid, very well balanced.
Pairing – Paella and cigars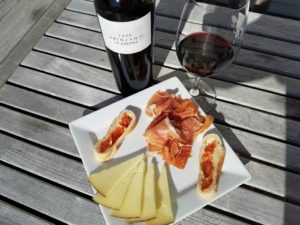 Arinzano La Casona 2008 – $39.99
75% Tempranillo
25% Merlot
14 months in French oak 40% new/60% 2nd use
Aroma – Cherry cola, oak, vanilla
Taste – Stewed plums, cassis, cracked black peppercorns. Strong structure with an elegant finish.
Pairing – Manchego Cheese with salty Spanish meats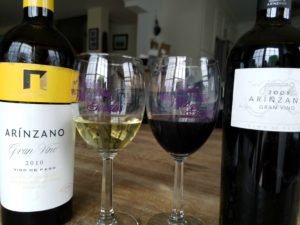 Arinzano Gran Vino White 2010 – $79
Grand Champion Best of Show in the Houston Livestock Show & Rodeo International Wine Competition. The first time a white wine has won this honor in the 14 year history of the competition
100% Chardonnay
11 months in French oak 50% new / 50% 2nd use for 2 years
Aroma – hints of oak, melon, pineapple, lemon
Taste – Soft on palate, romantic, sexy, well balanced, hint of minerality, nice acidity, subtle oak, melon, citrus, slightly nutty
Arinzano Gran Vin Red 2008 – $99
100% Tempranillo
14 months in French oak 50% new / 50% 2nd use
Can age 8-10 more years
Aroma – Ripe bright red berry at first. As it gets air the nose gives off a dark fruit aromas and some leather, coal/wood embers (sitting around the fire pit)
Taste – Red and blackberry, plum, leather, very well balanced.