The Other Side of Bordeaux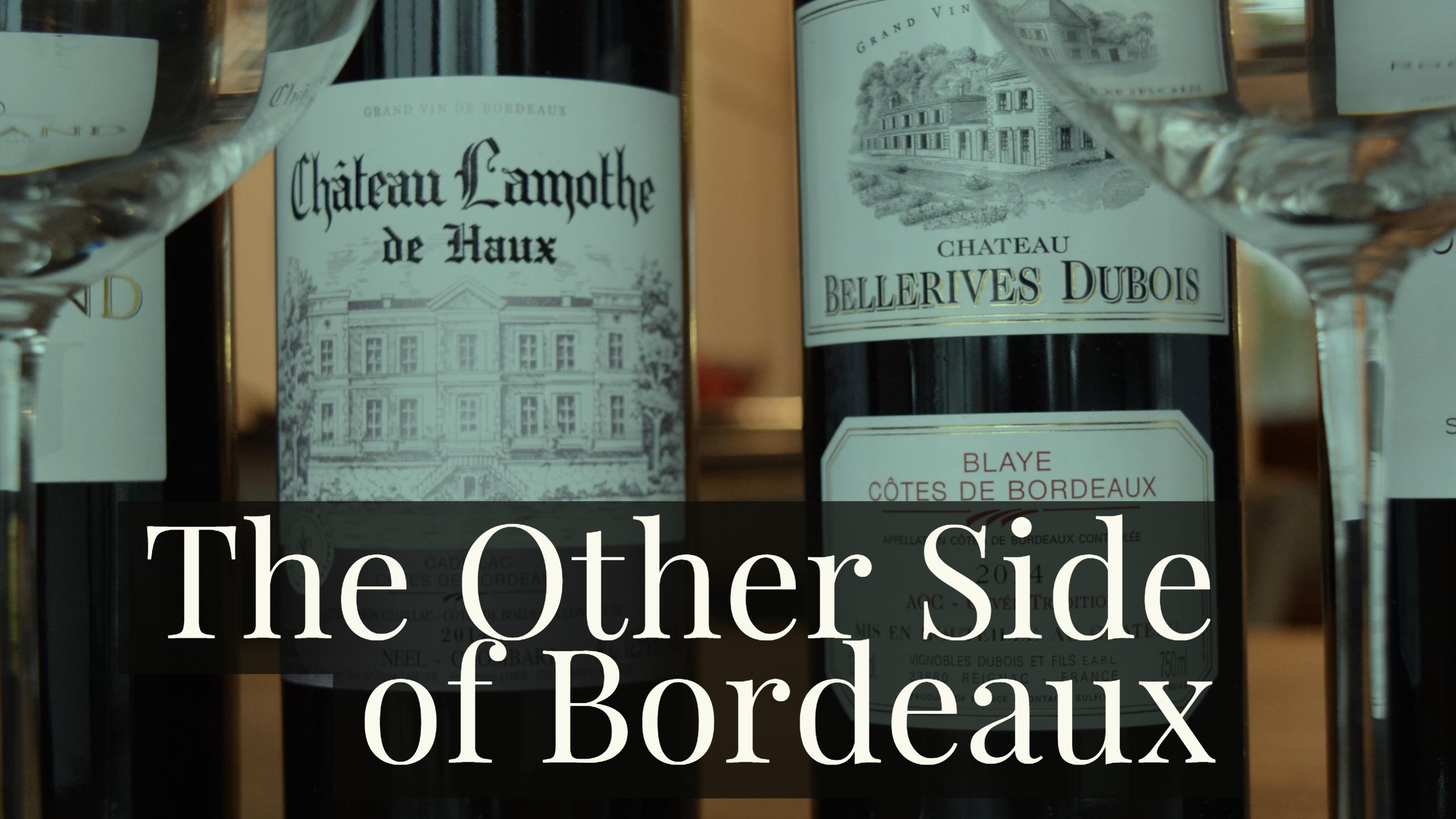 Bordeaux wine, you think of the Bordeaux 5, a blend consisting of Cabernet Sauvignon, Merlot, Cabernet Franc, Malbec and Petit Verdot with the Cabernet Sauvignon as the base.  You also might think $$$. Let's take a look at Bordeaux and the other side of it, the Bordeaux blends that are Merlot based and affordable.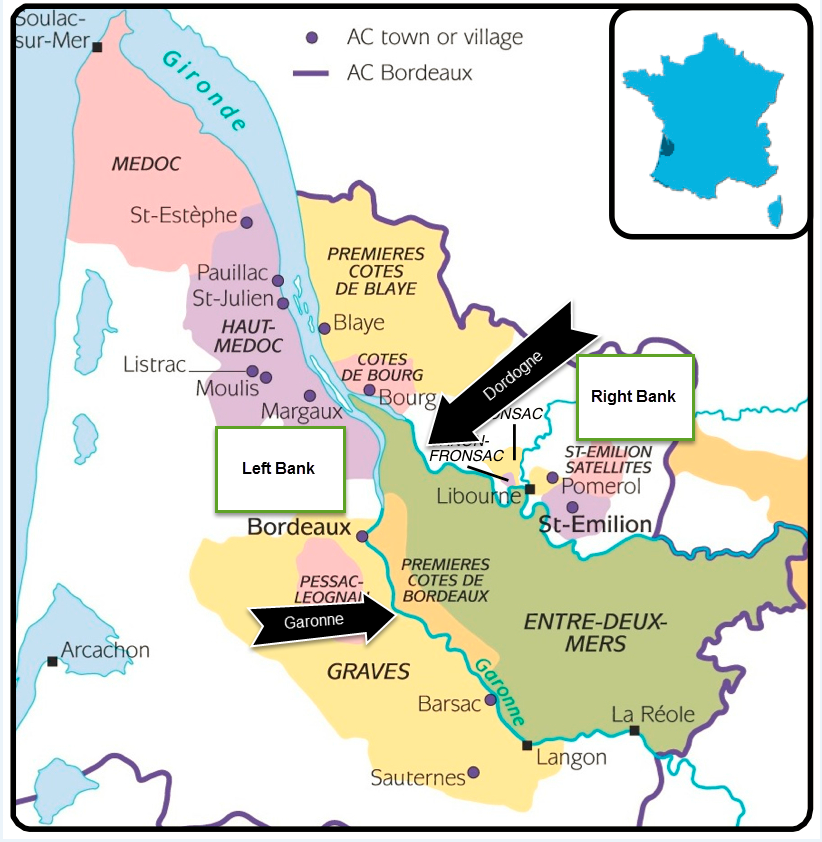 There are two rivers that flow into one that divide Bordeaux into left and right. The Garonne and Dordogne meet and form the Gironde and this flows into the Atlantic. To the west of the Garonne and Girdone is the Left Bank. The Right Bank is east and north of the Dordogne and Gironde and the Entre-Deux-Mers are between the two rivers.
Myth, Bordeaux grows more Cabernet Sauvignon than any other grape?  No, actually there is more Merlot planted in Bordeaux than Cabernet Sauvignon. However Merlot plantings dominate the vineyards in the Right Bank and Entre-Deux-Mers and Cabernet Sauvignon is dominated on the Left Bank.
Wines produced in Right Bank and are Merlot based are just very good quality but don't age as long as the wines Cabernet Sauvignon based on the Left Bank. The Right Bank don't seem to be as tannic as they can be on the Left Bank.
The most noted chateaux that you hear about and that are really expensive are located on the Left Bank and Cabernet Sauvignon based. Names like Chateaux Haut-Brion, Chateaux Margaux or Chateaux Mouton-Rothschild. But lets explore the other side of Bordeaux on the Right Bank, the underdogs who are in the shadow of their cousin in Cotes de Bordeaux where you will find small family owned wineries producing wine that is more fruit forward with little or no oak.
There are four appellations that comprise Cotes de Bordeaux. They are Blaye, Castillon, Cadillac and Francs. The vineyards here are rich in clay-limestone soil and face the southern/southeaster exposure.  Wines from this region range in price from $15 to $25. While these wines are capable of aging, they are meant to be consumed young, so drink them now.
2014 Chateau Lamothe de Haux is from the AOC Cadillac appellation of Bordeaux. Run by the Chombart family they have 190 acres of vines planted in soil of clay and limestone on the slopes of the Right Bank. Their Chateau pictured on the label was restored and the 17th century limestone quarries were renovated to under-ground cellars for ageing. This wine is fermented in stainless steel tanks and is a blend of 60% Merlot, 30% Cabernet Sauvignon and 10% Cabernet Franc. The minerality of the limestone shows on the nose with flavors of boysenberry, blueberry pie, cherry and a hint of black pepper. SRP $16
2014 Chateau Bellerives-Dubois is from the appellation of Blaye in Cotes de Bordeaux. This is a blend of 70% Merlot and 30% Cabernet Sauvignon grown in gravely soil with clay-gravel subsoil aged in stainless steel tanks. This wine was fruity with red an black fruit.  SRP $12

2012 Roc du Manoir is from the appellation of Castillon in Cotes de Bordeaux. This property sits on a plateau at a fairly high elevation. The wine is a blend of 80% Merlot and 20 Cabernet Sauvignon and aged in 30% new oak for 14 months. Very nice aromas escape from the glass of dark cherry, vanilla, dark fruit and a hint of oak. Soft tannins on the mouth allow for a very elegant mouth feel rounded out with red raspberry, black cherry and red fruit flavors.  SRP $15

2012 Chateau Puy-Galland hails from the Francs appellation of cotes de Bordeaux.  A small family owned estate dedicated to quality and an organic approach to vine growing. It shows in the quality of the wine. This wine is 90% Merlot and 10% Cabernet Sauvignon grown in clay-loam soil. Very complex nose of black currant, cove, anise leading to a beautiful mouth full of black cherry, hints of voilets, and dark berry fruit with a nice long finish.

We paired all 4 of these wines with some Filet Mignon that we grilled on a rainy Saturday evening. The Filet was accompanied by a red wine reduction of caramelized onions and mushrooms. How did these four wines stand up?
Chateau Lamothe de Haux – the beef overpowered the meat.
Chateau Bellerives-Debois – did not go .
Roc du Manor – excellent pairing with the grilled meat.
Chateau Puy-Galland – not bad with the meat.
This was just our palates pairing, yours might be different.  Drink, eat and enjoy!