Having gone to college in Western New York I never did get to discover the wines. It could be that I wasn't a wine drinker back then and also the wineries didn't exist.
During NY Drinks NY I visited with two Western New York wineries whose wines really stood out!
Only 3 1/2 years old 21 Brix is young winery with a tremendous future ahead. It's really great to see the younger generation (boy am I dating myself) have such a passion for winemaking. While in college, majoring in Biology/Pre-Med and working on the family farm during summers and school breaks, he caught the wine bug. His dream of becoming a chiropractor was replaced by his passion of working in the vineyards. September 2011 21 Brix opened it's doors.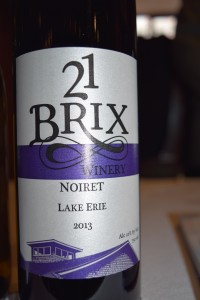 Truth be known I am not a big red hybrid fan. I was a little hesitant to try their 2013 Noiret. They talked me into it and I was very surprised at myself. I liked it. There is 5% Cabernet Franc blended in and I believe that both those grapes compliment each other. SRP $20
The Noiret was aged in American oak for 7 months. It was full of pepper and cherry. I enjoyed the nice lingering pepper finish.
They also talked me into trying their 2013 Raspberry wine. I am not really a dessert wine person, but I opened my palate to it along with a piece of milk chocolate and I was sold. Nothing like the flavor of chocolate raspberry truffles in your mouth. It wasn't overly sweet or syrupy. SRP $17
The next Western New York find was Johnson Estate Winery. I don't know why I have never tried their wines before, because I see them at the Hudson Valley Wine Fest every year.
Their 2011 Freelings Creek Sparkling Traminette was outstanding! This Sparkling wine celebrates their 50th anniversary. Made in the Methode Champenoise, it had a beautiful soft lychee aromas on the nose followed by a slight hint of guava and roses. Even though it has 3% residual sugar, there is enough acidity to balance it out. The palate is crisp with a nice clean finish. I put my order in for delivery in September at the wine festival. SRP $20