Explore the Unknown in Alto Adige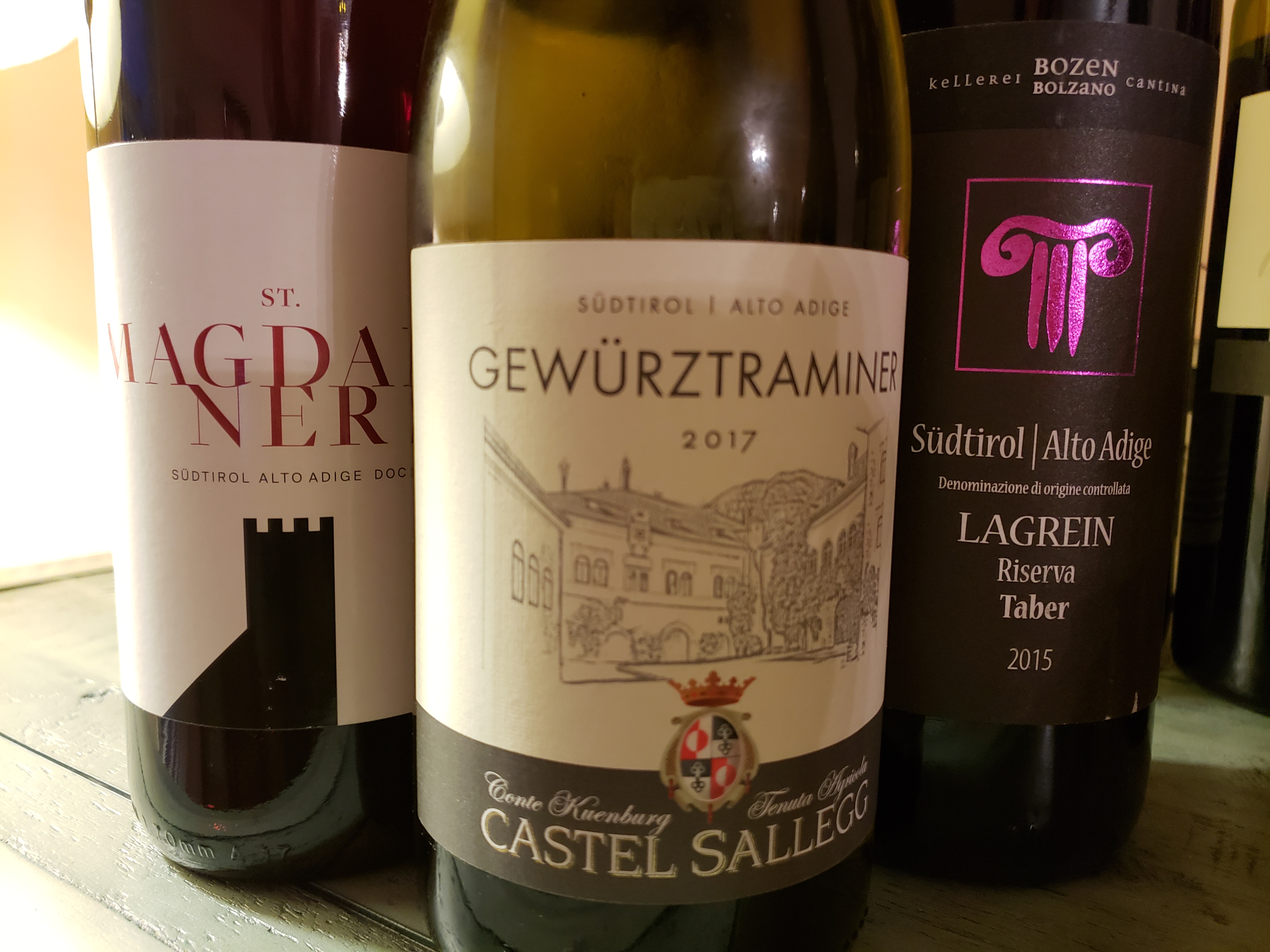 Often you have to go out of the box. Pick up that wine made from a grape you have no knowledge of, from a region you know little about. You are shocked by how good that bottle is and want to learn more about the region and the grapes that are grown there. That was my experience with three wines from the Alto Adige-Südtirol region of Italy. So fascinating I want to visit this region that has a lot of influence from other countries that it was once a part of.
The Alto Adige-Südtirol region is located in the northeastern Italian Alps. It's Italy's northernmost wine region with German influence. The region was passed back and forth between Italy and Austria until the end of World War II when it rejoined Italy. It is a bilingual region but German is the primary language.
A mountainous region with the vineyards planted on the hillsides ranging in elevation from 600 to 3,300 feet above sea level boasts a continental climate with 300 days a year of sunshine. With warm summer days and cool evenings it allows for the aromatic development of the grapes and provides for a slow and gradual ripening.
Native Grape Varieties
Lagrein and Schiava/Vernatsch, two grape varieties that are new to me and native to the Alto Adige – Südtirol region.
Schiava/Vernatsch
Cultivated in the Alto Adige-Südtirol region since the 13th century was once the most exported wine to German speaking countries. The grape itself has large berries and the wine produced from them are light in color with moderate alcohol, low tannin and refreshing acidity. They are meant to be consumed young and slightly chilled.
Shiava doesn't refer to a single variety but a group of unrelated varieties that share common characteristics. The word in Italian comes from the Latin 'sclavus" meaning "female slave." In the Alto Adige-Südtirol region this group of grapes is known as Vernatsch meaning native.
Lagrein
Lagrein has been around sincethe 11th century. It's is an offspring of the Teroldego grape. Lagrein is one of the Italian grapes that has a very high concentration of anthocyanins. Wines made from these grapes produce a full bodied high tannin and acidic wine packed with berry fruit. The wines are sometimes referred to as Scuro/Dunkel meaning dark. If you find a Rosato made from the Lagrein grape it is often labeled Kretzer.
The Wines
I was honored to be sent samples of some of the wines made from these grapes as well as a Gewűrztraminer which makes it's home in the Alto Adige-Südtirol region. I was blown away with all three of these wines, very impressed! The Gewűrztraminer was one of the best Gewűrztraminer's I've ever tasted!
2017 St. Magdalener Südtirol Alto Adige – The blend is 95% Vernatsch and 5% Lagrein from the same vineyard. The wine is fermented with skin contact in stainless steel tanks and after malolactic fermentation it is transferred to concrete tanks. A beautiful garnet ruby in color with aromas of candied red and black cherry with a hint of violets. Medium bodied the palate was bursting with red fruit and a hint of cherry jolly rancher. It paired very well with sausage and pepperoni pizza.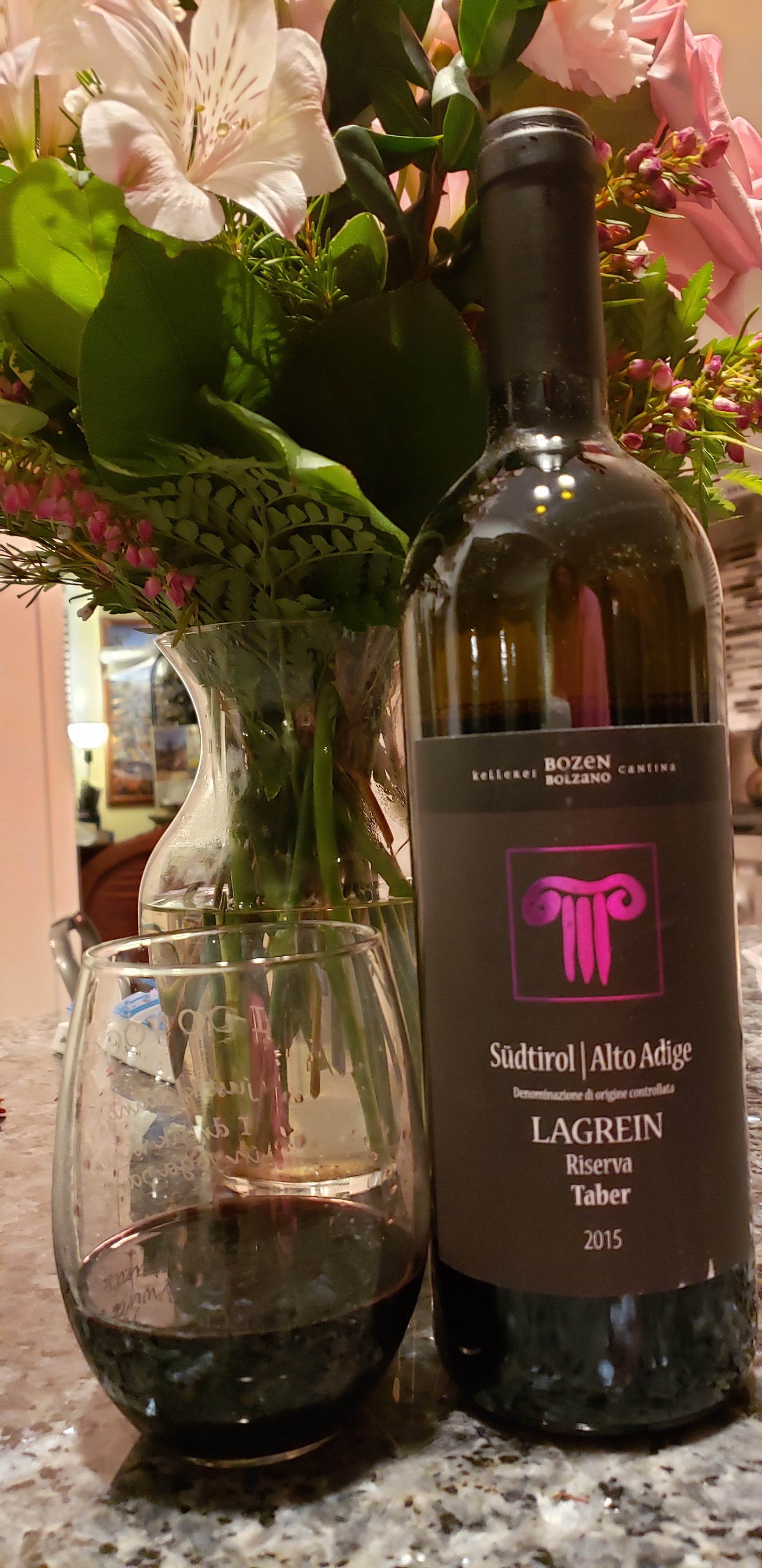 2015 Kellerei Bozen Cantina Winery Lagrein Riserva Taber Südtirol Alto Adige – Wowza! These grapes were picked from 80 year old vines that grow in sandy porphyry soil in Bolzano. Fermentation on the skins and 12 months in new and one to two year old French oak barriques. This wine is powerful yet sexy. Very dark intense red with subtle tannins. Complex layers of coffee, chocolate covered cherries, cocoa and a mid palate that brings out the acidity.
2017 Castel Sallegg Gewűrztraminer DOC Atlo Adige – I have to say, this is one of the best Gewűrztraminers I've tasted. Perfectly balanced, aged in stainless steel tanks on fine lees for 4 months. It's an elegant easy drinking wine, pale yellow with a light greenish hue. Jasmine and floral notes with hints of lychee and soft white pepper on the finish.