From Improv to Cellar Master: Meet Émilien Boutillat Cellar Master at Piper-Heidsieck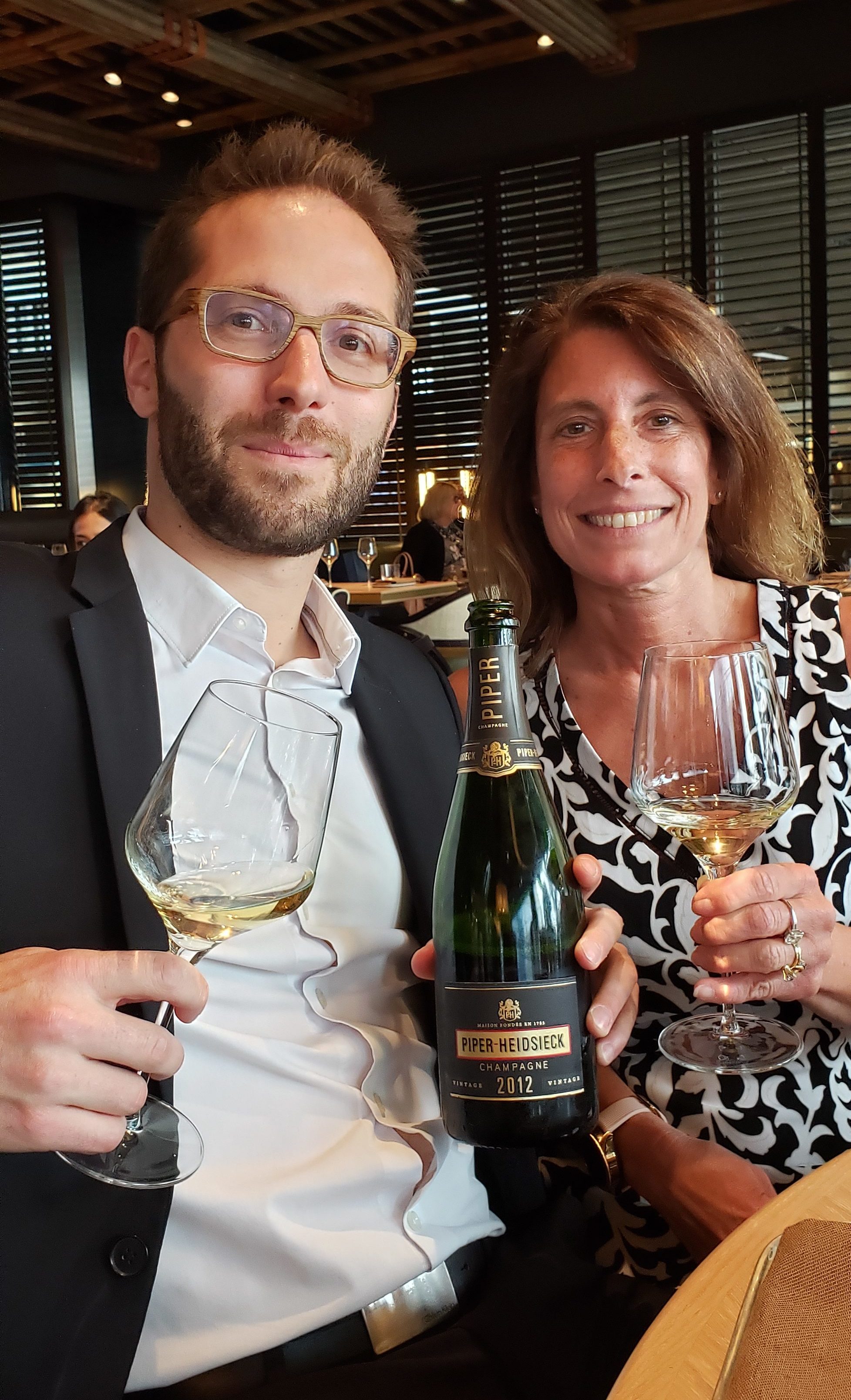 "Champagne is for special occasion and you can find a special occasion every day." – Émilien Boutillat
It was another beautiful Spring day in New York City and I was having lunch at Wild Ink at Hudson Yards with Piper-Heidsieck's new Cellar Master Émilien Boutillat. I'm a big fan of Piper-Heidsieck Champagne but had no idea what to expect from the Cellar Master, this prestige position and the person behind it. Who I met was a handsome young man full of winemaking and viticulture knowledge. He's funny, personable and a delight to be around.
Émilien Boutillat – Chef de Caves, Piper-Heidsieck (as per his business card)
Émilien joined Piper-Heidsieck October 1, 2018 at the age of 30. I would like to say he is probably one of the youngest to achieve such a position at such a prestigious Champagne House. Growing up in a small town of 300 people on the family vineyard he knew he wanted to be a winemaker but never did he think or have his eyes set on Cellar Master at Piper-Heidsieck. His family vineyard started by his father and today run by his brother-in-law is a contracted grower for Piper-Heidsieck.
When he began to study winemaking and viticulture Émilien knew he did not want to study in Champagne. He wanted an education that gave him a broad spectrum of knowledge and went to school in the South of France. After school Émilien spent time working in the vineyards and wineries around the world. He spent time in South Africa at La Motte Estate, in Chile at Viu Manent, in California at Peter Michael Winery, in New Zealand at Mud House Winery and in France at Chateau Margaux before becoming Cellar Master at Champagnes Cattier and Armand de Brignac before landing the position of Cellar Master at Piper-Heidsieck.
Piper-Heidsieck feels that Émilien is one of the most promising talented winemakers in Champagne. His technical expertise and achievements show his understanding of sustainable viticulture and his international experience shows his knowledge of both the terroir of Champagne and the wines of the world.
The first few months at Piper-Heidsieck Émilien spent working closely with Regis Camus, Cellar Master who has been with the brand over 20 years. This gave him a full understanding of the Piper style. (Regis is still with Piper but focusing on their Rare Champagne brand)
Footprint
Just like any person, whether you are making wine or widgets, you want to put your footprint on the product. Asked if he will make any changes to the wines he said he will respect the DNA of the brand with the same style and wine excellence. He will look at the small details and see what small changes he can make to increase the quality. He wants to improve every detail he can in keeping the style and increasing quality.
His first focus is in the vineyard. Focusing on the vineyard and the partnerships they have with the growers. He is looking for sustainability, nice and good balance fruit, not too ripe, not too acidic. Balance is very important between sugar and acidity and the balance between the aromas. The fruit and toastiness need to be there but balanced and mild, he does not want one aroma to take over everything.
Beliefs
Émilien joined the brand because he believes in the style of the wine. He believes champagne should be complex but not complicated, something that is vibrant and elegant and delicate.
Cooking and Improv
Just like you and I Émilien has some hobbies. At his home he has a small garden with tomatoes and eggplant and loves to cook. He also does Improv, something he started doing while studying. If you are visiting the region you might be able to catch is improv act the first Thursday of the month at the local improv theatre.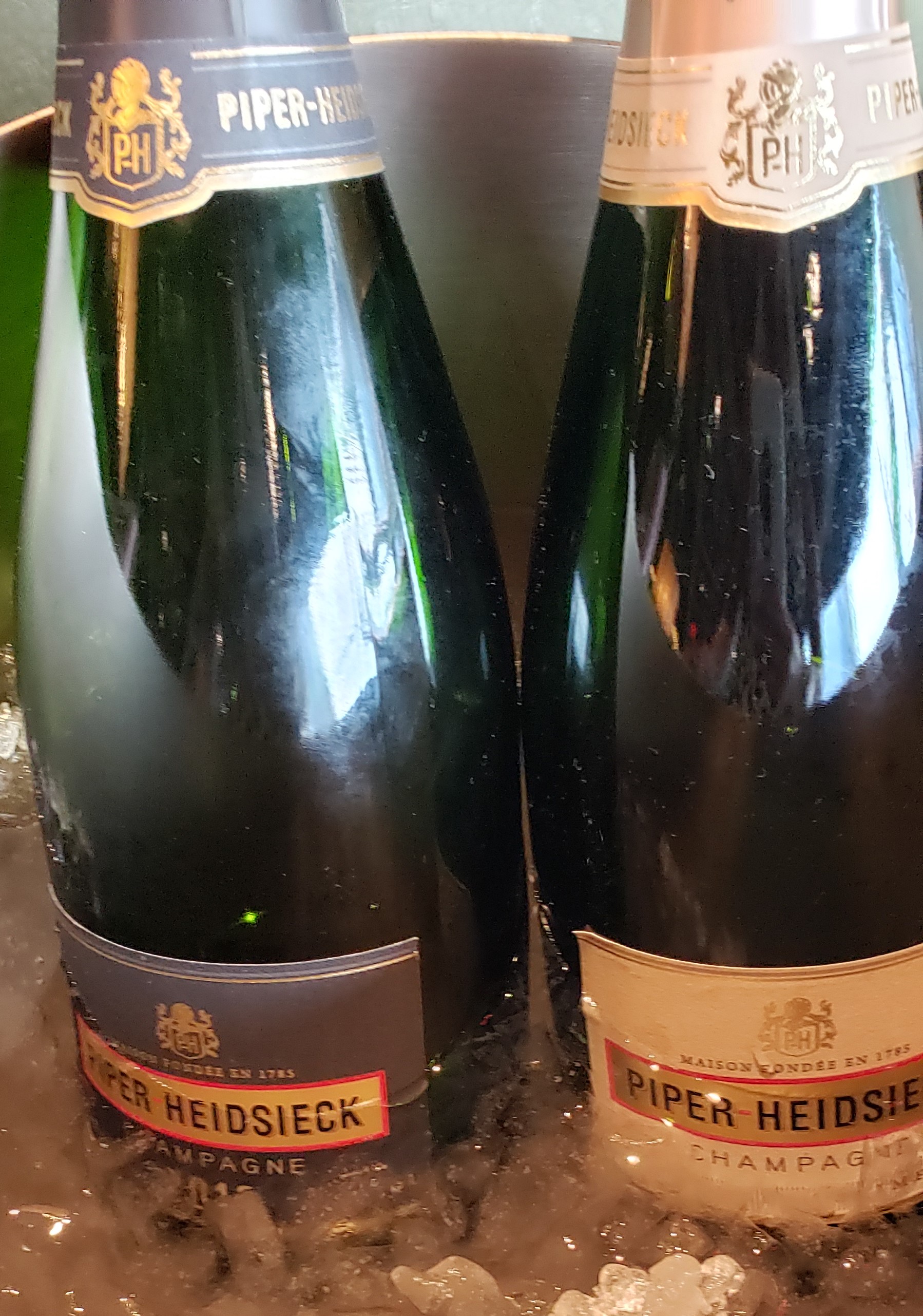 About Piper-Heidsieck
Founded in 1785 as Heidsieck & Cie, Florens-Louis Heidsieck wanted to create a cuvee worthy of a queen and set out to do so. He gave his first cuvee to the Queen and Marie Antoinette became the first Brand Ambassador.
Florens-Louis Heidsieck married Agathe Perthois, and in 1815 Florens-Louis' nephew Christian Heidsieck and Henri-Guillaume Piper joined them to promote the Champagne House. In 1828 when Florens-Louis died, Christian and Henri-Guillaume decided to keep the venture going. Unexpectedly in 1835 Christian Heidsieck passed away and shortly afterward his widow married Henri-Guillaume Piper. That was the beginning of Piper-Heidsieck and the road it would travel.
Today you can find the Champagne at the Oscars, Sundance Music Festival and many more place including your wine shop.
Piper-Heidsieck Champagne
During this lunch we were the first to taste the 2012 declared Vintage Champagne. This wine is only made when the grapes are of outstanding quality. The last declared vintage was 2008.
The other Champagne tasted was the 2015 Cuvee Brut, Rose Sauvage, Cuvee Sublime.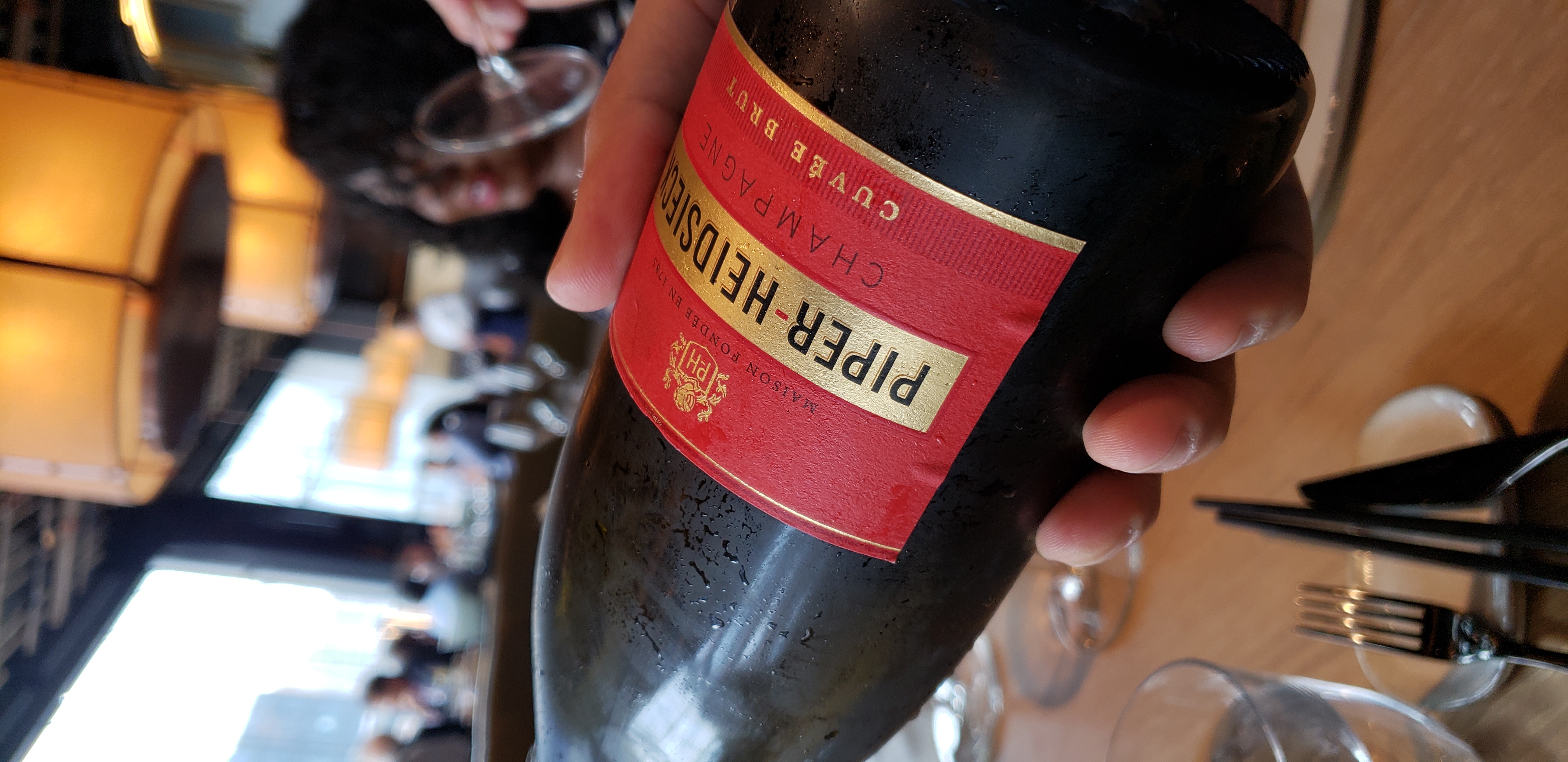 Piper-Heidsieck Cuvee Brut
This blend is made up of 50% Pinot Noir, 30% Pinot Meunier and 20% Chardonnay. Elegant, smooth and creamy with hints of pear, red apple, touch of toastiness and vibrant. SRP $45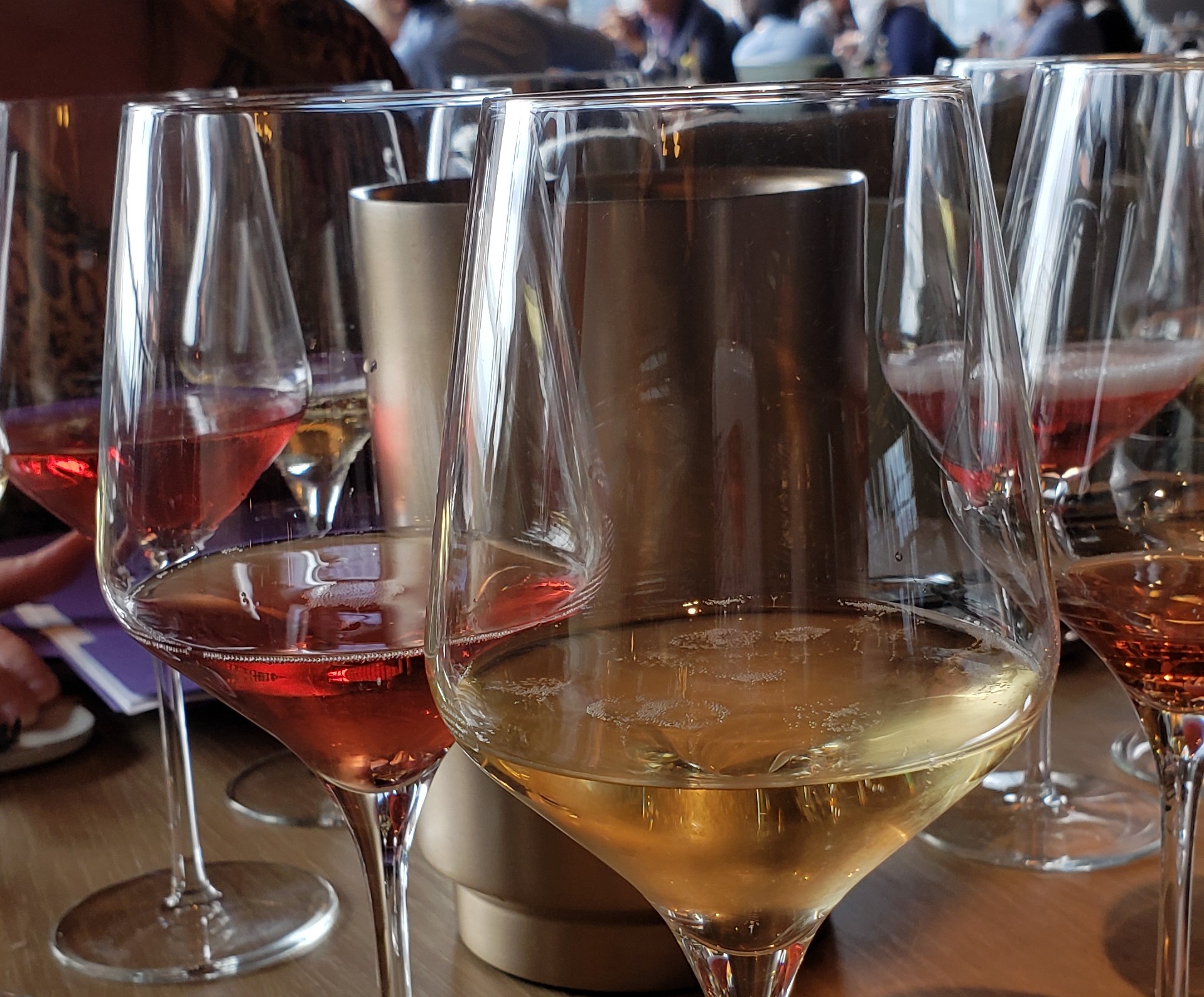 Piper-Heidsieck Rose Sauvage
Émilien wants this blend to be true to the fruit. It drinks more like a wine than Champagne. Dark pink in color, blended with 50-55% Pinot Noir of which 20 – 25% is vinified as red wines, 30 – 35% Pinot Meunier and 15 – 20% Chardonnay. Hints of raspberry, blood orange, cranberry and spice. This pairs really well with food and is great for the Thanksgiving table. SRP $62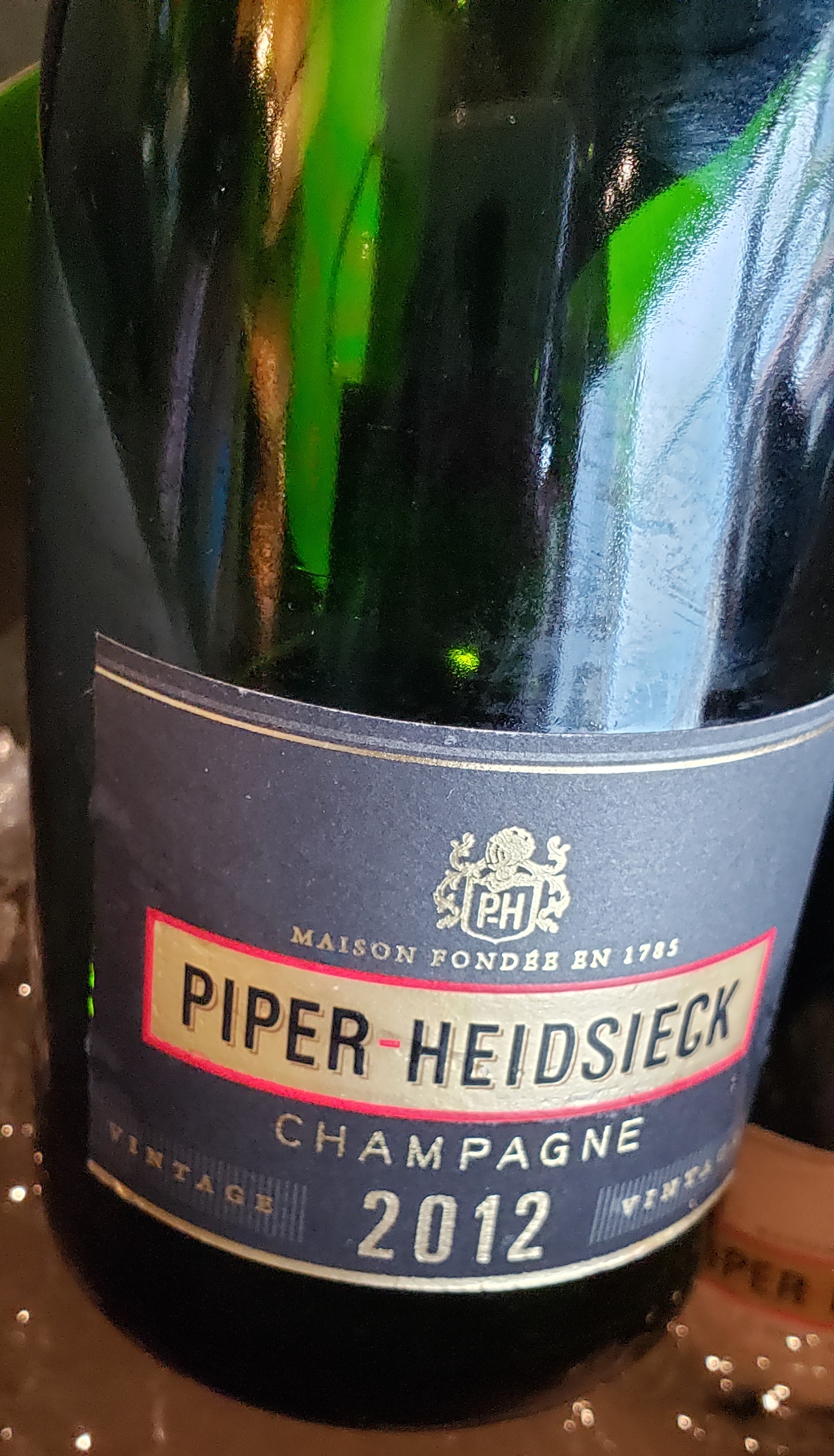 Piper-Heidsieck 2012 Vintage Champagne
This is the first declared vintage since 2008. They declare a vintage only when the quality is there. The wine ages at least 3 years which is the minimum. This blend is 52% Pinot Noir and 48% Chardonnay from mostly grand and premier cru vineyards. The complexity in this wine is wider with some peach, apricot, red cherry fruits, touch of toastiness and honey notes. Fruit forward, creamy and soft. A bit seductive. SRP $80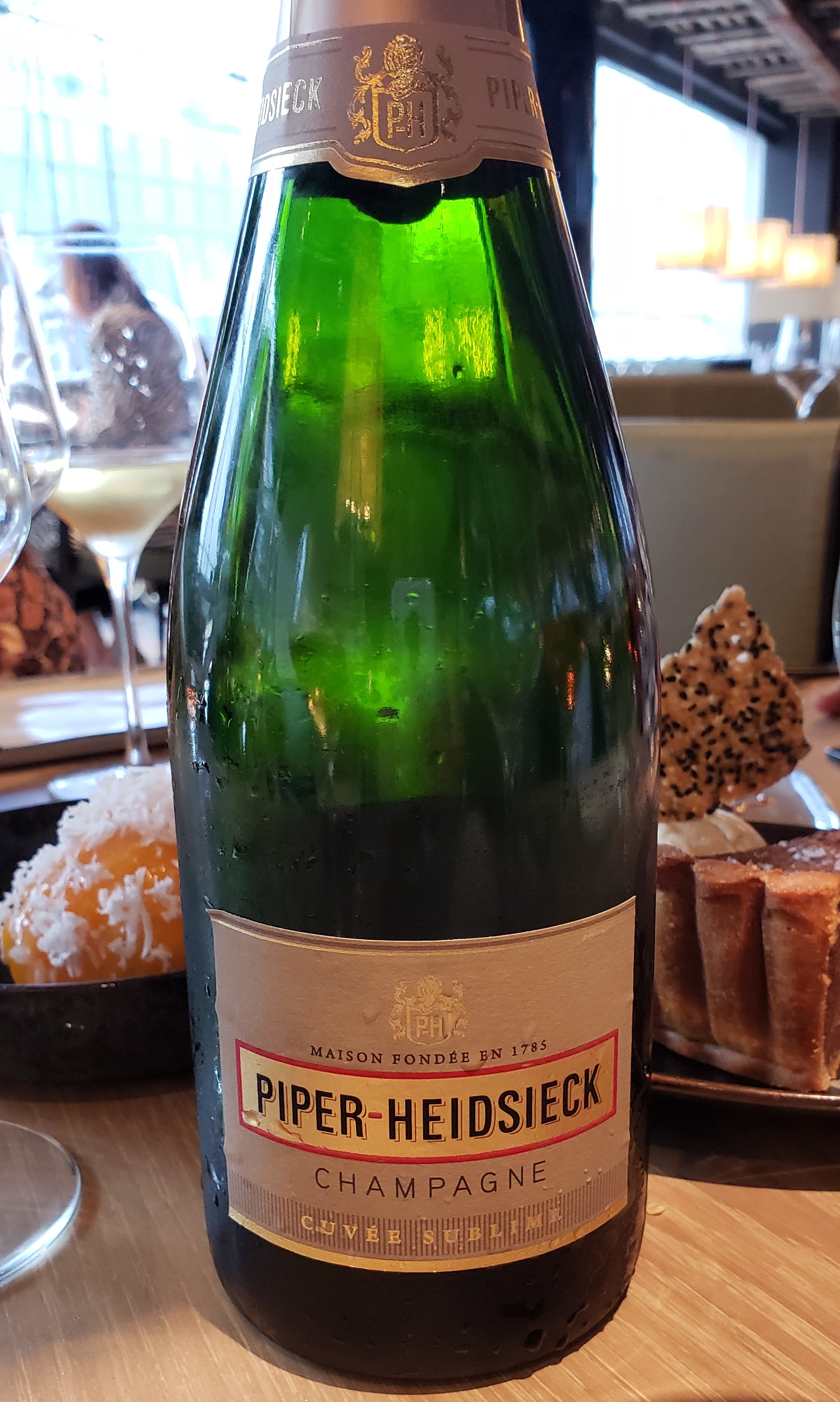 Piper-Heidsieck Cuvee Sublime
This is a Demi-Sec wine, a sweeter Champagne with 35% residual sugar. Don't let the RS scare you, it is so well balanced with the acidity to sugar that you don't realize the sweetness. The aroma leaving the glass has hints of the Caribbean, so think pineapple, mango, gingerbread and hints of honey and a finish of freshness. This wine will go well with sweet and spicy food. It went extremely well with the pineapple upside down cake we had for dessert SRP $55