The Gardens of Two Hands Wine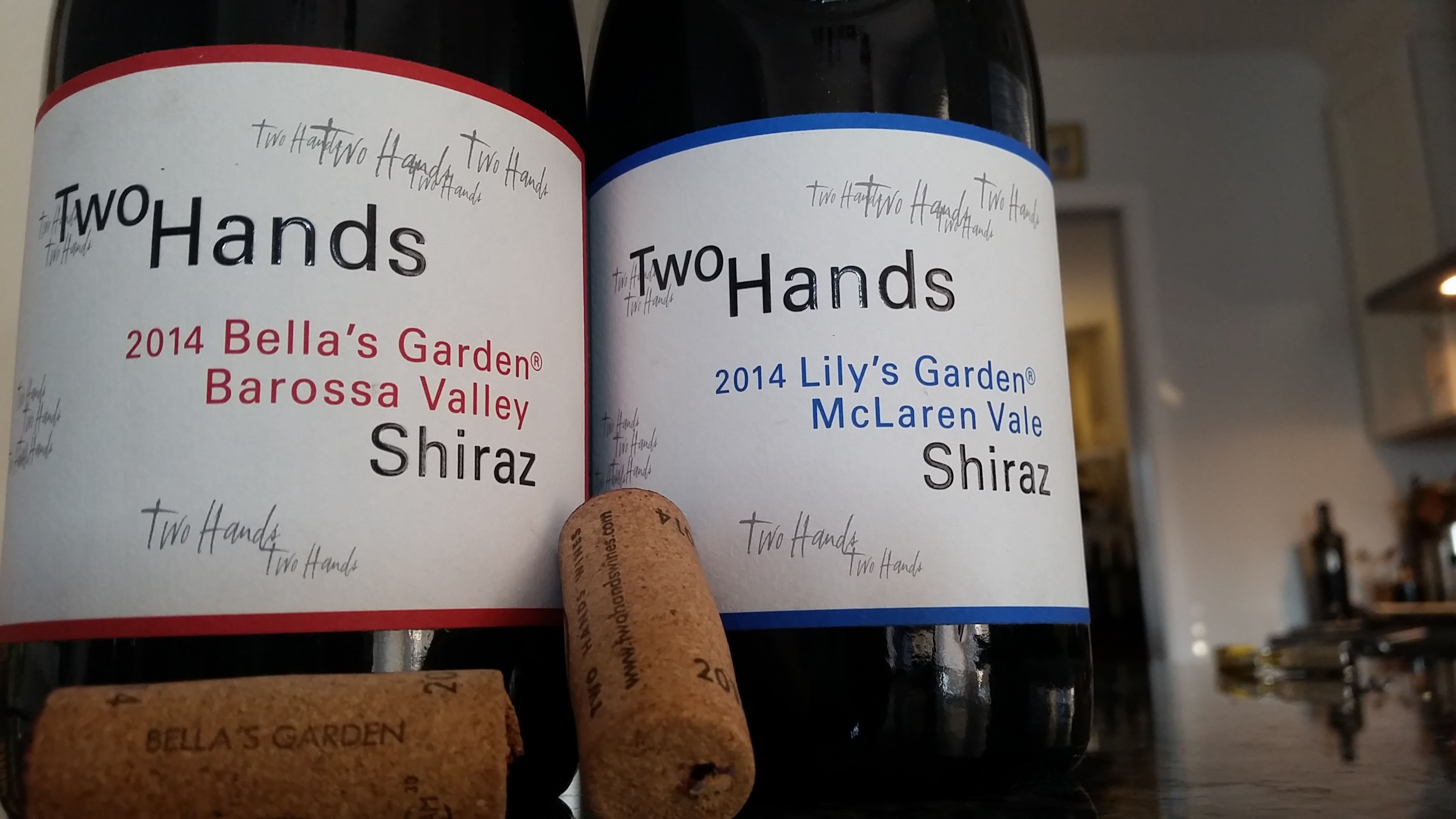 The "Garden" Series from Two Hands Wine is from six of the Shiraz producing regions of Australia. In Australia, especially in the areas where there are German settlements they called their vineyards "gardens." The "Garden Series" translated means vineyards, each bottle from a distinct vineyard. The names of the vineyards all come from Michael's family members.
If you notice on the above bottle one is red and one is blue. They actually have a meaning too. The red label on Bella's Garden signifies Barossa Valley soil and the Blue on Lily's Garden signifies the cooler climate of McLaren Vale.
I paired both of these wines with Chili. I felt the 2014 Bella's Garden went better with it. It was a little lighter in the tannins and the spices didn't clash. 2014 Lily's Garden brought out the spice in the chili where it was overpowering.
The 2014 Two Hands Bella's Garden Shiraz is from the Barossa Valley. Alcohol content clocked in at 15%. The color was a beautiful dark garnet. Complex aromas coming from the glass were light floral, lavender, black cherry, blackberry, chocolate, There was a bit of anise in the distant back. Dark fruits showed on the palate with black cherry, blackberry, currant and clove.
The 2014 Two Hands Lily's Garden Shiraz was very dark when poured in the glass. Reminded us of Coca Cola, but not in taste. Aromas were blueberry, plum and a hint of oak. This wine also clocked in at 15% alcohol. The palate brought blueberry jam, black berry a bit of spice on the finish.
Both the wines above retail for about $69.
In all, it was a great month exploring and being introduced to the wines of Two Hands. I am going to leave you with some quotes by Michael Twelftree and a video recapping the wines and foods we paired with it.
"The sad thing about the Australian wine industry is that 80% of it is controlled by three major companies." -Michael Twelftree

"The trouble we've done in the new world is we've made the winemaker the hero not the vineyard." -Michael Twelftree

"The aging curve of my wines is a lot slower than I ever anticipated." -Michael Twelftree

"You just can't get away with a dud vintage anymore…" -Michael Twelftree

"You can't turn up to market with a whole lot of leafy green, thin, hard and herbal wines." -Michael Twelftree

Twelftree Model: "Acid is like the train tracks, Fruit is like the train coming into the station & Tannins are like the brakes."