Memorial Day Graduation Party Wines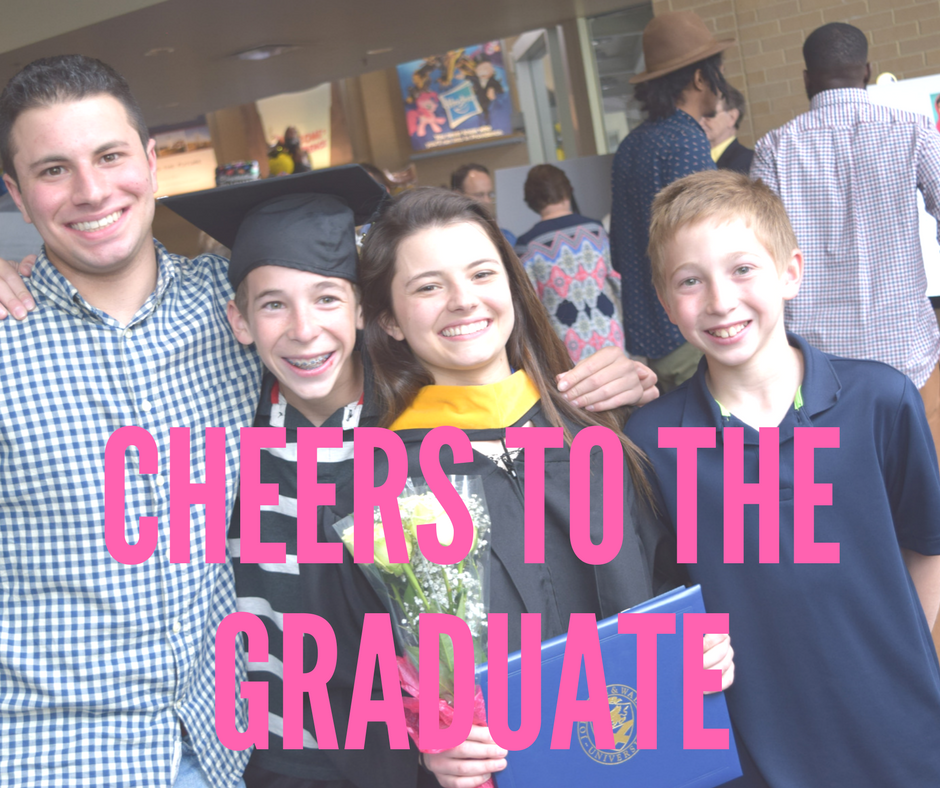 Memorial Day – the weekend we all wait for in the winter as it signals the beginning of the summer season. This Memorial Day will be a busy one.  My daughter graduated from college with her MBA in Hospitality and we are throwing a party at the beach house. (Pic above is last years Bachelor's ceremony. She didn't want to walk again and truthfully, I didn't want to sit through it) Along with that my California friends are coming to town, which is a change as I'm always heading out west.
Now the dilemma is what to serve and what to drink and pray for good weather! This is a celebration so we will have to begin with some bubbles! This does take some preparation since I don't want to spend all the time cooking, I want to enjoy myself.  After all, Melanie might of received her MBA but I footed the bill for it.
At the time of writing this, the menu will consist of flank steak that is in the freezer marinading in a homemade teriyaki sauce. Last week we smoked a bunch of ribs and pulled pork and froze it. The chef next door suggested monk fish so he cleaned it for me, marinaded it for a few hours and skewered it for the freezer. There's some shrimp in there too.  No all I have to do is worry about the sides the day of and the wine.
Wine menu:
Grower Champagne – this is Champagne produced in the Champagne region of France but usually a bit less expensive than Champagne from the well known brands. Grower Champagne is produced by the vineyards that are owned from the producer. Over 88% of Champagne is negociant meaning the wines are made from grapes purchased from many different growers throughout the region. Think of purchasing Grower Champagne as buying local from the little guy.
I have these two Grower Champagne in my cellar so I think I will be uncorking them.
Les Longues Voyes – Blanc de Noir Premier Cru is produced by 7th generation Aurelien Laherte. It is farmed biodynamically and he has 25 acres of vines spread between 10 villages and 70+ small parcels. The Champagne is 100% Pinot Noir fermented in used Burgudny barrels a minimum of 4 years old. There was no malolactic fermentation. There were 249 cases produced and it retails for $56.


Vieilles Vignes 2008 F. Cossy comes from old vines the family owns dating back to the 1960s. It is a blend of Pinot Noir, Pinot Meunier and Chardonnay, tank  fermented and spent 8 years on the lees. There were 256 cases produced and it retails for $46
While my California fiends are big bold red wine drinkers, I need to have some white wine and my new favorite white wine is Albarino. After spending 2 months learning about it last year I have come to really enjoy and appreciate it. Albarino is nice and refreshing and will go well with the seafood.  While I don't have any in stock at the time of this writing, I will have to venture out to my wine shop and get some. This wine will satisfy the the thirst of most white wine drinkers, especially ones that like Pinot Grigio or Sauvignon Blanc.
I am going to have to pull out my reserves for the red and dig deep into my cellar.  Selections from Hall, Goosecross and Chappellet will definitely get uncorked and I'll see what else I can fine. (Look for pictures on Instagram to see what we drink)
Whatever you are doing this Memorial Day weekend have a good time and drink some good wine!
PS: If you are in the hospitality industry, Melanie is looking for a job