Handprints from the Vineyard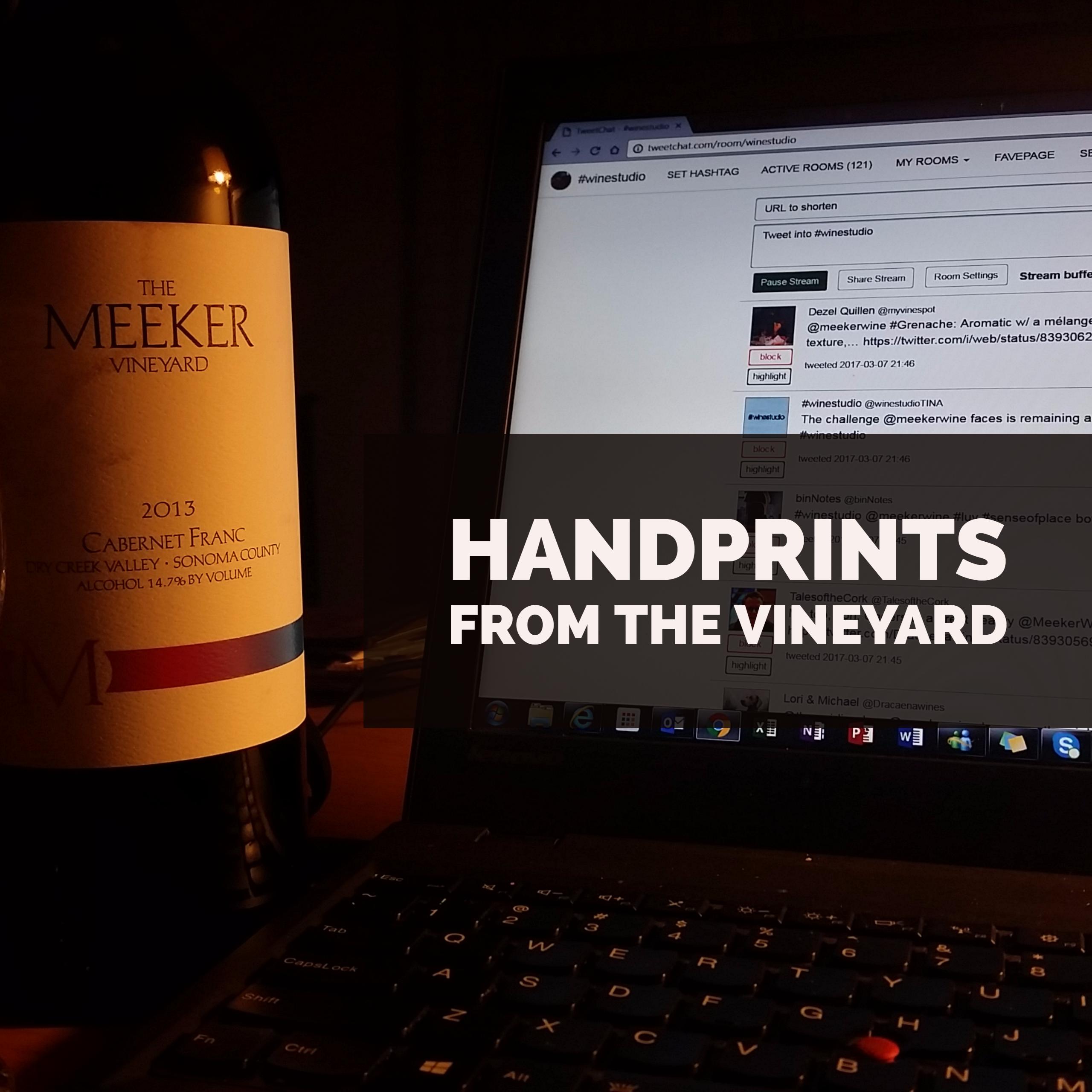 My UPS driver brings me many boxes with wine in it, but this box was different! It was from The Meeker Vineyard for the next #winestudio program and I opened it with the help of my 7 year old neighbor who happened to be over. Lily is seven and knows nothing about wine, and she shouldn't. However,the expression on her face when she saw the bottle of the 2013 Handprint Merlot was priceless! She did the touchy feely thing (as did I) and admired how beautiful it its with the rainbow of colors and texture looking at the bottle with her big eyes. Come to find out the winemaker Lucas Meeker handprints every single bottle. I can only imagine the time and effort put into the bottle art, what is inside must be really good!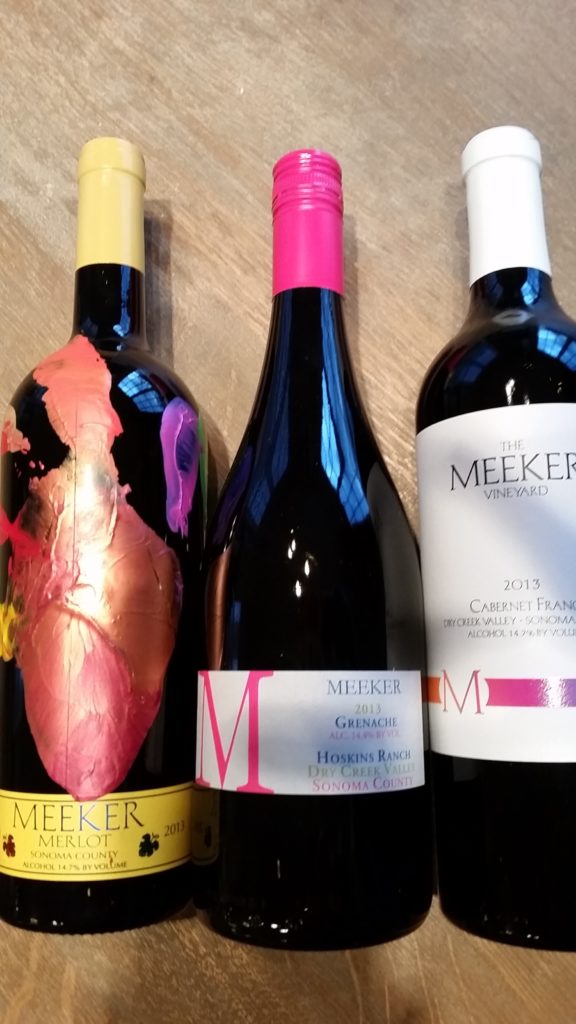 For two weeks on Tuesday evenings I spent on twitter with Lucas and Kelly Meeker and the rest of the #winestudio gang. I have to say, I felt like old friends sitting in their living room discussing and tasting their wines and talking about life.
Charlie and Molly Meeker founded the Meeker Vineyard when they purchased their first vineyard in the Dry Creek Valley in 1977. At that time Charlie was working for MGM Studios in Los Angeles and would travel up to the vineyard on the weekends to make wine and tend to the vines. In 1984 their winery was established. Their original winery was a 1664 square foot building with no tasting room but they welcomed visitors in their lab. As the trend moved towards wine tourism, they built a 40 foot tall tipi next to the winery and used it for their tasting room. Today their tasting room is located in downtown Healdsburg, CA in an historic bank that was built in the 1800s. It's just off the square. They produce 5000 cases of wine annually and focus on elegant structured wines. They believe that each wine has it's own personality and that should be expressed through it's packaging.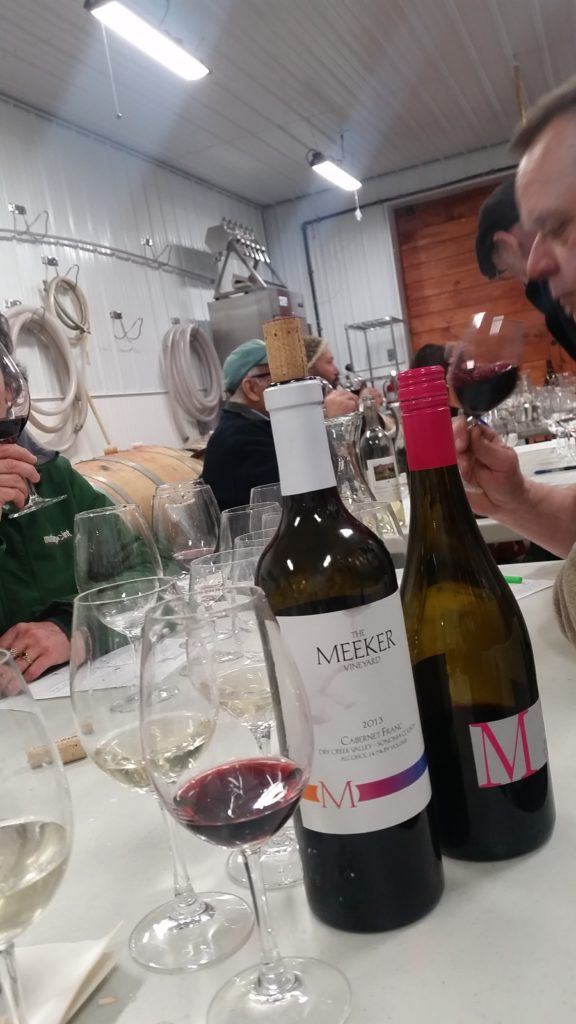 We tasted three of their wines and the first two I tasted with the winemakers in the Hudson Valley. I share and it was after tank samples of Hudson Valley hybrid whites! I think it's important that other winemakers see and taste what others are doing regardless of location. They had some technical questions that I asked Lucas, and answers were shared.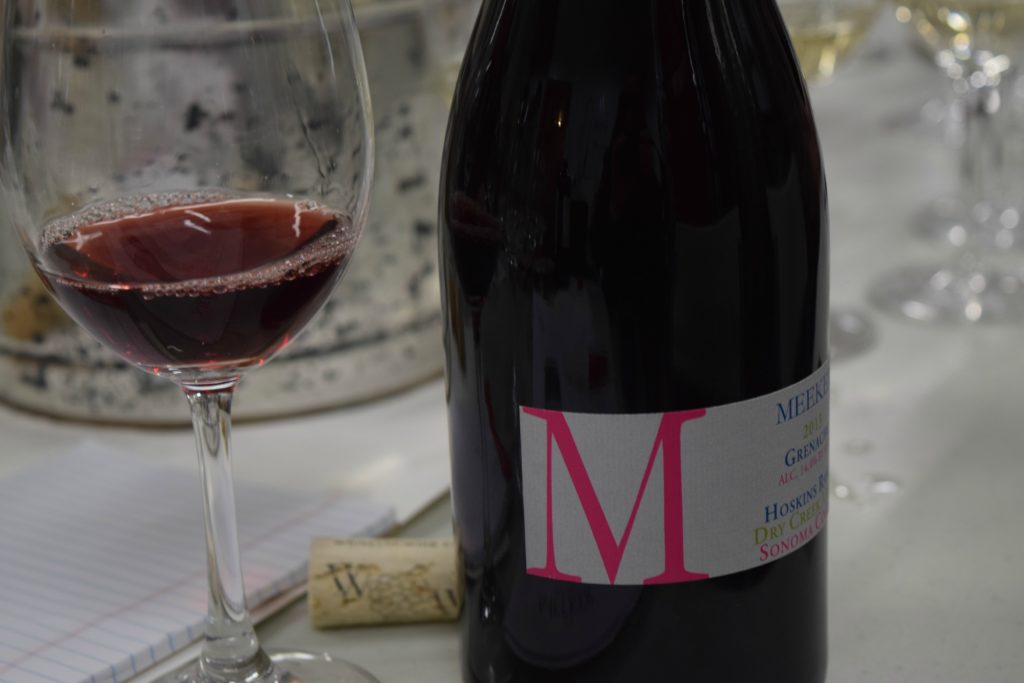 The 2013 Hoskins Ranch Grenache is 100% Grenache from Harold Hoskin's farm at the south end of the Dry Creek Valley. Since Grenache has super vigorous, they pass over it three times to drop fruit. This is so the grapes that are hanging get enough nutrients to bring out their intense flavor. The wine was aged in 22 months of once used and neutral French and American oak. There are only 287 case made. The wine is delicious! It will take anyone out of a bad mood. Aromas of strawberry, cherry lead to a mouth of full of luscious red fruit, cranberries, strawberries, cherry, rhubarb very well balanced with nice acidity and an elegant finish. SRP $37
Moving onto the 2013 Dry Creek Valley Cabernet Franc sourced from Bob Pedroni's vineyard grown in red dirt and over 30 year old vines. They aggressively leaf pull the Cabernet Franc to give it exposure to the sun. According to Doug Glorie of Glorie Farm Winery "this Cabernet Franc is your typical California Cab Franc, ripe plum,and sweet jammy" My palate however didn't get the sweet jammy notes. I did get some green pepper notes with violet on the bouquet, some black cherry, and cassis and lots of tannins. This wine will age for at least 5 years. SRP $45
Now for my favorite bottle and yes I would purchase this bottle just based on the design – the 2013 Winemaker's Handprint Merlot. To achieve more complexity Lucas blended 85.72% Merlot with 7.14% Cabernet Sauvignon and 7.14% Syrah. This really comes out in the layers of black fruit in the wine. The wine is nicely balanced with layers of blueberry, plum, blackberry, black currant and vanilla. As the wine open up the blackberry shines through nice and ripe and there is a hint of mocha. SRP 45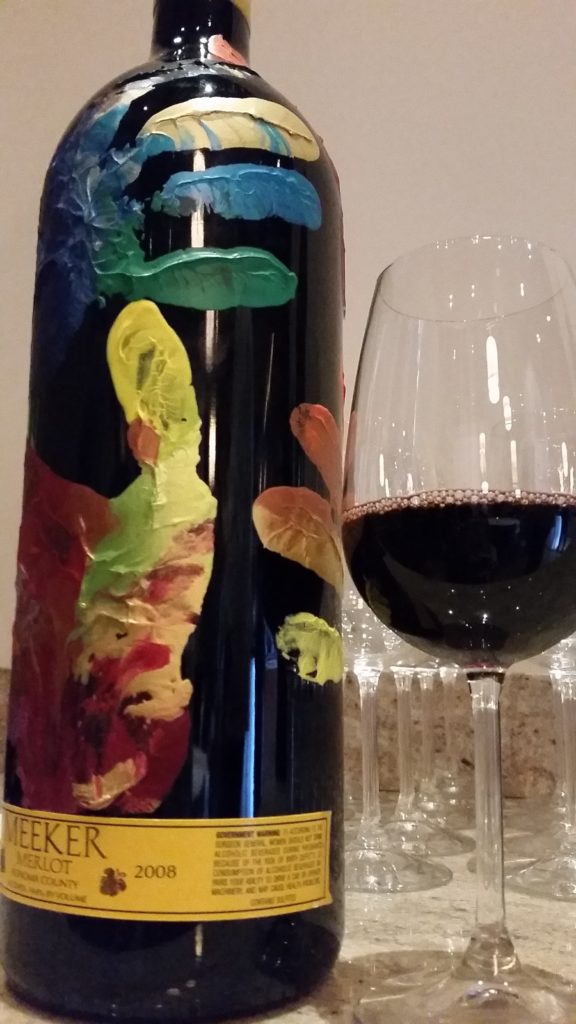 It so happens two days before tasting the 2013 Handprint Merlot I was at an event at Crew in Poughkeepsie and Chef/Owner Thomas Kacherski pulled out a magnum of 2008 Handprint Merlot. I was so excited! This had great expressions of blue and black fruit with sharp tannins. This bottle believe it or not could probably go a few more years in the bottle. According to Lucas the 06 and 08 were very tannic years.
It takes Lucas and his team 1.5 hours to handprint one pallet which is 56 cases of Merlot and another 2 hours to tissue wrap each bottle. They do this at least one day a week. The larger format bottles also include the handprint of the team along with the winemakers. Here's a video on the handprint process https://www.youtube.com/watch?v=n3AlHnCoumg
This was my first time tasting Meeker's wines and I look forward to tasting more and perhaps visiting when I'm out that way in November.