Among all the hustle and bustle of December we have to take a moment and celebrate National Sangria Day.  Sangria is a fun and festive beverage that began in Spain.  During the 1964 Worlds Fair in New York, Spain introduced Sangria to the visitors and everyone loved it! So began the Sangria craze. Today we celebrate the wonderful beverage.
My girlfriend Teri makes a killer Sangria. We had it a few Christmas Eve's ago, but she wouldn't share her recipe with me for today.  I created my own recipe for White Sangria. The only thing I would change, well two things. First I would only add 1/2  the bottle of hard cider and second I would cut up the cranberries in half. The tart cranberries with the sweetness of the Sangria made the cranberries edible.
What you will need is a nice pitcher, something I didn't have.  Ingredients is listed in order.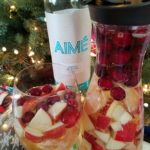 Holiday White Sangria with Aime Sweet Moscato
Nice simple White Sangria for the holidays
Ingredients
1

Apple

chopped

1

clementine peeled

1/2

cup

cranberries halved

1/2

bottle

hard cider

1

bottle

Aime Sweet Moscato
Instructions
Add all to pitcher and enjoy.
I will be making a Red Sangria tonight with Aime Red Blend.  Look for the pictures on Facebook and Twitter.  Here is the recipe.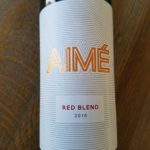 Holiday Red Sangria
Ingredients
1

bottle

Aime Red Table Wine

1/2

cup

brandy

1

cup

pomegranate juice

1

apple diced

1

clementine peeled

1

cup

strawberries sliced

1/2

cup

blueberries

1/2

cup

grapes halved
Instructions
Add all ingredients to pitcher and enjoy.