Heading Down-Under with Two Hands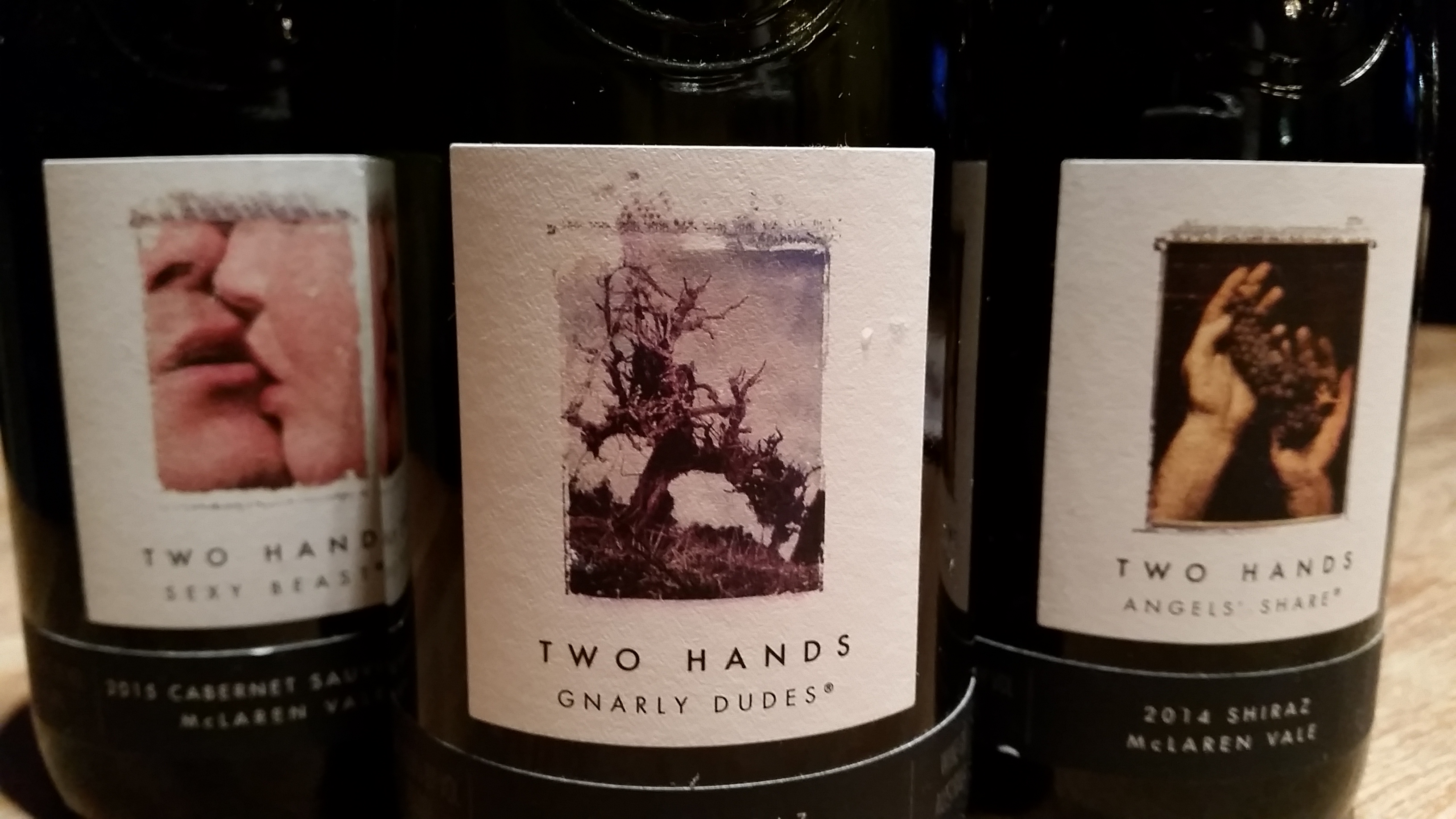 I have to confess, I am not a big Australian wine fan. In fact I rarely drink wine from that region. One of the great opportunities I have is to participate in a program called #winestudio which is on twitter Tuesday evenings at 9pm EST. Thanks to Tina Morey who does a dynamite job organizing the programming for this wine education class I get to participate, learn about wines, wine regions and as a result share it with you. I have to admit, I'm changing my tune and really enjoying these wines.
This month my education takes us to Austrialia and Two Hands Wines. In the upcoming weeks I will be sharing with you the Picture Series (today) the Garden Series and I am fortunate enough to have a bottle of Ares from their Flagship Series.
Two Hands Wines was founded in 1999 by Michael Twelftree who began the brand as a negotiant. He sought out quality Shiraz in the different regions in Australia. As time past it has allowed him to build his brand and purchase vineyards of his own. What stands out to me is that they determine what wine goes into each series by blind tasting.
Eric Guy from Protocol Wine interviewed Michael. Instead of me re-capping the interview, listen to Michael Twelftree himself talk about building his brand from an idea and passion for wine to what it is today. This will lead us into the tasting of his wines
We began the tasting with the Picture Series which was two Shiraz and a Cabbernet Sauvignon. The Picture Series is their entry level wines priced at $36. What defines the Picture Series? This series is inspired by Michael's take on pop-culture. The labels are polaroid pictures (remember them) by photographer Don Brice and a little photoshop to have the outcome that puts a smile on your face
Both the Sexy Beast (Cabernet Sauvignon) and the Angels' Share (Shiraz) come from the McLaren Vale region of South Australia. The Gnarly Dudes (Shiraz) comes from the Barossa Valley. The difference between the two regions is the Barossa Valley is home to more old vines with the McLaren Vale region being greener.
I split up the pairings and paired the 2014 Gnarly Dudes Shiraz with a rib-eye steak. This wine aged for 12 months in French oak which 15% was new and the rest was between one and six years old. The color was very dark with almost purplish. Aromas of blackberry filled my glass with some earthy and meaty notes. On my palate I felt the wine was a bit light. Perhaps I was expecting something a bit more complex. It was smooth and a bit fruit forward. Nice blackberry and brambling fruit with hints of cedar. There is some black pepper that sneaks up on your on the finish and quickly disappears.
The 2014 Angels' Share and 2015 Sexy Beast I served with pulled pork, roasted potatoes and a really good cranberry bean and bacon ragout. I found the Angels' Share to be a bit more complex than the Gnarly Dudes. Aged in oak for 12 months seeing 6% new French oak and the rest aged in oak one to six years old. With a very purple color, Angels' Share had notes of dark berry, mocha and clove. Black cherry and blueberry on the palate with nicely integrated tannins. Mid palate shows hints of soft licorice and black pepper. As the wine opens it becomes smoother with chocolate and black pepper on the finish. The pepper just dances on the tip of your tongue. Paired with the pork it creates its own flavor and brings out the spice in the wine without it being overly powerful.
The Sexy Beast was pretty sexy and playing hard to get. After spending 14 days soaking on the skins it was aged in 15% new Taransaud French oak and the rest in oak one to five years old. This wine bold, but sexy. Green notes coming from the glass with a touch of bay leaf, plum, hints of earth and mocha. The palate was full of dark fruit, black currant, hints of clay, tannins that told you they were there. Paired with the pork it was a battle. However with the beans it was a hot sexy match. The fat from the bacon in the beans mellowed out the tannins producing a wine that was smooth and showcasing the fruit.
These three wines do have aging potential of between 5-10 years.