Heinz Frischengruber of Domäne Wachau on Tradition is Experience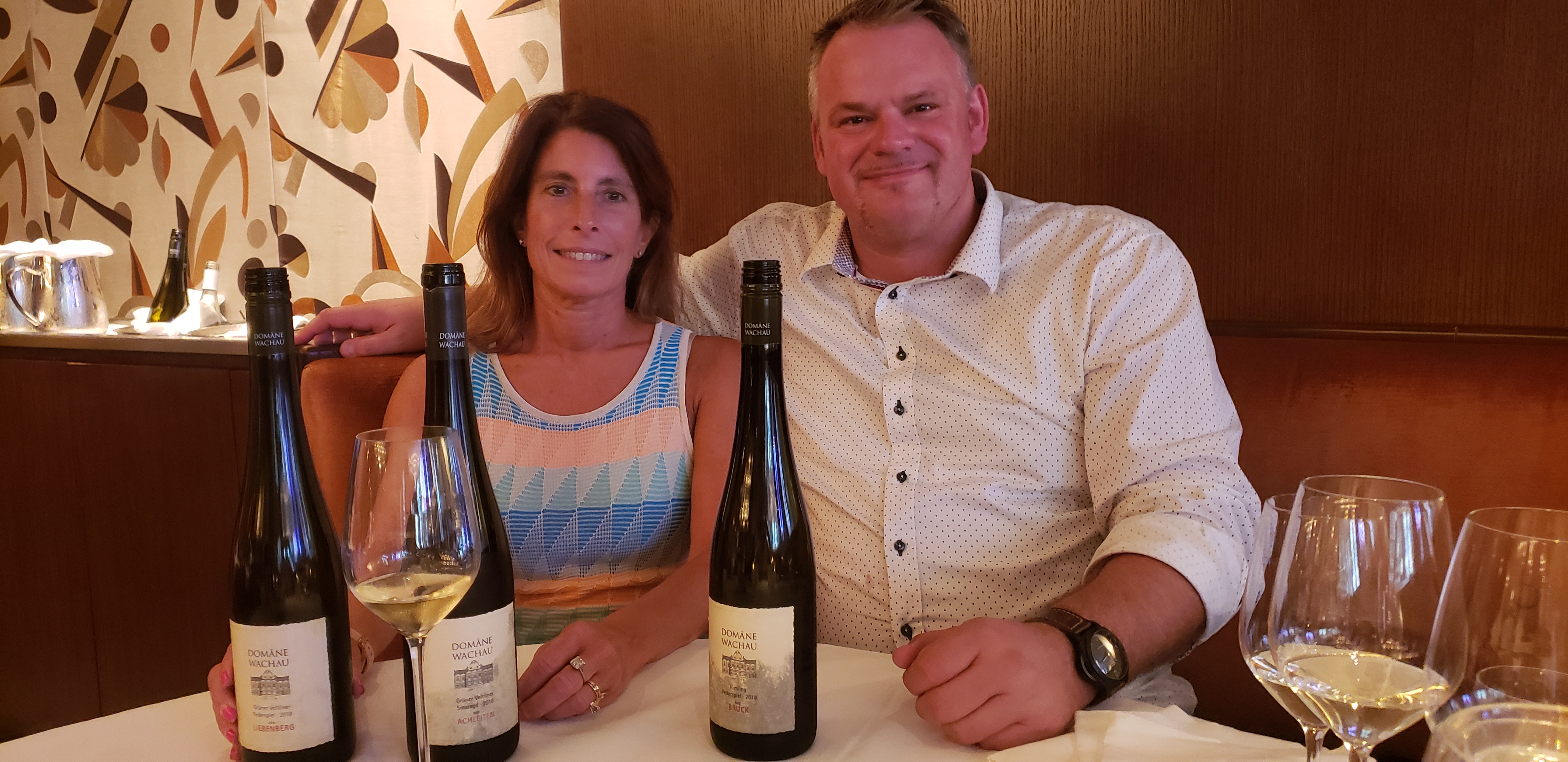 I recently had lunch with Heinz Frischengruber the winemaker and oenologist at Domäne Wachau. In case you are not familiar, Domäne Wachau is located in Austria and known for its outstanding Gruner Veltliner and Riesling wine.
Our lunch took place just after the Hudson Valley Wine & Spirits Competition so I brought to lunch Millbrook Vineyards & Winery's 2018 Gruner Veltliner for Heinz to taste. This was Heinz's first time to New York and so fitting for him to taste a New York Gruner Veltliner. By far the best Gruners are made in Austria, but this was Heinz first New York Gruner and New York wine. I was glad to make that introduction and we did taste the Gruners side by side. He was impressed and we briefly chatted about the differences yet similarities.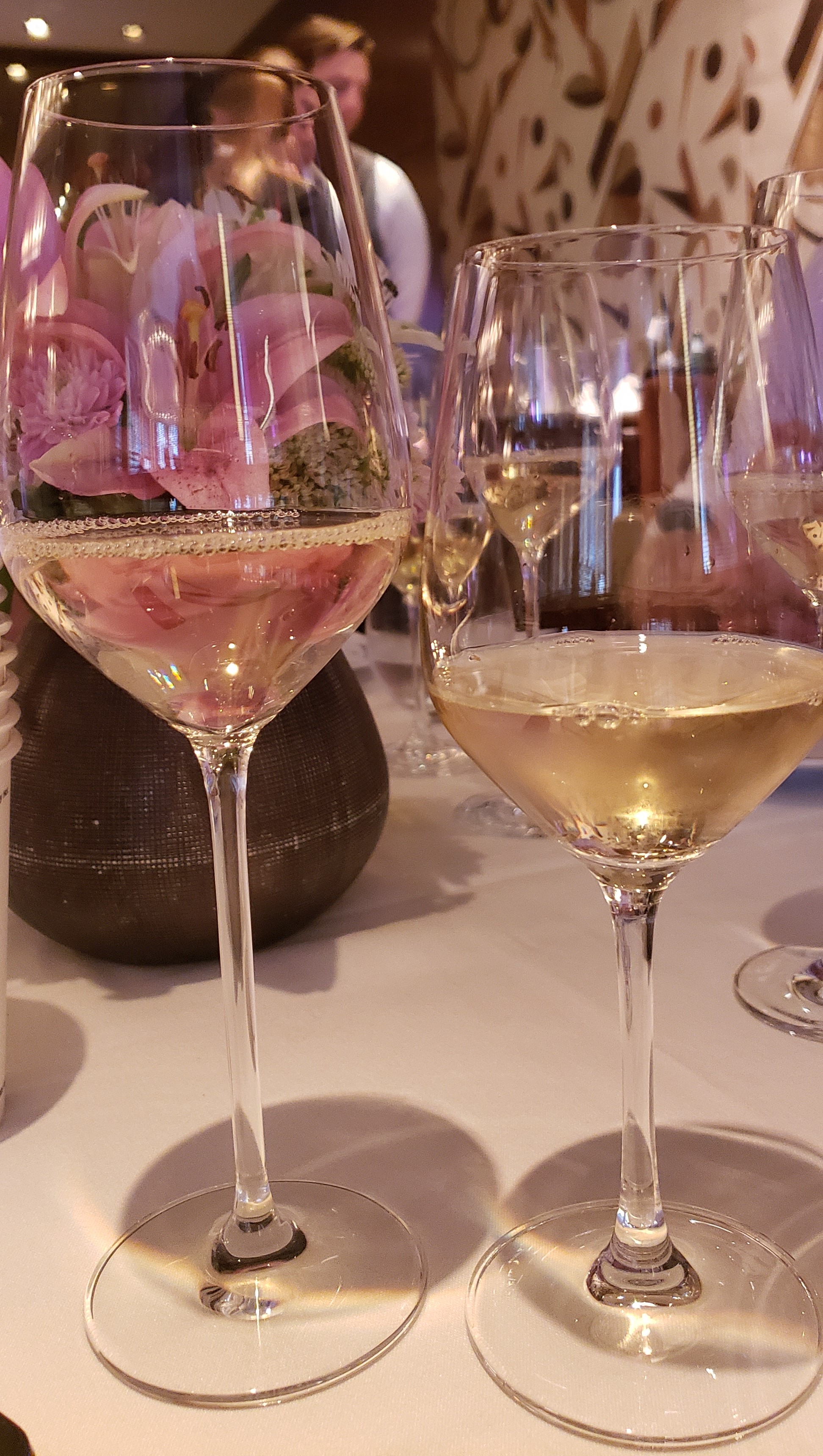 (Domane Wachau Gruner on the left, Millbrook Gruner on the right.)
"Heinz on Millbrook – different noses. As it opens it gets a little honey aromas. $18 is a good price for it."
Heinz and Domäne Wachau
Heinz grew up in the Wachau valley on his family estate winery which his younger brother runs today. His parents had him at a young age (20 years old) and if you ever worked for in your family business (I have and know only too well) you can clash and it just isn't healthy. Heinz was in that position and went to Germany and then overseas to learn about viticulture. When he came back he started at Domäne Wachau and has been there for 15 years.
Wachau is the most well known region in Austria. According to Heinz it has "great hardware" meaning terroir. The steep terraces, gneiss, rock and cool breezes coming off the Danube river have shaped winemaking through the years. They work with 250 winegrower families and cultivate vines from the best vineyards in the region.
Heinz on Climate Change
Nobody ever really likes to discuss climate change, but we did a little. What they have seen is less rainfall and crazy high temperatures. When the temps get over 34 degrees Celsius which is 93 degrees Fahrenheit the vines shut down. In the winter they prune the vines to handle the warmer weather. They are seeing bud break earlier but it's not consistent. Many of these vines are 80 years old with deep roots, so they have begun to change course a bit in the cellar.
Heinz on Winemaking
Heinz is a big fan of traditional winemaking. Tradition is experience. The Gruner does have skin contact. For the more entry level wine the skin contact is about 3 hours. For the "good stuff" as Heinz says, between 6 and 10 hours of skin contact. The longer the skin contact will create a more elegant wine with more spicy notes. The pepper flavor is located in the skins as well as the tannins and Gruner needs tannins.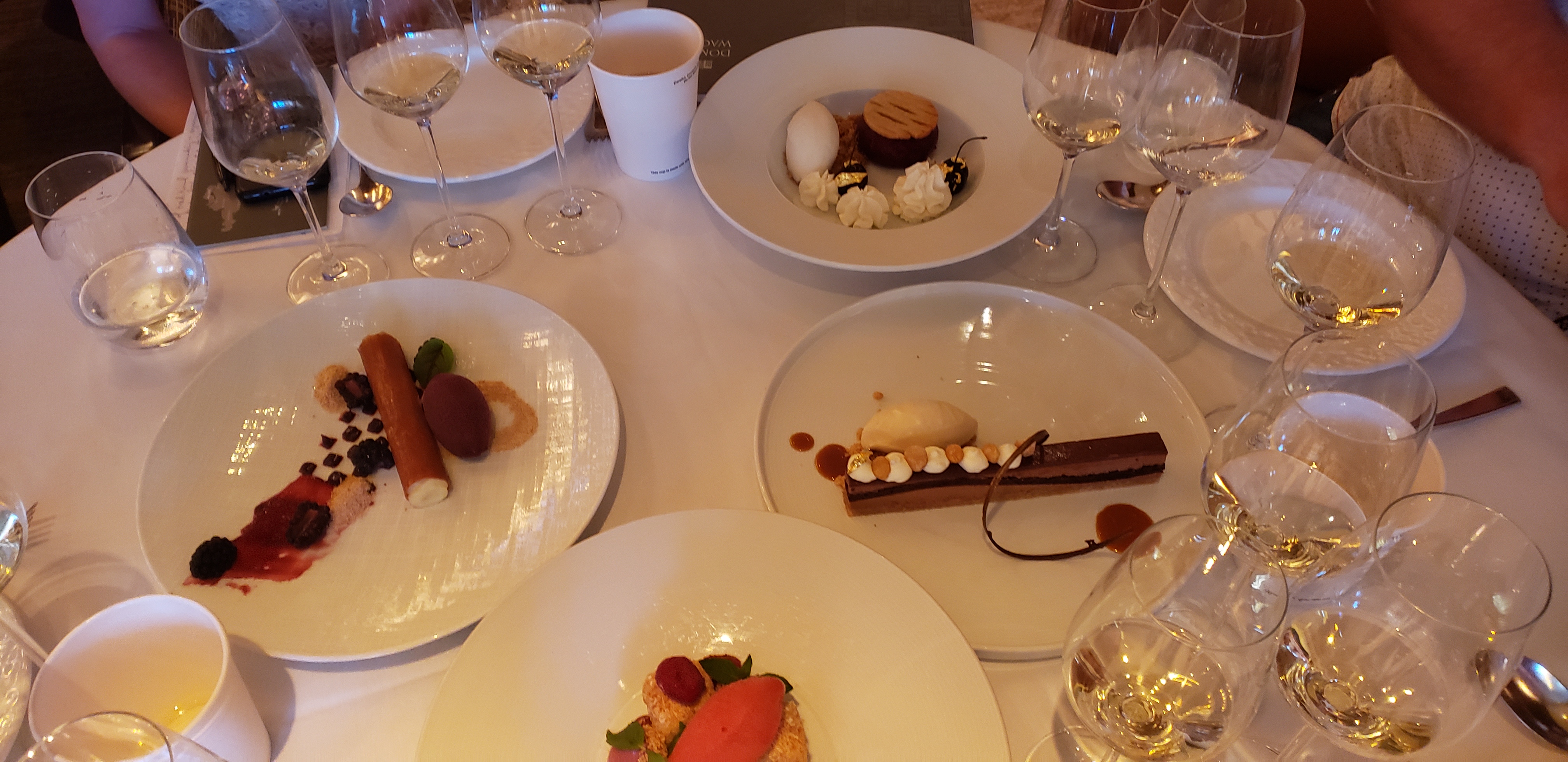 The Gruner Veltliner & Rieslings of Domäne Wachau
I have to say, I was so impressed with the wines from Domäne Wachau. Both the Gruner and Rieslings were crisp and clean. They were dancing in the glass. I would not hesitate to grab a bottle of any of these wines.
Two defining terms to know:
Federspiel – Stems from falconry.The historic regional sport of the aristocracy. It is also the golden meaning among the dry Wachau wine categories. This means it excels with fruity elegance, complexity and vibrant freshness
Smaragd – The opulent emerald lizard known as Smaragd are found in the terraced vineyards. Smaragd is the highest wine category. These are dry, concentrated and complex wines that represent the full potential of the grand finesse of Wachau.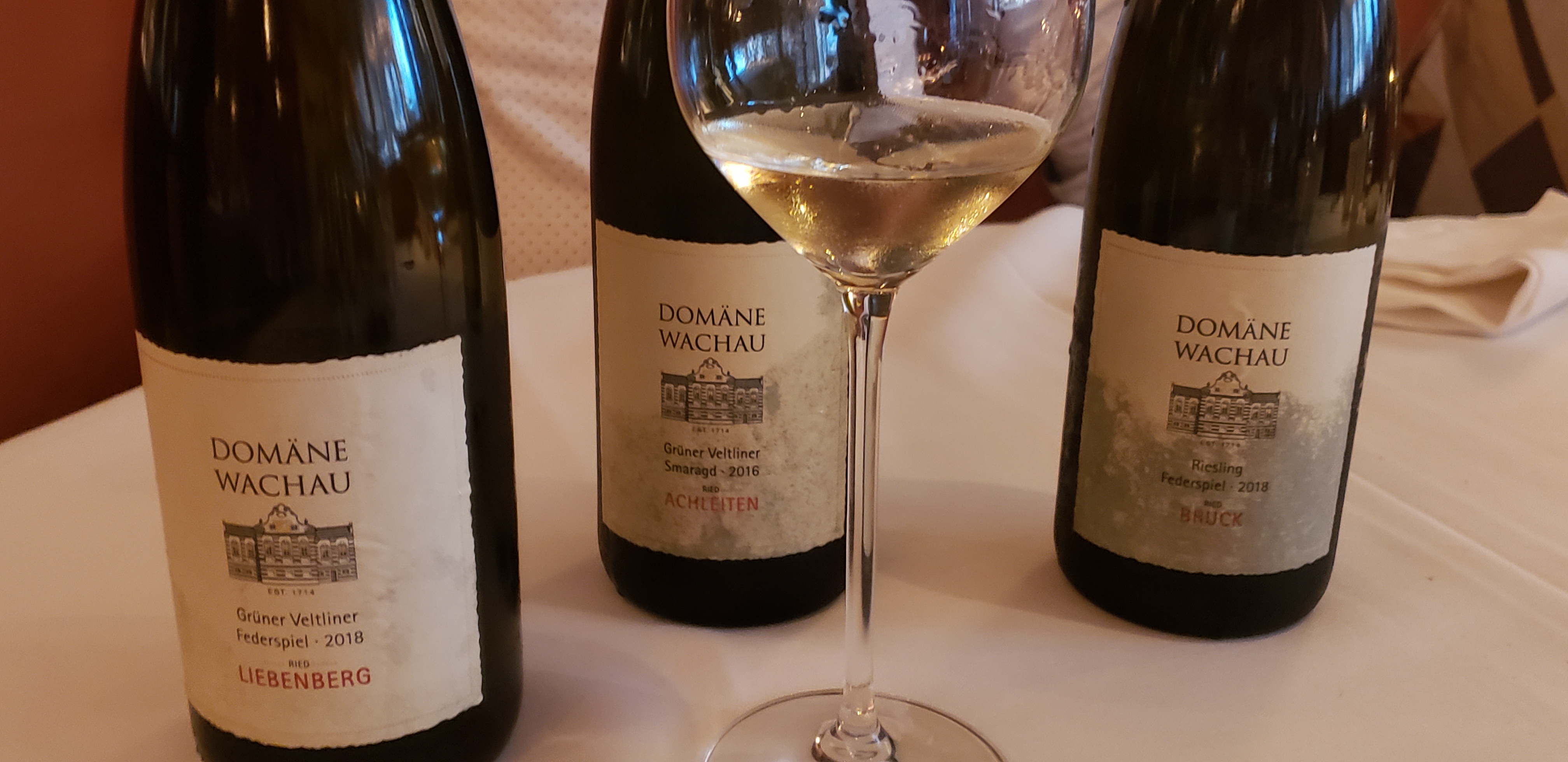 Domäne Wachau Gruner Veltliner Federspiel Terrassan 2018 SRP $18 – This is an entry level Gruner Veltliner. Medium style blended from different vineyards. Clean, fresh, notes of citrus, lime and white pepper.
Domäne Wachau Riesling Federspiel Terrassen 2018 SRP $20 – An entry level Riesling. Beautifl and complex with notes of peach, apricot, floral, exotic fruit, and pineapple. A long soft finish laced with white pepper.
Domäne Wachau Gruner Veltliner Federspiel Ried Liebenberg 2018 SRP $25 – Elegant, light and dry with crisp acidity and notes of mandarin orange, peach and apricot.
Domäne Wachau Gruner Veltliner Smaragd Achleiten 2016 SRP $46 – This is a single vineyard Gruner with good aging potential. As Heinz said this is the "greatest single vineyard in Austria." Terroir driven full bodied wine. Complex wine and rounded mouthfeel and long structure. The minerality comes out with notes of green apple and a bit more spicy with the white pepper.
There's an App for Wachau
Traveling to the region there is an app for that! Download My Wachau. It will give you all the tourism information you need.