Hudson Valley Spotlight – Millbrook Winery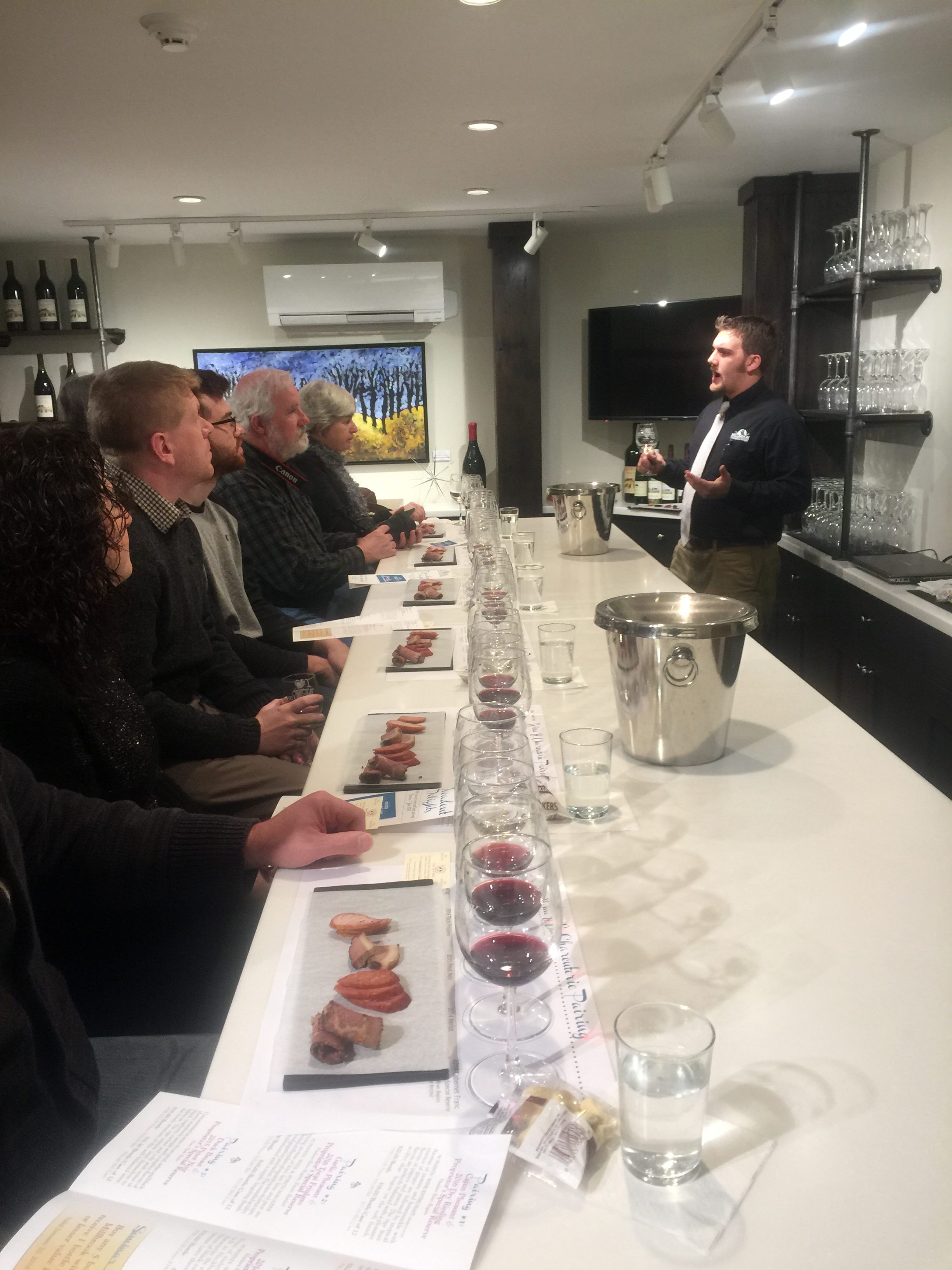 Millbrook Vineyards and Winery is the Flagship winery of the Hudson Valley. I look back to 1987 when I dropped off travel documents to a former co-worker Lori, who had taken the marketing position at Millbrook and gave me my first Hudson Valley winery tour and today, how Millbrook has grown. I guess it's good to say that I've seen a lot of my 'babies' grow in the Hudson Valley. It's always nice to check in periodically to see what is new and exciting.
The last time I was there they had pulled out a bunch of vines in the front. Last summer they were planted with Chardonnay, Riesling, Gamay Noir and Pinot Noir. This is a first planting of Gamay Noir for them. I just hope that the very cold temperatures that were experienced in January didn't do any harm to those young vines. It will be at least 3 years before we will see anything produced from these planting, but I can't wait for the Gamay!
If you haven't been to Millbrook recently they've made some wonderful improvements to the tasting room. They have their Reserve Room which is great for private tastings for small groups. Beginning Memorial Day weekend at 4pm the Reserve Room will be hosting a wine and cheese pairing featuring Spout Creek cheeses. If you are going to be in the area, make reservations for that tasting. I have not met a Sprout Creek cheese I didn't like, not a Millbrook wine for that matter.
Their Vineyard Taproom and Terrace if a nice cozy room overlooking the vineyard. I've sat in there with the fire going relaxing on the couch with a glass of wine. This winter on weekends through March you can hang out by the fire with a glass of wine and a bowl of Chile from the Slammin' Salmon for $6. Every weekend you'll find a different chili. Here is the schedule of the upcoming chili weekends.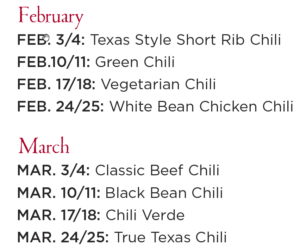 Just in a couple of weeks is Valentine's Day an if you don't have plans yet, consider their Wine & Dessert pairing at 1pm. These desserts (can you see I have a sweet tooth!) all look so good! After the dessert pairing you can head up to the Vineyard Tap room and have a bowl of Green Chili and a glass of wine. Think of it as a backwards lunch.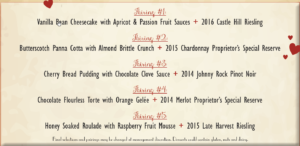 Every month leading into the summer with their Decadent Delights series. March 17 is Wine & Irish Cheese; April 21 Wine & Popcorn; May 12 Wine & Sushi; and June 16 Wine & Pate. Back by popular demand is Food Truck Friday. Start the weekend enjoying Millbrook wine and dinner from local food trucks 5pm – 8pm. Saturdays is Jazz at the Grille where you can enjoy dinner and regional jazz acts from 5:30pm to 7:30pm.
If all this eating and drinking has you worried about your waistline, worry no more. You can sign up for the 'Un-wined' Wednesday which is an evening yoga series that runs May through September.
 Other exciting things to look out for from Millbrook is their 90 point rating for their 2016 Dry Riesling Proprietor's Special Reserve and 91 point rating for their 2016 Castle Hill Riesling in the March issue of Wine Enthusiast. Congratulations!