Sanford Winery & Vineyards: The Terlato Involvement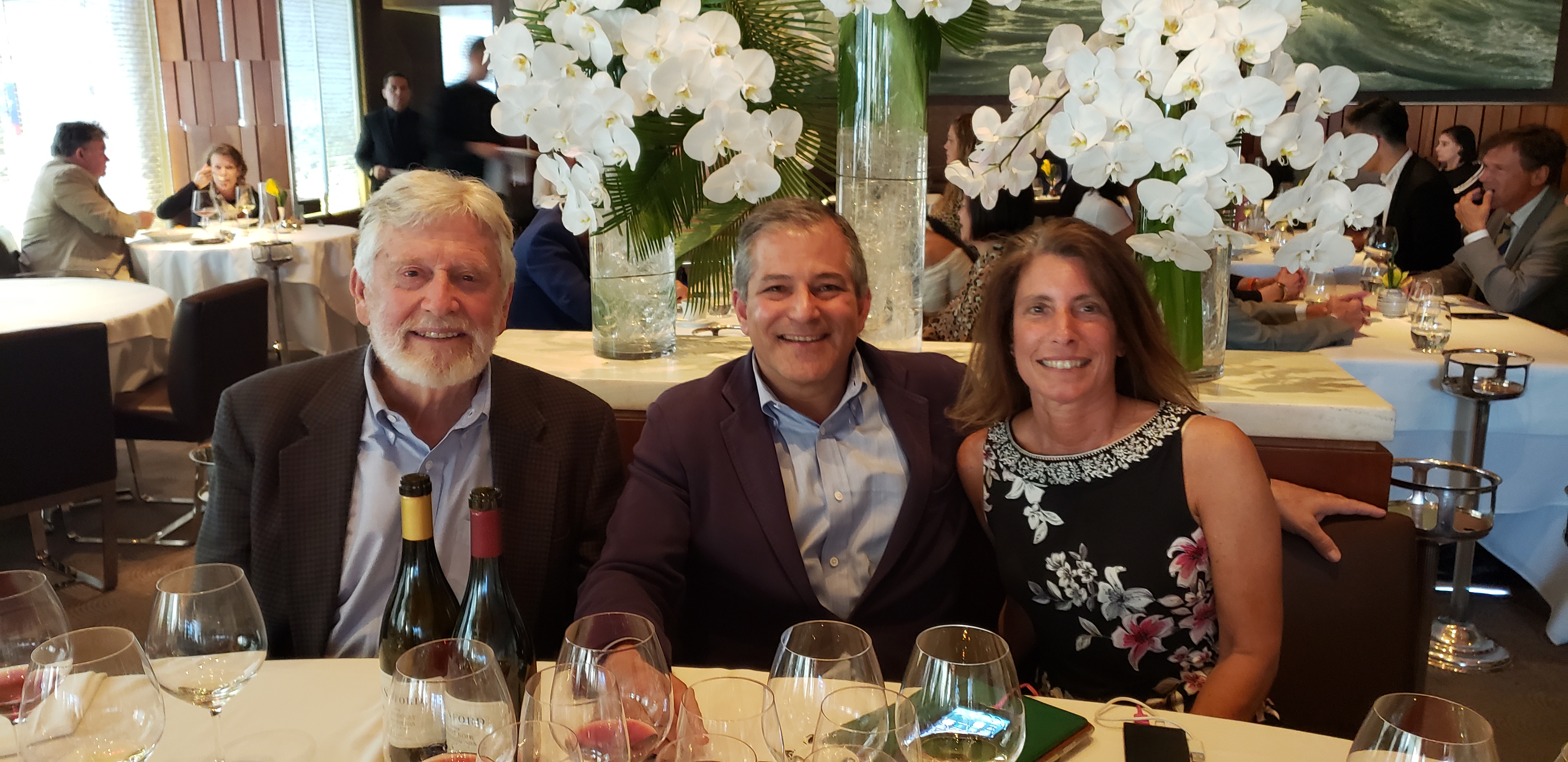 It was a beautiful June day in New York City and I was going to lunch at Le Bernardin with John Terlato and Michael Benedict from Sanford Winery & Vineyards. I wasn't that familiar with Sanford Winery but knowing they were from the Sta. Rita Hills AVA in Santa Barbara I knew I was in for a treat.
Michael Benedict, a soft-spoken man with so much knowledge. John Terlato, so excited about what is to come from Sanford!
"The Best Years are Ahead of Us!"
About Sanford Winery & Vineyards
Michael Benedict a Botanist, was looking for a cool climate location to plant grapes and craft wines in the 1960's along with his friend Richard Sanford. He had identified what is now the vineyard as a potentially extraordinary location for planting grapes. In 1971 the Sanford & Benedict vineyard was planted with Chardonnay and Riesling. In 1972 they were the first to plant Pinot Noir in the region.
The vineyards are unique because of the marine-based soils that were deposited there over 10,000 years ago from a landslide. Much of this is Monterey Shale and allows the ground to have an incredible water holding capacity which is good for the vines.
In speaking of the vines, it's very rare to have a vineyard planted on its own rootstock due to phylloxera. Today Sanford is proud to have 30% of the Founders' Vines planted on its original rootstock.
The Sanford & Benedict vineyard planted in 1971 has a total of 144 acres is planted with 109 acres of Pinot Noir, 33 acres of Chardonnay and 2 acres of Viognier. Due to the soil content, this allows the vines to stay cook and ripen slowly.
In 1997 the La Rinconada Vineyard was planted adjacent to the Sanford & Benedict Vineyard. While adjacent to the original vineyard, this vineyard soil composition is mostly alluvial soil with some of the Monterey shale. This vineyard has a total of 117 acres with 63 acres planted to Pinot Noir and 54 to Chardonnay.
In 2016 the vineyards and winery were certified sustainable by the Wine Institute.
Vineyard Differences
While the two vineyards may be next to each other they will produce slightly different wines. The grapes from the La Rinconada Vineyard produce more fruit driven wines expressing notes of crushed berries with higher acidity and a velvety smooth finish. While the Sanford & Benedict Vineyard produces more vibrant wines with richer fruit.
The Trelato Involvement
The Terlato family became partners in Sanford Winery in 2002. In 2005 they became the majority owners and purchased the estate in 2007. John said they share a common vision with Michael on what this winery could be and want to focus on the vineyard. "Treat every vineyard block as people said John, are they an introvert, extrovert, like contact. They have to identify what each vineyard block represents and manage them through harvest and vinification to highlight them. There is a definitive progression and that progression is toward the vineyard."
John believes there are 5 common threads between the great important wines of the world.
1. There is a family involved. Owned by a family. Families have a way of establishing a vision and driving that vision through generations.
2.Specific identifiable vineyards.
3. Families have a crystal clear vision on what they can do with their vineyard holdings. Their vision is based on what the vineyard has to offer.
4. Have a winemaker is talented and passionate also aligned with the vision of the family. A winemaker that will allow the vineyard to reveal itself without interference.
5. Produce wines are beautiful when young and are age worthy.
John believes the best years at Sanford are ahead of them!
Sanford Wines
2011 Sanford & Benedict Pinot Noir – Beautiful and clean with nice fruity notes of cherry and strawberry with hint of white pepper.
2013 Sanford & Benedict Pinot Noir (SRP $140)- Silky on the palate with notes of earth and spice with red fruit and a nice black cherry lingering finish
2014 Sanford & Benedict Pinot Noir (SRP$70) Bright red fruit, medium weight nuisances of baking spices and hint of white pepper.
2015 Sanford & Benedict Pinot Noir (SRP $70)A lighter mouth feel with brighter acidity and supple tannins. Notes of raspberry and minerality shine through.
2016Sanford & Benedict Pinot Noir (SRP $70) Complex aromas of raspberry fields, hint of mocha leads to a palate full of red fruit and spice.
2016 La Rinconada Chardonnay ($50) Beautiful with nice acidity and minerality with notes and citrus, lemon, green melon and hint of stone fruits.
2015 Founders' Vineys Chardonnay (SRP $70) Nice minerality with citrus shining through, hints of honeydew melon and butterscotch.
2015 La Rinconada Pinot Noir (SRP $72)Hints of earthiness with cherry and black raspberry notes and a hint of anise finishes with a lingering spice finish.
2014 Founders' Vines Pinot Noir (SRP 120) Silky and elegant with red fruit dancing on your palate is combined with nice acidity and hints of tannins.