Join Me September 10 & 11 At The Hudson Valley Wine & Food Festival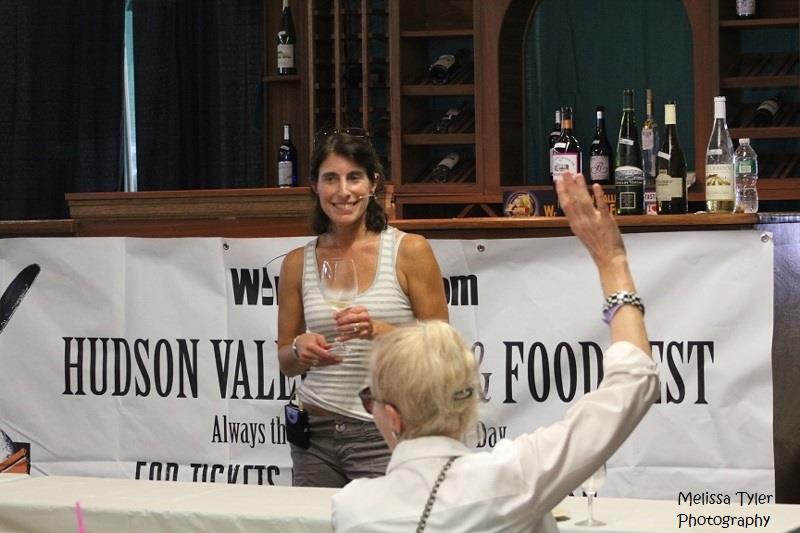 It's time for the annual Hudson Valley Wine & Food Festival that takes place the weekend after Labor Day every year. This is the one event in the Hudson Valley that means a lot to me.
Hudson Valley Wine & Spirits Competition
I've been working with the organizers since the beginning. It was through my travel business helping them secure lodging for the vendors. It has grown and so have I. When I was looking for a home for the Hudson Valley Wine & Spirits Competition I turned to Michael and Jennifer. They welcomed the event with open arms. It's held on Saturday from 9am – 12pm in the small building with the garage doors. (Speaking of I am looking for volunteers to help in the back room pouring wine for the judges. Contact me via email – hvwinegoddess@gmail.com if interested.) If you come to the festival early on Saturday you can watch the end of the competition as the judges determine the best wine and winery of the year.
After the wine competition on Saturday I am doing a wine and cake ball pairing seminar. It's usually around 3pm. Join me as I pair Auntie Liana's cake balls with 2 Hudson Valley wines and a cider. Here are the pairings:
All the wines, cider and cake balls will be at the festival for you to purchase afterwards.
The last seminar I partner with Debbi Decker who I call the "Cheese Lady". She's is the "Cheese Lady" at
Adams Fairacre Farms
in Poughkeepsie. We will be pairing Fjord Vineyards 2015 Albarino, Whitecliff Vineyards Merlot- Malbec and Nine Pins Cider's Signature with some great local and regional cheeses.
When I'm not doing a seminar you can catch me at my table talking about my new book that will be out next month "Hudson Valley Uncorked" Day Trips and Weekend Getaways to the Hudson Valley's wineries, breweries, cideries, distilleries and some sights along the way. There will also be a chance to win a nice picnic backpack, a bottle of Happy Bitch Rose and an autographed copy of the book when it comes out.
I look forward to seeing all of you at the wine festival. Please don't hesitate to stop me and say hi or offer me a glass of wine.