Liquid Altitude FREEFALL Sangria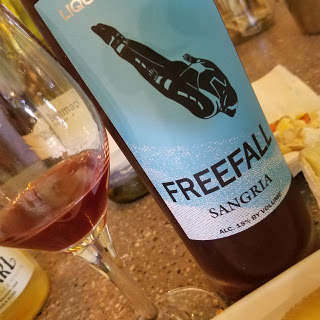 In preparing for the seminars I do at the Hudson Valley Wine & Food Festival I came across a brand called
Liquid Altitude
that produces FREEFALL Sangria in the Hudson Valley. For my seminars I prefer to use businesses that are at the festival, so when during my seminars, they see how well a wine pairs with food, they will want to take a bottle and the food item home with them.
I met up with Christine this past Saturday at Ribibero Winery 2 hours before my book signing and her tasting at a liquor store. We sat down and chatted like we were friends that hadn't seen each other for a long time. Christine story begins at The Ranch, Skydiving Center where she was the manager of the Cafe, serving the skydivers her Sangria after their jumps. The skydivers loved the Sangria so much she expanded to other skydiving operations where it was very well received and people began to ask here where they could purchase a bottle. This past May her baby FREEFALL Sangria was born.
What's in the Sangria? Don't expect your normal run of the mill Sangria. In fact her tag line is "Dare To Drink Different." The Sangria is a blend of Cabernet Sauvignon, Merlot, Baco Noir all sourced from the Hudson Valley infused with 4 kinds of berries and stone fruit from the Hudson Valley and orange which isn't sourced locally.
I tasted the Sangria and was impressed on how the flavors of the wine all had a unique presence. A lot of black and red cherry, plum fruit and blackberry finishing with a hint of citrus. It was dry yet sweet so it would pair well with spicy food. It's a big Sangria. In fact Debbie the cheese lady I was working with said "this is how Sangria is should taste. It's real Sangria!" With that I left her the Sangria and she is going to pair it with a big bold cheese at for the wine and cheese for Sunday's seminar at the Hudson Valley Wine and Food Festival.
If you want to pick up a bottle of FREEFALL  Sangria it's sold in just under 100 liquor stores in 6 counties in the Hudson Valley and it retails for $17.99.
Listen to our conversation about the brand below.
Podcast: Play in new window | Download