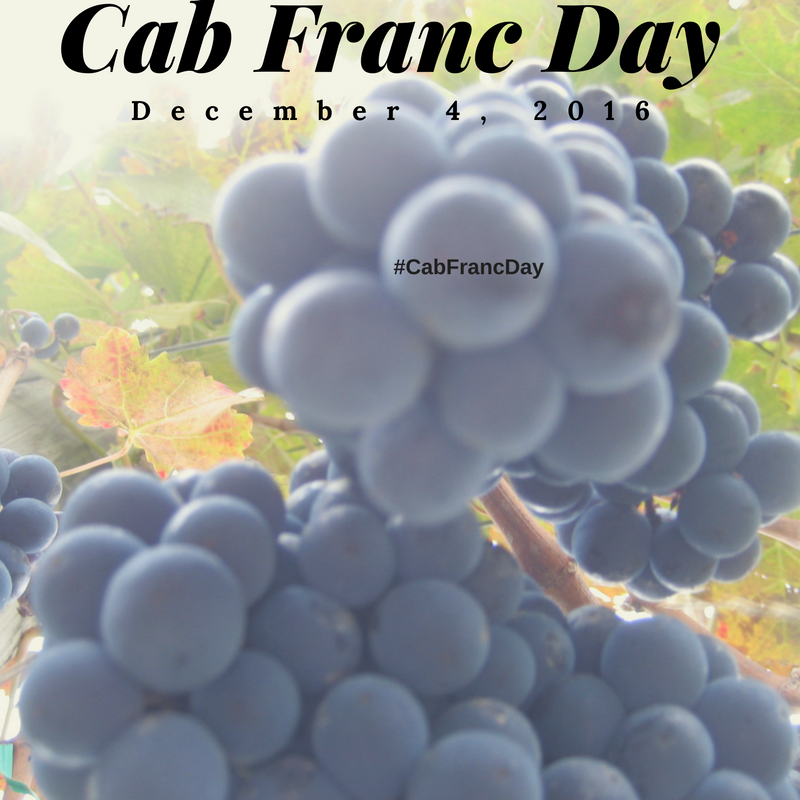 For the LOVE of Cabernet Franc – Celebrate Cab Franc Day December 4
Cabernet Franc is a very under appreciated grape and it happens to be one of my favorites. Now there is a day to celebrate the grape, December 4.
Cabernet Franc Day is spearheaded by Lori Budd of Dracaena Wines. She has created a website all about Cab Franc Day . It needs its own day of celebration just like all the other grapes.
Here is some information about Cabernet Franc and what makes it special:
The grape originated in the Loire Valley
It's one of the 5 grapes found in the classic Bordeaux Blend
The union between Cabernet Franc and Sauvignon Blanc produced Cabernet Sauvignon
It's lighter in color and tannins than Cabernet Sauvignon
Some of the aromas you will find coming from your glass are: tobacco, raspberry, cassis, violets, earth, cigar box
Some fruit you will find on your palate included cranberries and red cherries
It will age well 3 to 5 years. Although I had a 10 year old Cabernet Franc recently that was very good.
On December 4th join all Cabernet Franc lovers in conversation on twitter and facebook. Hashtag your posts #cabrancday and tell us what Cabernet Franc you are drinking and how your like it. If you are on twitter join the conversation at 8pm with #CabFrancDay and chat about the grape and what's in your glass with everyone.
What will I be drinking. A Hudson Valley Cabernet of course. It will be a toss up between Millbrook, Whitecliff, Fjord and Tousey. If I find any other buried in my cellar I will add them to the choices. See you online December 4.
Below is a Facebook live video I created for the event. Not the best video as my phone was horizontal and not vertical. Lesson learned.