I am going to wrap up my Italy holiday with Montepulciano and Montalcino. I 've been very busy and have lots of things to share with you after Italy.
Before I get into Montelpulciano and Montalcino, I want to tell you I attended the HVWGA – Hudson Valley Wine & Culinary Food Pairing last night. I will share with you my evening in the next few days. If you can't wait that long, visit Carlo's blog on the Hudson River Valley Wine http://hudsonriverwine.blogspot.com/
Now for Montelpulciano and Montalcino. We got a last start this day and didn't get down to Montelpulciano until noonish. It was about a 1 1/2 hr drive. What I found amazing is you are driving, vineyards on each side of you and in the distance is a walled city.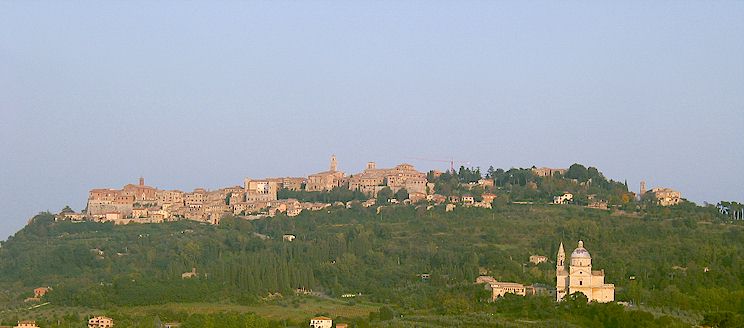 We got really lucky when we arrived. Not sure where to go to park we found parking right at the gate. I find these cities truly amazing. In Montelpulciano you can find many tasting rooms from top producers. The first tasting
room we visited was Pulcino. His wines were very good! His cheeses and meats were too and they found there way into our suitcases for the trip home. Of course we visited the local church. What day wouldn't be complete without a visit. The artwork is amazing.
fter a late lunch we left Montelpulciano and headed towards Montalcino. It was around 4p and to late to stop in Pienza for a taste of pecorino cheese. We wanted to see Montalcino before dinner and we had reservations at Boccoa Di Vino Ristorante at 7:30p.
We also arrived to late to go hear the the monks pray and sing gregorian songs in Sant'Antimo which is 7 miles south of Montalcino. Oh well. Next time.
I wasn't as impressed with Montalcino as I was with Montelpulciano. We arrived to late to visit the church here. However, there was a celebration in town and we got to listen to some outdoor music, some speeches (of course they were in Italian) and Bingo got underway.
Just down the road for these happenings is a wine tasting store. We got to taste some very good wines, and wines that our palate thought were just okay. Prices ranged from $2 euro's to 4.50 euros. Yes I did try an few expensive wines, you only live once. While I was there tasting, the woman next to me was owner of a vineyard/winery in France. Her prospective was very interesting.
We ended the evening at a restaurant that was recommended in an issue of Rachael Ray Magazine…Baccoa Di Vino. First I have to tell you how lost we got getting to this restaurant. We actually went the wrong way at a fork in the road. Then the GPS got screwed up. We were in the vineyards of the region. We went down a dirt road (GPS told us to) and realized we were very lost. We ended up at a vineyard owner or caretakers home. (Upon exiting we realized it was Banfi) There was a group of men outside, none even questioned us dumb American's turning around. Of course they were probably laughing at us. We did stop and ask them where to go and through lots of hand signals and a few words of english, we left to find our way.


I was looking forward to this meal! Everything was so delicious until the main course. I ordered beef in a red wine sauce. I have t o tell you I was very disappointed. When the dish was set down in front of me, just the appearance gave me second thoughts. It tasted like vinegar. I did eat a little. For dessert we ordered flan. It was served with a hint of lavendar. Well, our initial reaction to the taste was like it was eating soap. After we got rid of the lavendar, the flan was quite good.
We all enjoyed our trip to Italy. It is now a distant memory with lots of good laughs. We did enjoy our food and wine. Even through all this touring we did manage to have a few bottles of wine at our villa with local cheese.