We are into week 6 of Albarino and I can't tell you how much I am enjoying learning all about Green Spain, Galicia and the wine.
The Celtic tribe that was known as Gallaeci settled in the region during the Iron Age. They left behind castros which were fortified, Iron Age settlements which survived until after the arrival of the Romans.
Castros were fortified enclosures that were surrounded by ditches and walls. Inside they were circular stone dwellings with thatched roofs and were laid out in neighborhoods separated by streets and squares. If you visit Galicia, Spain you can see these castros.
The Celts did not have any written language. Modern day Galicians speak Gallego which is a dialect related to Portuguese.
The wines that were paired with this history lesson were a Bouza do REI, 2015 Lagar de Bouza Albarino and a Adega Eidos, 2014 Eidos de Padrinan Albarino.
Bouza do REI is located in the heart of the Salnes valley between the estuaries of Arousa and Ponteverda. This is the largest coastal plain in Galicia and one of the most fertile. It is considered to be a historical sub-region of Albarino. The vines are grown on small hill 100 metres above sea level. This winery was one of the first wineries registered in the DO of Rias Baixas.
When I opened the Bouza do REI Albarino the nose reminded me of a Viognier. Very floral, but then the smell of fresh ocean air came into play followed by some lemon peel. On the palate it was fresh, crisp, acidic with lemon citrus and a hint of stone fruit and passion fruit touched with wet stone. This wine retails for $16
Located at the foot of the hillside called Padrinan in the southern end of Salnes, Adega Eidos is a family winery that has been making wine in the Rias Baixas region since 1993. In Padrinan there are many small vineyards that provide the winery with grapes. They are a very boutique winery as production is only at 35,000 bottles from 25 acres of vineyards.
The 2014 Eidos de Padrinan Albarino reminded me a little of a Fume Blanc. The nose was grassy hints of lemon peel, tangerine. On the palate it was soft and rounder. Not as much of a racy acidity as other Albarinos can be. There was a little bitterness on the finish. The retail price on this wine is $22.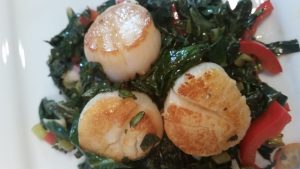 Don't think I didn't pair this with anything. I sauteed up some scallops with Windy Acre Farms greens and some of the Albarino. Yes, it was easy and delicious.