Pairing Steak with Tempranillo
Many times when you grill your steak you think of opening up a Cabernet Sauvignon or similar wine but there are many other red wines that go quite well with steak, especially grilled steak in the summer. Tempranillo from Spain is one of them.
 Recently we grilled a Delmonico steak and paired it with Abadia Retuerta Selección Especial 2013 from the Ribera del Duero region of Spain. This is the first time I've tasted wine from this producer. A little back story on Abadia Retuerta.
 Abadia Retuerta first began producing wine in 1996. The location winery is on the former site of the 12th century Santa Maria de Retuerta Monastery in Sardón de Duero. In 2012 the Abadia Retuerta LeDomaine Hotel opened in the Monastery surrounded by the vineyards, so if you visit, you must stay there and experience the hospitality yourself.
The vines are grown in river basin that has accumulated thousands of years of wrosion, alluviums, sedimentation in the soil composition. This gives their terroir great diversity and texture. The soil of each of the 54 plots of vines each has a different composition with clay along the river, pebbles and sand on the slope, gravel in the lower part and limestone in the heights. Each variety planted extracts the best of the terroir it's planted on giving it it's unique qualities.
 Located on a privileged strip of land called the Golden Mile of Castilla y Leon, Abadia Retuerta is a bit of a rebel when it comes to their designation. Instead of being grouped under the designation D.O. Ribera del Duero they decided to be classified under the VdlT Castilla y Leon-Sardon de Duero. (Vino de la Tierra de Castilla Leon) This allows them more freedom when it comes to choosing, varieties, blends and percentages.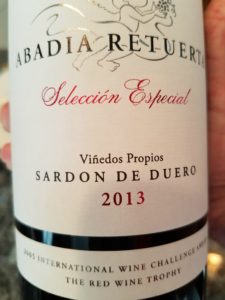 That freedom is shown in the Abadia Retuerta Selección Especial 2013, a blend of 75% Tempranillo, 15% Cabernet Sauvignon,and 10% Syrah, Merlot and Petit Verdot. My first impression of the wine was it was tight and it needed to open up. Probably should have decanted it, but I guess I wasn't thinking ahead at the time. I let it sit for a bit and open up. After it opened up boy was it good! Aromas of mocha, chocolate covered cherry and vanilla escaped from the glass. On the palate it was smooth and silky with some acidity. Elegant with flavors of sour cherry and blackberries. The soft tannins really complimented the steak!
SRP $30 and a great value.