San Marzano It's Not All About the Tomatoes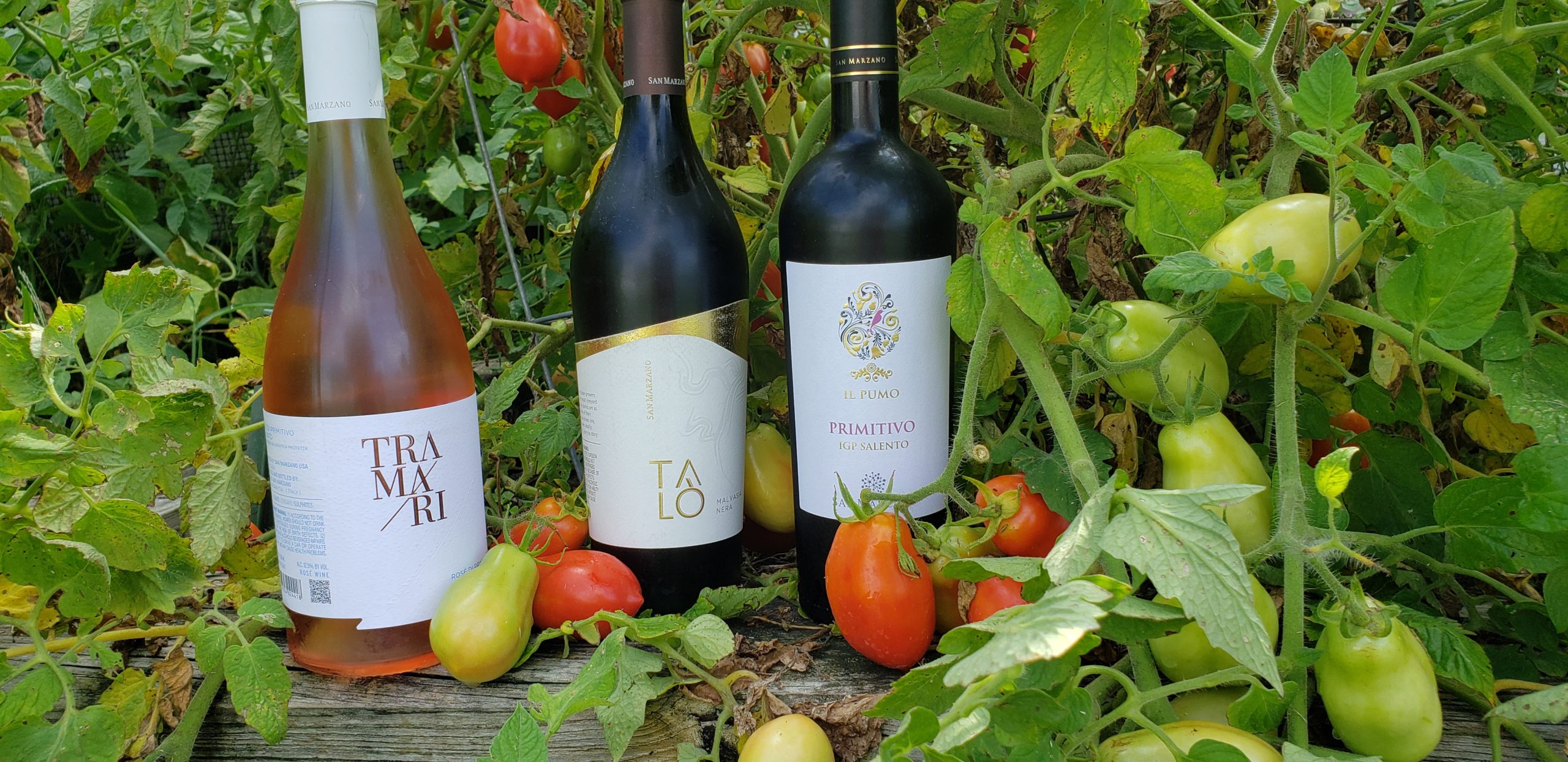 What is the first thing that comes to mind when you hear the word San Marzano? Tomatoes, right? I do, nice juicy sauce tomatoes that make great sauce. Well there is more to the name than tomatoes, there is wine and a wine region.
Where is San Marzano
Located in Puglia, San Marzano is a small village located in the Primitivo di Manduria DOP between the Ionian and Adriatic seas. Established in 1962 when 19 winegrowers from San Marzano di San Giuseppe whose families had farmed the land for generations came together and joined forces. Today the cooperative consists of 1,200 members. The winery lies in the center of the heal of the boot.
Farming
The top wines are produced from bush vineyards. Some of the Primitivo vineyards are more than 60 years old. With 1,200 growers, they map out their vineyards and follow digital farming. Due to the different microclimates within the region, they have to manage each of them carefully. Heat and lack of water can be a problem due to the Mediterranean climate. However, with the Primitivo, the oldest vines grow in calcareous rock and this keeps the roots cool.
Wines
The wines of San Marzano focus on Primitivo, Negroamaro Malvasia Nera and Nero di Troia for reds. For white wines, they grow Chardonnay. However, the white wine is only 60% Chardonnay and is blended with native varieties that are indigenous to the region. Varieties like moscatello selvatico and minutino are blended into the Chardonnay.
2017 IL Pumo Primitivo Salento I.G.P – Grown in the clay soils in the Salento peninsula this wine is 100% Primitivo grown at 100 meters above sea level. It is aged in stainless steel tanks. Nice deep ruby red color with notes of cocoa, plum and cherry. Dark red and black fruit on the palate with hints of spice. Drinks very nicely. SRP $8.99 you can't go wrong.
2017 Talo Malvasia Nera Salento I.G.P – A thin-skinned grape, Malvasia Nera di Brindisi is grown 325 meters above sea level in soil consisting of medium, clay with some rocks present. The Talo range is named after on of the founding families of San Marzano.
The wine was aged for 6 months in French oak barrels. The wine is tasty and enjoyable. Notes of earthiness on the nose with ripe black cherry leads to a medium palate of black cherry, red fruit, plum and anise on the finish. We paired this with French Mussel Bisque and Pesto, Mozzarella and tomato pannini. The wine went great with both. One note, the French Mussel Bisque really brought out the berries in the wine and cut the earthiness of the bisque. SRP $16.99
2018 Rose di Primitivo Salento I.G.P – A 100% Rose of Primitivo grown 325 feet above sea level. Beautiful aromas of red cherry and red raspberry. The palate is fresh and balanced with ripe red raspberries and red cherry and a hint of thyme. SRP $14.99