It's not all about Malbec: The Two Cabs or Achaval-Ferrer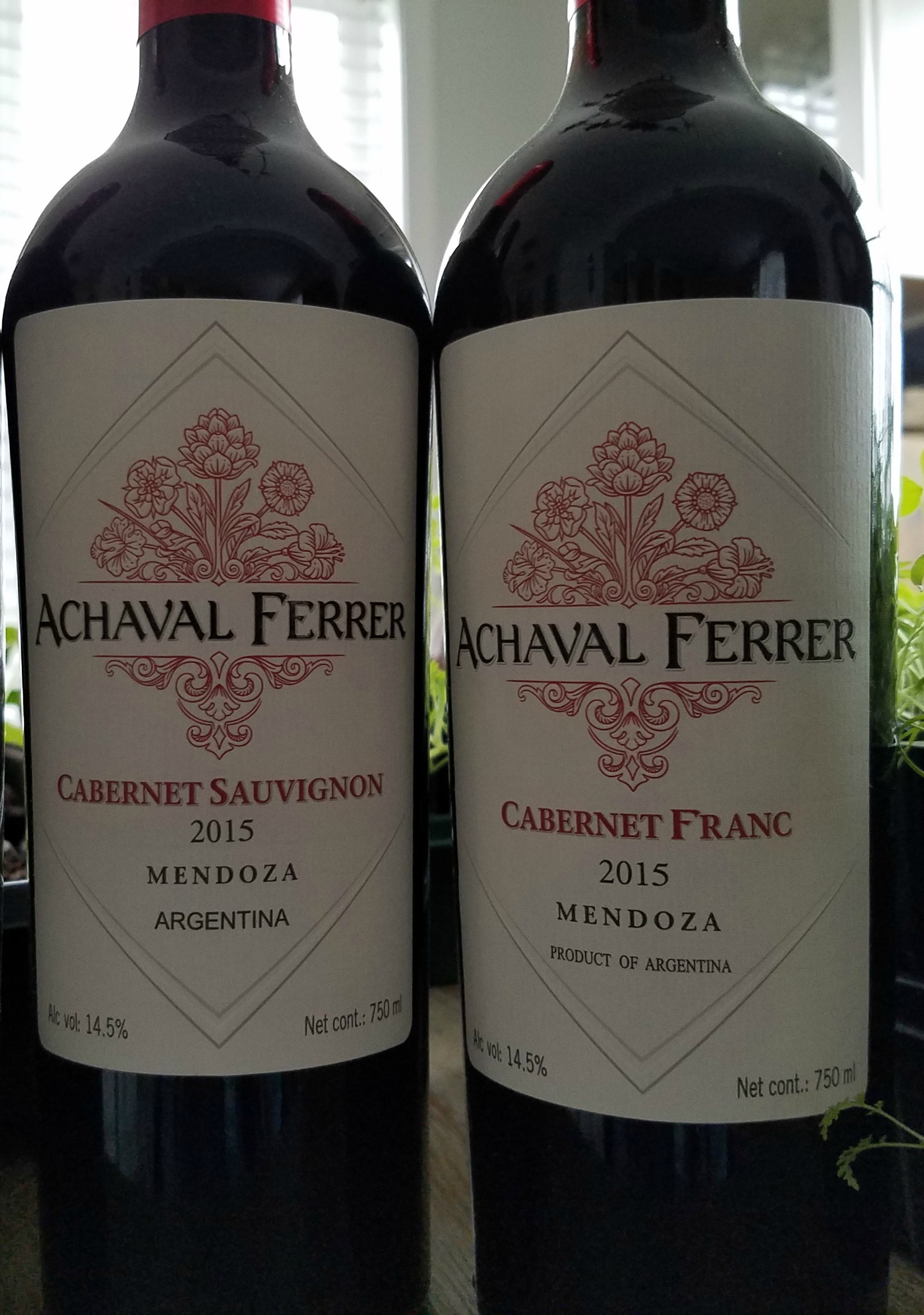 When I think if wines from Argentina I automatically think Malbec as probably you do. Today, Argentina produces more than Malbec, like Cabernet Sauvignon and Cabernet Franc, the two Cabs. Last month during our #winestudio session we got introduced to Achaval-Ferrer's Cabernet Sauvignon and their first release of Cabernet Franc. Now Cabernet Franc has always been in their portfolio, but used in the blending of their Quimera. This is their first stand alone Cabernet Franc.
 Once again I want to bring into light that not all Cabs or any wines taste the same, but similar. Yes even though they are the same grape, where it's grown, the growing season, the soil, the weather all come into play on what you taste and smell. When you taste a Cabernet Franc from Cahors, France; Napa,California and Mendoza, Argentina they will taste similar, but yet different. And it's that difference that you learn to love about the grape and the region it's grown in.
Cab Franc is one of my favorite wines and I tend to prefer the cool climate Cab Francs and Argentina falls into the cool climate because of the altitudes the grapes are grown in. This 2015 Achaval-Ferrer Cabernet Franc is grown in the Uco Valley at an altitude of 3,280 feet with 2,600 plants per acre. The Cab Franc comes from a special block in the Finca Diamante vineyard. The soil is sandy-gravelly with some volcanic ash. The wine was fermented in cement tanks with extensive pumping over for better extraction of flavor and color. It then aged for 10 months in 3 year old French oak barrels. The first initial notes coming from the glass were red cherry, tobacco and violets. The palate was full of black raspberry, black cherry,sharp tannins a hint of forest floor and that black pepper on the finish. As the wine opens some chocolate notes appear. This is a great cigar wine. This wine is very well done and a fantastic first vintage for Achaval-Ferrer. When I asked Gustavo Rearte, their winemaker if they plan on planting more Cab Franc he said they want to perfect and understand growing Cabernet Franc at higher elevations so it can benefit the variety. This production will only get better! SRP $24.99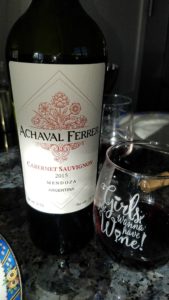 The 2015 Cabernet Sauvignon comes from two appellations in Mendoza, the Agrelo and Medrano.Each of these appellations contribute different attributes to the wine. The Agrelo appellation is at an altitude of 3,608 feet with 2,800 plants per acre. Agrelo is a unique place with clay soil and brings elegance and smoothness to the wine. The Medrano appellation has sandy soil, a bit warmer climate at 2,297 feet altitude. This contributes to the structure and acidity in the wine. Tasting notes, I found aromas of black cherry, coffee, cedar, black currant and a hint of juniper. On the palate Ripe blackberry, plum, black cherry, clove followed by smooth tannins and a nice finish. SRP $24.99
Achaval-Ferrer's philosophy is to let the flavors and fruit of Argentina shine through and they certainly do with these wine. I would not hesitate choosing any of their wines in the wine shop or at a restaurant.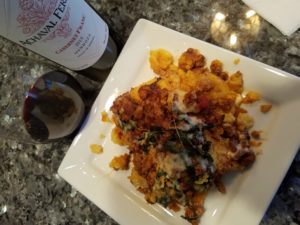 Food Pairings:
2015 Cabernet Franc – Paired with Chorizo & Polenta Lasagna. Paired very well with the dish.
2015 Cabernet Sauvignon – Paired very well with my grilled flank steak and asparagus. The marinade of the flank steak really brings out the cherry in the wine.