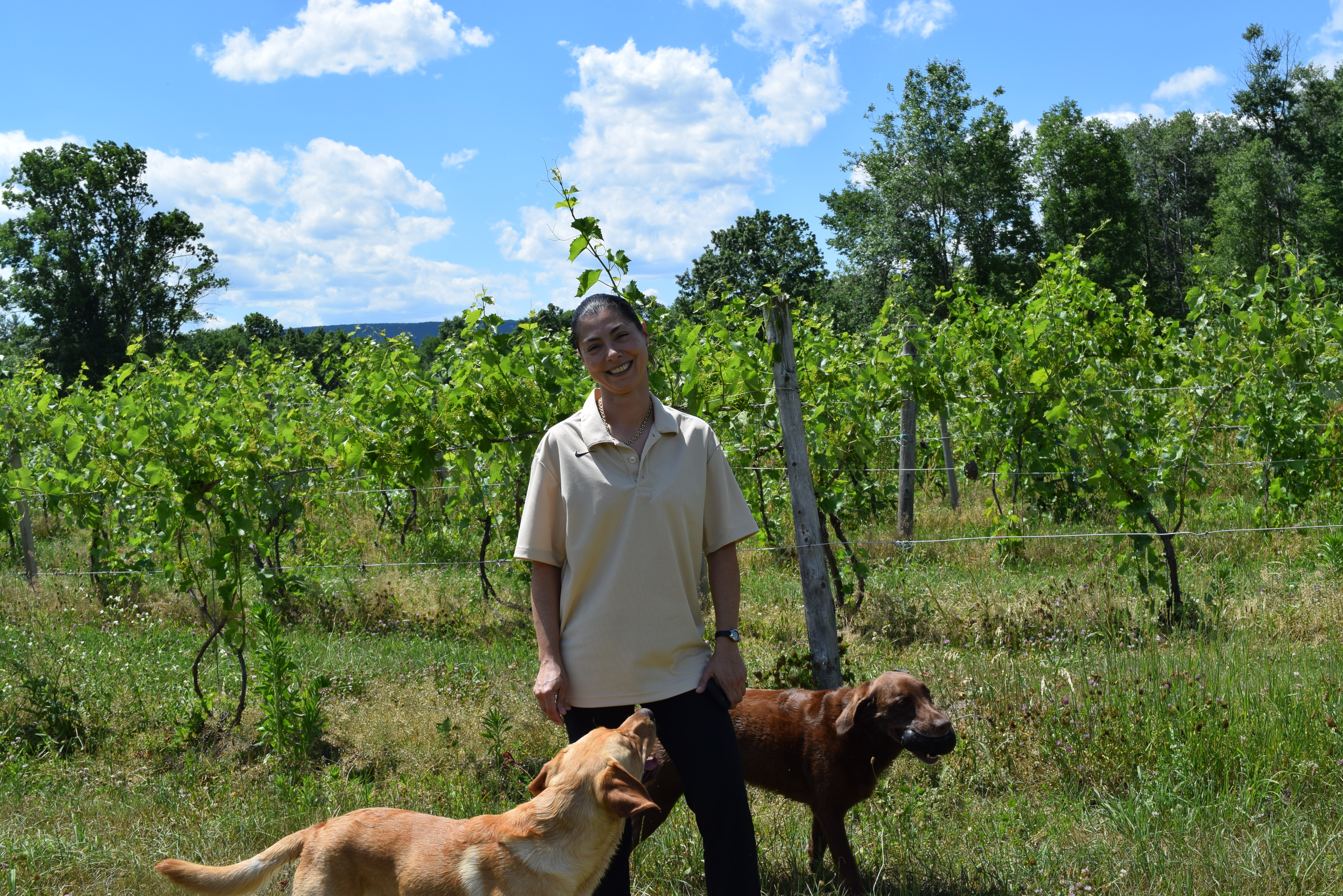 Understanding Harvest with Monica Pennings from Christopher Jacobs Winery at Pennings Vineyards
This is the last in my series of "What harvest means to you." As now we are in the beginnings of the 2016 harvest. Long days and hard work for the next 6 or so weeks to bring the new chapter "The 2016 Hudson Valley Harvest" to a close so you can enjoy the wine in the years to come.
Monica Pennings gives us her view on harvest and what it means to her.
1. "Harvest" to us is a celebration of the completion of our growing season and the beginning of our wine making season. It's a pivotal point where gears shift dramatically. It's an exciting time. It is when a new chapter begins. We especially get great gratification of seeing our fruit looking ready for the next step.
2.What are factors in knowing when is the right time to pick the grapes?
We harvest our grapes based on maturity, ripeness and what we hope to achieve in terms of a style of wine. Some parameters used in our decision making process of when to harvest can be acidity, tannin, aroma, flavor. Basic measures of brix and pH are key components. All this will vary by variety of the grape. There is also weather to consider, as rain may effect grapes just before harvest time.
3. Once the grapes are picked, what is the process of getting it from vine to bottle?
The process of getting grapes from vine to bottle is extensive. In a nutshell, it starts with the harvest. The preparation and care of the fruit before beginning any processing would be second. Crushing the fruit is next. Depending on the wine we may immediately press or we may start the fermentation, then press. The fermentation process is a major phase in transforming grapes from vine to bottle. There are many details to account for and a watchful eye throughout the process is important. Once fermentation is complete, there may be the need to press. Ultimately, the fresh wine is racked (taken off the
remaining slurry that settles to the bottom of your fermentation vessel) into a clean tank or barrel. From there the wine will develop more with time.
4.& 5. Do you have any activities that allow the public to participate in harvest (ie. grape picking, cellar rat for a day?) and What events do you have for the public if any to celebrate the Harvest? (ie.
Harvest party, grape stomping etc.)
At Christopher Jacobs Winery, we coordinate a Harvest Festival. The invitation is extended to all those interested in experiencing the "harvest" of some of our grapes. We provide a picnic spread of sandwiches, local cheeses, and other finger foods along with our wine! Interested grape pickers pick and harvest grapes by the bin full. Each bin awards them a ticket that can be exchanged for the picnic spread choices and wine. It's all hands on deck for our Harvest Festival!! The Pennings Family is out in full force, as we facilitate and host this super fun and rewarding experience!