The holiday time is a special time of year. This year being what it has been we all need to smile and we all need to begin our holidays with some Val d'Oca Prosecco! These bubbles will not only put a smile on your face, but be easy on your wallet and pairs great with many dishes. Drink it alone or make a bellini, enjoy with friends and family in person, on FaceTime or Zoom.
Val d'Oca – What Makes It Special
What makes Val d'Oca so special? It's a cooperative winery established in 1952 to revive the economy after it was devastated by WWII. Today the cooperative has 600 members and 1000 hectares. The wines are all expressions of the different territories. The Glera grapes are 90% hand harvested, those with the DOCG designation compromise 60% of the production sit in the hills.
July 2019 the hills of Congeliano and Valdobbiadene were recognized by UNESCO where they work with nature to preserve and protect the land for future generations.
You will find the soils in the area mixture of limestone, clay, marl and marine sandstone and that terroir is present in the wine. The diurnal temperature change preserves the acidity in the grapes and the steep slopes and winds protect the vineyards from disease.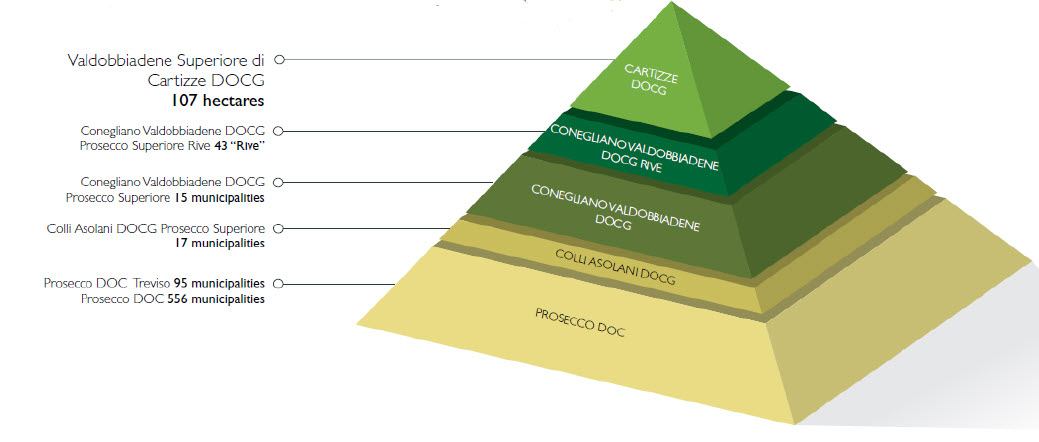 Val d'Oca Prosecco
You will find Prosecco from all sections of the quality pyramid. With Cartizze DOCG being the top of the line and Prosecco DOC Treviso at the bottom of the pyramid, don't let that scare you! They will not break the bank and all are very tasty. Go with what your budget allows and you won't be disappointed.
Rive Di San Pietro Di Barbozza Valdobbiadene Prosecco Superiore DOCG Brut SRP $33 – In 2009 a system of single village designation was created. The word "Rive" on the label indicates a Prosecco Superior made entirely from grapes from the designated Rive. All Rives must be vintaged and hand harvested. There are only 9 Rives in Val d'Oca.
The grapes for this Prosecco were hand harvested in the hills of Pietro di Barbozza. Made with 100% Glera grapes the wine had aromas of lemon zest backed by floral notes. The palate was filled with luscious notes of pear, fuji apple, citrus and finishes with a touch of honey.
Millesmato Valdobbiadene Prosecco Superiore DOCG Extra Dry 2018 SRP $20 – This is the flagship Prosecco of the region. Made with 85% Glera and 15% Pinot Grigio and Chardonnay the Prosecco had a beautiful perlage with aromas of white flowers. Soft and creamy on the palate with flavors of green apple, pear, and lemon peel.
Val d'Oca Prosecco DOC Treviso Extra Dry SRP $13 – Nice crisp dry Prosecco that is 85% Glera and 15% Pinot Grigio and Chardonnay. Notes of pineapple, apple and white flowers with a soft burst of acidity on the finish.
Val d'Oca Sparkling rose Extra Dry SRP $13 – A blend of 85% Glera and 15% Pinot Noir all vinified separately then blended. Hints of red raspberry, strawberry and spice. Perfect with brunch!