Why You Need to Drink Garnacha from Cariñena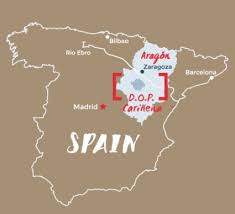 Garnacha also called Grenache is the oldest and most widely planted red grape variety in the world. We know it as a wine from Spain, but it's also grown in France, California and Australia. Garnacha is one of the world's most planted grape and very undervalued. Garnacha is also drought-resistant so in the heat of the summer the roots dig deep through the layers of rock, mineral and earth that is expressed in the wine.
Understanding Garnacha from Cariñena
The birthplace of Garnacha is the Cariñena region of Spain. Cariñena DOC is located halfway between Barcelona and Madrid in the Ebro Valley. The area varies in elevation from 1,300 feet in the lower vineyards up to high altitude vineyards at 2,600 feet. You will find four main soil types in this region:
Cascajo – brownish red limestone soil, most common in the region
Royale – reddish brown, iron rich, quartzite and slate based soil, second common in the region
Tierra Fuerte Arcillosa – brown soil that is a mixture of stone, clay and limestone, found on the terrace floor
Calar – made up of marl and sandstone
The climate in the area has fluctuations in temperature called a diurnal shift which allows for slow ripening of the grapes, maintaining their acidity and softens the tannins. They have cold winters and hot summers with the Cierzo wind that sweeps in from the north keeping the vines cool and dry and fungal diseases at bay reducing the need for treatments.
There are approximately 1,540 growers that banded together to form 3 high-quality cooperatives. Garnacha grapes are large fruit with thin skins, high sugars, low acidity, soft tannins with red fruit that dominates and develops leathery notes with age. The older vines tend to produce smaller fruit and the juice tends to be a bit darker.
Cariñena factoid
Not only is Cariñena the birthplace of Garnacha it is the source of more than a fourth of the world's black truffles.
Why Drink Garnacha from Cariñena
There are many reasons why to drink Garnacha from Cariñena but here are my top 3.
Affordability – Many wines from this region are prices from $9.99 – $25
Versatile – Pairs with many foods. The wine is approachable young and ages well too.
Taste – Low acidity and soft tannins, just great for everyday.
Tasting Experience
Though the educational program #Winestudio I participate in I was able to taste 6 Garnacha wines from Cariñena. Young vines, old vines and representation from all the growing areas in Cariñena.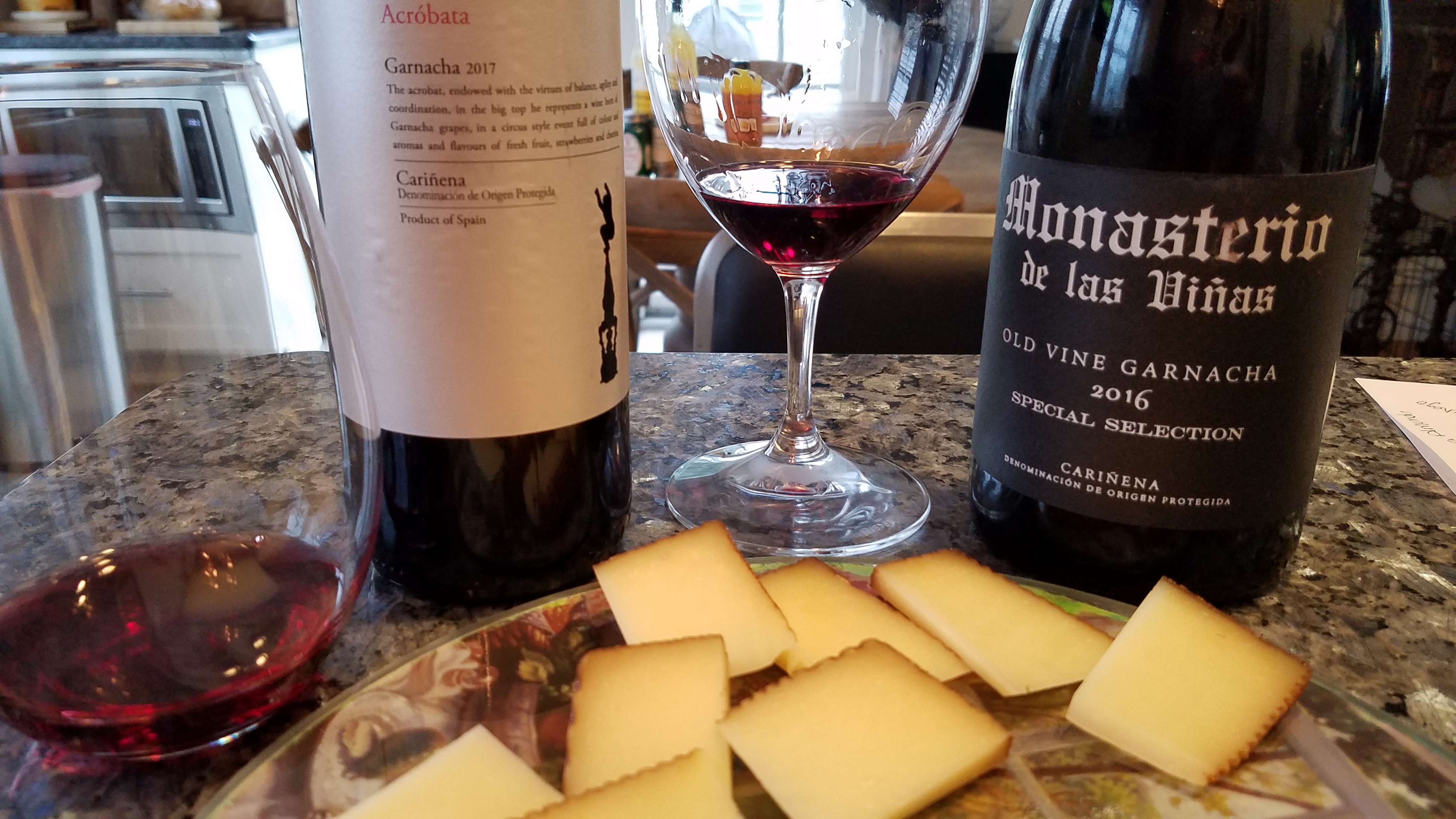 2017 El Circo Acrobata SRP $9.99
This particular brand names each wine for a performer. Acrobata is 100% Garnacha with aromas of raspberry, strawberry and some baking spices. The palate is medium bodied with flavors of black raspberry, ripe red berry, clove and white pepper. I paired this with 3 year old Manchego and the acid in the wine made the cheese a creamy.
2016 Monasterio de las Vinas Old Vine Garnacha SRP $17.99
Chilean born winemaker Marcelo Morales selects small parcels of 40+ year old vines from the many diverse terriors in Grand Vinos vineyards for this wine. Escaping from the glass are aromas of blackberry and earth notes leading to a balanced palate with dark berry, cocoa and black pepper. This was paired with 6 month old Manchego cheese and it softened out the acidity in the wine.
2014 Artigazo Edicion Limitada SRP $25
This is a blend of 40% Garnacha 30% Syrah and 30% Cabernet Sauvignon from 40 year old vines. Complex aromas of red fruit, black berry, oak and eucalyptus lead to a complex palate of mixed red and black fruit, soft and enjoyable. This also paired very well with the sausage and peppers.
2012 Vinas Viejas de Paniza SRP $20
Grapes for this wine came from old vines up to 100 years old in slate soil 2,700 feet above sea level. The wine was aged in 6 months in French and American oak barrels. What a nice mature Garnacha. Aromas of cedar, vanillan, toffee, red fruit lead to a complex palate of red and black fruit. As the wine opens red raspberry becomes dominate with hints of chocolate. Paired very well with sausage and peppers..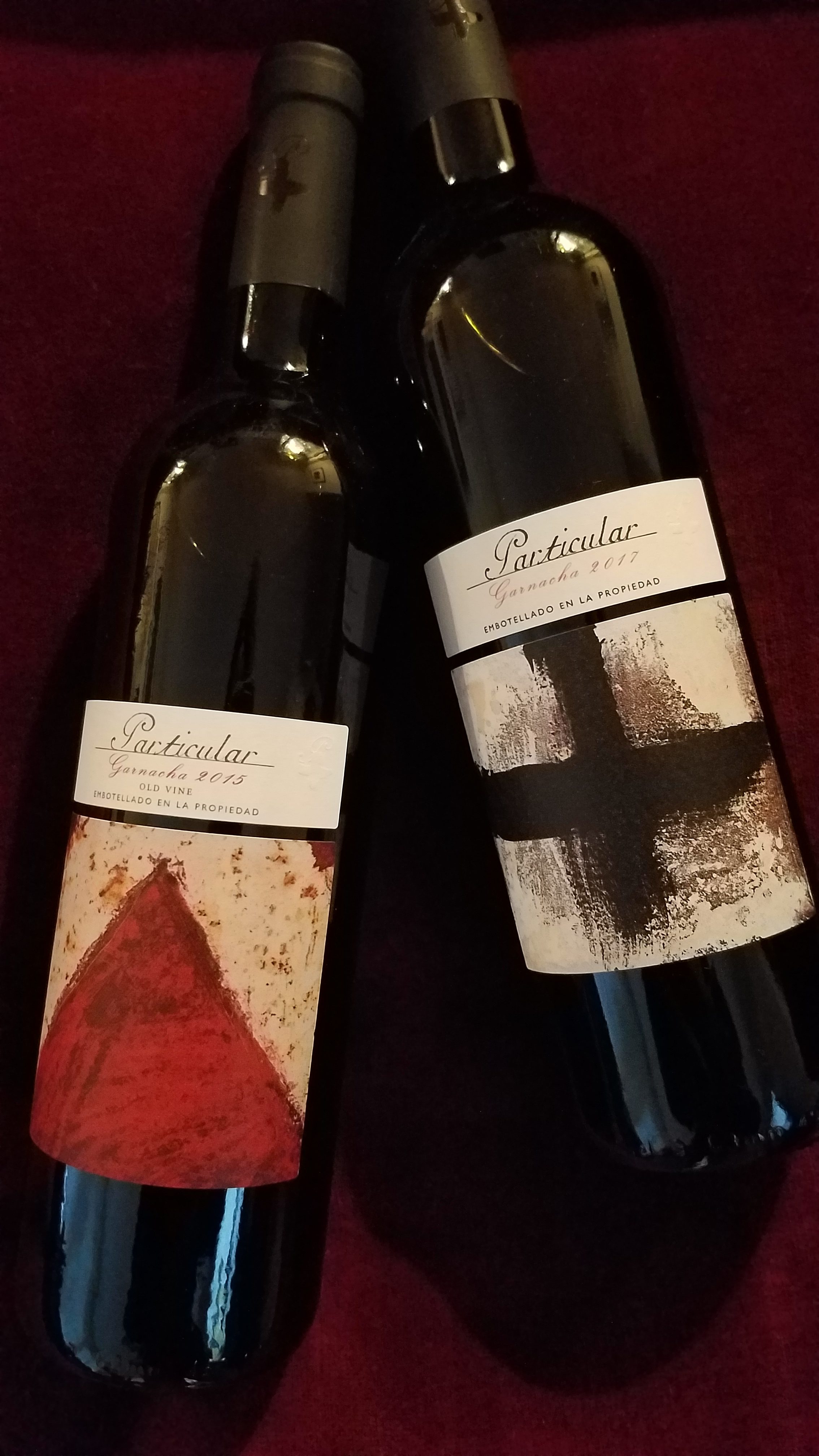 2015 Particular Garnacha Old Vines SRP $15
Aged in oak for 14 months, there is a little bit of maturity in this wine. Lots of red berry notes and a hit of licorice as the wine opens.
2017 Particular Garnacha SRP $8.99
100% Garnacha with lots of red berry aromas which lead to a red fruit (cherry, raspberry) palate and hint of white pepper. This is a young Garnacha that did not see any oak aging hence the fruit forwardness of the wine.
In conclusion, Garnacha from Cariñena is a wine that can be your go to wine for any event or meal. Enjoy it young or aged, either way you can't go wrong.