New York is home to some wonderful vineyards and wineries. Spread across seven AVAs there are 471 wineries covering 35,000 acres of vineyards and many different microclimates.
There are many different grapes grown throughout New York State and Rosé wines are made with a variety of grapes. Some a blend some with a stand alone grape all showing different expressions of the grape, the blend and the terroir of the region it was grown in.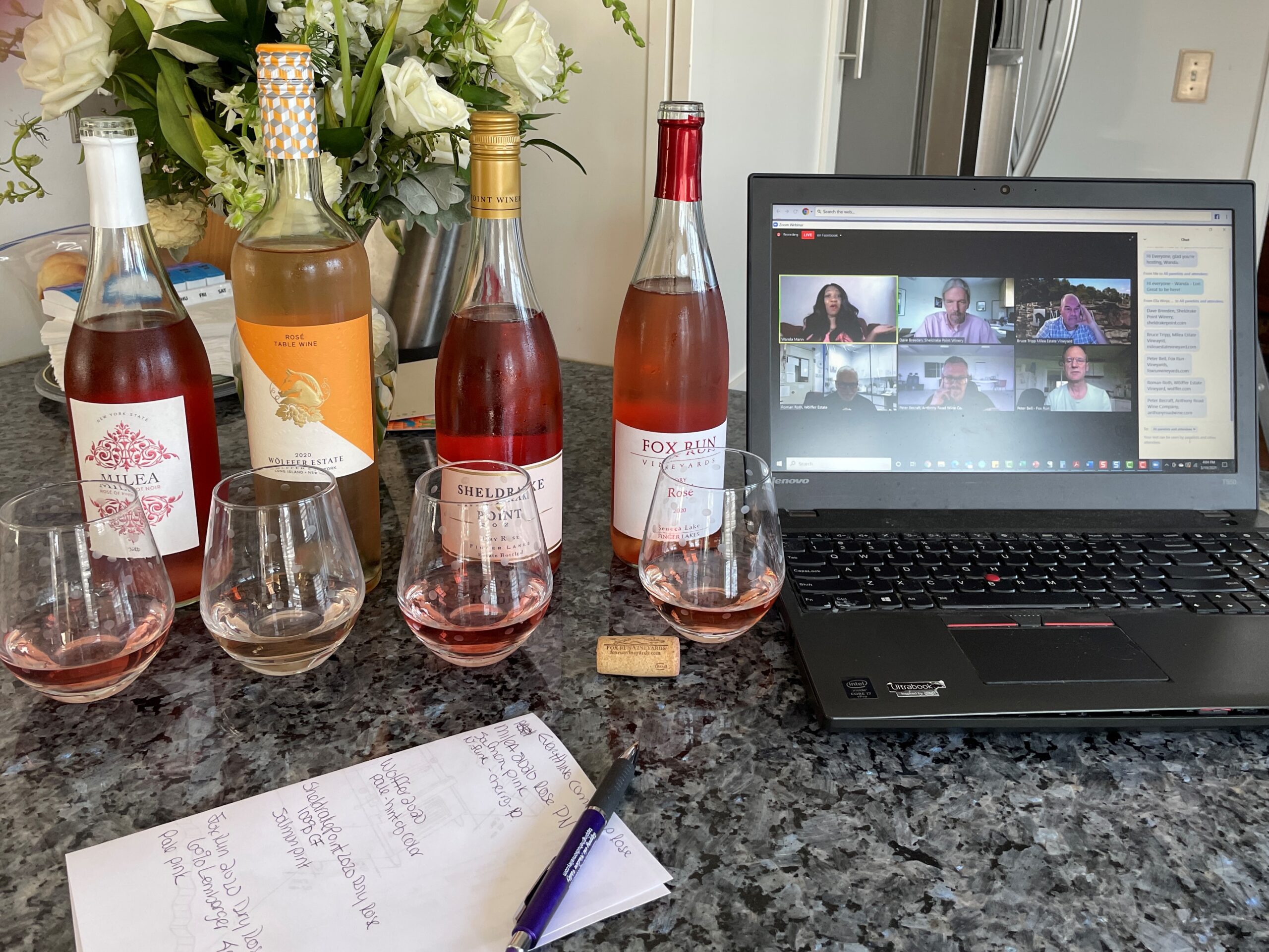 I sat in on a webinar hosted by New York Wine & Grape Foundation with Wanda Mann all about New York Rosé wines. We got to taste Rosé wines from the Fingerlakes, Hudson Valley and Long Island. Joining us were winemakers Roman Roth of Wölffer Estate Vineyard (Long Island), Bruce Tripp of Melia Estate Vineyard (Hudson Valley), Peter Bell of Fox Run Vineyards (Finger Lakes, Seneca Lake), Peter Becraft of Anthony Road Wine Company (Finger Lakes, Seneca Lake), and David Breedan of Sheldrake Point Winery (Finger Lakes, Cayuga Lake).
It is Rosé season, so to speak and as Roman Roth says "Rosé is a way of life in the Hamptons!" Let's taste and talk New York Rosé wines.
Wölffer Estate Vineyard Estate Rosé 2020 SRP $18 is a blend of 44% Merlot, 33% Cabernet Sauvignon, 16.5% Chardonnay, 5.5% Cabernet Franc, 0.5% Riesling, 0.3% Pinot Noir and 0.2% Gewurztraminer.
Wölffer Rosé wines are created in homage to summertime in the Hamptons. The fruit is harvested in waves to capture the aroma and flavors the winemaker is after.
Very pale in color with aromas of mandarin orange, and kiwi, lead to a palate fresh with hints of minerality, nice acidity and a touch of salinity. Will pair nice with a lobster roll.
Melia Vineyards 2020 Pinot Rosé SRP $21 is a blend of 80% Pinot Noir 15% Pinot Meunier and 5% Valvin Muscat. Winemaker Bruce Tripp explained that the Pinot Meunier adds to the complexity of the wine nad the Valvin Muscat adds to the aroma.
The wine had notes of white cherry and a soft finish of strawberries. Bruce adds that his Rosé is a good pairing for Grilled Striped Bass.
Sheldrake Point Winery 2020 Dry Rosé SRP $18 is 100% Cabernet Franc. Dave Breeden says this was his best vintage of Rosé in the Finger Lakes. The wine was beautiful salmon pink, light and refreshing. Notes of cherry, juicy watermelon, strawberry and raspberry with bouncing acidity. Will pair well with local cheese, summer salads, grilled pork and shrimp.
Fox Run Vineyards 2020 Dry Rosé SRP $18 is a blend of 60% Lemberger and 40$ Pinot Noir. The grapes were harvested in the morning with skin contact between one and four hours to extract color and flavor.
The wine is beautiful, smooth and well balanced with notes of strawberry fields, cherry and raspberries. This wine will pair nicely with your summertime meal.