This past weekend I ventured out to some area wineries and took advantage of the nice weather.
Wine tasting is a lot different today. Appointments are needed and you need to think out your route and stops. Gone are the tastings where you belly up to the bar and tasted 5-8 1 ounce pours and dump or spit in the dump bucket. But you know what, I like it this way. It is actually more enjoyable. What I did miss is the interaction with the employees over the wine. You know, where they talk to you about the wine, answer your questions and you can see their face light up with enthusiasm when talking about one of their favorite wines.
I know the wineries are doing their best and they have had to adapt and change many times. This is in no way meant to criticize but to show you how tastings have changed and every winery is different. Know the rules set forth at each of your stops. One winery we went to had no time limit, while the other winery had a time limit of an hour and a half. An hour and a half is plenty of time to taste. If you want to camp and picnic make sure the winery allows that.
When making reservations, it's like making reservations to go to dinner. Make sure you show up or cancel with plenty of notice so the winery can sell that reservation time to someone else. Don't be surprised if there is a cancellation fee closer to the time of your reservation. Trust me, coming from owning a restaurant, decisions are made based on reservations. If you cancel an hour before your reservation, that time slot could have gone to someone else who was disappointed they couldn't get in, and they can't rely on walk-in business. OK – I'll get off my high horse on that subject.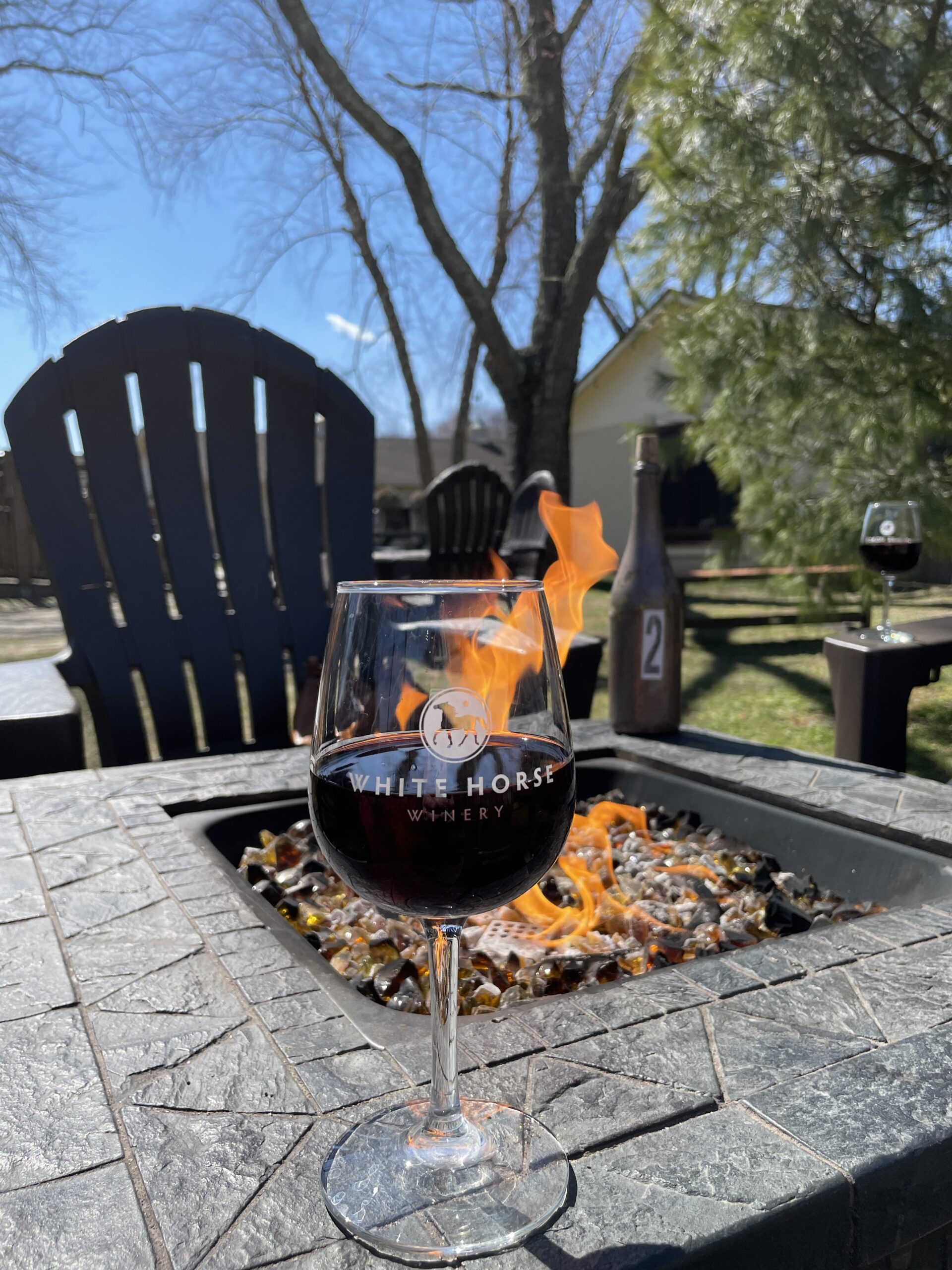 White Horse Winery
Located in Hammonton, New Jersey our reservation was for 1pm. This winery handles reservations by phone and we reserved a fire pit and there was no time limit.
When we arrived we were greeted by their friendly staff who showed us the tasting menu by the glass. I ordered a glass of the Chambourcin and Jenn ordered a glass of Cabernet Franc. While we ordered another staff member went out and lit our firepit #2 and brought a pitcher of water to the area. All tables and firepits are labeled with a wine bottle with a number on it. I could have sat out there all day, it was so delightful.
A second round was ordered, another Cab Franc for Jenn and a 2017 Merlot Reserve for me. At the end of our time here, I went in to purchase a bottle of the Merlot and noticed people ordering flights. I so wish we were told they had flights because we would have ordered them. All good, we enjoyed our time here.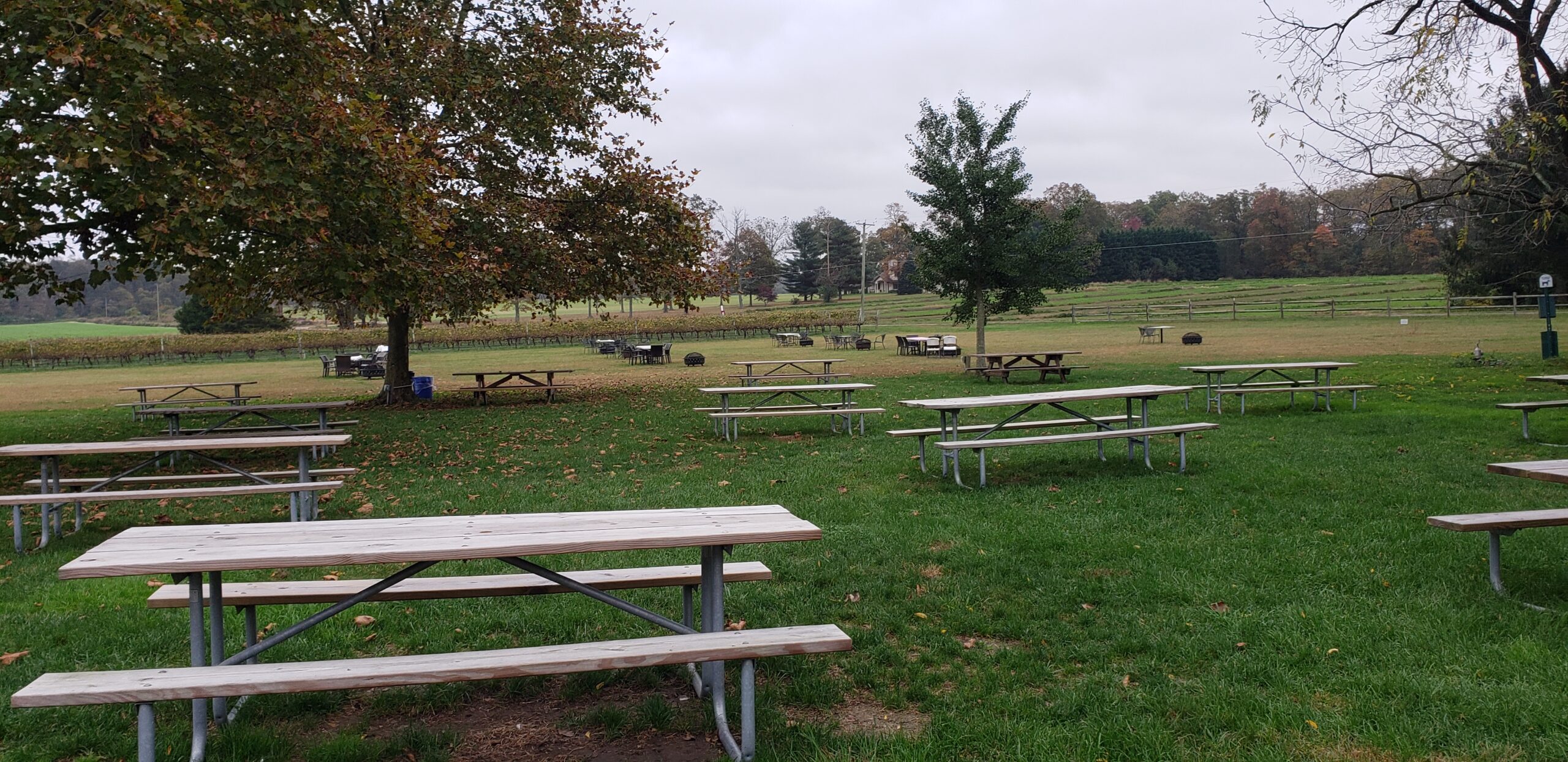 Bellview Winery
This winery was a 20 minute drive from White Horse and located in Landisville, New Jersey. We made our reservations right off their sight on OpenTable. Beautiful spacious grounds and when making our reservation we had the choice of inside or out. When we got there we notice there were firepits. Upon checking in there was no check from a reservation system or list. The person behind the counter showed us a menu and said we can do wine by the glass, bottle, or get a red or white flight and she would bring it out to us. I did ask some questions about the grapes that were in the rose and the blends, but unfortunately, she didn't know the answer.
We got to pick any picnic table outside and we chose a picnic table just outside the tasting room. After 15 minutes I went back inside looking for our flights. I got the deer in headlights look. They found our flights sitting on the back bar, the server forgot to take it out to us. I get it, things happen.
This is the first time I've been out tasting since Covid. The biggest thing I missed was the conversation about the wines, learning about the blends, the grapes, the process and who is behind the winery. I know every experience is different at every winery. I feel Covid has limited that personal information transfer between employee and customer, perhaps for fear of catching the illness.
Listen to the Podcast
Podcast: Play in new window | Download